Discover more from Pointless Exercise
The only newsletter you'll ever need...(about the Cubs and the Bears and all kinds of other cool stuff.)
A very scientific breakdown of the Bears Schedule
The wins, the losses, the possible announcing teams, and a Cubs podcast with Bruce Miles
The Bears schedule is out and apparently this is such a newsworthy event that both ESPN and NFL Network aired three hour specials to break it all down. We can do it here in a fraction of the time.
Here are the matchups, and since we're all going to be watching these games at home, the TV announcing crews have never been more important, so here are my best guesses at them, too.
Wait, can't you just turn the TV volume down and turn up the WBBM Radio crew of Jeff Joniak and Tom Thayer? Yes, if you're a crazy person. Nobody listens to Joniak on purpose, no matter how awful the TV announcers are. Even if it's Dick Stockton awful.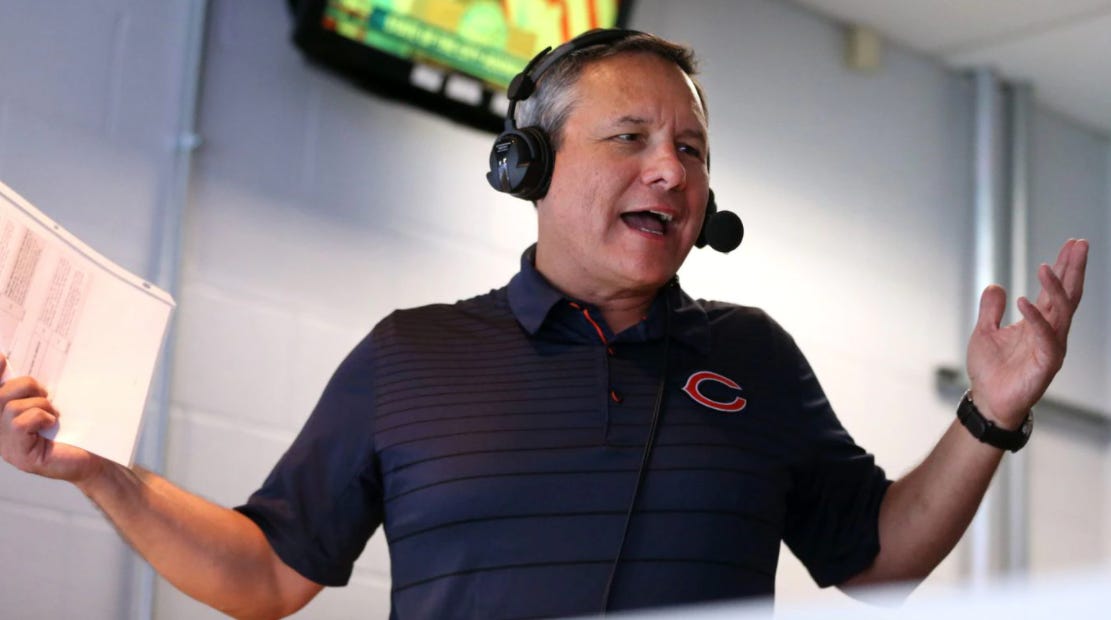 Sun., Sept. 13 at Detroit, noon (Fox)
Announcers - Thom Brennaman, Chris Spielman
The Bears beat the Lions both times last season, and it didn't hurt that Jeff Driskel and David Blough were the quarterbacks instead of Matthew Stafford who missed the games with…(looks it up) a BROKEN BACK? Wait, so he broke his back and he's just going to be return the next season like nothing happened? Nick Foles missed a bunch of games last year with a broken clavicle, but that's not a broken back. I'm giving the edge here to the Bears, for that, and for the fact that the Lions coach keeps a pencil behind his ear and uses a laminated play sheet which the pencil wouldn't write on anyway.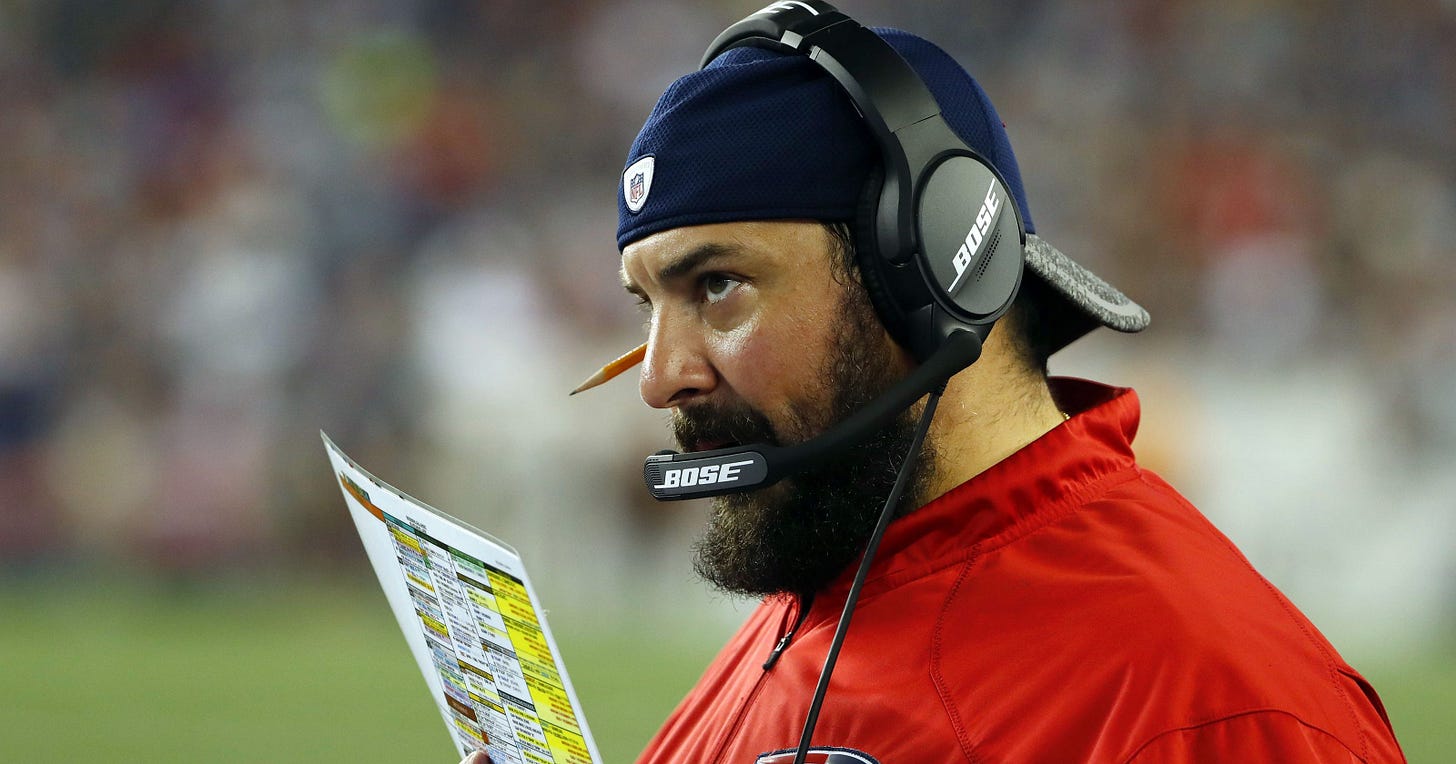 Brennaman and Spielman figure to be the Fox number three crew again this year which might seem high for this game, but remember game one has a Thursday night game and two Monday night games, so the weekend is a little thin.
Sun., Sept. 20 Giants, noon (CBS)
Announcers - Ian Eagle, Charles Davis
The Bears beat the Giants last year thanks to Daniel Jones throwing for a whopping 150 yards on 36 attempts. Man, that's Trubisky bad. It was a five point game, and Jones threw more than twice as many passes as Saquon Barkley had carries? I'm sure the new Giants coach (has to look up who it is, sees it's Joe Judge and still has no idea who that is) won't do that. Then again, this is the game where the Bears had 13 drives and gained fewer than 20 yards in NINE of them, including one of the touchdown "drives." Fine, let's chalk this one up to both teams being slightly more competent on offense and the Bears go 2-0.
As for the announcers, Eagle is one of my favorites in any sport, and Charles Davis is pretty good, so we won't be sticking an ice pick in our ears during this game. I make no promises about our eyes, though.
Sun. Sept. 27 at Atlanta, noon (Fox)
Announcers - Dick Stockton, Mark Schlereth, Adolfo Soriano
This one has Fox fifth crew written all over it. They won't really bring back Stockton and Schlereth will they? Of course they will, because they're already down one announcer with Davis hopping over to CBS.
The Falcons were not good last year but this just smells like a loss, doesn't it? But I'm sure putting Artie Burns on Julio Jones will work out just fine. (2-1)
Sun., Oct. 4 Colts, noon (CBS)
Announcers - Ian Eagle, Charles Davis
It's going to be weird with Phillip Rivers on the Colts, and even weirder when his nine kids can't come to the game because it would push the Soldier Field attendance over the social distancing limit. Lori Lightfoot will just greet them at the entrance and tell them to get their asses back to the Amana Colonies or wherever they came from.
As Jonathan Taylor runs all over, I hope Ryan Pace and The Visor take note that teams that actually build offensive lines have a much easier time running their offense. (2-2)
Thur., Oct 8 Buccaneers, 7:20 p.m. (Fox)
Announcers - Joe Buck, Troy Aikman
A short week to get ready for Tawmmy Brady and the Bucs. By week five Rob Gronkowski should be up to like 170 pounds and almost able to wear his shoulder pads. Still, I'm sure he'll give the Bears fits, especially since Danny Trevathan will be due to have his annual season-ending injury just about now. A lot will be made about the Bucs' offense with Brady and actual weapons, but their defense was outstanding last year, especially when you factor in that Jameis Winston constantly put them in terrible situations with his 30 interceptions and 12 fumbles. 30 and 12? Holy shit. (2-3)
Sun., Oct. 18 at Carolina, noon (Fox)
Announcers - Kevin Burkhart, Jay Cutler, Greg Olsen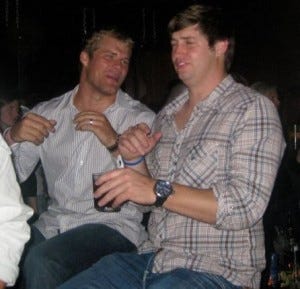 Fox has yet to announce who will replace Davis on their number two team, but why not Cutty? Jay was supposed to be on that crew two years ago when he decided to take the cash (which has to be coming in pretty handy now) and go play for the Dolphins instead. And, everybody knows that Olsen is going to join this team in 2021, and since his feet are made of glass he'll certainly be on injured reserve designated to return by this point of the season. He might as well hang out with his buddy Jay and do the game.
The Panthers spent big money on Teddy Bridgewater and his enormous Mickey Mouse gloves (and Mickey Mouse arm) even though the Bears reportedly offered him more. He might not be physically gifted, but he's not dumb. Still, I like the Bears in this one to get a rare road win. (3-3)
Mon., Oct. 26 at LA Rams, 7:15 p.m. (ESPN)
Announcers - Al Michaels, Cris Collinsworth, Orenthal James Simpson
Most people seem to think Al and Cris are the best tandem in the business, but I don't happen to agree. I think they should mix it up this year and bring in celebrities to round out the booth. Hey, there's a guy out there in LA who won a Heisman and used to be on Monday Night Football? OJ could talk about how new Rams' running back Cam Akers is slashing his way through the defense. What could go wrong? Just don't let OJ fly back to Chicago with the team, I wouldn't want him to get some bad news and cut his hands on a broken drinking glass again.
The Rams played terribly against the Bears in prime time last year and still won. You remember that's the game where The Visor benched Mitch and then pretended that he didn't. (3-4)
Sun., Nov. 1 Saints, 3:25 p.m. (Fox)
Announcers - Joe Buck, Troy Aikman
It's a rare late fall outdoor road game for Drew Brees. His dinky little hands have a hard time gripping the ball when it gets chilly. Yeah, like that's going to matter. (3-5)
Sun., Nov. 8 at Tennessee, noon (Fox)
Announcers - Kevin Burkhart, Jay Cutler, Kelly Henderson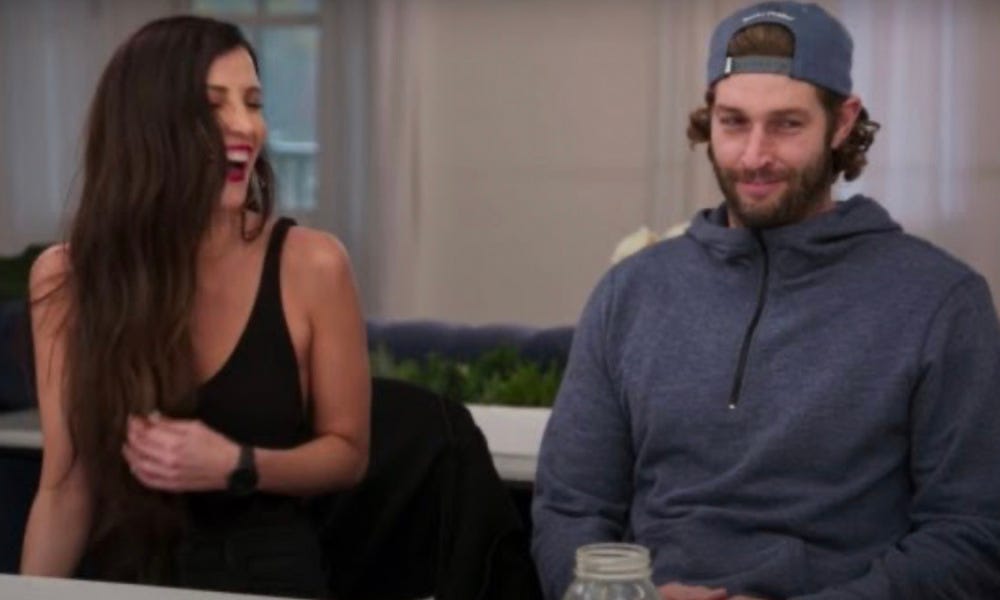 It's a home game for Jay, and Olsen's probably back in Seattke prepping to break his foot again, so Cutler can just bring his new roommate to work the game with him and Kevin.
Assuming Foles is still ambulatory, this is a matchup of Ryan Tannehill and the guy the Bears hope becomes their Tannehill (dare to dream). The problem, of course is that the Titans have Derrick Henry and a coach who actually wants to run the ball. At some point in the game Buster Skrine will jump on Henry's back three yards behind the line of scrimmage and Henry will just carry him like a fanny pack 40 yards for a TD. (3-6)
Mon., Nov. 16 Vikings, 7:15 (ESPN)
Announcers - Kevin Harlan, Kurt Warner, Louis Riddick
ESPN hasn't announced if Joe Tessitore and Booger McFarland are coming back for another year, but the NFL has greatly upgraded their schedule this season and I just can't imagine they'll want another year of the ESPN MACtion level broadcast team. Peyton Manning refuses to take their money, so why not free Harlan and Warner from Monday Night Football radio broadcasts (where they are really good) and mix in Louis Riddick who is always good? This seems like an easy fix. If it means they have to deal with CBS for Harlan for football (his Turner contract can handle the NBA on TNT and March Madness), trade them Jason Benetti and let him do NFL and college basketball at CBS. Win-win.
As for the actual game, the Bears don't lose to Mike Zimmer at Soldier Field, and it drives him crazy, which is always fun. (4-6)
Sun., Nov. 22 BYE
The Bears run their unbeaten streak to two weeks!
Sun., Nov. 29 at Green Bay, 7:20 p.m. (NBC)
Announcers - Al Michaels, Cris Collinsworth, Bob Uecker

Ugh, a night game at Lambeau. Let's hope this goes the way of the Brett Favre jersey retirement game or the time Shea McClellin broke Aaron Rodgers' collarbone and not the last time when Rodgers limped off the field and then rallied them because The Visor refused to run the ball and shorten the game with a lead.
Who better to sit in as the third man in the booth than the Ueck? He used to work with Al on Monday Night Baseball and he won't know who any of the Packers or Bears are but he can just tell stories about breaking his leg on a motor scooter, catching flyballs in the outfield with a tuba before a World Series game, and the time Mr. Belvedere sat on his own balls. I'd be for all of that.
I refuse to pick the Packers here, so the Bears run their record to (5-6)
Sun., Dec. 6 Lions, noon (Fox)
Announcers - Dick Stockton, Tommy Heinsohn, Billy Cunningham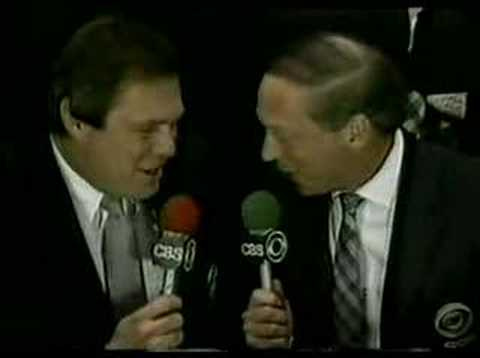 By now Schlereth should have more than worn out his welcome, so why not just give Stockton two of his old NBA on CBS sidekicks? Like you wouldn't enjoy Heinsohn giving out Tommy points for Khalil Mack chasing Stafford down from behind for a strip sack, or Cunningham talking about how Kyle Fuller reminds him of a young Andrew Toney. Of course you would. And, bonus points for when Heinsohn starts referring to Cunningham exclusively as "The Kangaroo Kid."
The Lions are bad at home and even worse on the road. Hey, the Bears are back in the playoff hunt! (6-6)
Sun., Dec. 13 Texans, noon (CBS)
Announcers - Greg Gumbel, Trent Green, Dan Dierdorf
CBS finally comes to grips with the fact that Gumbel and Green are terribly boring, but the fix isn't likely to help. They bring back Dan Dierdorf for one game, disturbing his Michigan radio prep for the Alamo Bowl and entertaining no one.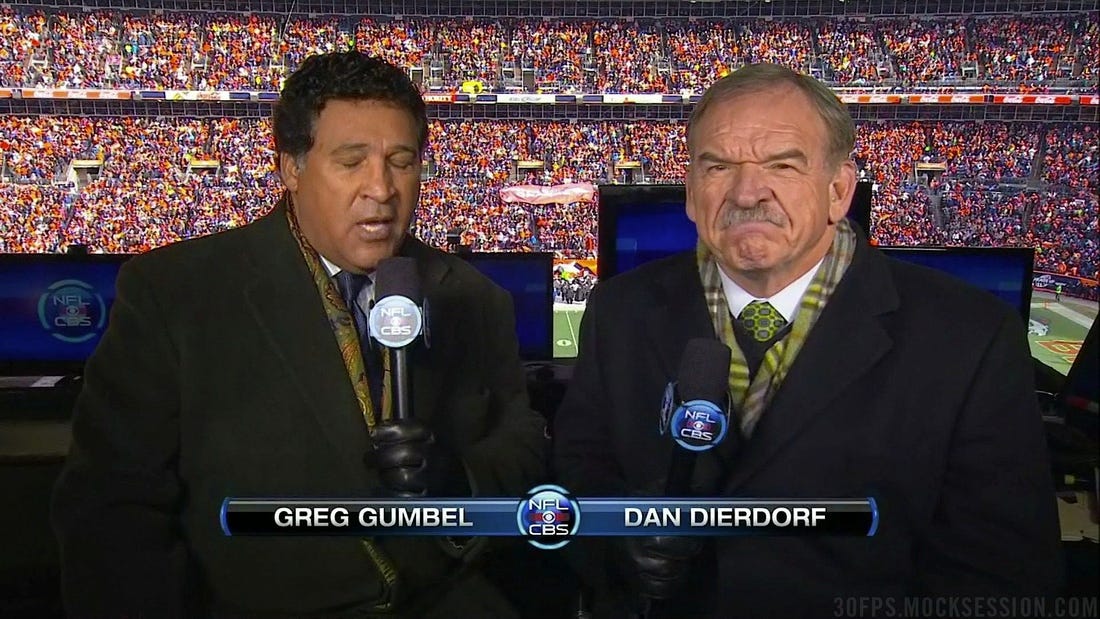 This game would just be three hours of them acting like it's breaking news that DeShaun Watson got drafted TEN picks after Mitch, and how he got his fifth year option picked up (and the Texans by then will have probably torn it up and signed him to a long extension). It's just going to be tedious. The Texans should win this one easily, but Bill O'Brien's an even bigger dope than The Visor. Now the Bears are really back in the playoff hunt (especially since two more teams make it this year in each conference). (7-6)
Sun., Dec. 20 at Minnesota, noon (Fox)
Announcers - Kevin Burkhart, Jay Cutler, DeAngelo Hall
Fox feels bad that Jay keeps burning through co-analysts and gives him one of his favorite targets.
Unlike last year when the Bears went to Minneapolis (or is it St. Paul?) the Vikings will actually be trying to win this one. But given the week 10 win over the Fighting Zimmers, The Visor will be 5-0 against Minnesota in his career. And, Kirk Cousins can absolutely turn a win into a loss, AND Foles won a Super Bowl in that stadium. Oh, what the hell! (8-6)
Sun., Dec. 27 at Jacksonville, noon (Fox)
Announcers - Tom McCarthy, Jay Feely
Allen Robinson said yesterday that he's been looking forward to this return game to Jacksonville for a year when he found out the Bears were going to go there in 2020. And I'm sure Foles won't mind trying to get revenge on Gardner Minshew II for taking his job (though he can't be that upset about getting out of there). Plus, the Jags are clearly tanking to get the number one overall pick and the right to draft Clemson quarterback Trevor Lawrence. This kind of game, when the opponent has nothing to play for and honestly would probably prefer to lose is just the kind of game the Bears would blow, but I think the Jaguars are up to the task. The Bears run their record to 9-6 and just need a win in the finale to clinch one of the wild card spots!
The game is so exciting that CBS gives us an announcing crew with a kicker in it.
Sun., Jan. 3 Packers, noon (Fox)
Announcers - Joe Buck, Troy Aikman
If this really is a game to decide a playoff spot, there's no way Fox wouldn't assign Buck and Aikman to a Bears-Packers tilt. It's all there for the Bears, with an overrated Packers team likely already in the playoffs, and it's at home with 60,000 excited…uh…quarantined empty seats rooting for the Bears? I'm sure the Bears will get up early, take a lead deep into the fourth quarter and then late season waiver claim Chris Conte plays man when its zone and Rodgers throws a 70 yard TD pass to Devonte Adams on fourth and 62 with four seconds left. (9-7)
The Bears just miss the playoffs, post a better record than last season and Pace and The Visor get wholly undeserved contract extensions. Foles plays just well enough that Pace decides he doesn't need to draft a quarterback, again, and we are still stuck in football hell.

Notre Dame and Wisconsin are scheduled to play at Lambeau Field on Saturday, October 3. The Packers understandably asked the NFL to schedule them on the road that week. Uh, they didn't. They host the Falcons on Monday night, October 5.
Playing two games in three days on a grass football field isn't ideal. But I'm sure you'll hear about how the Packers's fancy half synthetic/half grass field can handle it. It' can't. They brag about that Frankenstein shit all the time but their field is just as big a slippery, barren mess late in the season as anybody else's. I hope it rains both days.
A lot.

Check out the latest edition of the Pointless Exercise podcast. Former Cubs Daily-Herald writer Bruce Miles swung by and we talked about the different proposals to bring back baseball this summer, how some of the wacky rules changes will never get changed back, what it was like in 1995 when they had two spring trainings and the season started late, what to expect in the Sammy-McGwire home run chase documentary, which Cubs player should get the next statue, why the Cubs' are so terrible at simple public relations and just how cool Jon Lester, Greg Maddux and Kyle Schwarber are.