Discover more from Pointless Exercise
The only newsletter you'll ever need...(about the Cubs and the Bears and all kinds of other cool stuff.)
Baseball's plan to return would make more sense without interleague play
A half-season MLB schedule would be pretty simple, except the leagues have odd numbers of teams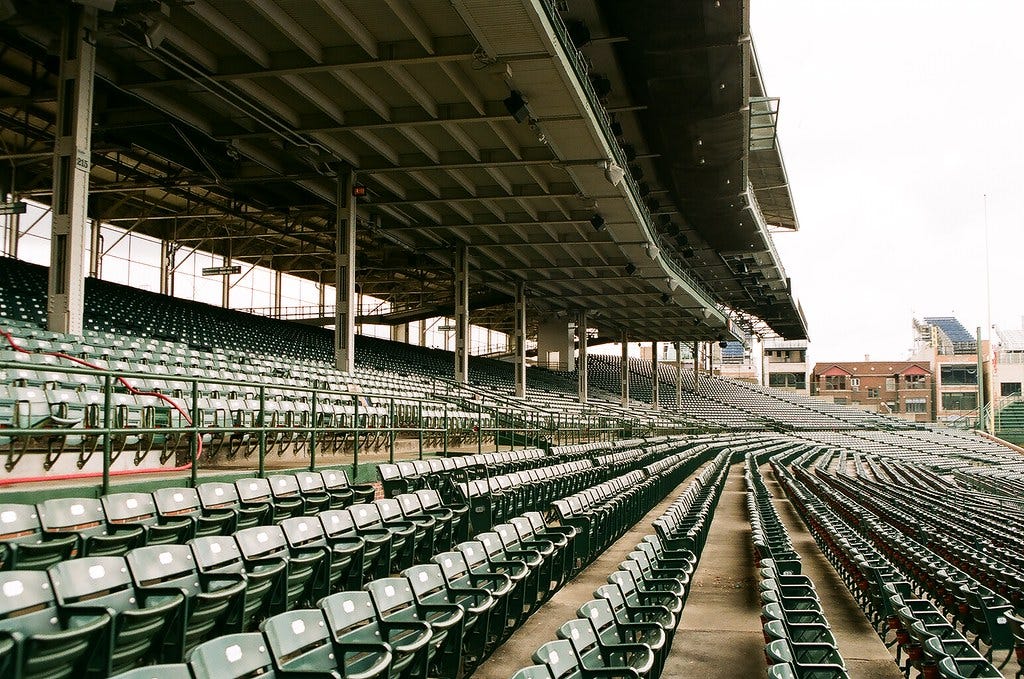 A couple of days ago former Minnesota Twins superstar (ahem) Trevor Plouffe tweeted this:
And baseball media crawled up his Plouffe and told him he was nuts.
Well, apparently he wasn't just not nuts, he's mostly right. According to Jeff Passan, MLB is going to soon send the Players Association a proposal that says mostly all of those things Plouffe Tweeted.
Back to spring training by June 10, opening day on or around July 1 and if you were all giddy about baseball aligning its teams for one year into three geographic divisions regardless of league, you're shit out of luck.
Passan doesn't get into whether the DH would be used for both leagues like it was going to be in the Arizona only, Arizona-Florida only, or Arizona-Texas-Florida scenarios. We also don't know if they're going to use the electronic strike zone, which they were going to in those three scenarios as well.
A solid assumption is that if they're going to go back to the normal league alignment there's no need to have the universal DH. It makes sense to go to it if you're co-mingling the leagues, but otherwise? Don't bother.
The electronic strike zone was going to be used to keep sweaty, heavy breathing umpires from looming over catchers for three hours a day. But now maybe they'll just put up some plexiglass like they use to protect the cashiers at Target.
Passan says teams will have 50 player rosters with 30 available per game. Let's hope they limit the number of roster changes you can make from day to day, or pointy little Craig Counsell's going to be using 11 different pitchers every game, and nobody wants to watch that.
The schedule will be somewhere between 80 and 100 games. You can't cram 100 games in the 92 days between July 1 and September 30. Well, I guess you could, but it'd just make Theo and Jed mad and Anthony Rizzo would be wearing his uniform on the team plane again.
The 1995 season started late because of the strike that wiped out the end of the 1994 season and started spring training late, and the Cubs played 83 games from July 1 to September 30. We have 1995 on the brain these days because for whatever reason Marquee keeps replaying random games from that year—and the Cubs even win one every so often.
So, 81 games seems like the number. It'll make it easy on us simple minded dopes when we try to put the short season stats into context. All we'll have to do is double stuff.
"Jason Heyward has grounded out to second 114 times? Yeah, that's in line with his normal full season pace."
Is it wise to abandon the one, two or three state "hub" ideas and have teams traveling all over the country? Probably not. But you would think that the schedule would be built to cut down on travel.
One thing that would have made this easier would be to have an even number of teams in each league. Interleague play shouldn't be a thing in a half season. It adds to travel and makes for wildly uneven strengths of schedule. But, since there are 15 teams in each league you have to have one interleague game each day. I mean, you could just give the Brewers back to the American League, it's not like anybody would miss them, but that's probably not going to happen.
Otherwise you could make a pretty simple schedule. Play each of the other four teams in your division ten times, then play the ten teams in the other two divisions four times, with a fifth game for one team outside of your division and you've got your 81 games.
The schedule would break down this way. You play one five game series home and away against your divisional opponents. You play one four game series against the other divisions (with one five gamer to get to 81), half at home and half on the road, and that's it. Every team doesn't need to go to every other city in their league since we'll all be watching on TV anyway.
That's the best way to get your games in with the least amount of travel. But the interleague thing fucks it up. The simplest way to solve this would be to swap out one non-divisional league opponent for one interleague opponent.
Say the Cubs play the White Sox four times instead of the Diamondbacks. The Sox get the Cubs instead of the Mariners. The Mets get the Yankees instead of the Giants. The Yankees get the Mets instead of Oakland. Something like that.
Bud Selig's inability to figure out how to have an even number of teams in each league screws this all up. Thanks for nothing, again, Bud.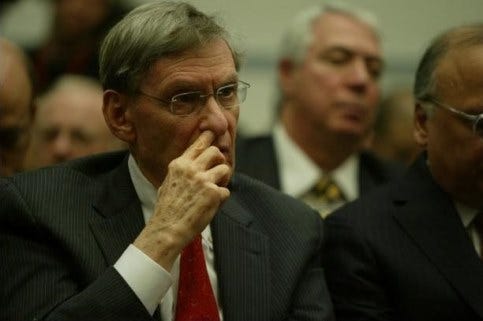 If you wanted to get really nuts, since there's no real minor league season this year, give two minor league cities a "big league" team for a year. Take three or four players off each big league team's minor league roster and put a rag tag team in Charlotte to play in the now six-team NL East and one in Portland to play in a six-team AL West. (You could put the NL team in Montreal, but crossing the border in a pandemic seems needlessly risky. What if the players decide not to return to Gilead…I mean, the US?)
Admittedly that would be cool, and would give 100 more minor leaguers actual games to play in and simplify travel, but it would give the teams in whatever divisions you put the bonus teams in a big edge since those temp teams would be complete dog shit. Oh, well, it was worth a shot.
Regardless of the plan MLB comes up with, we'll all be able to poke holes in it, and some will do it gleefully, which is just weird. The sport you love is trying to figure out how to give you a reasonable facsimile of a season. You think more fans and writers would be trying to figure out how it could work instead of piling on how it won't.

Intrepid reader Matthew Freedman posted a link to the final three-plus innings of the "Sandberg Game" with the WGN audio mixed in. It's glorious. It's a great reminder of why we all revered Harry Caray. Pre-stroke he wasn't just a caricature, he was a great announcer with a huge personality—there's a difference.

Friend and creator of the Midway Minute, Kevin Kaduk passed along this story, from that place that used to let me write about the Cubs, on our old "pal" Chip Caray. Chip is…just really strange. Chip plays the hits in this one. He retells the classic tale of when his grandpa was at one of his games and didn't know who he was, and he somehow thinks that being a baseball announcer means you don't see your kids "half the year." Just how many road games does he think teams play? 182?

The NFL is going to do their big blow-out schedule release on Thursday. It'll be great to see which games the Bears play at home and can't sell tickets to and which ones will be on the road where teams can't sell tickets. How exciting!
Or, maybe not. The Dolphins have a plan to use social distancing to have 15,000 fans at games at Joe Robbie/Pro Player Park/Land Shark/Sun Life Financial/Hard Rock Stadium (really rolls off the tongue) this season. No lines at concession stands because you'll order and pay for food and beverages on your phone and pick it up when it's ready. Colored dots to help you find your entrance and way to your seat so you don't queue up in long lines. And if you need to go to the bathroom? Just pretend you're a Packers fan and whiz and crap right in your jorts right there in your seat.
The Bears plan to cut down attendance to an acceptable level is much simpler. They're just going to name Mitch Trubisky the starting quarterback.
And finally, here's Pat with a press gaggle interview of Lou Piniella, A chat with Joakim Noah and way too much Sox stuff, which includes a really boring interview with Alexi Ramirez through an interpreter. Lansing Floral got their money's worth with this one.