Discover more from Pointless Exercise
The only newsletter you'll ever need...(about the Cubs and the Bears and all kinds of other cool stuff.)
Bears-Giants, let's break it down
Bears looking for their first 2-0 start since 1985...probably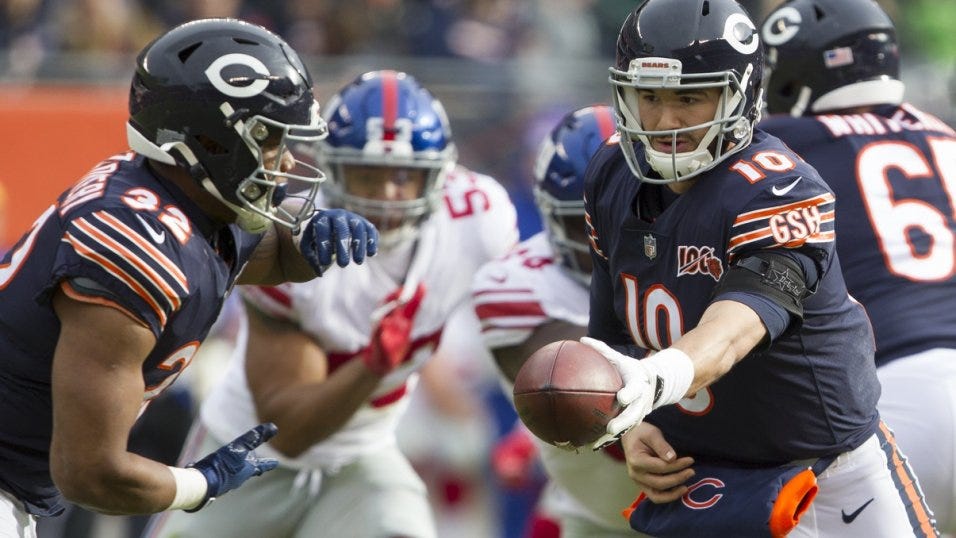 Week two pits the undefeated Bears (hey, it's true even if it just one game) against another of the OG NFL franchises, the New York Giants.
For a very long time both teams were mirror images of each other. Big city franchises owned by families who made their fortunes by owning them. The first twenty Super Bowls blew by without either of them making an appearance. The the Bears won Super Bowl XX and the Giants followed the next season.
And then, well, the Giants have been to four more and won three, while the Bears have just been once, in a game when this happened:
And then I blacked out and never saw the rest. I assume the Bears won.
The difference in the last 16 seasons or so was that the Giants traded for Aww Shucks Eli Manning on draft day. He was mostly infuriating to his fanbase, but twice he was excellent in the playoffs, and in particular in the two Super Bowls he got a chance to play in.
But hey, Jay Cutler was fun, too.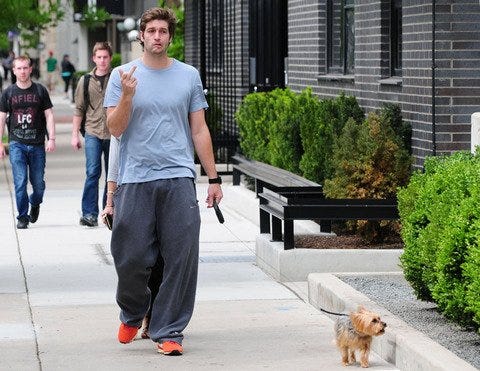 Recently, the Giants have been bad. Eli's retired, Michael Strahan is inexplicably hosting everything on TV even though nobody wants that, and their new head coach's resume consists mostly of being the guy who used to be in charge of properly disposing of Bill Belichick's sweatshirt sleeves.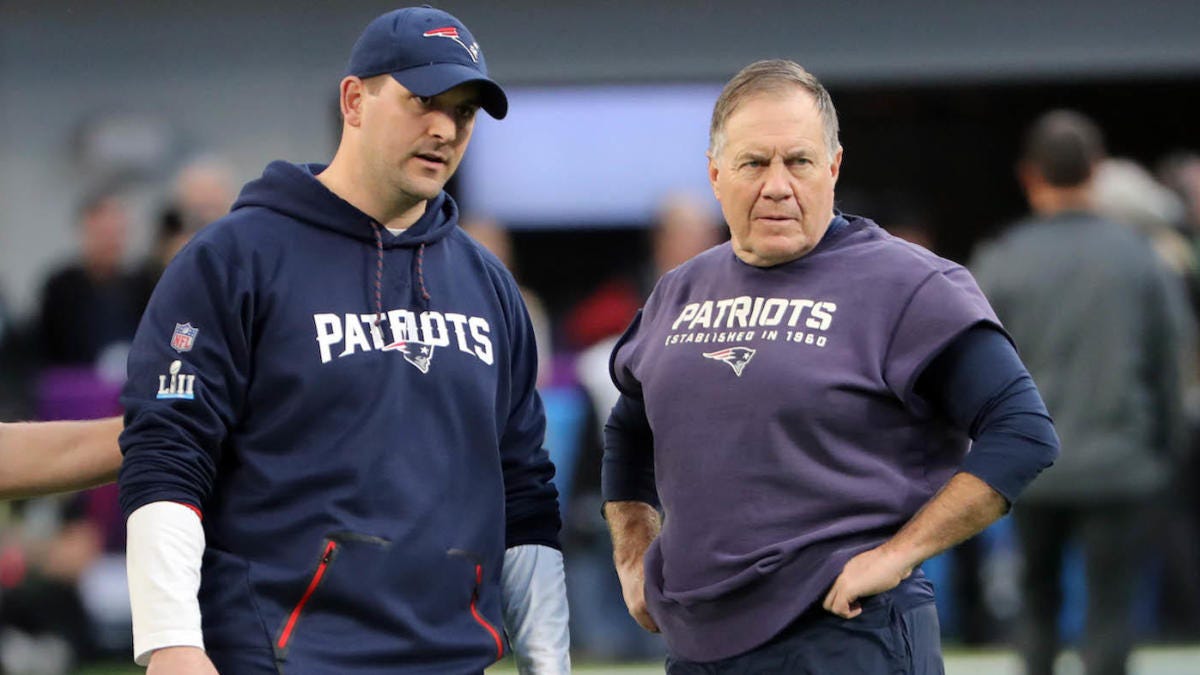 What is with that place and sleeves? Why did Joe push up his sweatshirt sleeves and not the shirt under it?
Whatever, it's not like the inability to properly wear items of apparel is indicative of coaching brilliance. Nobody's accusing Matt Nagy of being Marc Trestman with the top of his hat ripped off.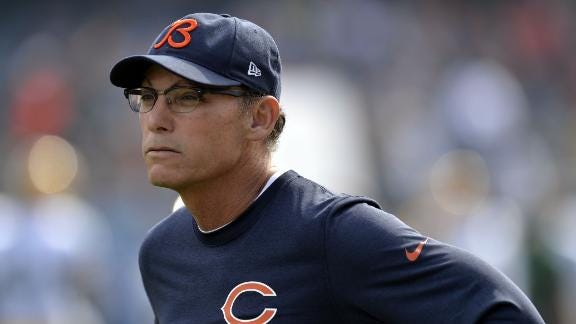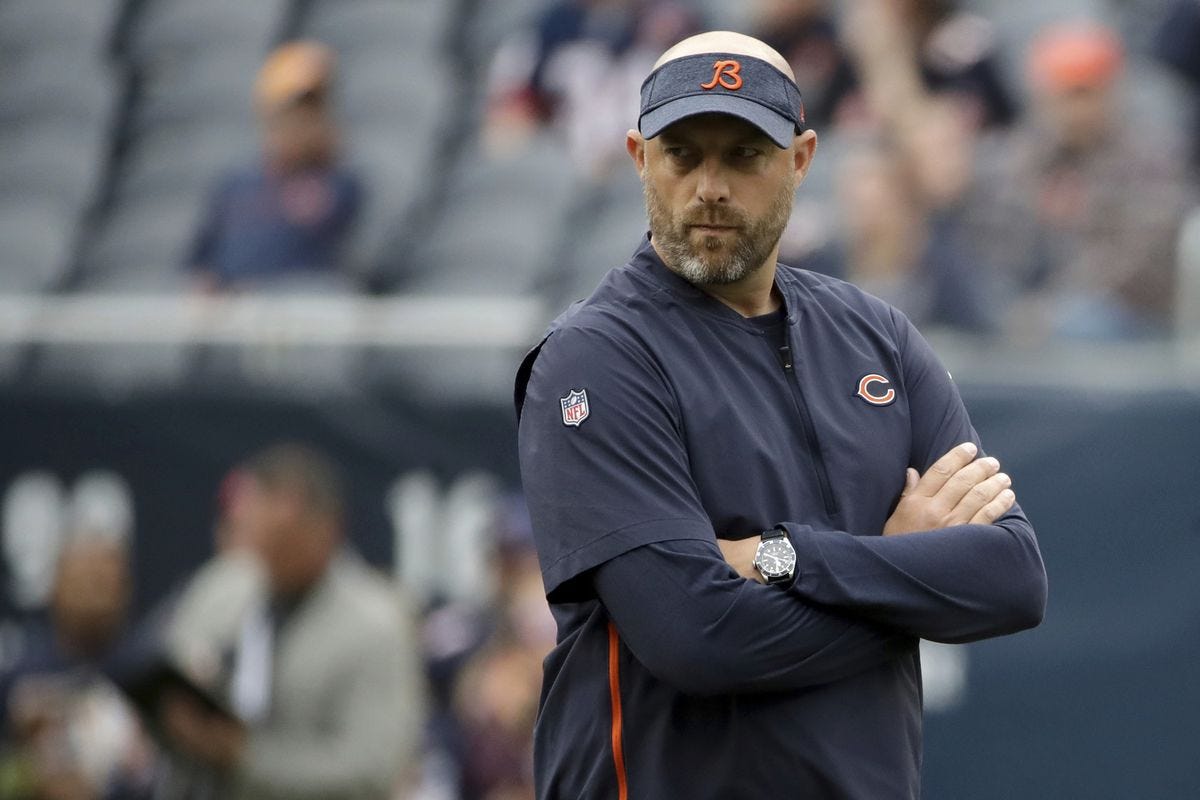 Are they? (Oh God, I think they are.)
One area the Giants clearly have the Bears beat in is the ability of the offspring of the owner to make a real impact in entertainment.
Kate Mara got pushed in front of a subway car in House of Cards and nobody missed her.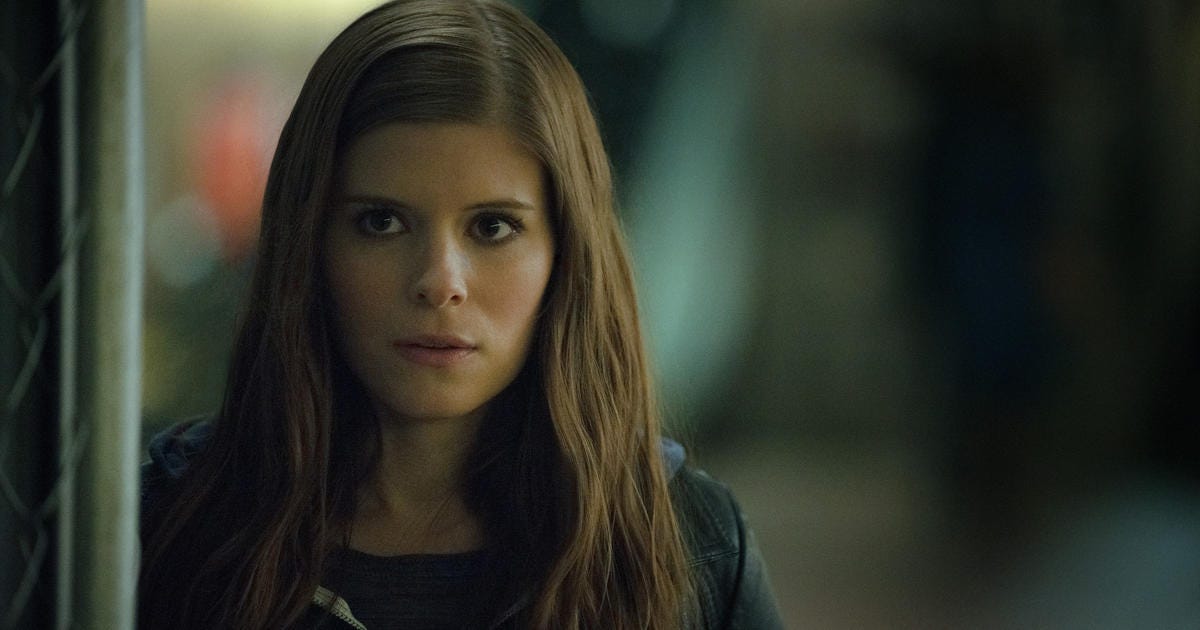 While Rooney Mara was in a remake of The Girl With The Dragon Tattoo that nobody ever wanted and that never stood the chance of being anywhere near as good as the original.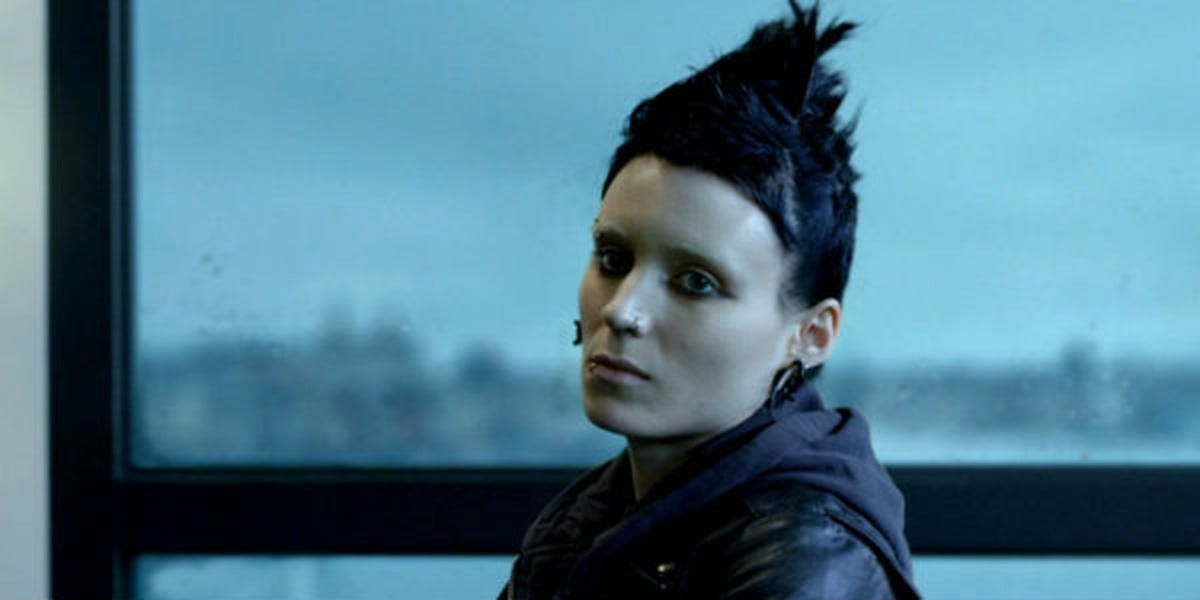 And she looked so good doing it.
And yes, she's named Rooney because her dad and grandpa wanted to honor their pal, Steelers owner Art Rooney. They named the third, less accomplished daughter Halas Mara. You probably know her best from her work in driver's ed training videos.
The closest any of the McCaskey kids or grandkids has come to pop culture was the time George read a book out loud:
George: "Who knows what a coward is?"
Kid: "Cody Parkey!"
George: "No. Well, kind of."
Both teams currently employ an overdrafted quarterback from an ACC school.
The guy the Bears have, played for Larry Fedora (a real name, seriously) at North Carolina, and engineered a comeback win last week when the threw for three touchdowns in the fourth quarter against the Lions.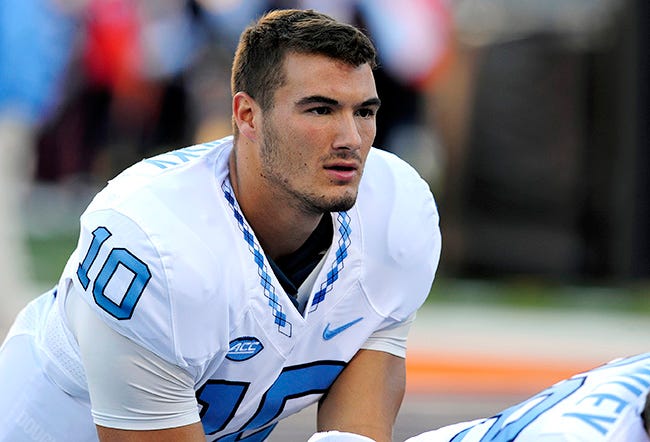 This is why Mitch thinks you're supposed to take your helmet off to take a direct snap.
The Giants quarterback played at Duke for David Cutcliffe who is best known for being Peyton Manning's offensive coordinator at Tennessee and Eli's coach at Ole Miss. That seems better than playing for a guy named after a hat.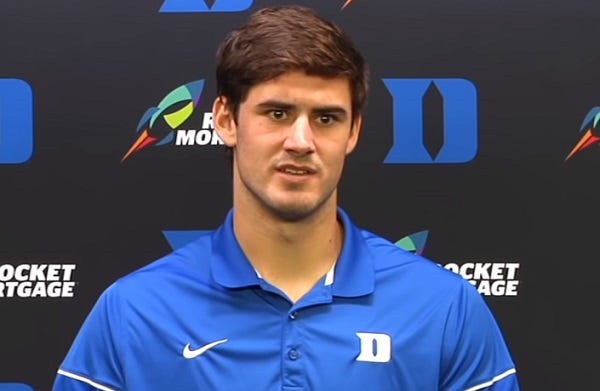 Cutcliffe apparently gave him Eli's old hair.
Last week, while Mitch and the Bears were good enough to take advantage of Detroit successfully handing away the game, Daniel Jones' Giants were getting boat raced by recently de-obesed Ben Roethlisberger and the Steelers. Pittsburgh lost their starting running back, James Conner, nine plays into the game, and his backup, Benny Snell ran for 119 yards.
Mitch didn't play great until his late game flurry of competence, but he didn't do this:
That was the NINETEENTH play of that drive. Imagine methodically creeping down the field and then having your quarterback lob a pass into quintuple coverage on SECOND DOWN!
The Giants best player is running back Saquon Barkley. He ran the ball 15 times for SIX yards against the Steelers. He had 66 total yards, and 38 of them came on one play. The rest of the time he touched the ball 20 times for 28 yards. Is that bad? That seems bad.
Last year the Bears beat the Giants 19-14 and Saquon only gained 59 yards on 17 carries.
The game is best remembered for this:
All of the Bears' scoring occurred in one frantic 10 minute cluster between the end of the first half and the start of the second. In that span they scored on two Eddy Piniero field goals that traveled a total of 50 yards (a 26 yarder and a 24 yarder…always a good sign when you have to kick field goals shorter than an extra point), a 32 yard TD pass from Mitch to Allen Robinson and a two yard Mitch run that was set up by Khalil Mack forcing a Jones fumble on a sack and the Bears recovering it on the Giants three yard line.
The rest of the game? Nine possessions. Six three and outs. Two interceptions. And then, taking a knee to end the game.
For the Giants? Five punts, a fumble, two TD drives (one of 97 yards) and a turnover on downs.
The teams were 5-for-27 on third down, combined. Oof.
The Bears had seven drives of less than 10 yards. And two more that only went 20.
The Giants had seven drives of less than 20 yards.
It was atrocious football.
But I'm sure it'll be a lot better on Sunday.

In big news last night, the Pro Football Hall of Fame's enormous president and CEO David Baker announced that Joe Buck is this year's Pete Rozelle Award winner and will be inducted into the Hall next summer.
There was a time when this announcement would have sent me into a blind rage, but I've softened on Joe. He's far less annoying than he was in his (and my) youth, and I'm especially forgiving considering these were obviously the calls that earned him induction.
Obviously, they made such an impression that the NFL is honoring him for baseball.
Impressive.

Speaking of baseball, a new Pointless Exercise podcast with Sam Fels and me is up for your listening pleasure. We look back at a pretty interesting week for the Cubs, and try to figure out what the hell Tob Manford* is trying to do to the playoffs.