Discover more from Pointless Exercise
The only newsletter you'll ever need...(about the Cubs and the Bears and all kinds of other cool stuff.)
Black out punked
Further Review: Cubs - Pirates 2015 Wild Card Game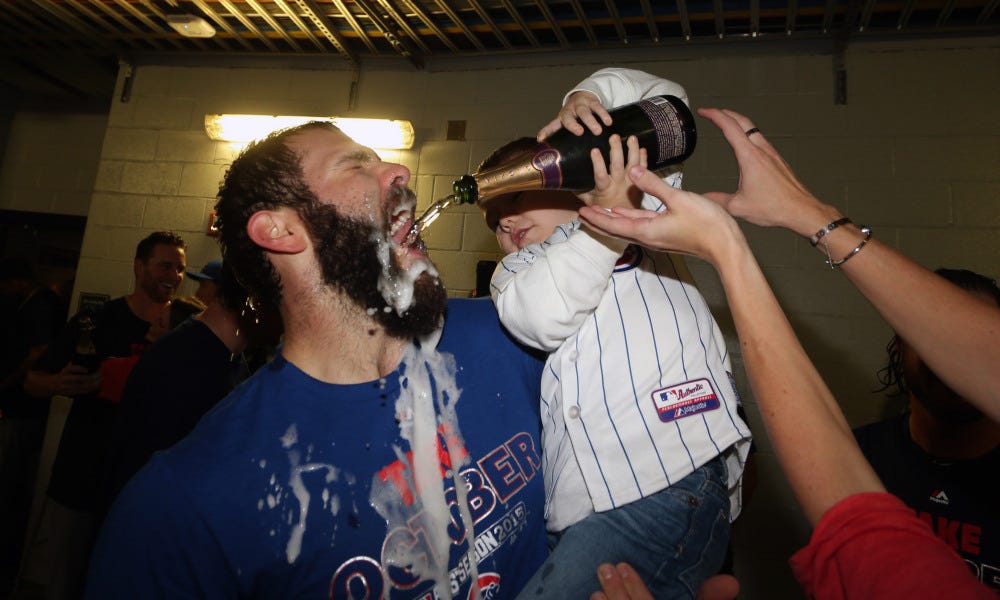 When did the Joe Maddon Cubs announce their presence with authority? Was it when Hector Rondon struck out three Giants with the bases loaded in a 2-0 game to finish off a four-game home sweep? Was it Kris Bryant's walk-off against the Rockies two days after they were no-hit by Cole Hamels, had lost four of five and had just blown the lead in the top of the ninth? Was it when Tommy Hunter actually got a save in a game in Milwaukee?
It's hard to argue that despite 97 regular season wins, that the night the rest of baseball said a collective "Oh, shit," was October 7, 2015, when Jake Arrieta took the mound against Gerrit Cole in Pissburgh in the Wild Card game.
The Cubs had lost nine playoff games in a row, and hadn't had a winning season in six years. They started three rookies, and probably should have started five.
The game is too much fun not to re-live. So, here we go:

Hey, remember Jonathan Herrera's creepy hands helmet?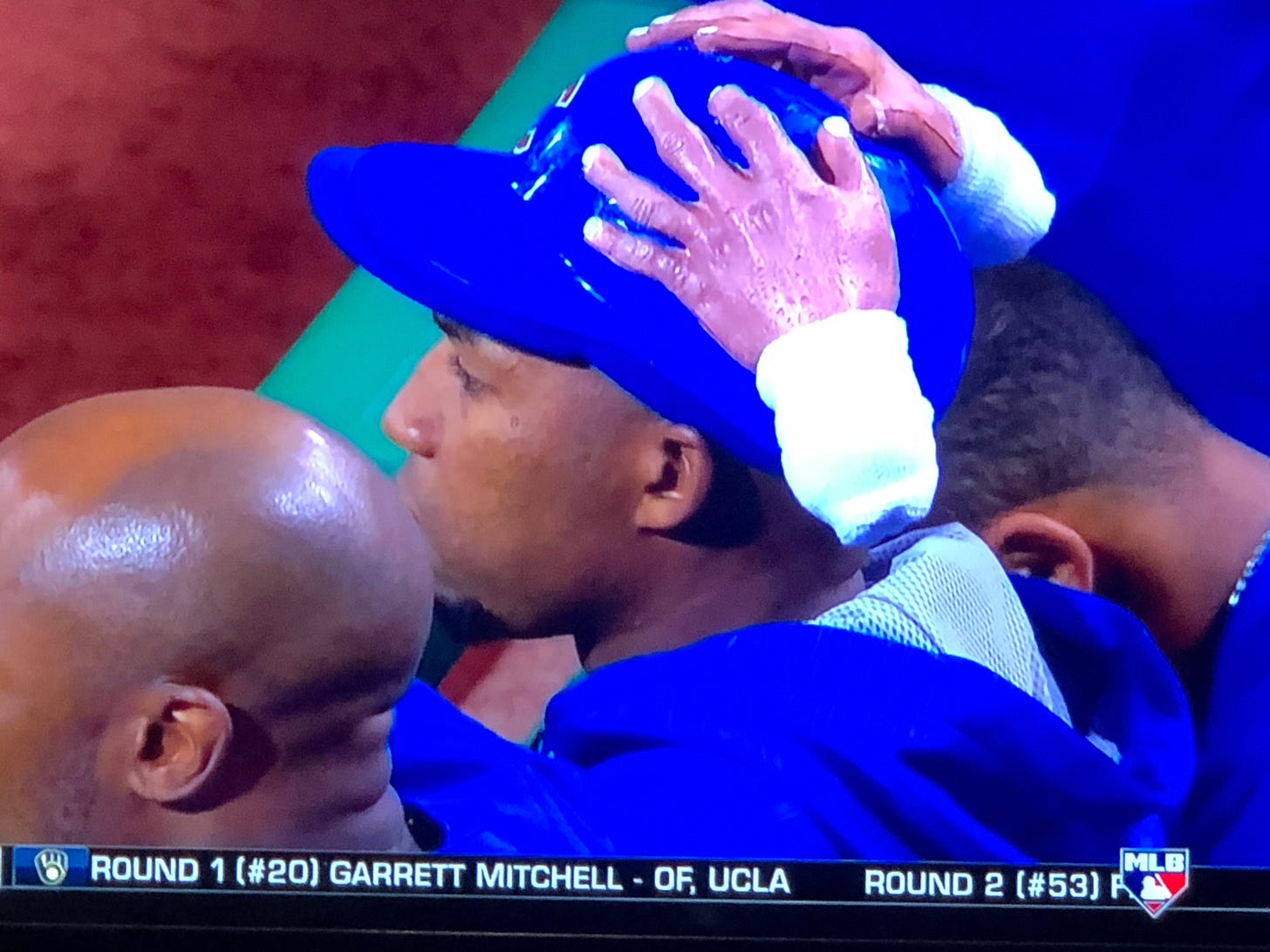 Remember Jonathan Herrera?
The Pirates had the second best record in baseball with 98 wins, and their reward was a one game, win or go home affair against the Cubs, the team with the third most wins (97) in baseball. It was the third straight Wild Card game for the Pirates, who had beaten the Reds in 2013, but were shut out by Madison Bumgarner in 2014. They'd been one of the best teams in the National League for three years, with not much to show for it.
They decided to make the game a "black out" and given that the Pirates, Steelers and Penguins all wear black it probably wasn't too hard for the 40,889 in attendance to find a black shirt, clean or otherwise.
The fans, and the Pirates themselves, were a little bit on edge. Why? Because the guy on the mound against them wasn't just rolling through the best second half of a season in the league that year. Arrieta had gone 12-1 with a 0.75 ERA in 15 starts. His only loss was the no-hitter Hamels threw against him. He allowed only 55 hits and 23 walks in 107.1 innings with 113 strikeouts. Opposing batters slashed a pathetic .148/.204/.205 against him. It is the greatest half season of pitching…ever.
Pirates fans decided they were going to get into Jake's head before the game. And he wasn't having any of it.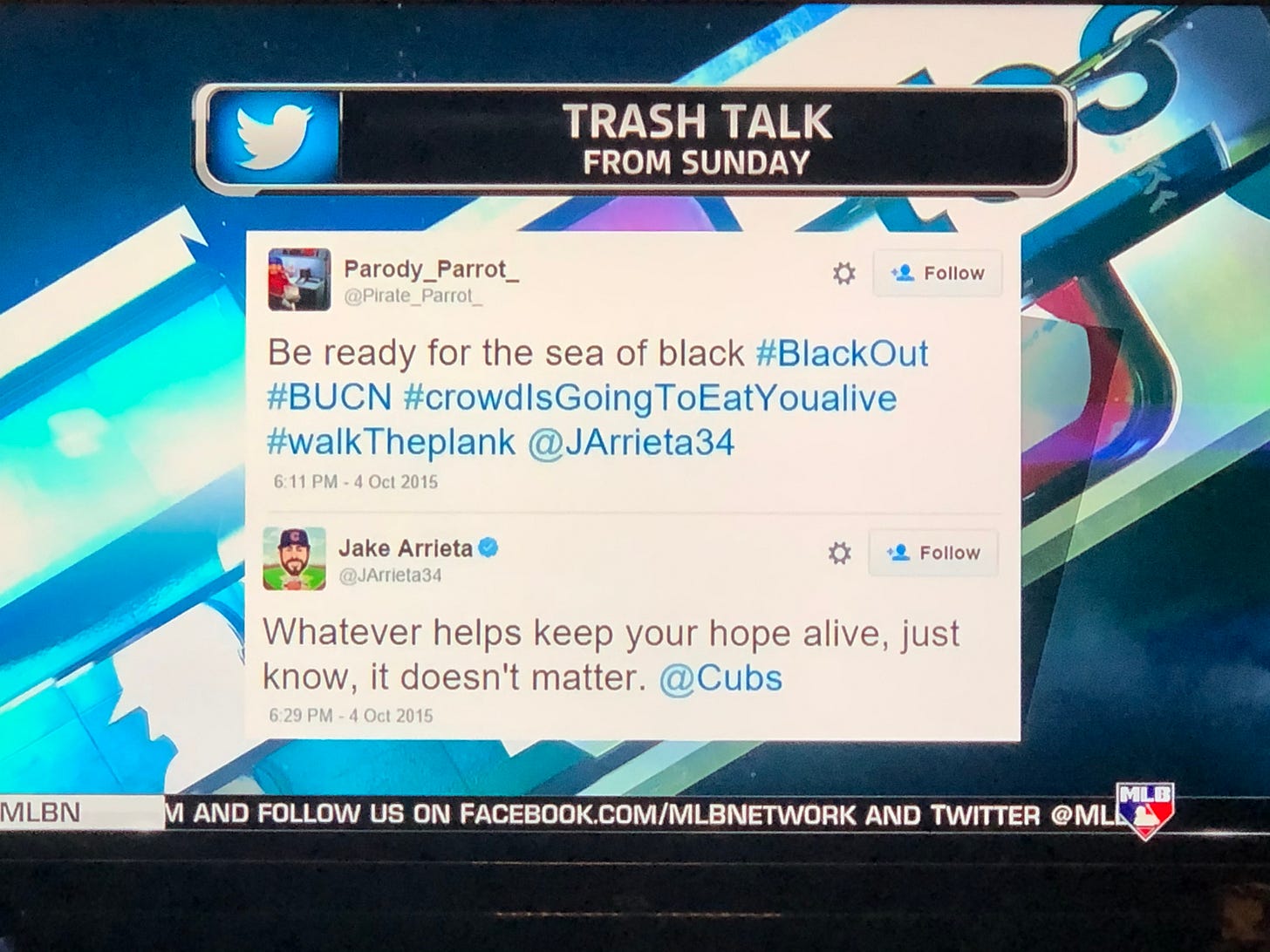 Joe Maddon had a lot of time to think about the lineup for this game and he came up with this:
Dexter, CF
Schwarber, RF
KB, LF
Rizzo, 1B
LaStella, 3B
Starlin, 2B
Miggy, C
Russell, SS
Jake, P
Because of the huge left field in PNC Park, Joe decided to "hide" Schwarber, a catcher who was being on-the-job-trained in the outfield in right field. He even gave Kyle a couple of starts in right down the stretch just to prepare for it. He wanted to get another lefty bat in the lineup so he played LaStella at third and Bryant in left. Basically, he was starting an inferior defensive lineup to try to squeeze out every drop of offense against Cole. I'm sure the fact that down the stretch fielders could sit on their gloves when Jake was pitching had something to do with it.
Cole was somewhat of an afterthought because of Jake's great run, but he came into the game 19-8 with a 2.60 ERA, with 206 K's in 208 innings. In his final five starts of the season he had gone 4-0 with two wins over the Cardinals, one over the Cubs and one over the Dodgers, all of them were playoff teams.
The game was on TBS and we got Ernie Johnson, Ron Darling and Cal Ripken Jr. on the call.
Dexter Fowler led off the game with a single. Hey, remember when Cubs' leadoff guys actually got on base? Yeah, those were the days. To show the Cubs were not fucking around, he stole second on the very next pitch.
Our large adult son, Schwarber takes a 2-2 pitch other way for a single to score Fowler and six pitches in the Cubs were already up 1-0! Hey, this playoff stuff is easy!
Bryant grounds into a double play, and that brings up Rizzo, who the Pirates fans boo. I guess just for being awesome.
Rizzo hits one into the shift and Neil Walker fields it in short right field but his throw bounces and Sean Rodriguez couldn't scoop it cleanly. Tough break, Sean. I'm sure you'll have lots of chances to make up for that.
LaStella is wearing number 11 and he strikes out to end the inning. Oh, well.
Bottom 1st, Cubs 1, Pissburgh 0
Clin Turtle's Battling Buccos lineup is:
Gregory Polanco, RF
Josh Harrison, 3B
Andrew McCutchen, CF
Starling Marte, LF
Francisco Cervelli, C
Neil Walker, 2B
Jordy Mercer, SS
Sean Rodriguez, 1B
Gerrit Cole, P
Jake's full season numbers were 22-6 with a 1.77 ERA, 236 strikeouts, 48 walks in 229 innings. That seems pretty good.
The blacked out crowd (they'd have reason to get blacked out after the game) had supposedly un-nerved Johnny Cueto in the Wild Card game two years before by chanting his last name, and so they start this one chanting Ar-ri-et-a over and over. The guy does naked Pilates, I don't think a few thousand morons screaming his last name is going to bother him.
Spoiler alert: It didn't.
He strikes out Polanco, and Harrison grounds out to Starlin.
McCutchen singles and somebody wakes up Cal, who finally speaks and says that the Pirates will "push it" and try to run on Arrieta and Montero. Hey, when has that EVER worked?
McCutchen doesn't budge off first and Marte strikes out.
Top 2nd, Cubs 1, Pissburgh 0
Cole settles in and retires the Cubs 1-2-3.
Bottom 2nd, Cubs 1, Pissburgh 0
As good as the Pirates were, with hitters like McCutchen and Marte, Cubs fans only truly feared Cervelli and Walker. For some reason those two unspectacular hitters had both terrorized the Cubs over the years, and orange faced Clin Turtle had them batting back-to-back right in the middle of the order just to strike fear in us.
Jake isn't phased. Cervelli grounds to Rizzo and Walker strikes out.
Cal observes that the Pirates are stepping out a lot on Arrieta trying to keep him from getting into a rhythm. Darling says, "They're just delaying the inevitable."
Jordy Mercer is playing short because earlier in the year Chris Coghlan took out Jung-Ho Kang on a slide at second base and broke his leg.
The Pirates were pretty mad about it. Probably not as mad as the guy driving a car that Kang plowed into and ran away from for his third DUI a couple of years later. Jordy flies to center.
Top 3rd, Cubs 1, Pissburgh 0
Jake leads off with a strikeout. Probably to conserve energy. Sure.
Then Dexter singles again, and that leads to this incredible moment.
Turn, burn and the disgusted bat flip really sells it.
Look, I know it was just 3-0 and we were all afraid to even whisper it out loud, but we KNEW the game was over.
Cole throws up and in to Bryant on a 1-2 pitch and missed him and then ends up walking him. The Pirates are a red-assed bunch under the best of circumstances, and these, for them, are now really NOT the best of circumstances.
Rizzo pops one to shallow left and Jordy weaves after it like Kang trying to parallel park. There is no chance he's going to catch it, so Bryant takes off, and of course, Jordy somehow catches it. He throws to first for a double play to end the inning. But, the Cubs get two very valuable, very soggy runs.
Bottom 3rd, Cubs 3, Pissburgh 0
Sean Rodriguez is up to atone for his first inning bobble and…wait…not so fast, Sean. Clin has sent Pedro Alvarez up to pinch hit. Sean Rodriguez becomes the first position player in baseball history to start a playoff game and not get a plate appearance.
Ever.
They've been playing baseball since the 1870s. Hey, congrats!
It's totally worth it because Alvarez…strikes out. Hey, Clin, Sean could have done that.
Oh well, I'm sure that's the last we'll hear from Sean Rodriguez tonight.
Darling says, "I'm supposed to tell you things during games to keep you tuned in, but I'm going the other way with this one. Jake Arrieta is 16-0 this season when he has a three or more run lead." Thanks, Ron!
Jake strikes out Cole and Polanco and he has six in the first three innings.
Cole strikes out. five of the first eight batters have whiffed
Top 4th, Cubs 3, Pissburgh 0
Nothing doing for the Cubs. LaStella taps out to first, Starlin grounds to third, and after a Miggy single (after which I'm sure he swore at Brandon Hyde at first about something) Russell strikes out.
Bottom 4th, Cubs 3, Pissburgh 0
The Pirates finally test Schwarber in right, as Harrison and McCutchen both fly out to him. Meanwhile the TBS guys are interviewing Joe in the dugout. Joe plays the hits with, "Jake's being Jake. The ball's looking good out of his hand from down here."
In Joe's five years with the Cubs did the ball ever not look good coming out of a guy's hand from down there?
Marte hits one that makes Rizzo range far to his right, but Captain Pilates sprints off the mound to beat the speedy left fielder to the bag to end the inning.
Top 5th, Cubs 3, Pissburgh 0
Jake strikes out, again. I'm sure to get his rest, again.

Cal calls Dexter "Derek" Fowler, which I'd like to think is why Dexter backed out of his deal with the Orioles the next spring and returned to the Cubs.

"Derek" then smokes one deep to right, does a little hop and watches it land in the bleachers for a 4-0 lead. He was 3-for-14 in the regular season against Cole, but tonight he's 3-for-3 with a homer, a stolen base and three runs scored.
For the second time in the game Cal says that Dexter is not the "prototypical leadoff man" because he hits homers. Does he know what "prototypical" means? Dexter got on base and could steal bases (he showed that in the first) and just because he had some power it doesn't mean he couldn't do the other stuff.
Schwarber flies out to center. Then Cole tries to hit KB again, and misses him again. Bryant then lines to short.
Bottom 5th, Cubs 4, Pissburgh 0
On the first pitch Jake knocks Cervelli down, and I can't believe it's not because Cole kept buzzing KB.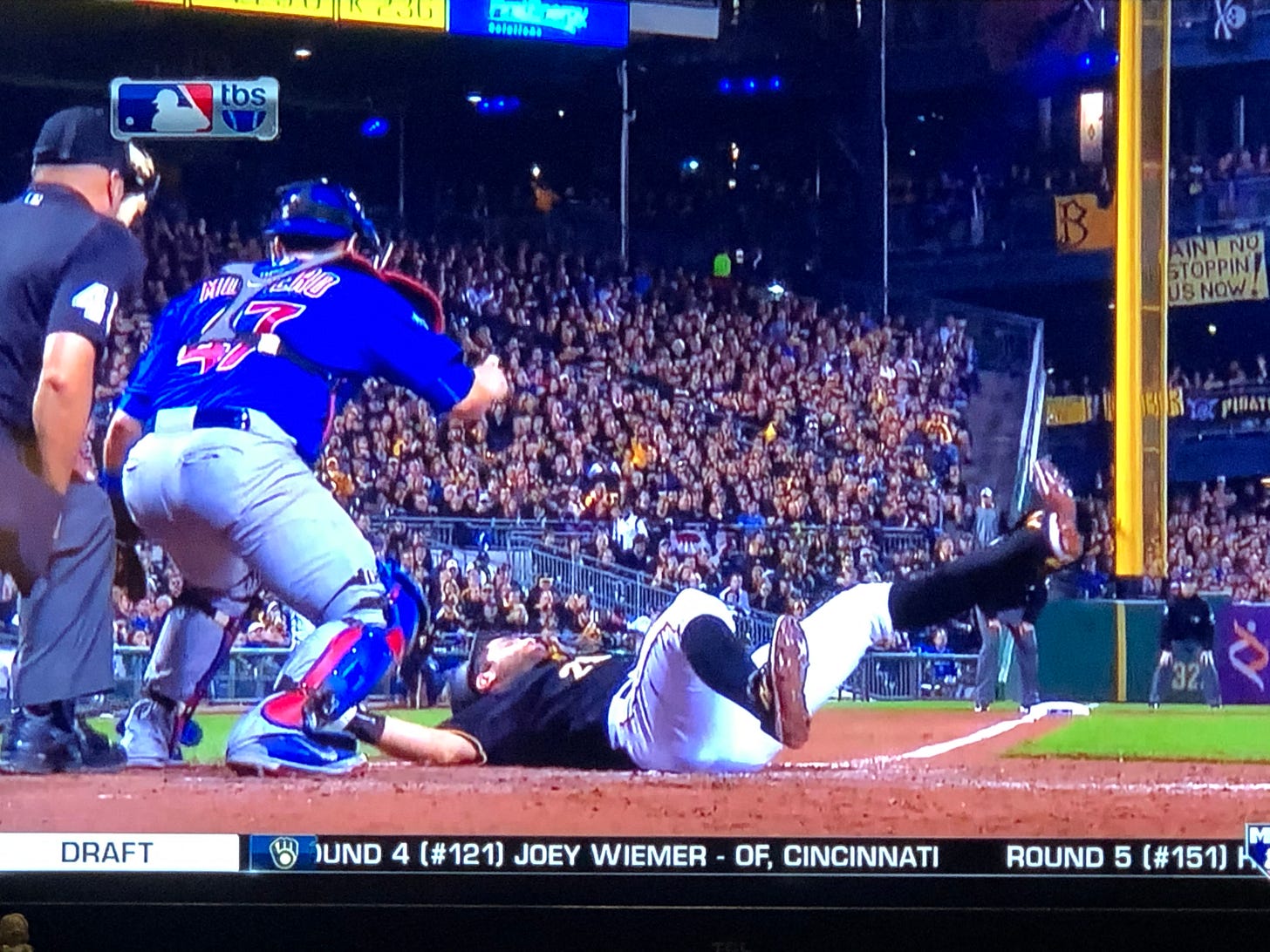 Apparently the ball hit one of Cervelli's fingers and he gets to go to first.
Neil Walker really makes Jake work…by popping up the first pitch.
Pedro Alvarez steps in and Darling says that he's, "the one big fella who can get you back in the game with one big swing." As he says it, Alvarez takes one big swing at a slider and misses it by six big feet. He then takes strike three. So much for that rally. Jake has eight strikeouts through five.
Top 6th, Cubs 4, Pissburgh 0
Cole's done and somebody's Bastardo son, Antonio, is in to pitch. He strikes out Rizzo. Austin Jackson hits for Tommy and he strikes out. Starlin pops out to second.
Bottom 6th, Cubs 4, Pissburgh 0
Jackson stays in to play left (Did you remember he played for the Cubs? I mean I did, mostly because he bunted in game two of the Cardinals series and literally made Jaime Garcia shit himself.) and Bryant moves to third. Schwarber's still hanging out in right.
Travis Snider pinch hits for Bastardo. Hey, remember when Snider had that one good month in Toronto once?
Joe is looking at his lineup card. I wonder when he'll get Aroldis up? Oh, that's right.
Snider singles, and that brings up Greg Polanco who Darling calls, "a young superstar." Wait, what?
Anyway, Superstar Greg lines one hard that Bryant gets a glove on and he knocks it…up…and then catches it. I'm sure Tommy would have had it, too.
That bring up Harrison. Hey, remember when he was an All-Star in 2014 for some reason? Well, it was because this dumbass was the NL manager.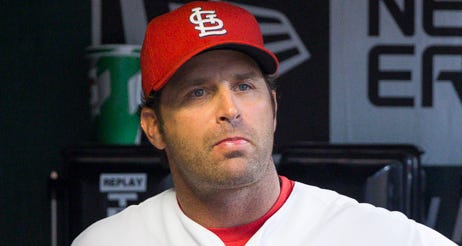 He said he needed a utility player on the team. Yeah, that's how All-Star teams work, Mike. Maybe Josh agreed to buy a strip mall from him?
Jake hits Harrison. Whoops.
Pirates fans are going nuts. McCutchen's up and he's hit the ball hard in both at bats so far.
He hits one up the middle and Russell makes a diving stop to knock it down but he can't make a play. Now the bases are loaded for Marte, with just one out.
Joe is looking at his lineup card again, and his bullpen options are making him dry heave.
Oh shit. We whispered too soon! We knew this would happen. The Cubs are going to blow it! They always blow it! When will they ever win anything?
But then, this happens.
Marte smoked it, but holy crap that Castro turn, and Rizzo barely waited to catch the ball before he started fist pumping. Things are different. In the best way.
I hate to spoil things, Pissburgh. But you can go home now.
Top 7th, Cubs 4, Pissburgh 0
Miggy leads off and tries to bunt? On the next pitch he grounds to first.
We learn that the official scorer changed the McCutchen screamer to Russell in the top of the inning to an error. That's just wrong. That's terrible official scoring. But, now we know that Addy's a scumbag, so we'll allow it.
Darling reacts by saying he's going to take the scorer out to short after the game and hit fungoes to him and see if he can make the play.
Russell strikes out.
Here's Jake with two outs. Let's see if the Pirates are emotionally beaten.
Yup, it's over. Nothing says you're all out of options like hitting the other team's pitcher while he's shoving your bats up your ass.
Look at Gerrit Cole acting all tough. He should have tried that when he was actually in the game.
And hey, it's our old buddy Sean Rodriguez. He's still cosplaying as the team logo and here he is trying to do the Rose and Jack from Titanic with Snider while pointing to Arrieta and yelling, "You're lucky Clin Turtle didn't let me get an at bat, Jake!"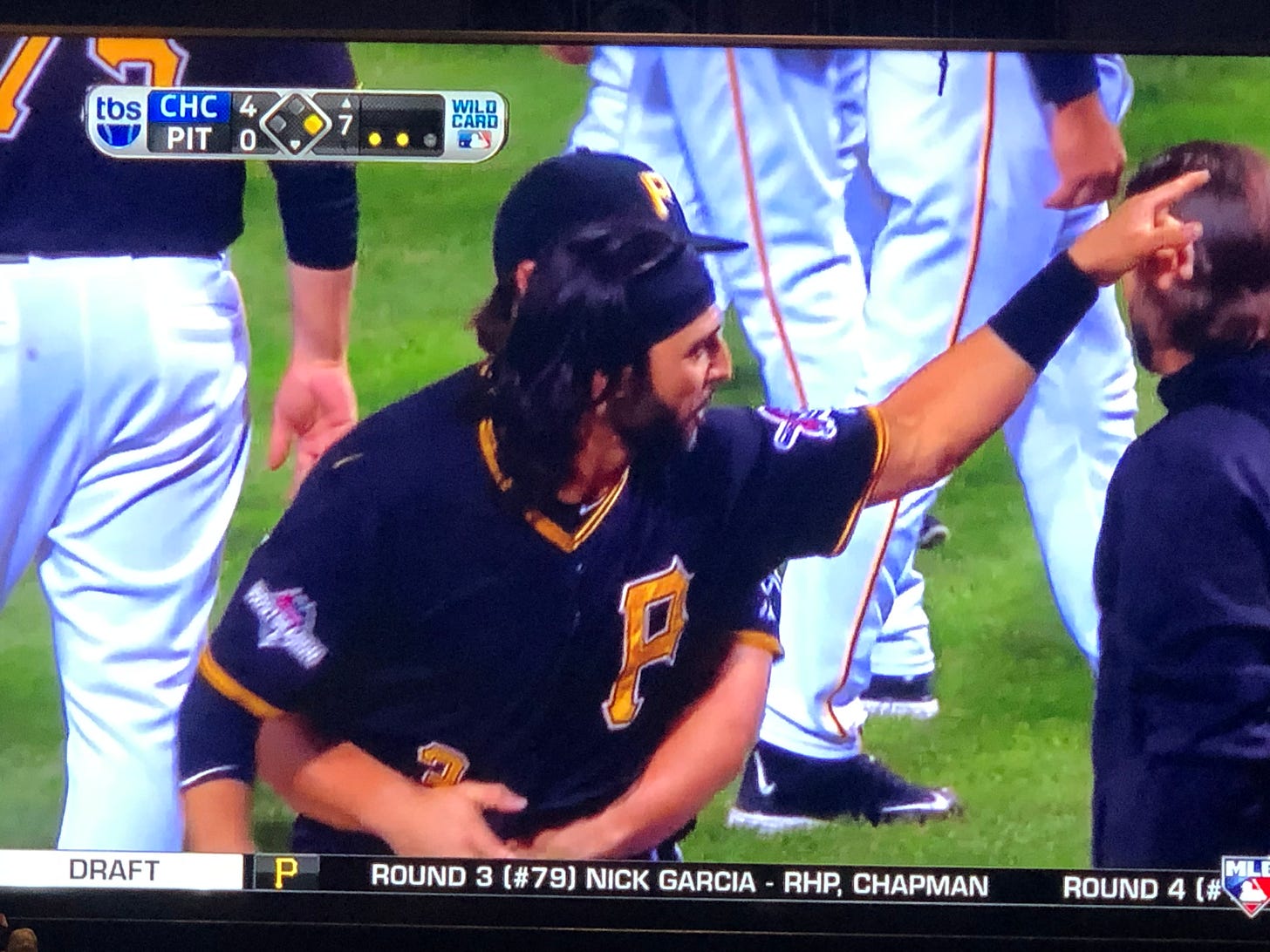 Darling says "The only thing I'd have done differently if I was Jake Arrieta and their pitcher in me in the fanny after I hit two of their players, is I'd have run to first base. And that would have stopped everything." I think starting it was the point, Ron.
Rodriguez gets tossed from a game he was already out of for throwing a punch during the scrum and he decides he's not leaving until he finally gets in some swings, so here is being TKO'd by a Gatorade jug.
On the next pitch, Jake steals second. I really miss that badass.
It almost pays off as Dexter loops one to right but Polanco catches it.
Bottom 7, Cubs 4, Pissburgh 0
Cervelli singles to start the seventh. Jake should have hit him, just because.
Schwarber's out, and Ryan Dempster doppelgänger Chris Denorfia is in right.
Walker strikes out. His Cubs killer days are officially behind him.
But now…something I am embarrassed to say I had forgotten happens.
Guess who's hitting for Jordy!
It's E-ramis Ramirez! I had totally forgotten he went to the Pirates to end it all. I mean his career, not to kill himself.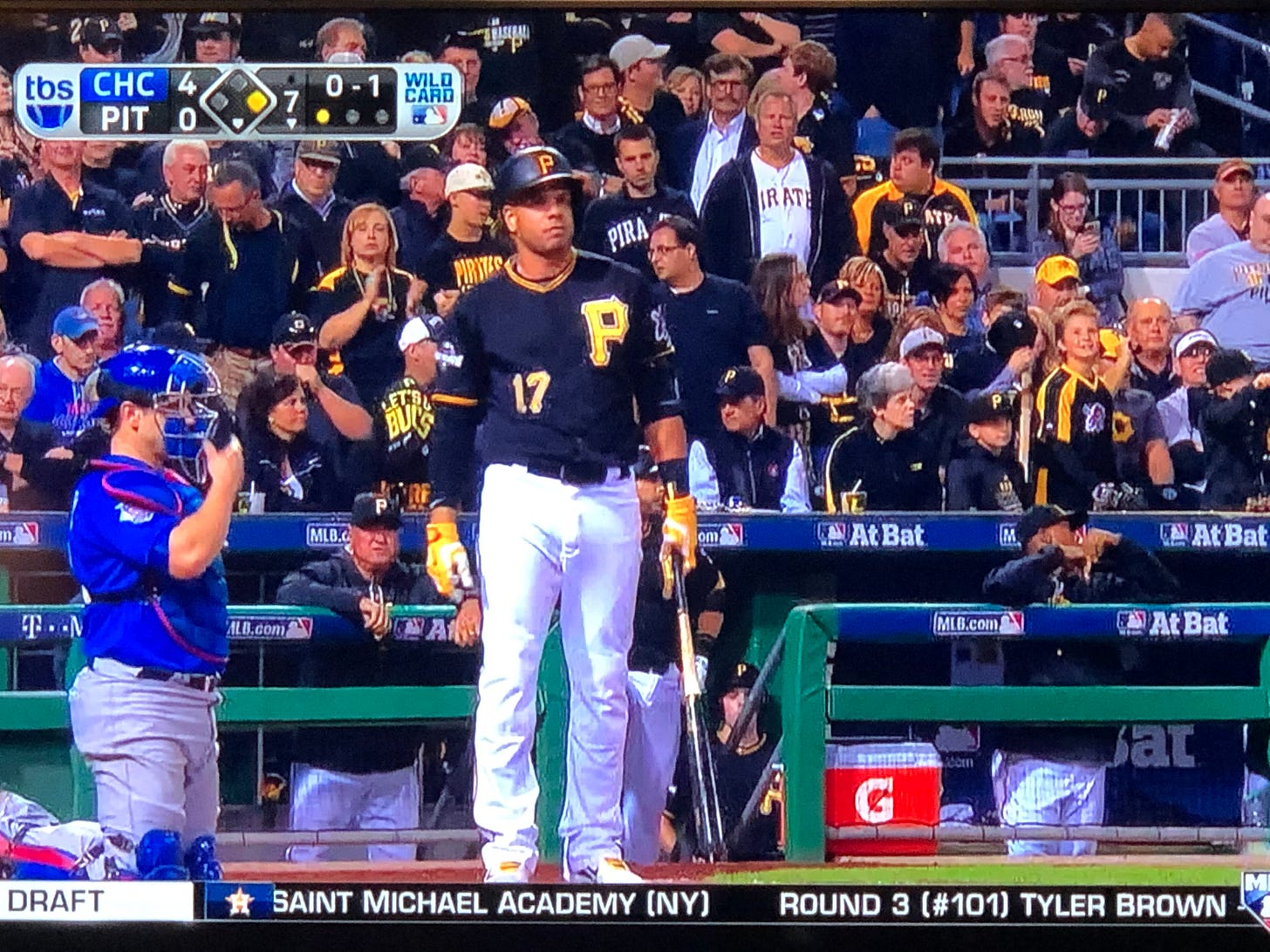 Why would Clin have put Pedro Alvarez into the game in the third when he had E-ramis? Even old E-ramis was better than either Rodriguez or Alvarez. Case in point, just because:
Darling says, "This young man has had a quite a career. Started here, went to Milwaukee and came back here."
I think Ron forgot a team in there. One that E-ramis hit .294/.356/.531 for with 239 homers.
E-ramis smokes one down the line, Bryant makes a lunging grab and starts a 5-4-3. I'm sure Brenly was at home criticizing E-ramis for not running faster.
Top 8th, Cubs 4, Pirates 0
Joakim Soria is in for the Pirates and he walks Denorfia.
Bryant walks, but the home plate ump is in a hurry to go home and rings him up on a check swing.
Think about all of the defensive changes in this game, and here's baby Javy standing in the dugout not playing.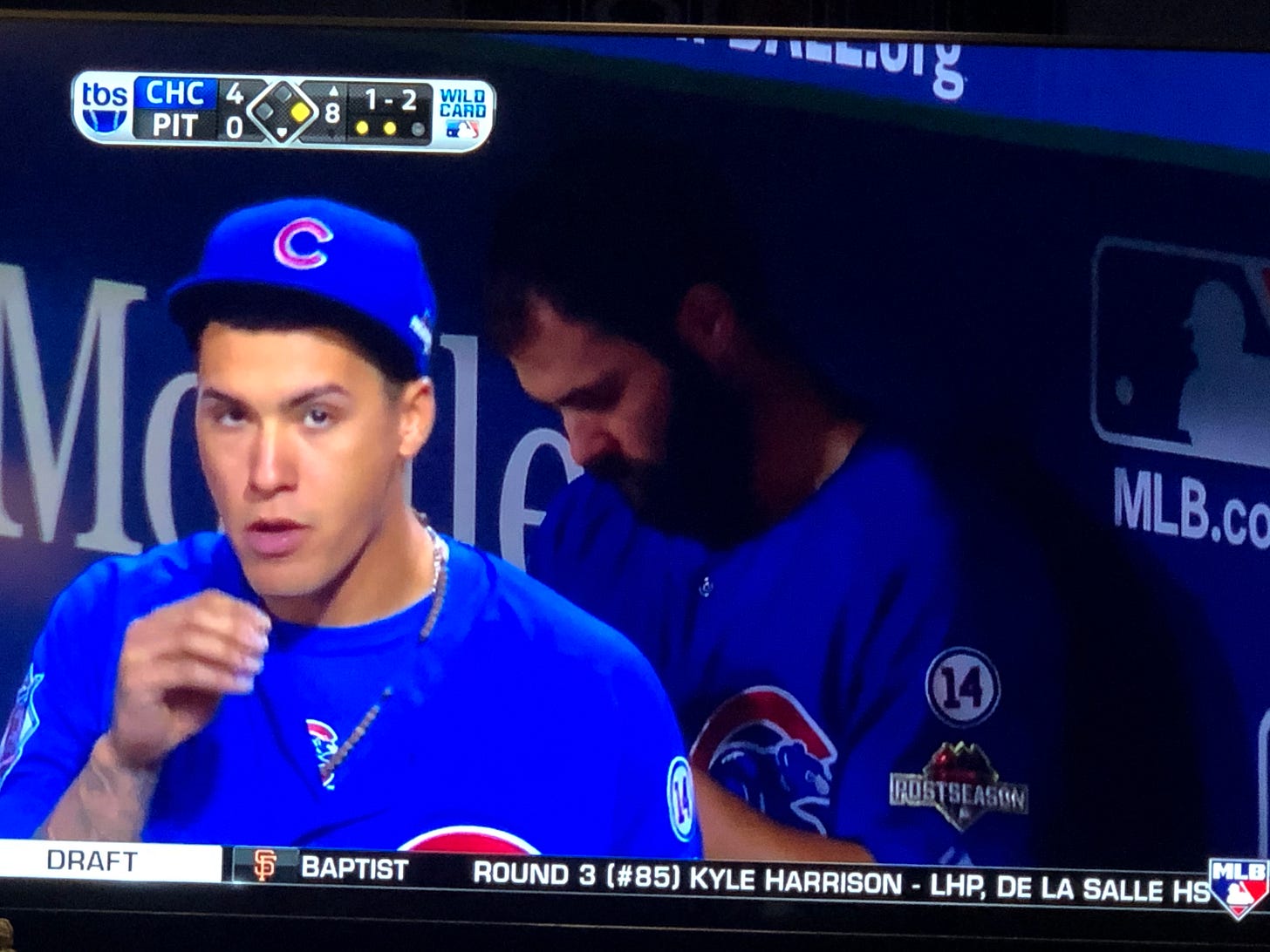 Soria also strikes out Rizzo and Jackson.
Bottom 8th, Cubs 4, Pissburgh 0
A lot of questionable things going on in this shot.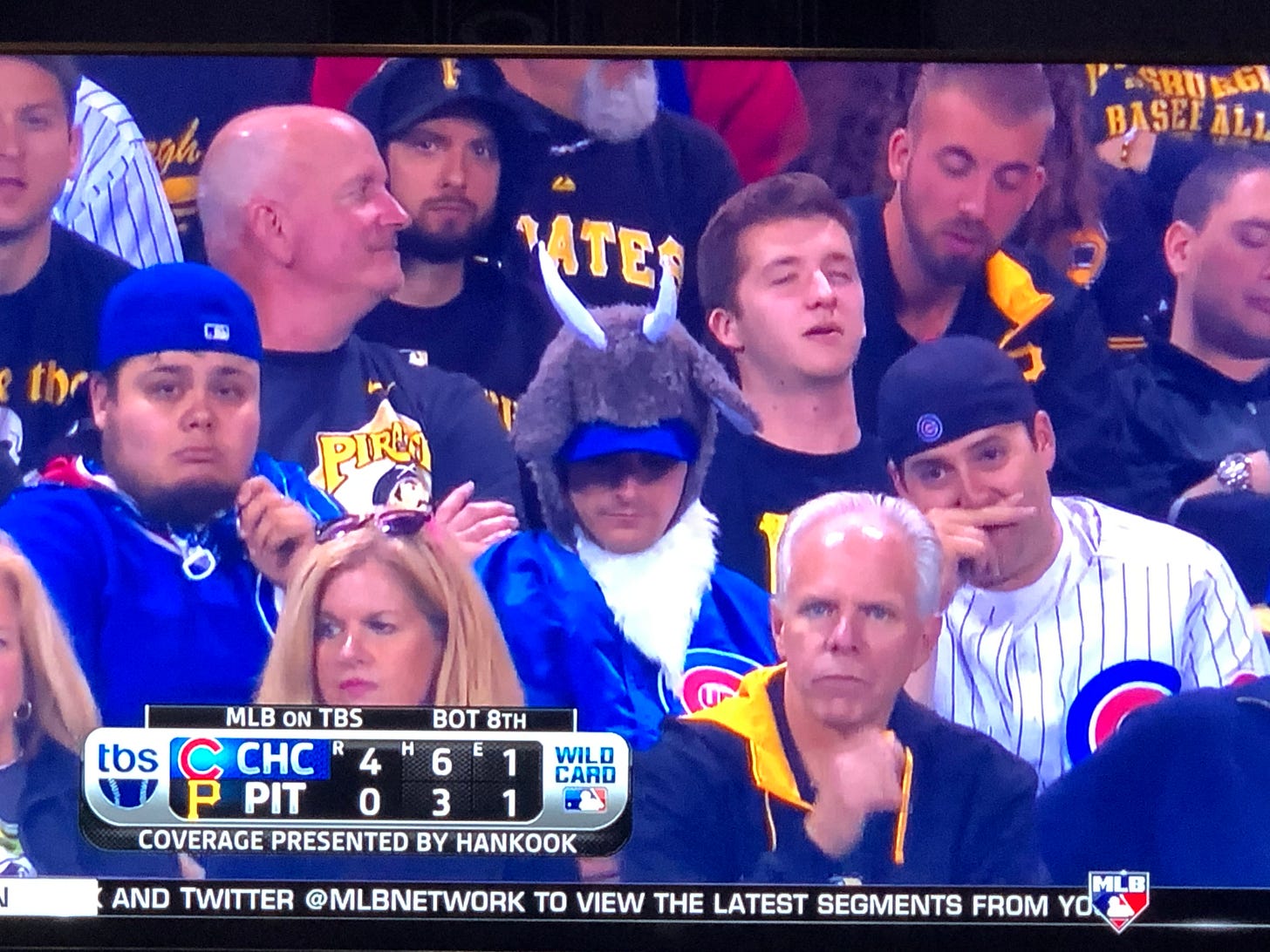 First there's the dumbass dressed as a goat (you have no idea how glad I am that that shit is gone forever), I don't know where the guy next to him's fingers have been, and the Pirates fan a row behind them who is either coming to grips with their three year flirtation with being relevant being over in six outs, or maybe he's where those fingers just were?
Jake starts the eighth with just 88 pitches.
Alvarez strikes out...again. He didn't start and he's stuck out three times. Quality.
Michael Morse hits for Soria and singles. Hey, the Pirates are loaded with guys who have flunked drug tests!
"Superstar" Greg Polanco flies routinely to Denorfia in right.
Jake strikes out Harrison. And things are getting tingly!
Top 9th, Cubs 4, Pirates 0
Mark Melancon, who led the NL with 51 saves is in and the Cubs are in a hurry to end this thing. Starlin lines to short, Miggy grounds to first and Russell gets a hit but is thrown out trying to go second just to not delay the celebration.
Bottom 9th, Cubs 4, Pirates 0
Here we go. Three outs and bring on the Cardinals. I will admit that as I'm rewatching this, I'm getting goose bumps. It all floods back in the best way. The 2016 Cubs are legends forever, but remember how incredible 2015 was? This team was so fun to watch that even if they had lost to Pissburgh we'd still look back fondly on them. But they didn't. And they didn't stop there. Rewatching it you can feel it all coming back again. We didn't want this season to end, and it wasn't going to. As sickening as the thought of them getting sent home by the Cardinals in the NLDS might have been, it didn't really register because we knew this team was good. And here they were proving it.
McCutchen grounds back to Jake.
Marte grounds to Bryant.
Things are getting awfully quiet in Pissburgh.
Darling: "It was supposed to be a blackout game. We're seeing more and more blue as we go."
Cervelli lines out to our boy Starlin, who manages to untuck his jersey as he runs the ball to the middle of the diamond to celebrate with his teammates.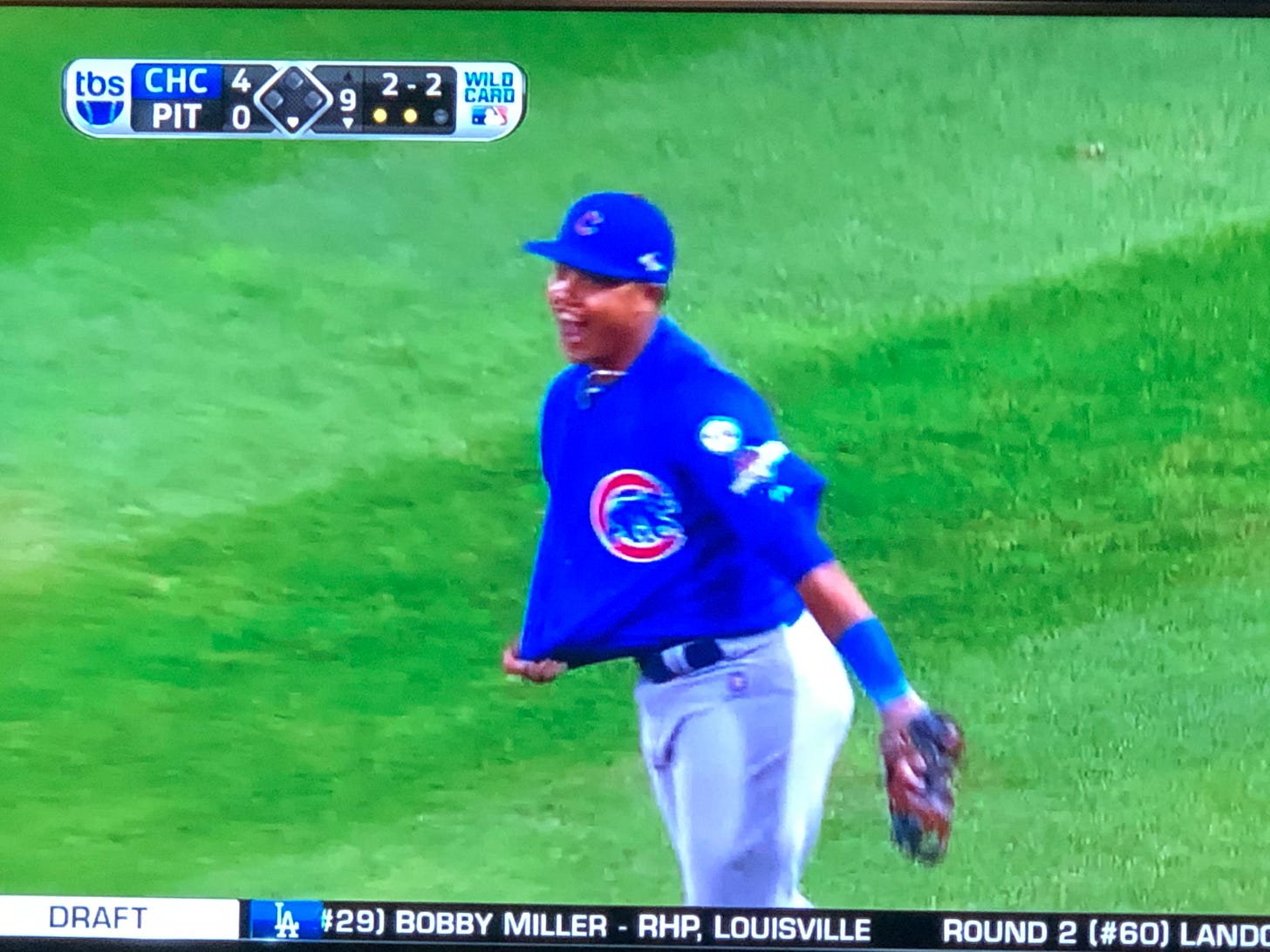 And it's time for Virgil Patrick Hughes.
"Goodbye Pittsburgh, hello St. Louis!"
Here's what I wrote on Desipio after the game.
There's a reason you celebrate after advancing in the playoffs. It's hard to win. And it's fun. And while the Yankees and Cardinals can act like celebrating anything short of a pennant is beneath them, they're wrong. Baseball's supposed to be fun, and that's just how the Cubs treat it. It may piss you off to watch them beat your ass and grin from ear to ear while they do it, but they don't care. They don't even notice. This is about them, it's not about you. You're just the obstacle.

Way back when it first started to really look like these Cubs were going to the playoffs, I envisioned a roadmap that included beating Gerrit Cole in the wild card game and then heading to St. Louis to FUCK SHIT UP.

That time is here. It's really happening. After 120 years of playing each other the Cubs and Cardinals are finally going to meet in the playoffs. And the Cardinals fans are scared shitless. Their phony air of superiority is completely dependent on the Cubs never beating them when it really matters. Well, it matters now. And despite the fact that the best pitcher on the planet can't start until game three, the Cubs can still win this series even if they only win games pitched by Jon Lester and by Jake.

Early in the year the Cubs kept finding ways to lose to the Cardinals, and Joe said he was looking forward to coming back later in the season when his guys had figured it out. And then the Cubs came back in September and the Cardinals didn't like what they saw. The Cubs boast the most talented roster in the National League. Not all of that talent is fully formed yet, but it's there, and all of it knows that they can beat the Cardinals. They don't just believe it, they've done it.

This is going to be great.

The Cardinals have a long and proud history of success.

Well, they're going to need it.

They'll need something to cling to after the Cubs are done with them.
How good was Jake? He threw a four-hit, 11 strikeout, zero walk shutout in his first ever playoff game. No pitcher had ever done that. Not, no Cubs pitcher had never done that. No pitcher, ever, had thrown a playoff shutout with 10 or more strikeouts and no walks.
He was at his best when the Cubs needed him to be. And it was just the beginning.