Discover more from Pointless Exercise
The only newsletter you'll ever need...(about the Cubs and the Bears and all kinds of other cool stuff.)
Burning questions about the 2020 Cubs
Roster shake out, Descalso's timely "injury", what it would take to not finish the season and more...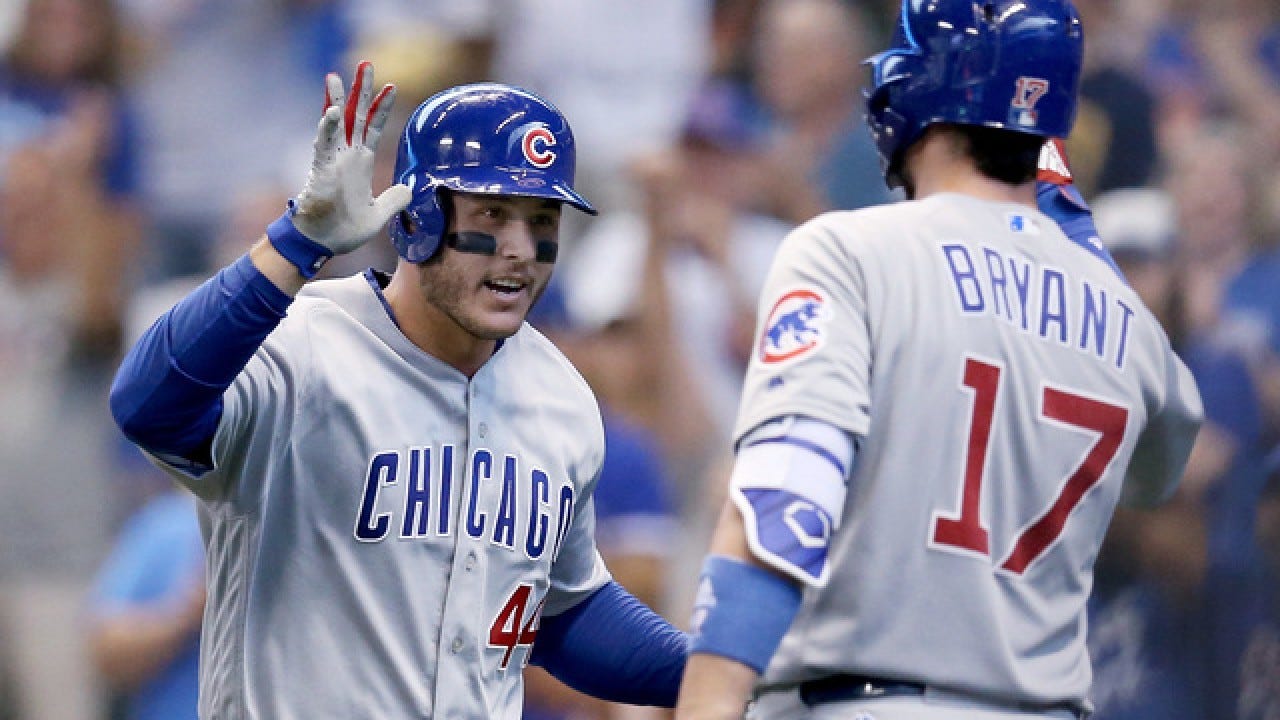 The Cubs will be playing a game that actually matters tomorrow, and you've got questions, so I'll make up some answers.
David Ross says he wants his 30 man roster to have 16 pitchers and 14 position players? Is that smart and who are they going to be?
Sometimes I forget the Cubs let the real manager drive off to SoCal in his RV or sex van or whatever mode of transport he took, and we're stuck with an oft concussed, lifetime backup catcher. Oh well.
With the DH in the National League now, the "risk" of running out of position players is pretty low, and 14 position players is at the upper limit of what you'd carry on a 26-man roster. With a 30-man roster for the first couple of weeks, 16 pitchers seems…fine. The only problem, of course, is that the Cubs don't really have 16 pitchers you'd want to see on the roster.
Anyway, let's see how things are likely to shake out for Friday's opener.
Catchers (3)
Willson Contreras, Victor Caratini, Josh Phegley
I feel like Phegley is a waste of time, and would be better off stashed in South Bend, but when you make a third string catcher your manager, he's gonna want to have a third string catcher on his team.
Infielders (6)
Anthony Rizzo, Jason Kipnis, Javier Baez, Kris Bryant, David Bote, Nico Hoerner
Daniel Descalso proved he's no dummy when he started limping during his at bat last night. The writing had been on the wall for a long time that the Cubs were going to cut him, but now there's at least a chance they'll put him on the injured list. If the Cubs weren't hell bent on a third catcher you could see Hernan Perez making the team. But honestly, that also would be a waste of time and space.
Outfielders (5)
Kyle Schwarber, Ian Happ, Albert Almora, Jason Heyward, Steven Souza
Because Bryant, Hoerner and Kipnis can play the outfield, the Cubs really don't need to carry five, but they will. Even if only one if them is worth playing every day and he's going to DH a fair amount. A lack of outfield offense has been a glaring weakness for the Cubs since the World Series team and it's going to be again this year. Ian Miller should start the year in South Bend, and honestly, I'd be fine if he just stayed there.
Starting Pitchers (5)
Kyle Hendricks, Yu Darvish, Tyler Chatwood, Jon Lester, Alec Mills
There are two guys you can count on, we hope Lester has more good days than bad ones and then…ugh. This Chatwood shit has to end. He's just miserable to watch. Fastballs with no command, breaking balls with impressive movement but rarely clip the strike zone. His ideal role would be on another team, but if he has to be a Cub, he should be the middle inning, multi-inning, reliever. When he's on he's impressive, when he's off, which is more often, you know it right away and he's just lousy. The Cubs used him in relief last year and his numbers—if not his actual performance—were much improved because Joe could just yank him when it was clear was going to be bad. Starting him, even with Jose Quintana on the IL to start the year after his cutlery incident just seems doomed to failure. Mills might not actually be used as a starter all the time. It looks like the Cubs plan to have him piggyback one of the other four from time to time, most likely Lester, but that should be Chatwood's job. The Cubs inability to develop a single starting pitcher is the glaring weakness of this regime, but honestly, they've been just, plain shit at finding any kind of starter for a few years now. Darvish and Q seemed like sure things, and it took Yu a season and a half to find it, and Q a half season to lose it.
Relievers (11)
Craig Kimbrel, Rowan Wick, Brad Wieck, Kyle Ryan, Jeremy Jeffress, Dan Winkler, Jharel Cotton, Duane Underwood, Ryan Tepera, James Norwood, Casey Sadler
Wow, that's a really imposing bunch, eh? Kimbrel's a crapshoot, Ryan could be exposed pretty badly if not used carefully with the three batter minimum, Jeffress looked really good in the spring but his velocity's been down since camp resumed, Cotton had a shot to win a starting spot after the restart and I'm not sure he didn't pitch his way to South Bend. The only reason I finished the list with Norwood and Sadler is that they're already on the 40-man roster and why bother with roster maneuvers for the 15th and 16th spots on a pitching staff when you have to cut down to 28 and then 26 anyway? They are carrying 16, but they don't actually have 16 to carry.
It would have been nice if Adbert Alzolay or even Colin Rea had pitched their way onto the roster, especially given that not only do the Cubs lack depth in the rotation, they can hardly fill a bathtub with what's there.
The Cubs are hoping to lean heavily on the Wi(e)cks, Jeffress and at least one of Winkler or Tepera, but Underwood might end up being a better bet than most of them.
It really seems like in a 60 game race to the finish you either need to have a talented rotation that can go deep in games or a top notch bullpen. The Cubs have neither.
Then again, it's only 60 games. Maybe a few of them can get hot and they can ride them.
Now that's a helluva thing to be counting on, isn't it?
Unlike every other year, you don't necessarily lose any of the guys who don't make the team. Now, if you need to make room on the 40 man roster you'll have to put guys without options on waivers to get them off of it, but if you demote a veteran the only way he can leave is if he's in an option year, and if he chooses to be released he can't return to your team, so he'd better be pretty damned sure another team wants him (Descalso). You can release players, too, but you can't re-sign them during the season (Descalso). That really doesn't seem like much of a penalty for the team (Descalso.)

What would it take to not finish the season?
A series of earthquakes? The easy answer is a resurgence of the Coronvirus, but that's what's going on right now and they're full speed ahead. I'm not even sure that if a single team is decimated by the virus that it would end the season. It would probably take multiple teams struggling to field lineups for it to happen. He'll, it might take eight or ten teams blighted by it to end this season early.
MLB has the right to send any team to play at another site if that team's home city is ravaged by the virus, and they'll start doing that before they'll give up on the season. But the Blue Jays being told by the Canadian government that they can't play in Toronto this year and then the state of Pennsylvania killed an agreement they had to play their "home" games in Pissburgh. That should serve as an omen about how easy it'll be to convince another city/state to take one of the teams.
That's not to say that there aren't cities that wouldn't love to take the Blue Jays. Buffalo is their triple-A affiliate and they wanted to host the games, badly, but the Jays players are holding out for a big league park to play in. If they give on that demand, Nashville and Charlotte would kill to get into consideration. But there's really no time. Games start…TODAY, and the Jays still don't know where their home will be, if anywhere. Even the less than ideal option of just having them play every game on the road is in question, because a) the idea is to cut down on travel not necessitate more of it, and b) a lot of cities aren't wild about hosting more than 30 regular season games, and even if they were it'll require some teams to add travel by flying home in the middle of road trips to play the Jays and then heading back out for a few games before coming back.
Oh and when did we know the Jays weren't going to play home games in Pissburgh?
Bob's got a Tweet for everything.

Do teams really need to know how many playoff spots there are going to be on opening day?
No. Of course not. The owners and players have started negotiations again about expanding the playoffs from 10 teams to 16. The owners want this badly for the same reason they aren't going to pull the plug on the season once it starts this afternoon. The money is in the postseason. They'll probably actually lose money just like they say in the regular season, but the more playoffs the better. Players gave up their playoff shares when they refused to agree to the owners final offer a few weeks ago. They wanted to leave the option open of suing the owners for not bargaining in good faith.
There's a good reason for that. The owners weren't bargaining in good faith.
Clearly the players goal is to agree to more playoff games to get their playoff money reinstated and still keep the right to sue. The owners want more playoff games and a players' agreement to not sue. So the playoff expansion is still no sure deal, though enough players have bitched about what they gave up by not agreeing to the last ownership offer and simply reverting back to the one they signed in March that I'd say it's slightly more likely they'll take the cash now and the extra playoffs. But that's far from a sure thing.
As for when the decision needs to be made, writers have been assuming it needs to be agreed to before the first games today. But does it? If it takes a few more days would it really impact anything? Are managers going to manage the first three or four games of a season differently if they think there are five playoff spots in each league instead of eight?
So the deadline is not really today.

Will we ever get used to no fans at games?
The quick answer is, yeah, and it's not that hard. I think I'm already used to it just from the couple of intersquad games and exhibitions I've watched. The atmosphere is strange and eerie but it's still baseball. Instead of watching games and noticing that every fan behind home plate is looking at their phone instead of the action you either see empty seats or cardboard cut outs. I don't miss endless shits of Pink Hat Guy, Marlins Man or Dorothy, either. And, no fans means Al has to grumpily loom over his apartment instead of left field. That's a win.
Also, teams are hell-bent on having some fans in the park as soon as they can. I honestly think that might be weirder. It's easy to get used to no fans, but if the Cubs have 8,000 fans in the stands you'll be looking to see where Ivan DeJesus and Bobby Murcer are hitting. (See, they played back when the Cubs actually struggled to sell tickets—it was a thing once, really.) My favorite thing about the limited capacity thing isn't that it's a blatant cash grab by teams, or that actually going to any of those games seems like a horrible idea, it's that there are companies enterprising enough to take teams' money to help them "facilitiate" these games.
Jon Greenberg wrote in The Athletic this week (The Athletic is apparently a subscription only sports site, I'm really not all that familiar with it) about a European company called 3D Digital Venues and how they are being hired by American sports teams to help them figure out how to 'socially distance' fans if and when they get the go ahead to sell tickets again.
The company normally works for sports teams all over the world creating those "this is what it would look like if you bought season tickets for these seats" apps. Now they're helping teams map out how to seat fans safely during a pandemic.
Seriously? Holy shit. Rich people will spend money on anything if it sounds techy.
How hard is it to block off every other row and only seat people in small groups off the aisles with nobody in the middle seats? This is the epitome of "hire a consultant to tell us what to do so if we fuck it up we can blame them and not ourselves."

Is Kris Bryant going to finish the season as a Cub?
Probably? I find it hard to believe that even if the Cubs' shaky pitching torpedoes the season early on that the Cubs would be able to get a package deep enough to trade Bryant during a 60 game season. And, if they're in it (which they should be) this season is such a crap shoot that it would make no sense to not go for it.
The talk of trading him is so dumb that it pains me to know the Cubs aren't dismissing it out of hand. Your goal when you draft or sign players is to pray you find a guy like him. To have him and not do everything you can to keep him is ludicrous.

Will Marquee be on Comcast on Friday?
I sincerely hope so. There is so much to make fun of on that network that I want as many of you to be able to be able to pile on with me as possible. I do worry that if they aren't on for the opener that they won't be all season. I've written before that from a business standpoint it actually makes sense for Comcast to lowball the Cubs and if they don't get a sweet deal wait until next March to do a deal.
They're locking themselves in for multiple years of carrying the network and charging their customers for it (and believe it or not far more of their customers don't care if Marquee is on their system than do) for two months of games (which might not even all happen—though come on, we already discussed why they will) and then six more months of nothing worth watching on that network.
You'll know it's gone south if Marquee starts running nasty Twitter ads about Comcast like they have been about YouTube TV.
The "good" news is that if you're a Comcast subscriber and they do a deal you'll get to join in on the fun, if they don't I'll watch them for you, and it's not like a quick search of Reddit for live streams couldn't help you out, too. I'm not saying. I'm just saying.
Anyway, real baseball starts today, and we deserve it. It's been a terrible, scary four-plus months and the near term future shows few signs of relief, so let's enjoy whatever we can. Even if it's a Tyler Chatwood start.
Ugh.