Discover more from Pointless Exercise
The only newsletter you'll ever need...(about the Cubs and the Bears and all kinds of other cool stuff.)
Cubs are rotten at the core
It's time for changes, but who's going to be around to make them?

Hey, does anybody know when the playoffs start?
Well, that was "fun" wasn't it? The Cubs lulled us into a comfortable sense of denial that their offense wasn't complete toast with three days on the South Side where it reeked of competence. But then the best two-of-three with the Marlins (who, are bad) started and the Cubs scored once. If you go back to the 2018 Wild Card game against the Rockies they have scored two runs in their last 31 innings in the playoffs, all at home. But it' gets better. They also were held scoreless in the last five innings of the final game of the 2017 NLCS, and that game was at Wrigley, so it's two runs in their last 36 postseason innings at Wrigley.
It's a mystery why they haven't won more playoff games, isn't it?
I'm as guilty as anybody of not wanting the Cubs to break up their precious core of really likeable, once very productive, once young offensive guys. It's been an incredible amount of fun to watch Anthony Rizzo, Javier Baez, Kris Bryant, Willson Contreras and Kyle Schwarber these past five (or six, depending on which guy) years. But I think we have long ago passed the point where we can pretend this shit works. It doesn't. It's far too late to lament that they pulled the plug on any of it too soon.
But you know what? It would be very surprising if they aren't all in Mesa for spring training next year, whenever the hell that might be. Maybe whoever is running the Cubs by then moves one of them, but all but Willson are in their final year of team control and only he would have much trade value. The Cubs are likely to be in a position where they have to bring them all back and hope that some of them play well enough that they can move them for prospects at the trade deadline if they so choose. It's amazing that we're here, but we are.
Now, another point I'm ready to concede is that we need to take this season's results with a pretty big grain of salt. It may sound like an excuse that it was a short season, fraught with on and off field peril that wasn't fair to put anybody through. Too many top players had terrible years to just decide that KB and Javy are bad now. They aren't. And to dump one or both of them because you think they suddenly suck at baseball would be foolish. So let's get that out of the way.
But as we just laid out, these struggles in important parts of the season are not a one year phenomenon. Even in 2016 they had long stretches of being bad. The offense disappeared in the Dodgers series before suddenly re-emerging. It did it again in the World Series. It's hard to hit playoff pitching, but it's not supposed to be impossible.
Sometime this week Theo Epstein is going to sit down with Tom Ricketts and figure out his future with the club. There are likely three options.
Theo leaves immediately, with one year left on his contract and Jed Hoyer takes over as President of Putting Way Too Much Faith In the Pitch and Hit Labs.

Theo tells Tom he's going to stay for next season and they create a formal (but probably not announced) succession plan that very likely ends up with Jed as the President of "Well, At Least He's Not Crane") starting in November 2021.

Theo decides that he doesn't want to sneak out in the gorilla suit during a pandemic and wants to see the process of setting up the next great Cubs team through a little farther and he agrees to a two year extension.
Two is probably the most likely. One is fairly likely. Three isn't going to happen.
And so the end of the Theo regime is coming. And here's where we're supposed to write that his tenure was a tremendous success and he took the franchise to heights that we could only dream of (and did) and he ran things with a kind of class and competence that we just hadn't ever seen.
We're supposed to write that because it's the absolute truth. For the lack of success the Cubs had had since the World Series, if these last few years had happened pre-Theo they'd have been more success than we were used to. Three playoff trips and one to the NLCS. His legacy will be that he raised the bar, one that sorely needed raising. But of course he also threw in two more NLCS trips, a pennant and that World Series thing that we'll never forget, or allow anyone around us to ever forget.
His legacy will also be that in an organization where most of the owners are complete shitbags, and the business side is full of incompetents, whenever a thoughtful answer had to be given, Theo could be counted on to give it. He was a constant reminder that in a franchise pullulated with garbage people that they weren't all that way. Whenever he goes, whether it's this week, or next year, that's really going to be missed.
It'd be nice if that thoughtfulness and class had also come with the ability to draft developable pitchers, but you take what you can get, I guess.

By the third inning of game one of the Marlins series (and I'll parenthetically remind you again that the Marlins are not a good team) it was apparent that the Cubs weren't going to hit. Over at The Athletic they wrote that the offense was broken again. But that's not right. The offense isn't broken again, it was never fixed, it's still broken. The only thing you could hope for was that the Marlins offense could be even worse. It wasn't.
The truth is that the Cubs entire regular season was played against mediocre or worse teams. Four teams in the NL Central made the playoffs. They went a combined 1-8 in the playoffs and all four of them got shut out in the game that eliminated them. The Cubs played 18 innings and scored one run. The Reds played 22 innings and didn't score. The Brewers played 18 innings and scored twice. Those three teams played a combined 58 innings in the playoffs and combined to hold a lead for one full inning. One. Ian Happ homered to give the Cubs a 1-0 lead in bottom of the fifth inning of their first game and by the top of the seventh it was gone.
The one team that actually won a game, the Cardinals, may have embarrassed themselves the most. They played a Padres team missing its two best starting pitchers and its closer. They won game one, and then led 4-0 and 6-2 in game two and blew it. Then, they got shut out in the final game by nine Padres relievers. NINE.
The American League Central doesn't get to brag too much. They went 1-6 in the playoffs. So yes, 70 percent of the teams in those two divisions made the playoffs and four days later they were all done.
Fun?

I'm sure if you flip a coin eight times you could guess right five times. That's how good I was at picking the Wild Card playoff series. I got the Cubs, Twins and Sox wrong. So what? So let's do it again!
All four matchups are inter-divisional. The AL ones are all on TBS. But the NL series are split between FS1 and MLB Network and the announcer assignments are all over the place. Are all of them doing games remotely, because clearly Fox and MLB Network are. It's just weird.
American League
1) Rays v. 5) Yankees
Announcers: Brian Anderson (boring even by Milwaukee standards), Ron Darling (got sued for writing nasty stuff about Lenny Dykstra in his book and the judge threw the suit out saying that Dykstra's "reputation for unsportsmanlike conduct and bigotry is already so tarnished that it cannot be further injured," which is amazing) and Lauren Shehadi (spends her winters humoring Harold Reynolds on the MLB morning show that nobody watches.)
The Yankees offense got healthy just in time for the playoffs and they are terrifying. And not terrifying in a "why does DJ LaMahieu always look like somebody just punched him in the face" way. But, he does. No wonder Gordon likes him so much. Both of them look like that. The Rays seem like fun. They've got guys with crazy names, Blake Snell is awesome, their centerfielder is the brother of Cubs' head groundskeeper Dan Kiermeier (has Taylor McGregor ever mentioned that?) The Rays handled the Yankees during the regular season by winning eight of the ten matchups and they finished seven games ahead of them in the division. Won't matter. Yankees in five.
2) A's v. 6) Astros
Announcers: Don Orsillo (looks exactly like Otto Pilot from Airplane!),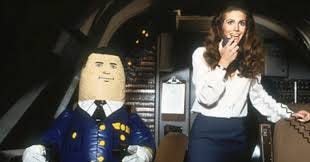 Jeff Francoeur (dull enough that this has definitely happened to him at least once)
and Matt Winer (I don't have an Airplane! related joke for him, so enjoy two minutes that includes June Cleaver speaking jive.)
The Astros have a terrible combination of no pitching and Dusty Baker in charge of it, and yet, he handled it about as well as anybody could have in the first round. That just means he'll completely botch it in round two, right? The A's would be advised to stop using squish faced closer Liam Hendriks in the eighth. I hate to pick Oakland because they have a storied history of flaming out in series they should win, but I'm not picking The Fighting Dustys to win anything. A's in four.
National League
2) Barves v. 6) Marlins
Announcers: FS1 - Kenny Albert (Dick Stockton's still hoping he's not sufficiently quarantined), AJ Eyechart (ugh, he's just the worst) and Jon Paul Morosi (really?)

MLB Network - Matt Vasgersian (happy to be free of A-Rod for this round), Jim Kaat (well, sure, he was great ten years ago…maybe 20), Buck Showalter (will spend 20 minutes talking about why he didn't use Zach Britton in the 2016 Wild Card Game even if nobody asks him) and Tom Verducci (still thinking about the time Hector Rondon sprayed Tinactin on Anthony Rizzo's balls)
The Cubs might have had a fighting chance in this round since all of the Barves pitchers are hurt, but then again, Atlanta didn't allow a run in the two games against the Reds, so probably not. Plus, even if the Cubs scored a few runs, they'd have pitched Ozzie Albies like they always do and he'd have gone 14-for-16 with nine homers.
The Marlins aren't good. I believe I've mentioned that a few times, and they lost one game to the Barves 29-9 this year. I don't think that'll happen in this series, but the Marlins are about to finally lose their first series in team history, and fuck them anyway. Barves in three.
1) Dodgers v. 4) Padres
Announcers: FS1 - Joe Davis (no Joe Buck this round he's too busy prepping for the Bucs' 27 point win over the Bears on Thursday night), John Smoltz (has a full season of bitching about baseball to squeeze into just a few weeks), Verducci (he's everywhere!) and Ken Rosenthal (still pissed that I'm not writing at The Athletic anymore, and who can blame him?)
MLB Network - Vasgersian (wait, what?), Smoltz (huh?) and Morosi (ugh.) Oh, well.
The Padres are fun, they posted the second best record in the National League and they might get Mike Clevinger back for this round. The problem is that they will be playing the best team in the league. The Dodgers won the season series 6-4 so it's not like is a mismatch. But even if the Padres get a late lead they are going to hand it over to Trevor Rosenthal, and that shit isn't going to work. I don't see the Barves beating the Dodgers for the pennant, so if somebody's going to derail them it's going to have to be the Padres. I just don't think they can. Dodgers in four.
With the Cubs crapping out in two games, I'm just glad the Cardinals, Sox and Brewers are all done, too.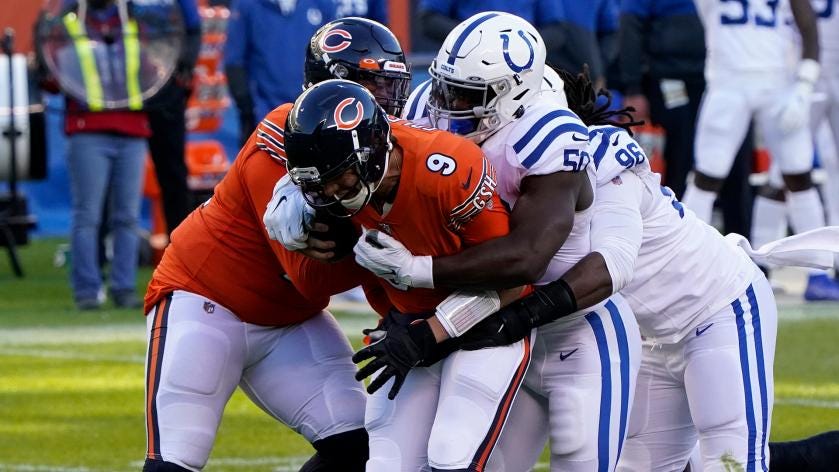 The Bears fluky three game winning streak is over, mostly due to the fact that they played a team not decimated by injuries (hell, even Trey Burton decided he was healthy enough to play) and with an actual defense. The Colts only won 19-11 but for those of us who watched, we could only come to one conclusion. They beat the shit out of the Bears all damned day.
The game was moved into the prime CBS 3:25 p.m. window because the Patriots and Chiefs game was moved to (maybe) tonight due to some Pats' Covid test positives. America must have been horrified to have to watch what the Bears tried to pass off for football. The defense couldn't tackle. Khalil Mack dropped an easy interception. Roquan Smith made a terrific interception but stepped out of bounds before he touched the ball, which is a no-no. The pass rush wasn't in too much of a hurry all day, it was more of a pass amble.
On offense, the Bears didn't block very well, they were undone by a spate of nonsensical play calling (like running the punt returner on fourth and short) and Nick Foles' first start made you wonder if it really would have been worse if Mitch had played.
The answer, of course, is yes. Mitch would have been even more overwhelmed than Foles was, and for those of you who think he could have run around and made some plays, I'm sure he'd have run around. I doubt he'd have been making plays. At least not for the Bears.
We've seen a trend in The Visor's two and a quarter seasons as Bears coach. His offense can't hang with good defenses and he gets outschemed by good defensive coordinators. Mike Pettine routinely eats his lunch, Vic Fangio was one fluky drive and a quick timekeeper in Denver from beating him with a bad team, and yesterday Matt Eberflus completely handled him. You don't expect to light up good defenses, but if you want to pretend you're an offensive mastermind you need to score a few points.
I think most of us know by now that Nagy's a fraud, and so is his boss. But we're stuck with them, and maybe for quite a while.
The Falcons play the Packers tonight. So late in the third quarter it'll look like the Bears are going to stay tied for first place. Then Atlanta will give up 28 straight points and the Bears will be a game behind.