Discover more from Pointless Exercise
The only newsletter you'll ever need...(about the Cubs and the Bears and all kinds of other cool stuff.)
Cubs fans know what failure looks like
This ain't it, Bucko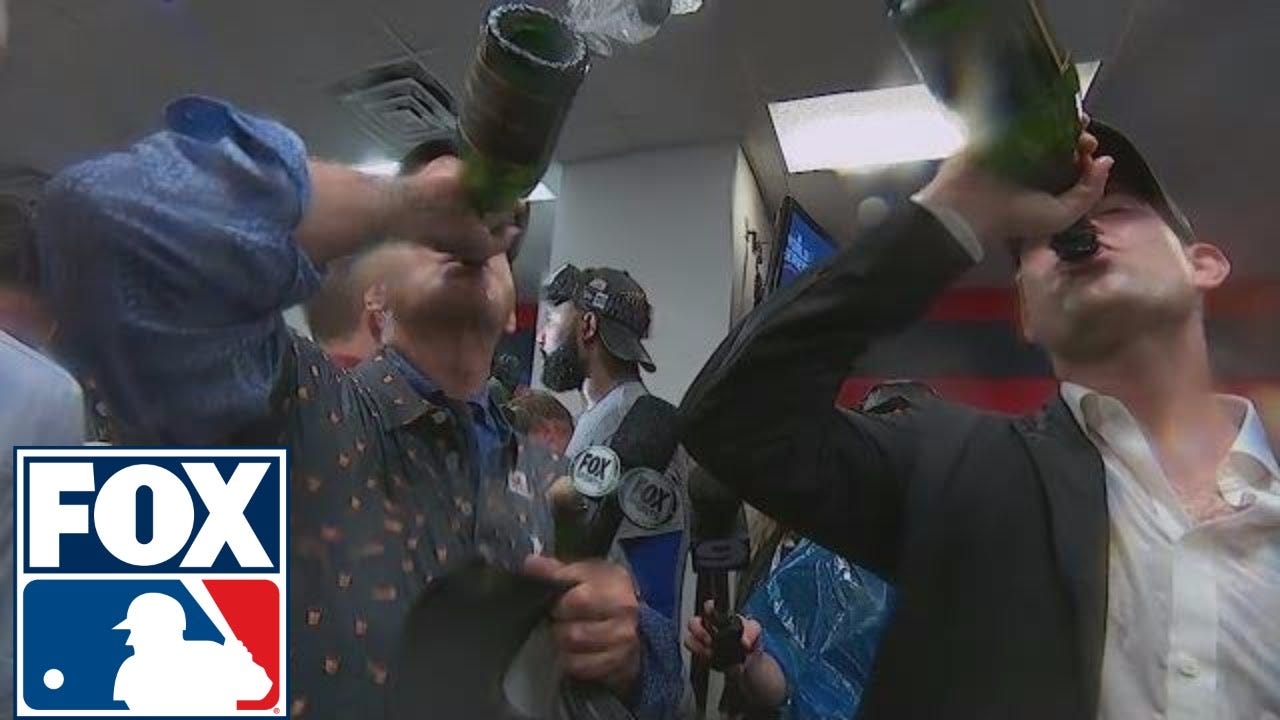 Four years ago last night this happened:
Going into that night the Cubs had played six games in the previous 32 years where a win in any of them would have meant a pennant. That routine double play, Addison Russell to Javy Baez to Anthony Rizzo sent the Cubs to the World Series.
All of that sounds so simple. But it had been anything but for generations of Cubs fans. Gone in one 6-4-3 were the pains of Steve Garvey, Ryne Sandberg's Gatorade sodden glove, the fan knocking a foul ball away from Moises, Dusty sitting on his ass, and on and on and on.
Think about that moment. There were the Cubs, in Wrigley celebrating the pennant. How many of us had at some point in our fandom given up on ever seeing such a thing?
A week and a half later the Cubs did the unthinkable and won the whole fucking thing.
And they haven't won a single game since, they inadvertently burned Wrigley Field down during the victory parade, they left Kris Bryant at a rest stop in Pissburgh during a road trip and nobody's seen him since.
Wait, what? OK, none of that last paragraph happened, but you know what? Even if all of that had happened the Theo Epstein era would not have been a "failure."
Why do I use that specific word? Oh, I don't know. Maybe somebody fired up the "look at me, look at me, look at me" Twitter signal earlier this week and played the only card in his deck, the "I don't care if my take is indefensible and outright stupid, it's all I have" card and used it.
If this person had used a word other than failure, say…pick one:
disappointment

insufficient

wanting

ignominious
wait, are we talking about Marquee Sports Network? No? We're talking about the last nine years of the Cubs, right?
Even if he'd used one of those words he'd still be wrong. His sentiment would have been more defensible, but it wouldn't have given him the attention he so evidently craved.
Theo came to the Cubs to do a few things:
Make the Cubs consistently competitive. They hadn't been that since the 1930s. Their current modest run of six straight winning seasons is tied for the longest stretch they've had since World War II. Not only hadn't they won a World Series, they only had three very short other stretches of mild competence in 70 years.

Win a pennant. They hadn't done that in 71 years when they finally won in 2016. And remember, that for the first half of that run you didn't need to win a single playoff game to win your league.

Win a World Series. I'm not sure if any of you knew this, but the Cubs hadn't won a World Series in more than a century. It's the longest championship-less streak in North American history. People hardly ever talked about this, or barnyard animals being denied entry to a World Series game, or other fun shit that we used to roll our eyes at so hard I'm surprised we didn't end up like the people who bought the Opti-Grab.

Stop doing thoroughly embarrassing things on the field. This he accomplished pretty quickly, and it was really impressive how the business and ownership parts of the franchise immediately picked up the slack by repeatedly humiliating the organization instead.
The list of things the Cubs have gotten wrong is long. Their failure to develop any pitching hamstrung their long-term plan. They fell in love with their own position players and missed windows when a more open-minded, honest evaluation could have led them to trade some of them when they still had value. They signed Daniel Descalso for some reason.
But, at the same time, they were smart enough to find pitchers from other teams to fill in their gaps, and they've kept winning. No plan works perfectly, and their's obviously didn't, but by any measure they have a tremendous success, they have won a lot of games, something they don't exactly have a rich history of. We wanted more, and we still want more, but to ignore the fact that they accomplished the single most important parts of the job under Theo means you clearly don't want to be taken seriously.

Baseball now releases the names of three finalists (four for some reason if you're a National League right fielder) for Gold Gloves. The Cubs led all of baseball with seven finalists.
The list included obvious choices like Jason Heyward, Anthony Rizzo and Javy Baez. It also featured two pitchers, Kyle Hendricks and Alec Mills (they must have figured there's no way he'd have thrown a no-hitter unless he's the greatest fielding pitcher of all time), and Nico Hoerner got a very surprising, but very much deserved nod at second base.
And, the seventh guy is one the Cubs surely take some extra pride in. It was evident to all of us who watched the games that Willson Contreras was immensely improved behind the plate. He's probably the most athletically gifted catcher in the game, and this year he harnessed that athleticism and put it to full use.
It was nice of walking neck tattoo Yadier Molina to congratulate the finalists, since he wasn't one this year: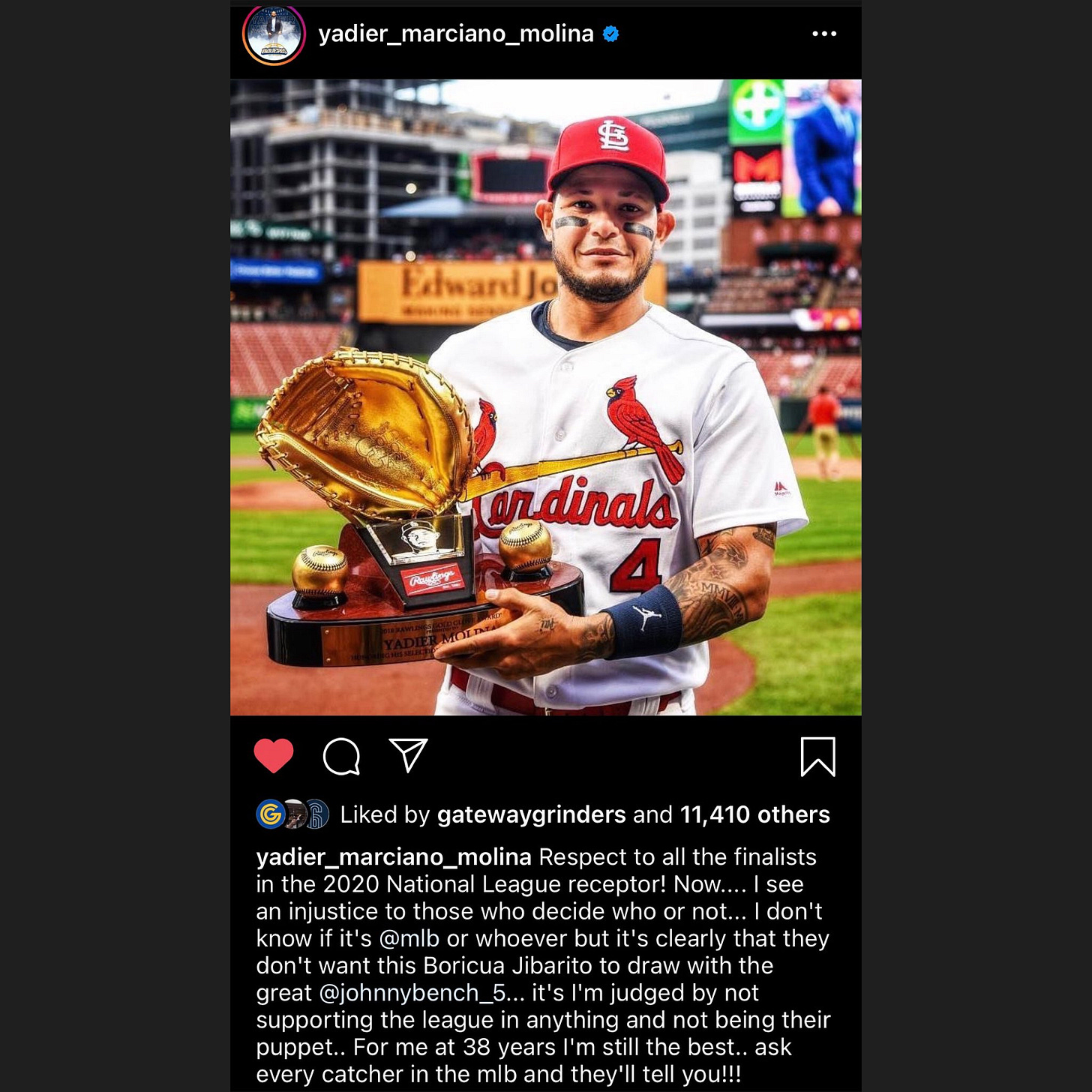 Keep it classy, Yadi. He's been coasting on his reputation for at least six years now, and he won the Gold Glove just two years ago mostly because people were just used to voting for him. I find it hard to believe anybody but Johnny Bench gives a shit if he ties him for most catching Gokd Gloves at ten. The reason he wasn't a finalist is simply that he's not one of the three best defensive catchers in his league anymore. In fact, since JT Realmuto also wasn't a finalist it means Yadi didn't even come close to being nominated. Hell, he's at best the fourth best catcher in his own division, since Contreras, Tucker Barnhart and Jacob Stallings are all in the NL Central. Yadi's lucky Yasmani Grandal left the Brewers or he'd have been dead last.

Our old buddy Crane Kenney, Cubs President of "Does my ascot match my socks?" has been claiming for months that Marquee is closing in on more carriage deals, especially streaming deals. Yet, today Hulu announced that they're dropping several RSNs including the official home of Prevagen and occasionally Cubs baseball.
Wait, didn't they hear that Marquee scored the rights to Bears reruns? And won't somebody think about all four sailing fans who rely on Marquee as the only place that will show that crap?
Crane's day got worse when he found out even though the Cubs recent playoff runs would fit perfectly into the service's super short episode lengths, that he wasn't going to have a chance to finalize a deal to put Marquee on Quibi.
Cubs fans who get Hulu might not even notice Marquee's gone considering the Cubs owned network shows almost no Cubs programming.
When you show as many episodes of an infomercial for a cordless clothes iron as programming about your team, you're practically begging carriers to drop you.
When asked for comment on why his streaming service was dropping Marquee, Reginald O. Hulu Jr. said, "We were concerned about the long-term health effects of exposing our viewers to that much Ryan Dempster."

Everyone throws a parade for the guy who steals the first base in the World Series and wins us all some precious, precious free tacos. This year, we had to wait after a spurious official scoring decision wiped out the first stolen base of game one. But what about the true hero? The pitcher who fails to hold the base stealer? Rays game one starter Tyler Glasnow rightly took a bow.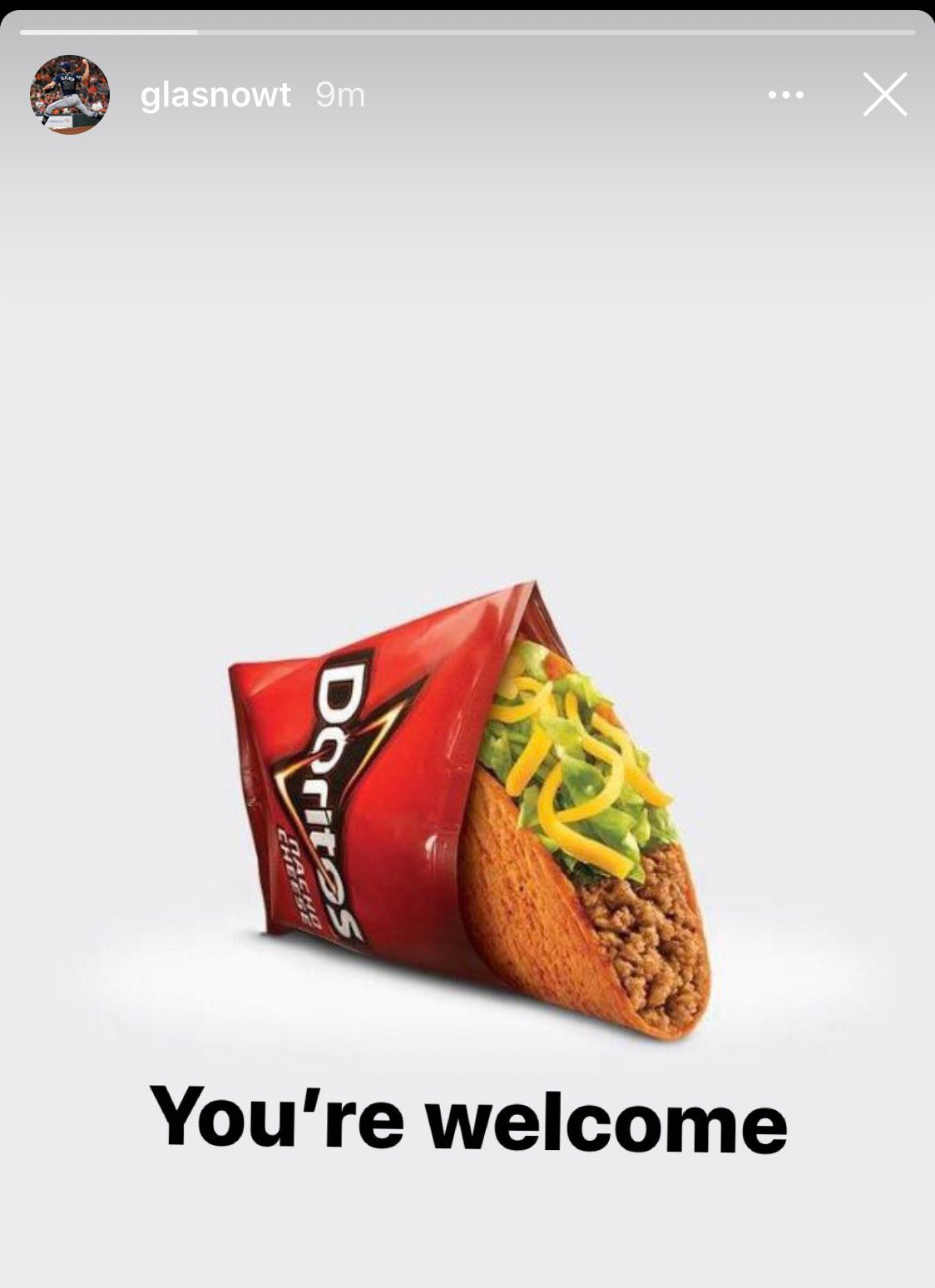 Thanks Tyler! We're thrilled to go get our free taco, even if our rectums will be less than pleased.