Discover more from Pointless Exercise
The only newsletter you'll ever need...(about the Cubs and the Bears and all kinds of other cool stuff.)
Cubs fill some holes, at least part way
They improved their weakest spots, which honestly didn't take much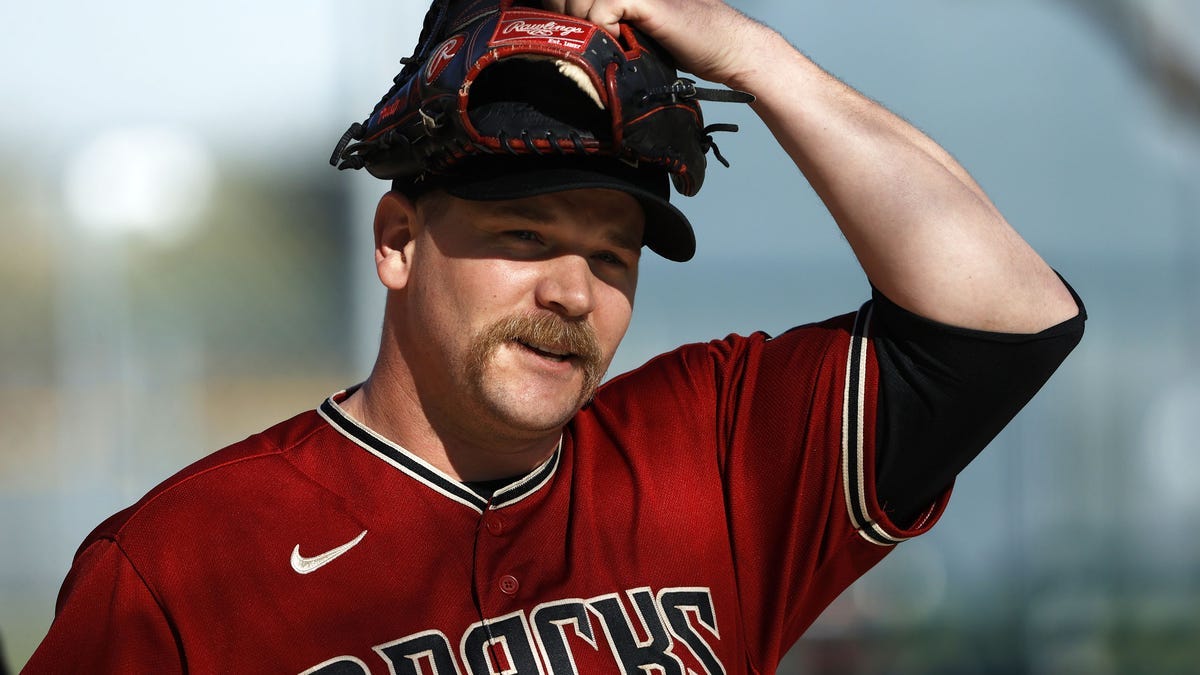 The Cubs approached the deadline with some pretty apparent needs. They had to find somebody who could put the hitter in designated hitter, they needed a lefty in the bullpen who wasn't Kyle Ryan and they had to finally come to grips with the fact that Albert Almora stopped getting better a long time ago, and in fact, has consistently regressed.
On Sunday they traded for former Cardinals irritant (wait, I'd need to be way more specific) Jose Martinez. Yesterday they traded for two lefty relievers and one Cameron Maybin. Gone are Josh Phegley (the only catcher in Major League Baseball who couldn't squat), Hernan Perez (who was just as great as we thought he'd be), and Ian Miller (fast and bad at baseball). Almora apparently still had an option left so he will go to South Bend and try not to catch COVID from any Notre Dame students.
All of the new guys have flaws. Martinez is terrible in the field and wasn't hitting very well in Tampa. Andrew Chafin has a nice track record but he was on the D'bags injured list with a Badfinger
wait, no, that's not right, he has a bad finger. Two words. That makes more sense. And the Cubs aren't really sure when he's going to be able to pitch for them.
So they also traded for Red Sox lefty Josh Osich, despite the fact he hasn't been good in the big leagues since a 35 game stint with the Giants in 2015. So, great?
Maybin may have generated all of his trade value in two days last week against the Cubs. Coming into the series he was hitting .188/.235/.313. He only played in two of the three games of the series but he raised his OPS 197 points and his slash line to .256/.310/.436.
He's likely excited to be traded to the Cubs, but probably wishes he'd played the Dodgers last week instead. Regardless, he should give Jon Lester and Rowan Wick big socially distanced hugs in the clubhouse this afternoon.
What did the Cubs give up to add their new DH, two lefties and a guy to play right field against lefthanded pitchers? Four players to be named later (or cash…and given the Ricketts penuriousness likely four players) and Zach Short.
Such was the pandemic trade deadline. Plenty of deals were made, most of them didn't involve really good players (the Padres were the notable exception) and lots of players yet to be named were involved.
The Cubs did the bare minimum they needed to, which was more than the other teams in the division did. The Brewers subtracted David Phelps (probably a smart idea) but didn't add anybody, the Pirates traded Jarrod Dyson to the White Sox (why the Sox think that's a good idea is a mystery), the Reds felt like they needed yet another outfielder so they traded for Brian Goodwin and acquired Archie Bradley, likely because he has a cool beard and was good three years ago. The Cardinals didn't do anything. I mean why would they mess with perfection? Actually, can you imagine them trying to pawn any of their plague-riddled roster to other teams?
"Did you say you think he has breakout potential or outbreak potential?"
The option the Cubs had on Almora only prolongs the inevitable. His future with the Cubs is in the past. Huh? This is his fifth season in the big leagues and his arrow has been trending in the wrong direction for three straight years. The first pick of the Epstein regime in 2012, he has never developed any plate discipline, and with no power and no speed to speak of, how can he possibly have any value if he can't get on base?
Maybin's on his ninth team in his 14 year career (it probably feels like 11 teams, because he's played for the Tigers three times), and he's also never lived up to the promise of being a high first round draft pick (10th overall in 2005). But he's fast, and that gives him a defensive value that Almora can't match. It also gives him value on the bases that Albert doesn't have. Maybin has stolen 183 bases in 14 years, Albert has stolen four in five. Seriously, he has four stolen bases in his career. (How'd he steal four? It's a miracle!) He played in 152 games in 2018 and he stole one base in four attempts. Maybin's biggest knock is that for all his speed he hasn't gotten on base at a high enough clip, but even his paltry .324 career on base average is 15 points higher than Albert's.
None of this is meant to tout Maybin as a particularly good player, it's just to point out that even he has a lot more functional value than Almora.
And, there's always the off chance that Maybin could respond to a playoff chase like he did last year when he was a huge part of the Yankees ability to overcome all of their outfield injuries when he hit .385/.364/.494 in 82 games. I mean, we probably shouldn't bet on that, but at least he's done it.
His role with the Cubs will likely be late inning defense, and to get starts in right field to keep Jason Heyward away from lefties. Heyward's offensive resurgence this year has been exclusively because he's crushing righties. He's still as helpless as a kitten against southpaws.
But here's the thing about that. Even though Maybin's a righthanded hitter, he did his damage last year against righties (.311/.387/.528) and not against lefties (.231/.318/.423). For his career he's been slightly better against righties (.714 OPS) than lefties (.670).
Well, I guess we know why the trade didn't get announced until after the deadline passed. The Cubs bought the last toy on the shelf on Christmas Eve. It didn't have to be good, it just had to be a toy. At least it wasn't slacks.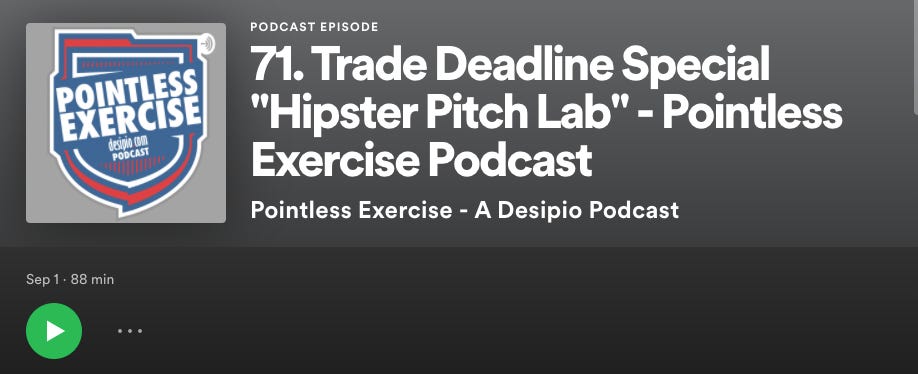 While Marquee Sports Network couldn't be troubled to cover the trade deadline, we did an 88 minute podcast on it. It's weird, it's almost like the Cubs started a 24 hour, team owned TV network just for the money, and not to give the fans more and better coverage of their product. Huh.
You can listen to the podcast on Spotify, and/or subscribe to it and get it shoved onto your phone automatically.
(Top photo: Andrew Chafin demonstrates how Jose Martinez plays defense.)