Discover more from Pointless Exercise
The only newsletter you'll ever need...(about the Cubs and the Bears and all kinds of other cool stuff.)
Cubs say goodbye to Miller Park in style
Two all-time signature wins before their dome away from home changes names

Well, the Cubs had an eventful weekend. They made their final trip north to their dome away from home in Milwaukee before the big retractable roof dairy barn the Brewers play in formally changes its name from Miller Park to American Family Field.
American Family is that old insurance company with the annoying jingle that you haven't heard in 30 years. It's actually kind of a fitting name for a mediocre ballpark that has witnessed such stunning success in its 20 years of existence that includes two National League Championship Series runner up finishes and a wild card game runner up. Quite the impressive array of banners they have up there.
The Brewers have been in Milwaukee since Bud Selig stole them from Seattke in 1970 after one season as the Pilots, where they were best known for having Jim Bouton in their bullpen while he was writing Ball Four, their manager Joe Schultz whose answer to every problem was to "go pound some Budweiser" and having a lefthanded outfielder with a smooth swing named Billy Williams.
No, not that Billy Williams. This one only ever played four games in the big leagues, all the year in Seattke, and come to think of it, he may not have had such a smooth swing.

The best thing they've ever had going for them is their ball and glove logo with the hidden MB in it, and they ditched that for more than a decade after agreeing to use a Miller Brewing Company style script as part of the naming rights deal.
Now, the MB logo is back full-time, even if comes with a blue alternate jersey that has way too much going on, and make them all look like fat cub scouts.
Anyway, the Cubs and Brewers hooked up for three unforgettable games. Though the Brewers are going to go "pound some Budweisers" (hey Miller's not really a sponsor any more) and try to forget games two and three.
In the opener, Jon Lester, who had allowed ten earned runs in his last nine innings (over two starts), and looked even worse than that (if possible) had to get his shit together, pronto.
And, he did. He threw six shutout innings, striking out eight and allowing just three hits. Hey, great! The problem is that the Cubs were getting shut out by Brandon Woodruff. The game went to the ninth, tied. Josh Hader struck out two of the three hitters he faced, and Rowan Wick started his second inning of work in the bottom. He walked Christian Yelich, Jeddddd Gyorko singled him to third, Jeremy Jeffress came into an impossible situation, and Ryan Braun (of course) hit a sac fly to win the game.
Not a great start to the weekend.
On Saturday, Kyle Hendricks was supposed to hook up with former Cub Brett Anderson, but Anderson—who is most often hurt—was hurt, and Brent Suter filled in for him. One soft tossing lefty for another, and the Cubs haven't been good against any lefties all year.
The Cubs only got one hit off Suter in his three innings, even though he was so dazzling that he did this:
I'm sure the boys in the Cubs' pitch lab scoffed at his spin rate on that.
Hendricks was pitching well, but gave up a two-run homer to Braun. Ugh. That fucking guy.
And, it was still 2-0 in the ninth when Hader came in again to nail things down.
Hader didn't give up a hit in July or August, but the Indians got him for two hits and a run in a blown save on September 5. Still, he came into Saturday having allowed just those two measly hits.
Kyle Schwarber struck out on a foul bunt (ugh) to start the ninth. The Cubs hadn't scored in 17.1 innings in Milwaukee and were two outs away from back to back shutouts.
But Javy singled to RIGHT FIELD (knock me over with a feather) and then Anthony Rizzo, who to that point had the night off, pinch hit for DH Victor Caratini, and he singled. The Cubs had doubled Hader's season long hits allowed total in the span of five pitches.
Next up was Jason Heyward. Oh, boy. Heyward's had a renaissance season at the plate, but not against lefties. He was hitting .320 against righties but barely over .200 against southpaws. You just knew he was going to hit a three hopper to the second baseman and the double play would end the game, right? David Ross should have definitely pinch hit for him, right? I mean, there was nobody to pick, but anybody would be better than Heyward.
And then:
Eh? What now? Jason Heyward just hit a ninth-inning, three-run go ahead homer off of Josh Hader? Go home, baseball, you're drunk.
And, before we could even worry about who was going to pitch the bottom of the ninth, the great Ildemaro Vargas did this:
The whole thing was eerily reminiscent of the exact moment Sam Fels and I pinpointed as the end of the fun part of the run of the Joe Maddon Cubs. Labor Day, 2018, Cubs at Brewers in Milwaukee. The Cubs are down 2-1 with a baby faced Ian Happ on base as Rizzo faces Hader with two outs. He homers. Cubs go up 3-2. They are going to push their division lead over Milwaukee to five games. Hot damn.
Then Carl Edwards Jr. comes in to pitch the bottom of the eighth, gives up singles to the first two hitters, then strikes out Yelich and Jesus Aguilar. He thinks he strikes out Braun to end the inning but it's ball four (it was way high) and he loses his shit. And then, he walks Mike Moustakas on four pitches to tie the game.
In the bottom of the ninth with the game tied at three, Steve Cishek craps all over himself. He walks Eric Kratz to lead off the inning (Eric Kratz!) He hits Orlando Arcia. He throws a pitch that gets by Willson Contreras to advance both runners. Then he strikes out Curtis Granderson. Then he hits Lorenzo Cain to load the bases. Joe brings in Jesse Chavez (about damn time). Chavez gets Yelich to hit the ball to Bryant, who should go home, but instead tries to step on the bag (it's three long KB-sized steps to the bag) and throw to first for the double play. He only gets the one out, and the Cubs lose. The lead is three games, not five. Milwaukee never loses again (well, mostly), catches the Cubs, wins game 163, the Cubs lose to the Rockies the next night in the Wild Card game and then missed the playoffs altogether in 2019.
So what? So, after Heyward and Vargas stun Hader, the Cubs have to go to…Craig Kimbrel to pitch the ninth.
He gives up a soft liner to center to Hiura, then Gyorko hits one off Bryant's glove at first that was thisclose to being a double play, but instead, runners are at first and second with nobody out. Gulp. Backs are flashing. You know it. It was happening to you.
Kimbrel strikes out old pal Dan Vogelbach (who is bad). Then ZZ Top tribute band bassist Ben Gamel hits one to Vargas at third. Does Ildemaro try to start the game ending double play? No, he dives at Hiura running to third. Oh no, this is going to be a disaster! It's KB all over again, only completely different! Except, Ildemarto gets him. Two outs. Arcia hits a soft liner to Vargas to end it. Cubs win? Cubs win!
Man, you don't get a more unlikely game like that, ever, do you?
Just wait about 15 hours.
The Saturday night win felt especially huge because Alec Mills was pitching Sunday and you couldn't feel comfortable with him pitching in Miller/American Family/Spirit Airlines Hangar Park. You prefer wherever he pitches to be described as "cavernous."
And, the Cubs had only scored runs in one inning all weekend. So, when Adrian Houser (who?) was no-hitting them through three it felt about right.
But then the Cubs erupted for five runs in the fourth. They added four more in the fifth, including this gem from Javy. He's the only player in the game who would have done this.
Schwarber had scored on the sac fly and Javy went to third, but when Eric Sogard inexplicably threw to second base as everybody was standing around, Javy realized nobody had formally called time, and since the Brewers weren't just throwing the ball back to the pitcher, he took off for home and scored.
Craig Counsell lost his shit and got tossed. The Cubs added two more runs and were up 9-0. The game was over and we could all concentrate on the Bears and Lions.
Except, Alec Mills hadn't allowed a hit yet.
Oh come on, Mills isn't going to throw a no-hitter.
Is he?
The Brewers had been kicked in the nuts on Saturday night and now were down 10-0 in the seventh. By the time they figured out what Mills was doing to them, he was determined to keep doing it to them.
He was mixing in his 89-90 MPH fastball and his 74 MPH curve and while he wasn't striking very many guys out, he also wasn't going to long counts. He walked three. And when heavy legged center fielder Avasail Garcia (I still can't believe the Brewers play him in center) was out by a half step on a grounder to Javy deep in the hole, it was the first time the Brewers were close to getting a hit. Mills only threw six pitches in that sixth inning.
Earlier, Happ had made a nice running catch on a Gyorko fly to the wall, and Schwarber caught a tricky sinking liner from Yelich (0-for-10 in the series with six strikeouts—you hate to see it) but those were really the only tough plays all day.
Mills zipped through the seventh and eighth.
And holy crap, this really could happen.
Sherriff Jacob Nottingham lead off the ninth and fouled very softly to Rizzo in foul territory. Tyrone Taylor was in the game for Garcia and he struck out. Jace Peterson was in for Yelich and he hit a grounder up the middle but Javy was right there, fielded it and yelled out in celebration as he was throwing to first.
Alec Mills had pitched his first complete game since class-A ball, his first shutout in pro baseball and was the second Cub to throw a no-hitter in Miller Park, but the first to do it against the Brewers.
The Cubs have been a part of two no hitters in that park and the Brewers have only been part of one.
Milwaukee's tied for second all-time in Miller Park no hitter participation with the Astros. I wonder if Lance Berkman bitched about having to carry his suitcase down the stairs again? Twelve years ago today Carlos Zambrano no-hit the Astros at Miller Park, a "neutral site" needed since a hurricane was ripping through Houston and because Selig was commissioner and he always forced hurricane or blizzard make up games to his uninspiring home town.
Mills only got five swing and misses in the whole game, the fewest in a no hitter since Dallas Braden's perfect game in 2008. But you know what, who gives a shit? It's a no-hitter. Congratulations to Mills, who has given the Cubs more than we ever thought he would. He has five of the Cubs 28 wins, and gives us another useful thing we can shove at Brewers' fans when needed.

As Mills and the Cubs were slapping around the Brewers, our pals at Marquee were underwhelming us, yet again.
What the hell was this?
Supposedly, it was Marquee's way of paying homage to the start of the Bears' season by digging out an old first down marker from when they played at Wrigley.
But honestly, I think Taylor was looking for the Ark of the Covenant.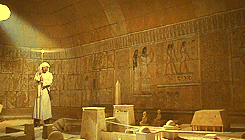 After the game, she got the interview with Mills, which mostly consisted of three minutes of her doing The Who karaoke and asking, "Alec, can you hear me?" And then when he finally could hear, one of her questions was pretty much, "So, since you've sucked your whole career how shocked were you to throw a no-hitter?"
Marquee is really bad at all of this.

Meanwhile in Detroit, Mitch Trubisky was showing off his improved footwork and overall play by being just as terrible as normal for three quarters. Then, a flurry of terrible decisions by the Lions, a rash of injuries in their secondary, and their inexplicable decision to play all man-to-man in the secondary at the end of the game turned into three fourth quarter TDs and a shocking Bears' win. We'll dig into it in tomorrow's newsletter, but for now allow me to chime in on how Mitch didn't "prove his doubters wrong" at the end of the game.
First, I'm tired of people acting like if you criticize Mitch you don't like him and are rooting for him to fail. I want him to do well, but I'm not going to pretend he doesn't suck when he clearly sucks. He made five straight terrible throws on third down (and mixed in a bad one on a fourth down just for fun).
The Lions did not play well, and they were winning handily late in the game. A lot of that was because Mitch could not take advantage of anything they were giving him. On his best play of the third quarter, a 22 yard pass to Allen Robinson that Robinson made a great diving catch on in between three defenders, Jimmy Graham was wide open to Mitch's right and would have easily gained as many or more yards than Robinson without the needed acrobatics. On the Comcast Sports Net postgame, Olin Kreutz pointed at a still shot of the play as Mitch was releasing the ball. It showed Mitch throwing off his back foot, and a perfect pocket created for him by the o-line. He wasn't under pressure, Graham was clearly visible 15 yards down the field all alone and Mitch still used shit footwork and threw to the wrong guy in triple coverage. Nothing has changed.
I'm glad he threw three TDs in the fourth quarter and the Bears won. They have a lot to improve on, even beyond him. But while he generated the big comeback, he's also a big reason why they needed it in the first place.

And finally, Todd Ricketts celebrated Mills' no-hitter by going to a Trump rally in Nevada without a mask to contract Coronavirus. At least it gives the team a great excuse to keep him away from everybody. Forever.