Discover more from Pointless Exercise
The only newsletter you'll ever need...(about the Cubs and the Bears and all kinds of other cool stuff.)
Deadline prices have never been this low
And the Cubs have at least two more crucial holes to fill. Will they even bother?

I guess my version of the Bo(o)b Nightengale "the Cardinals will have to play XX games in XX days" series of Tweets is this depressing stat: The Cubs have lost games on 11 of the last 15 days they've played.
That's how they can be in first place on the final day of August with just 26 games to play and it feels like they're struggling.
Because, they are, to a degree.
Then again, they aren't struggling as much as the rest of the teams in the National League Central. Nobody but the Cubs is at .500 or better. The Brewers are supposedly thinking about trading the keyboardist of the band Confederate Railroad who also happens to be their All-Star closer Josh Hader, and their best player, Christian Yelich is hitting a whopping .195.
The Reds are potentially scary if they make it into the playoffs because they could throw Trevor Bauer, Sonny Gray and Luis Castillo in the best two-of-three first round, but they've been rumored to be trying to trade Bauer. It could be because he's a free agent after the season and isn't likely to stay, but it could also be that he's an asshole and while he eventually wears out his welcome anywhere he plays, he's had to step up his prickishness in this short season. He's up to that task.
The Pirates have won six of their last ten (and got no hit in one of the losses), and that "surge" has them all the way to 10 wins on the season.
The Cardinals are in second place, 3.5 games behind the Cubs and they have seven games in hand. Holy crap, and it really should be NINE. They still have 33 games on their schedule, which only gets them to 58, and even that is assuming they can keep their players from licking door knobs at a casino again. They have already played four doubleheaders and have seven more to play. That's 33 games in 28 days (cue Bob), with the possibility of the Cardinals playing "a game or two" against the Tigers on the Monday after season if it's needed to decide a playoff spot. Before you laugh at the idea of the Tigers being forced to play a doubleheader the day after their season should be over, the Cubs and Twins can tell you they can be pretty frisky. The Tigers current five game win streak includes two wins against the Cubs and a three game sweep of Minnesota.
Sitting here on August 31 it still looks pretty safe that 30 wins will get you into the playoffs. Eight teams are going to make it, and only five in the NL are on pace to get to 30 (Dodgers, Padres, Cubs, Barves, Rockies). The Cubs are likely to play a sub .500 team in the first round, and…ugh, let's not even start to dread what might happen, yet.
Every team in baseball but the Dodgers have needs at the deadline, but not everybody's going to address them.
The Brewers aren't likely to actually trade Hader today. They will probably do it in the offseason, but who's going to be able to put together a package for him in the middle of a pandemic? I guess you could Player To Be Named Later the crap out of a deal, but it's unlikely. Then again, the Brewers seem to be really motivated to trade him before he tests positive for Tommy John Disease and/or before they have to really pay him. Hader's put together one of the weirdest stat lines ever. In 9.2 innings pitched this season he has yet to give up a hit, but he's walked ten, with 14 strikeouts. Last season he only allowed 41 hits in 75.2 innings but 15 of them were homers. He only walked 20 last year, he's halfway there in just 12 percent of the innings.
The Cubs had three clear needs before yesterday's events. They need to upgrade their fourth outfield spot from Steven Souza (injured and bad) and Albert Almora (slow and bad). They need a lefthanded reliever, because they do not have a real one. Kyle Ryan is worthless. The dirty little secret about it is that he wasn't all that useful last year, either.
When Ryan pitched with the Cubs either ahead or behind by four runs he held hitters to .182/.274/.255. But in "late and close" situations (seventh inning or later, game tied, Cubs up by one or the tying run on deck) opponents hit .302/.352/.476 against him. His numbers with the Cubs ahead or behind by one, two or three runs were all not good.
So his 1-2-3 ninth yesterday with a nine run lead was right in his wheelhouse.
The Cubs also were in dire need of somebody, anybody to be the designated hitter.
The guy who's done it the most, Victor Caratini is hitting .161/.257/.226 in the role. Jon Lester hit .188/.264/.292 last year.
Before yesterday's game, the Cubs traded either two PTBNL or cash (I'm sure the Ricketts will insist it not be cash) to the Rays for one of the most annoying former Cardinals of recent vintage. Jose Martinez, best known for three things: in his career he has tuned up lefthanded pitching (.319/.392/.554), he plays the outfield like he's wearing his glove on his head and he plays first base like he's using a frying pan instead of a glove, and he look just like Bubbles from The Wire.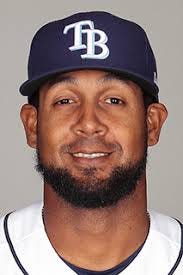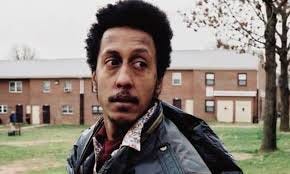 True to form, Martinez's 2020 splits are not great. He's struggled against lefties (.229/.289/.429) and been better, but not great, against righties (.250/.368/.344). Then again, compared to the parade of clowns the Cubs have DH'd this year, he's Edgar Martinez.
OK, so plausibly that fills one of the three needs (DH), but then, Tyler Chatwood left in the third inning with a sore elbow and potentially opened up a new need. Another starting pitcher.
Jose Quintana has pitched twice in his return from his submerged cutlery accident, and has looked very good in the first three innings of both appearances. They tried to get a fourth inning out of him in his first appearance and shit went sideways, but Q looks ready to go back into the rotation.
The hope was that Chatwood would get it together after two bad outings (he went on the DL with a bad back in between so the Cubs had hoped there were extenuating circumstances—but given his Cubs' track record, him just being bad was the most likely outcome), and that Quintana would be replacing Alec Mills.
The Cubs blew a golden opportunity (and it turned out, a win) on Saturday when they rightly pulled the plug early on Mills, and brought in Adbert Alzolay to relieve him. But they only let Adbert pitch one (scoreless) inning. You really thought they'd push Adbert a little to help position him to go into the rotation where his stuff would clearly be an upgrade. Plus, by limiting him to one inning, they ended up in the seventh and final inning with Craig Kimbrel trying to save it. A second inning out of Adbert would have positioned Rowan Wick to close it out. They also could have had Kimbrel pitch the sixth, so there was some sort of safety net if (when) he imploded, but no. Apparently 20 pitches out of Adbert was enough.
Anyway, given the "quality" of starting pitchers on the market (teams are drooling over Lance "I only throw a fastball now" Lynn, and quarantine escapee Mike Clevinger and it drops way off even after those two), the Cubs are probably going to have to go it with what they already have. It makes it even dumber that they didn't use Adbert more on Saturday. Hell, they should have started him.
The "lefty" reliever they need, doesn't even need to be a lefty. They just need somebody who gets lefthanded hitters out. Anybody. Well, maybe anybody but AJ Ramos. They picked the former Marlin off the scrapheap after he was released by Dodgers. Ramos is a righthander who, for his career, is equally tough on righties (.201 average against) and lefties (.202 average against.) But he also hasn't been good since 2016, and he hasn't pitched since May 26…2018. Do you remember that Joel Peralta pitched for the 2016 Cubs? That's exactly how much you'll remember AJ Ramos and the 2020 Cubs.
As for the extra outfielder, Martinez doesn't help there. He's even worse defensively than Souza. But there's no reason to keep giving at bats to Almora under any circumstance. He's a lost cause. His OPS+ trend is…bad. It was 100 (which is league average) in 2017. Then 86 in 2018. Then 67 last year. It's 30, now. That somehow seems high.
Every year we hear the same thing about Albert. He's got a new, more patient approach. Then he tears up the first two weeks of the Cacti League. But his new approach is always just him taking the first two pitches of every at bat regardless of what or where they are.
By week three of spring training games pitchers start mixing in breaking stuff and he struggles and then he just throws the whole taking pitches thing out the window. But it's never an approach, anyway. Defensively he's excellent, but with his poor speed even that has limited impact because there are just so many balls he can't get to. He's currently hitting .167 and SLUGGING .200. There's really no situation where he helps you. He needs to go away, either to South Bend, home, or to another team. He'll always be the guy who tagged up in the 10th inning of game seven and scored the biggest go ahead run in Cubs' history. They can't take that way from him. But they really should take his bat away.
The Cubs need to be willing to add more at the deadline. If you won't trade for a reliever and a bench outfielder, which is really the bare minimum, why are you even bothering to play this season? Nobody's asking for the 2020 version of Aroldis Chapman or Kenny Lofton. The NL Central is bad, and honestly the National League outside of the Dodgers and maybe the Padres is bad. Small improvements could very well make a big difference, and you're only paying for 26 games worth of salary. This is not hard to swallow, and given what the players who have been traded so far have been acquired for, the Cubs minor league system being full of middling prospects is perfect. There will never be an opportunity to acquire players for so little. And really, if anything will sell it to Tom Ricketts it's that last part.
As for the Padres, it makes perfect sense that they've been so aggressive at the deadline. Given the crapshoot nature of the first round of the playoffs, they would be smart to look at this like an incredible opportunity to win the pennant. The Dodgers are just better than everybody else. But two bad days out of three in the first round and they could be out, and the Padres appear to be hell bent to be ready for that possibility, no matter how slim.
It's also the reason the Cubs should be willing to pay the pittance required this deadline to spackle over their very obvious holes. It's also not a big ask when your goal is simply to improve over Kyle Ryan, Alec Mills and Albert Almora.

What are the odds that Theo Epstein was sitting at home watching Ian Happ fall all over right field in Detroit on Wednesday night and suddenly thought, "Hey, I wonder if Jose Martinez is available?"

There is very little room in baseball for sentimentality, and that's what it would take for the Cubs to sign one of our all-time favorite relief pitchers. Pedro Strop hasn't been good since he pulled his hamstring in that ill-advised at bat Joe gave him in a hurricane in Washington in 2018 (that's way more recent than AJ Ramos, though). He pitched only 2.1 innings in four appearances with the Reds this year and walked six guys. They released him and he immediately headed back to Chicago. It would make little sense for the Cubs to add a 35 year old whose fastball velocity has dropped four MPH in the last two years.
And yet…why not? What's all that bullshit pitch lab stuff for if not to sign Pedro, have him go to South Bend and see what he's got? Who would complain about this?
It should happen. It needs to happen. What do they have to lose except close games, which honestly, they're already doing that at an alarming rate.
Come home, Pedro. We miss you.

All month I bitched when the Cubs would bat Jason Heyward sixth. And, it turns out I was right!
He's hitting .286/.402/.560. His .962 OPS is second to only Happ's 1.041. He's fourth on the team in homers, fourth in RBI, and he's third in walks with 16 and he's only struck out 16 times. See, I told you so!
OK, I was complaining that he was batting too high in the order, but never mind that.
Oh, and he's doing it all against righthanded pitchers (.328/.446/1.134) and he should still never be allowed to bat against lefties (.174/.286/.217) which is another reason why they need to add a bench outfielder today.
But Heyward being this productive against righthanded pitchers is a very welcome development.

This road trip where they were supposed to rack up the wins against Detroit, Cincinnati and Pissburgh is off to a not great start. They are just 3-4, and flat gave away two of those losses. They're off today, then finish the trip with three against the Pirates before coming home to finish their season series with the Cardinals with five games in four days.
How are things going for the Little Red Plague™? Adam Wainwright's complete game win (on his 54th birthday) yesterday broke a four game losing streak (which should have been six, except ex-Cub Randy Rosario blew a save in spectacular meltdown fashion against them on Wednesday), and their Saturday loss ended like this:
Enjoy.