Discover more from Pointless Exercise
The only newsletter you'll ever need...(about the Cubs and the Bears and all kinds of other cool stuff.)
Draft mocked, day one
The NFL held a conference call to pick players, just like every year
The NFL is drafting players over three days and it's finally something to watch.
But even better, it's ripe for making fun of. So let's get to it.
Even before the draft starts we get Roger Goodell and his dog begging to be booed. Wait? It's a commercial for fucking Bud Light? Oh, whatever.
Oh great, the joint ESPN-NFL Network broadcast means we can't avoid Michael Irvin or Deion?
Trey Wingo dressed like this on purpose? Those are basically tennis shoes, too. Stop pretending they aren't.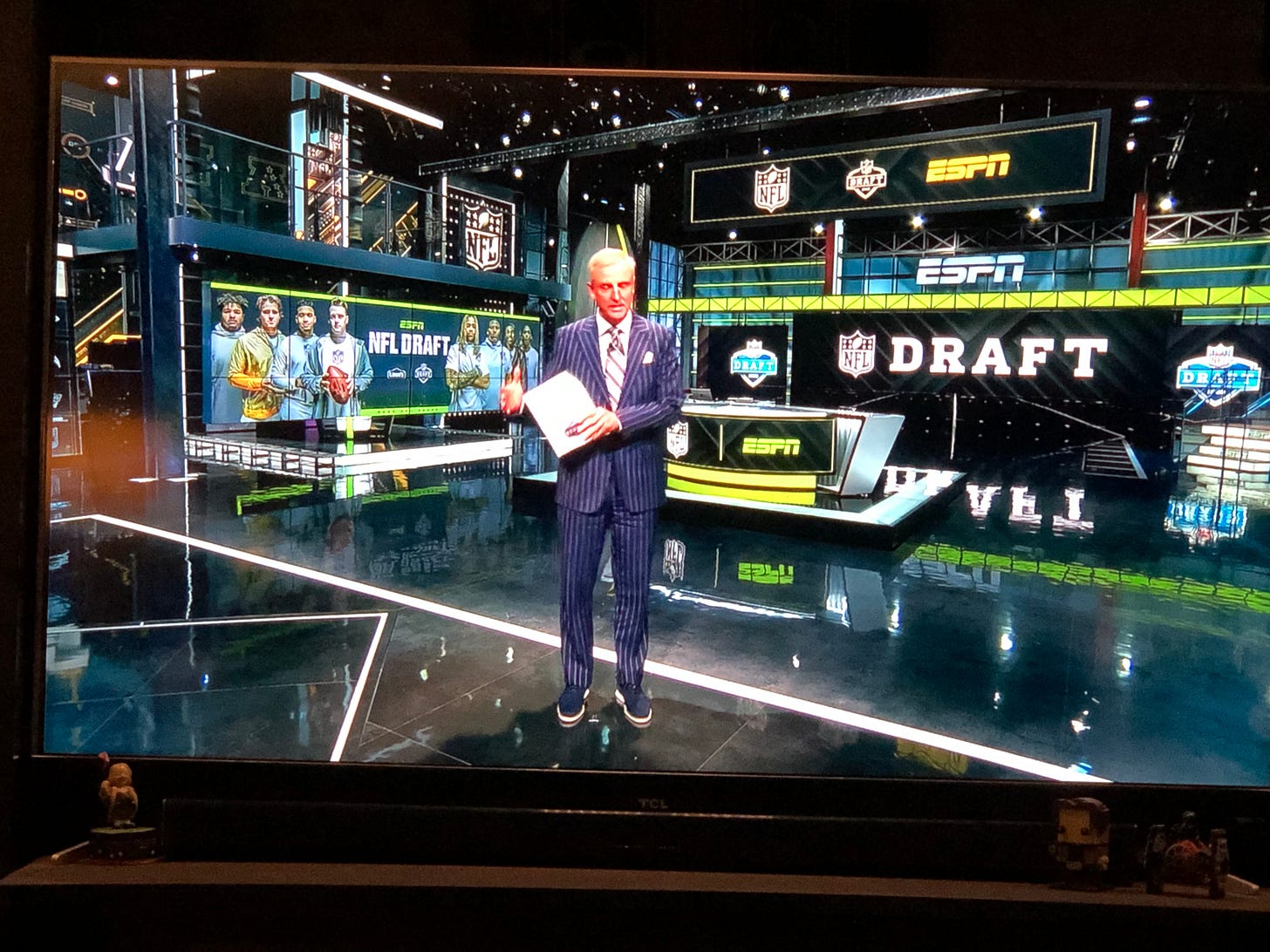 Peyton Manning is narrating the intro video, he's also going to golf with Brady, Tiger and Phil for charity late next month. Basically he'll do anything for money except Monday Night Football.
Here's Adam Schefter's tweet on "real sporting event":
This not a sporting event, it's a conference call to assign personnel. It's always been that.
Hey, it's Roger Goodell with a carefully placed Microsoft Surface behind him. Surprised he wasn't casually sipping a Bud Light, holding a bag of Tostitos and wearing Bose headphones. "Hey guys, it's me, The Rog, just another average football fan. What's up with the old pigskin tonight?"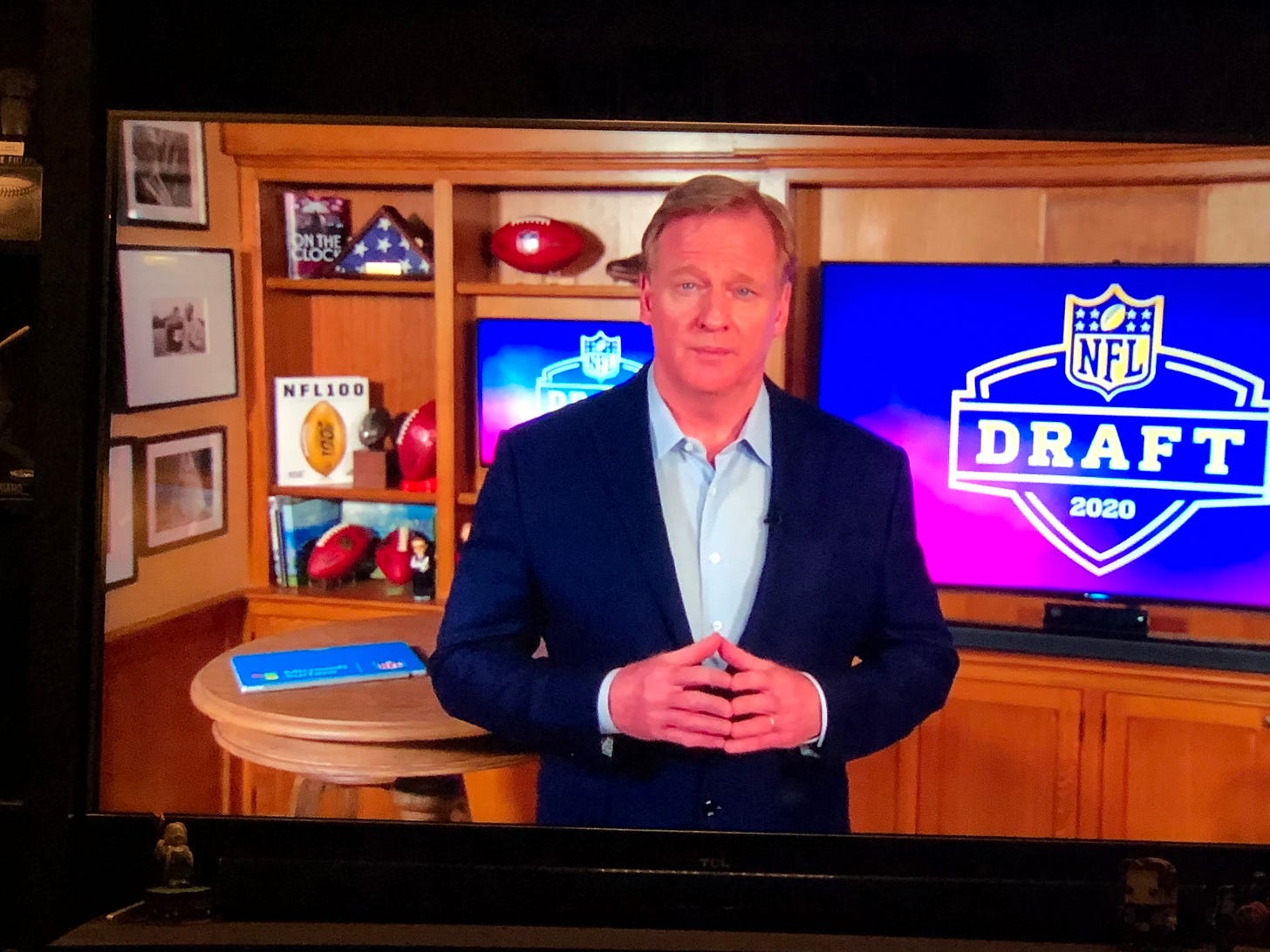 The main takeaway from tonight will be that it always been fucking lunacy that people actually paid money to go to the NFL Draft to stand there and watch it.
I'm with Kap. Nothing puts it all in perspective like the draft. It's not like we've been seeing shots of staged protests, hospital staff overwhelmed and weeping on the job or people visiting their grandparents by talking through the windows of nursing homes for weeks. Glad a made for TV job fair is what finally brought it home for you.
Did Joe Burrow transfer from Ohio State? People should talk about this more.
Why does it look like Kurt Warner has Steve Largent's Hall of Fame bust in his house?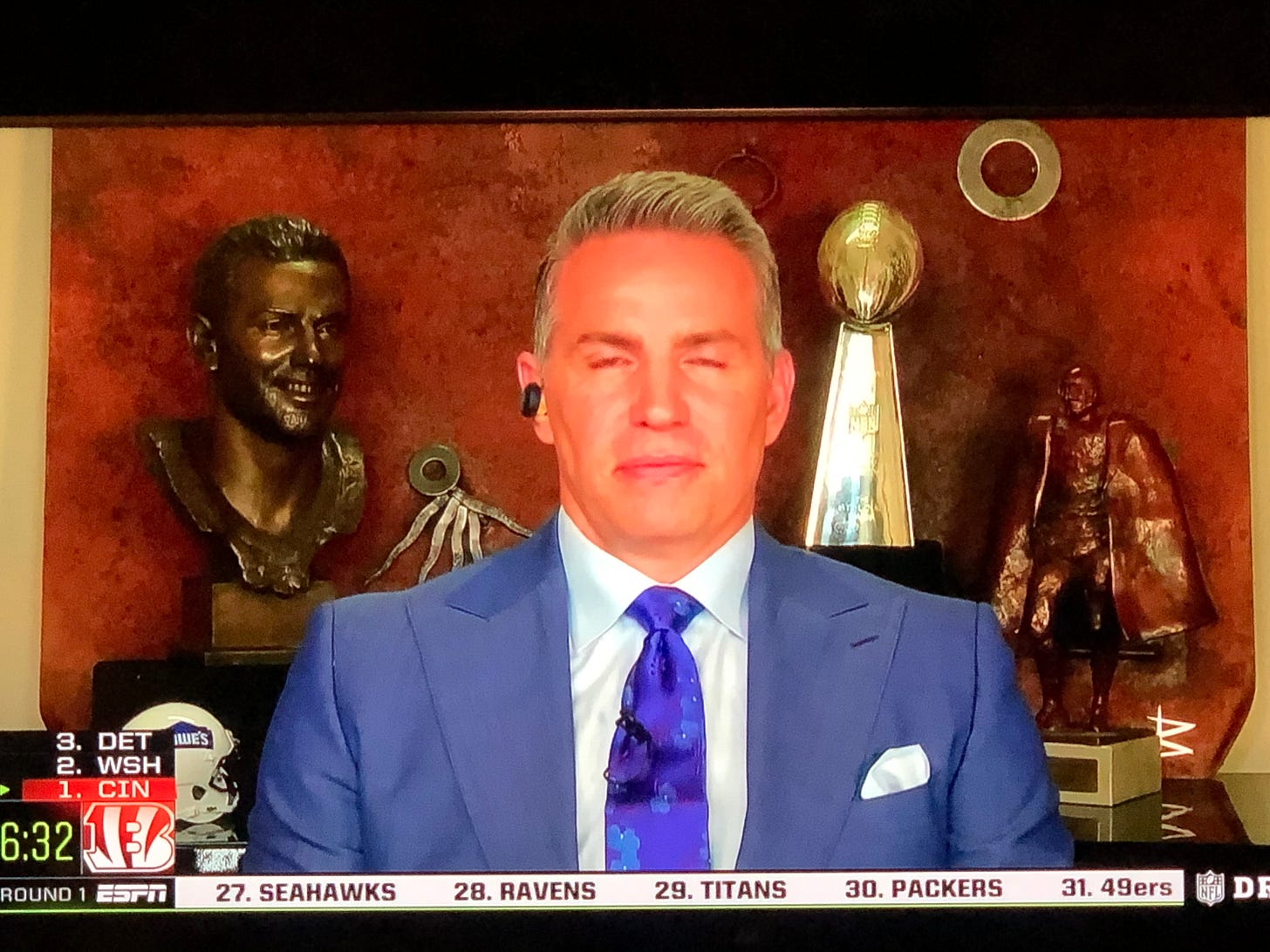 The Bengals' Director of Player Personnel is Duke Tobin? Does his mailman know more about the draft than Mel Kiper Jr.?
It has never made sense that the first pick gets 15 minutes just like the others. The Bengals have been on the clock since the Dolphins won their third game!
The Bengals shock the world and take Joe Burrow. The best part of the draft all night might be Trey Wingo relentlessly dragging Nebraska for passing on Burrow out of high school and again when he transferred.
Suzy Kolber did her hair with a leaf blower and it looks like Joe bought his headphones on a United flight.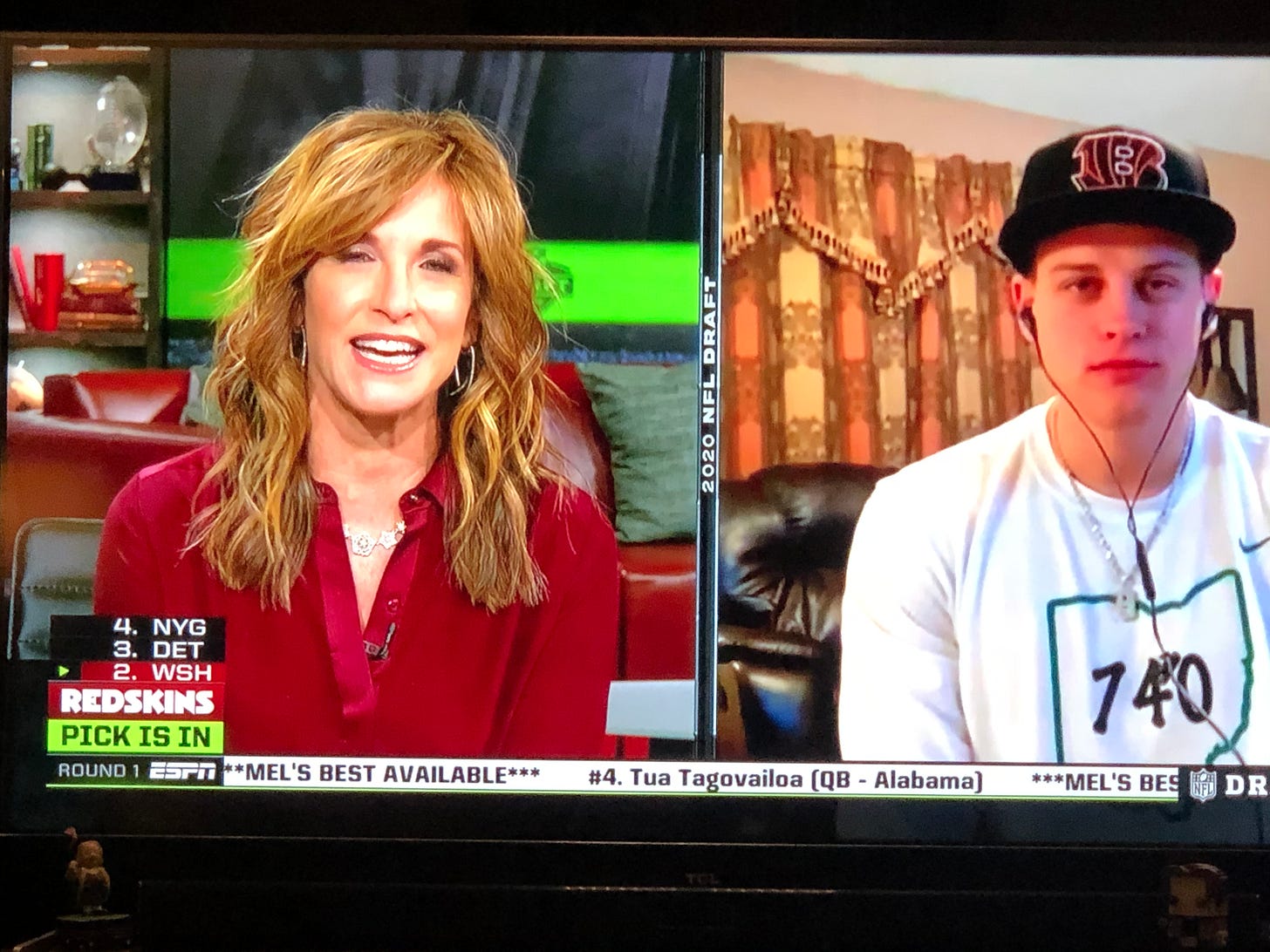 Booger says that Bill Polian said, "If you take a guy in the top ten, they need to be worthy of wearing a gold jacket." To sell real estate?
Lions on the clock. Source tells me that the IT guy had to come in from the RV to unplug and plug in the router in Bob Quinn's house.
Wingo says that when Chase Young was a kid he played flag football but wouldn't grab flags, he kept tackling guys. Trey says other parents complained that it was not fair. Trey said "Life's not fair!" No, it's fucking cheating. They call it flag football for a reason. Chase was basically assaulting other kids. Fun.
Wingo says "hog mollies" and my will to live is fading.
Giants take Andrew Thomas, OT from Georgia. ESPN gets a great shot at home with his mom and dad, Marlo Thomas and Phil Donahue.
Here's Giants GM Dave Gettleman putting a mask on, to meet with no one while alone in a room. As one does.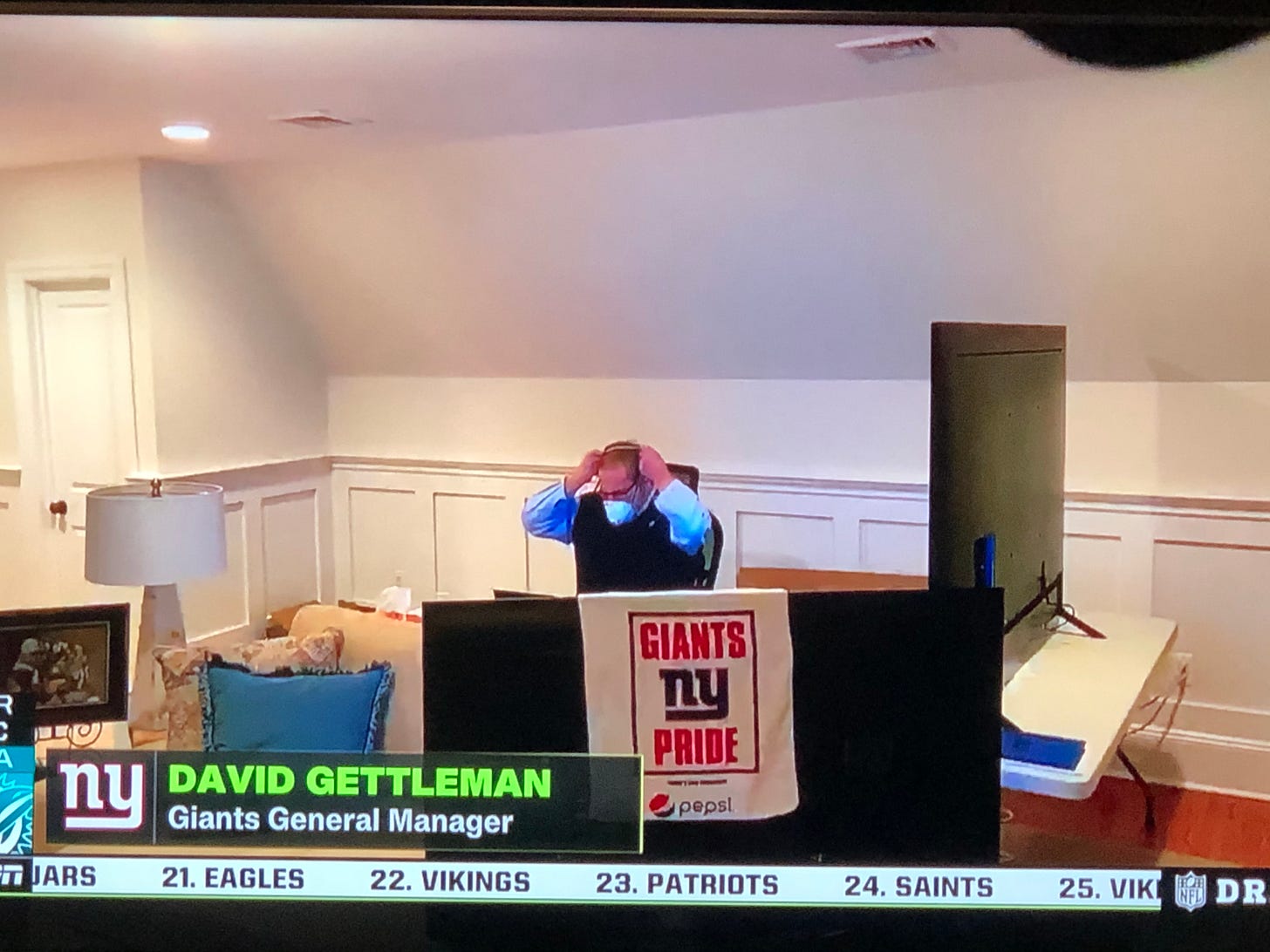 How many times have people told the story about the Dolphins' failing Drew Brees' physical, with them now waffling over Tua the last two months? A billion times? Probably more.
But the Dolphins do take Tua, which is an awesome pick. I mean, sure he's really injury prone--and is often just, plain prone--but maybe he's just gotten them all out of the way? Regardless, IF he stays healthy, he's a fucking stud and when you have three first round picks you do this. I mean, I guess they could have just thrown away their pick on some slappy from Nrth Carolina, but they went another way.
That some NFL teams marked Tua down because he's a lefty and they'd have to flip their entire offense is just proof that football coaches are the dumbest.
In Illinois on Thursday, Governor JB Pritzker announced that the stay at home order would be extended but some businesses that are currently shut down will be allowed to start up again, including garden centers. That's good for the Tagovailoa family, otherwise they'd have been unable to get dressed.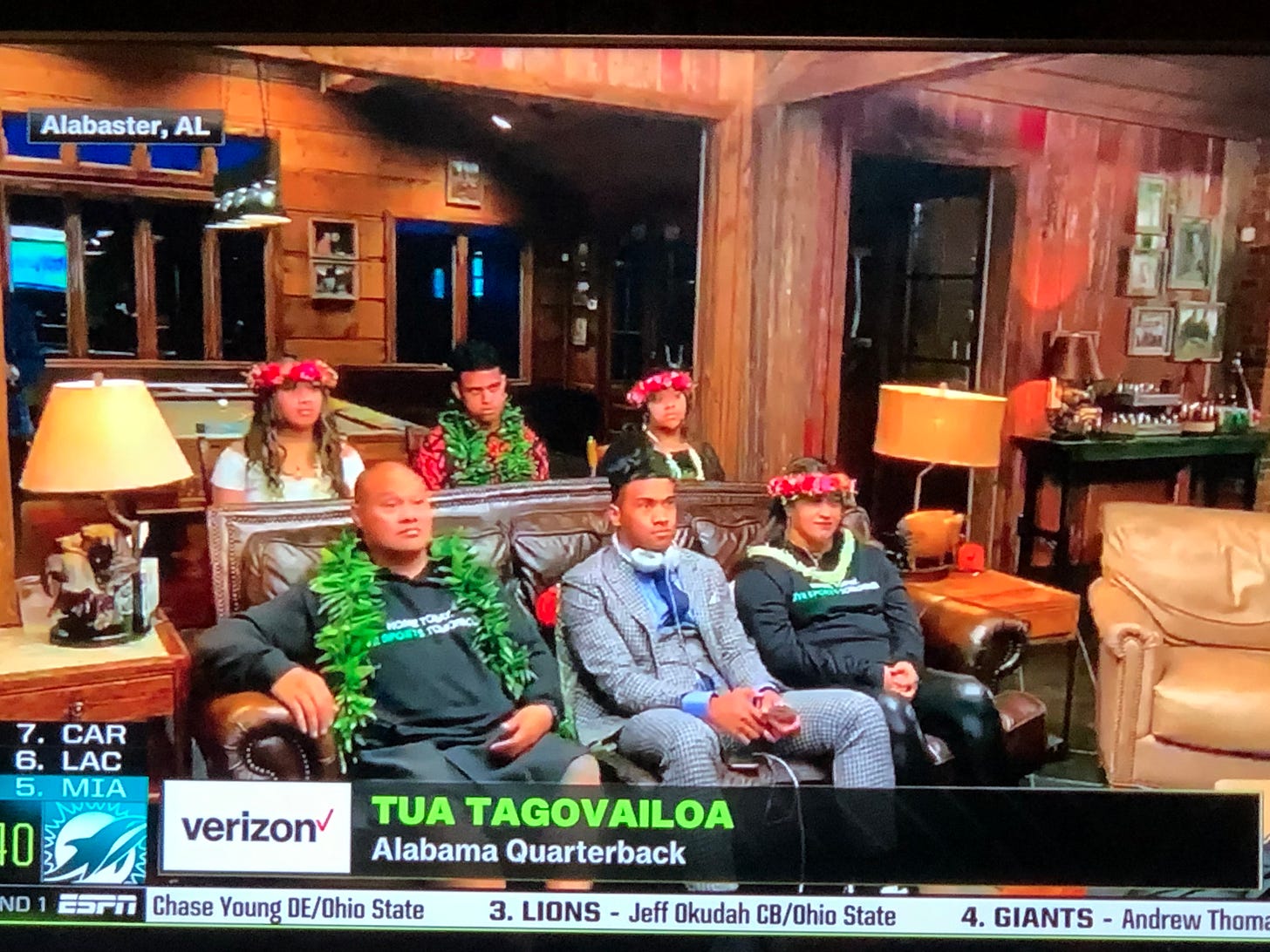 Chargers thought they were going to get Tua, so they take Oregon QB Justin Herbert. Which kills my dream of the Bears trading Mitch to them for...well, anything.
This season of Match Game sucks.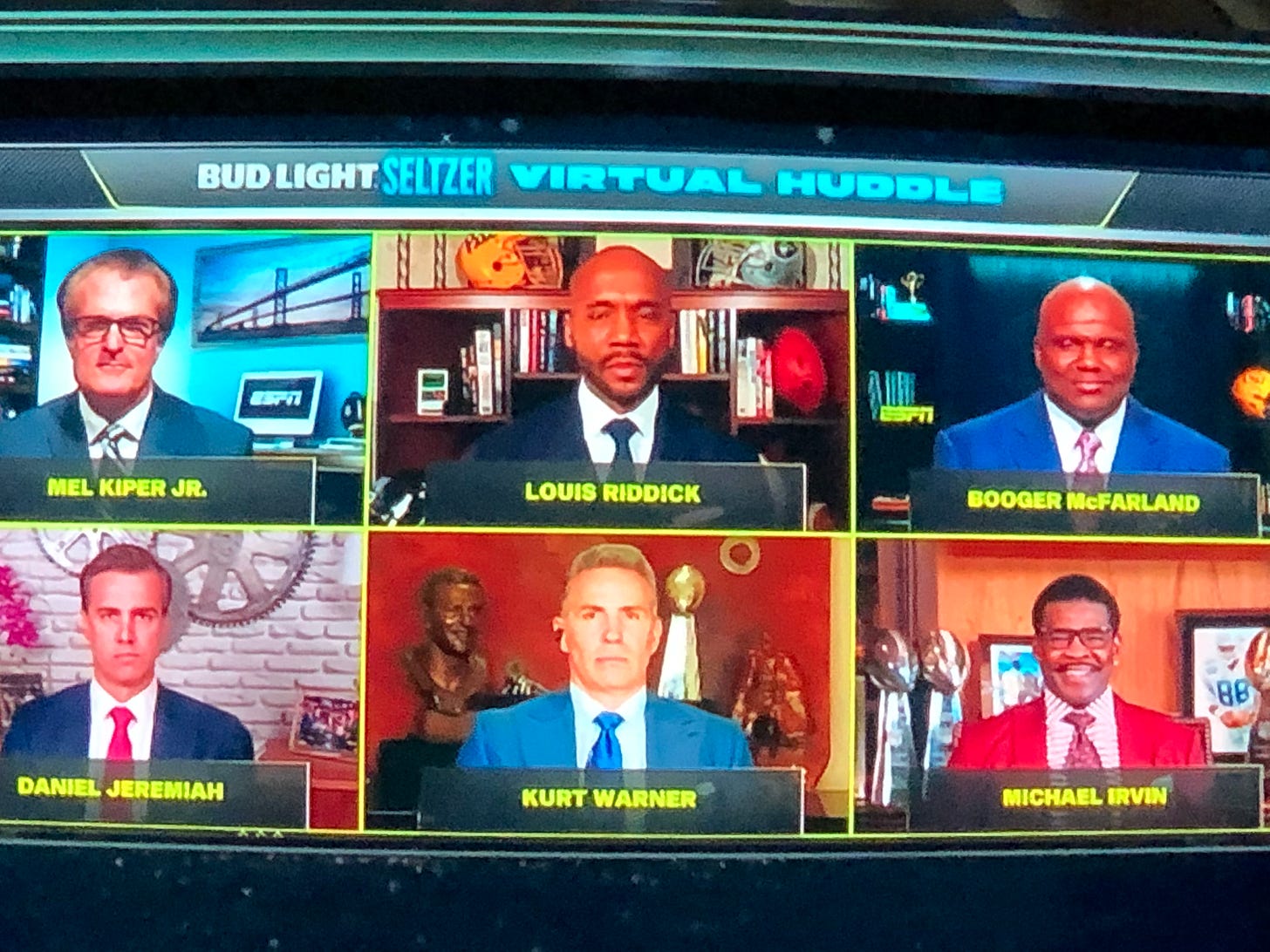 Derrick Brown, DT from Auburn goes sixth to the Panthers. We find out his dad is James Brown. Time for some celebrity hot tub!
Isaiah Simmons reminds me of a young Brian Urlacher. Which is fortunate, because if he reminded me of an old Brian Urlacher it would really shorten his career.
The ESPN guys keep calling Simmons a "positionless defender," but honestly let's save that kind of talk for players like Shea McClellin who take years to prove they can't play any position on defense.
Gator DB CJ Henderson gets the call as the ninth pick of the Jags. His mom starts crying.
"Hey mom, I'm staying in Florida!"
"No, it's Jacksonville! That's basically Georgia."
Browns on the clock. Their tenth pick is the worst draft position they've had since Otto Graham retired. So, progress?
Browns take Jedrick Wills, who is decked in out in full Canadian formalwear.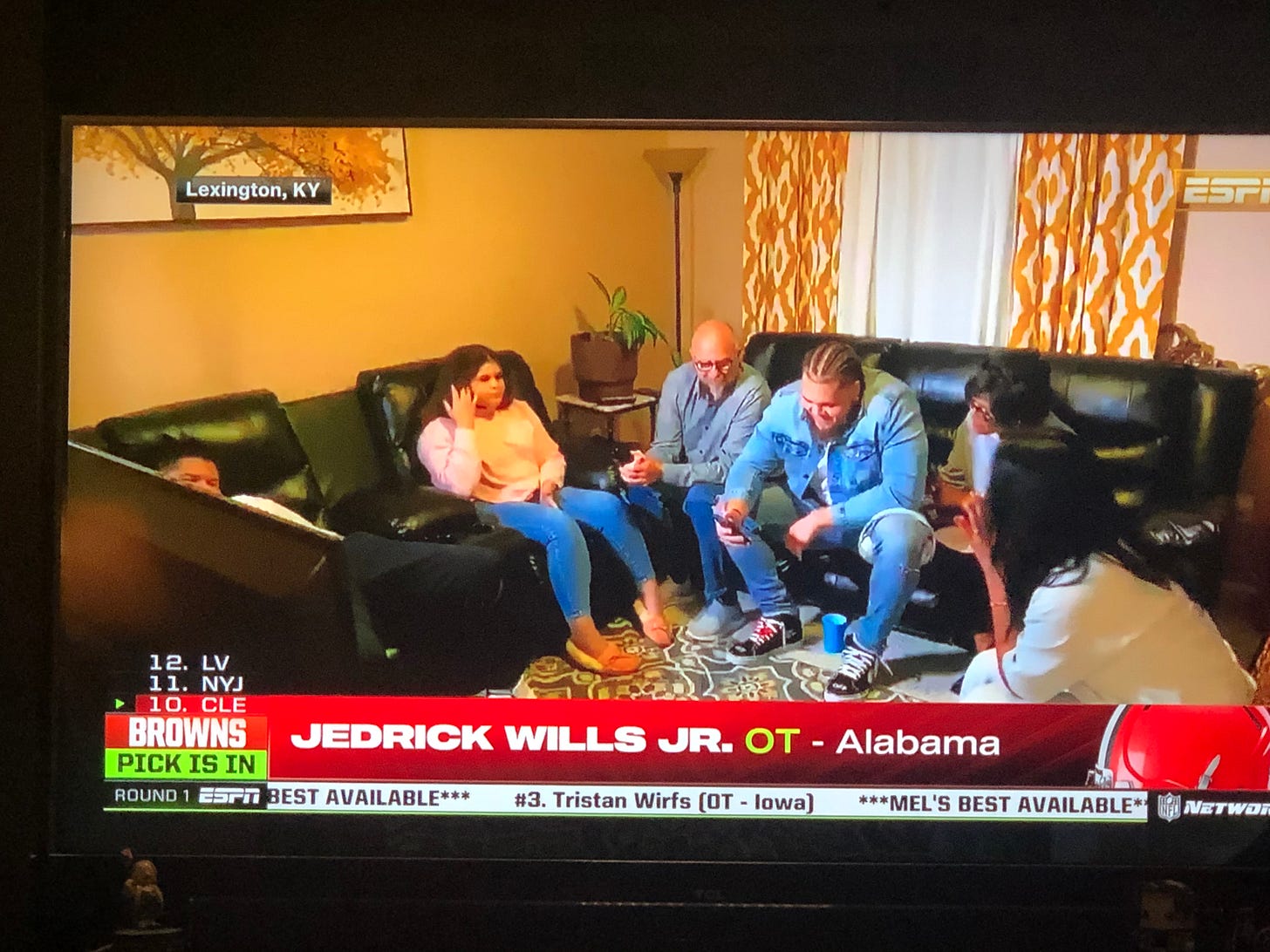 No trades so far, which just proves that GMs can't do two things at once. They're terrified that the magic Interwebs or their phones will break, even though in a normal year they're just at their team facility...using the fucking Internet and phone to communicate with other teams.
Meanwhile on ABC the College GameDay guys are covering the draft, too, and Desmond Howard put the bookcase prop competition to rest.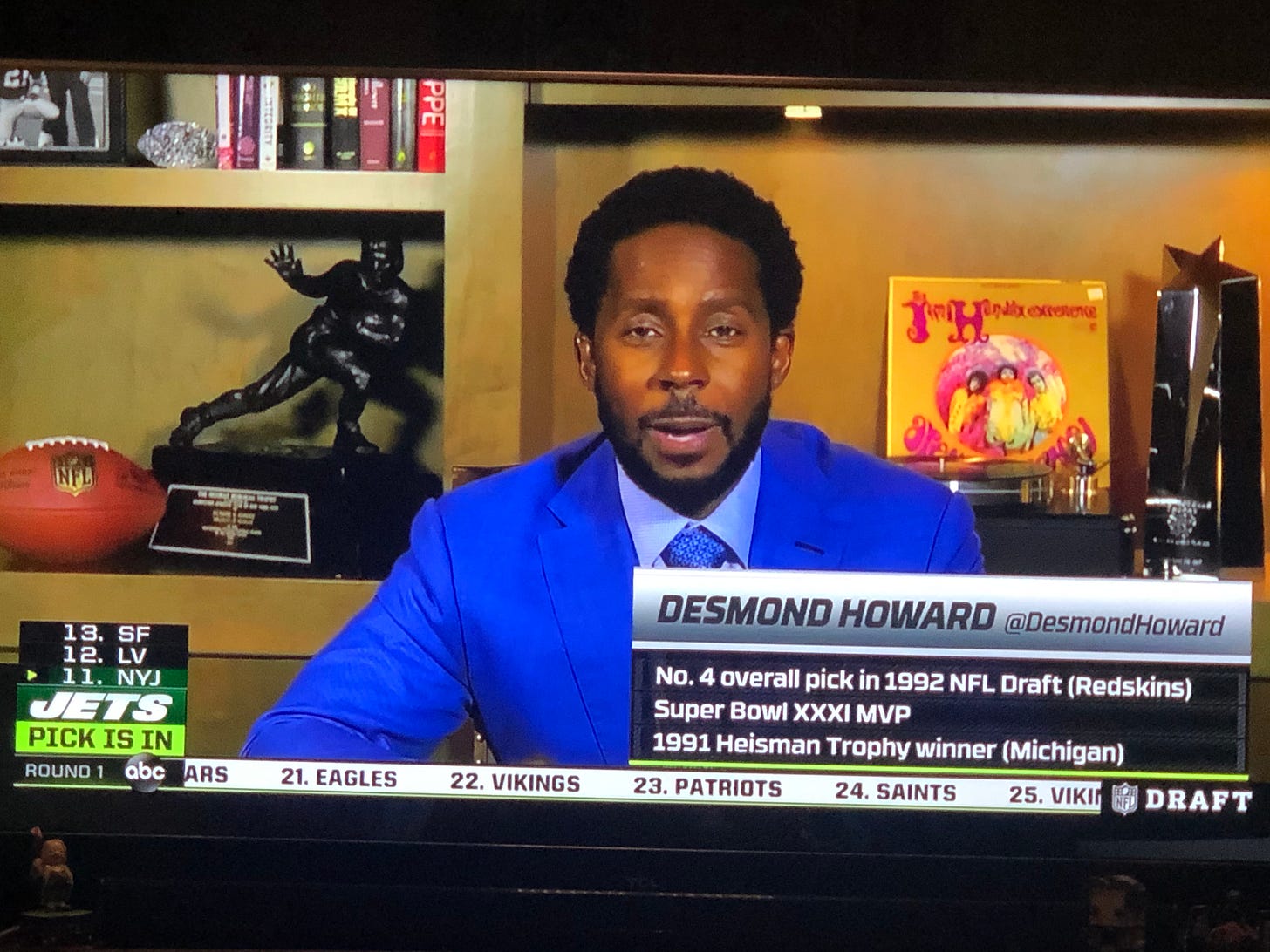 Goodell does the same thing with this stupid Bud Lite boo promotion every time. He stars blankly at a screen with some fans booing him and he says, "Come on!" The schtick was tired the first time he did it. We don't need it 32 times.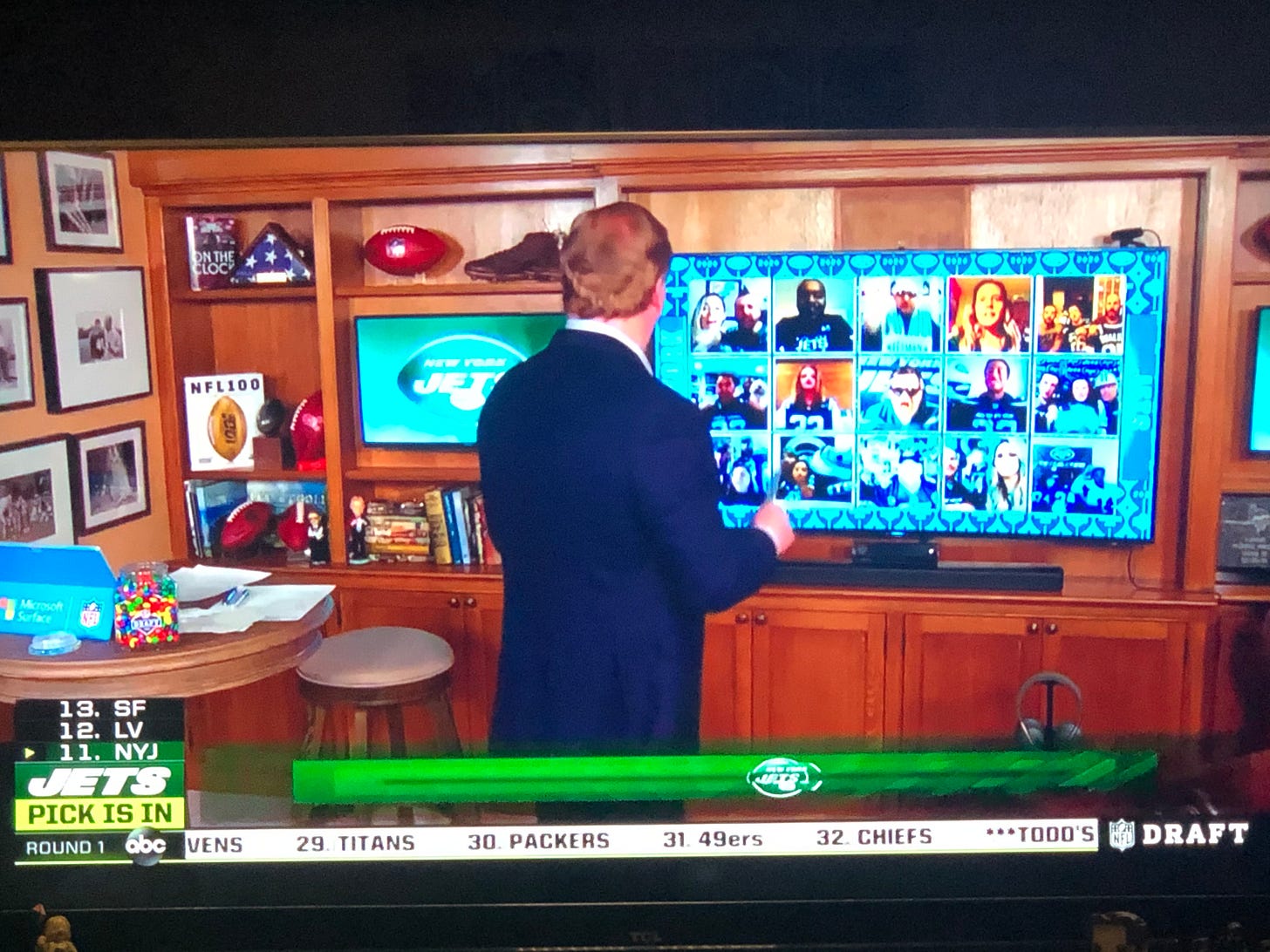 The Vegas Raiders are on the clock and here's...uh...Marie Osmond?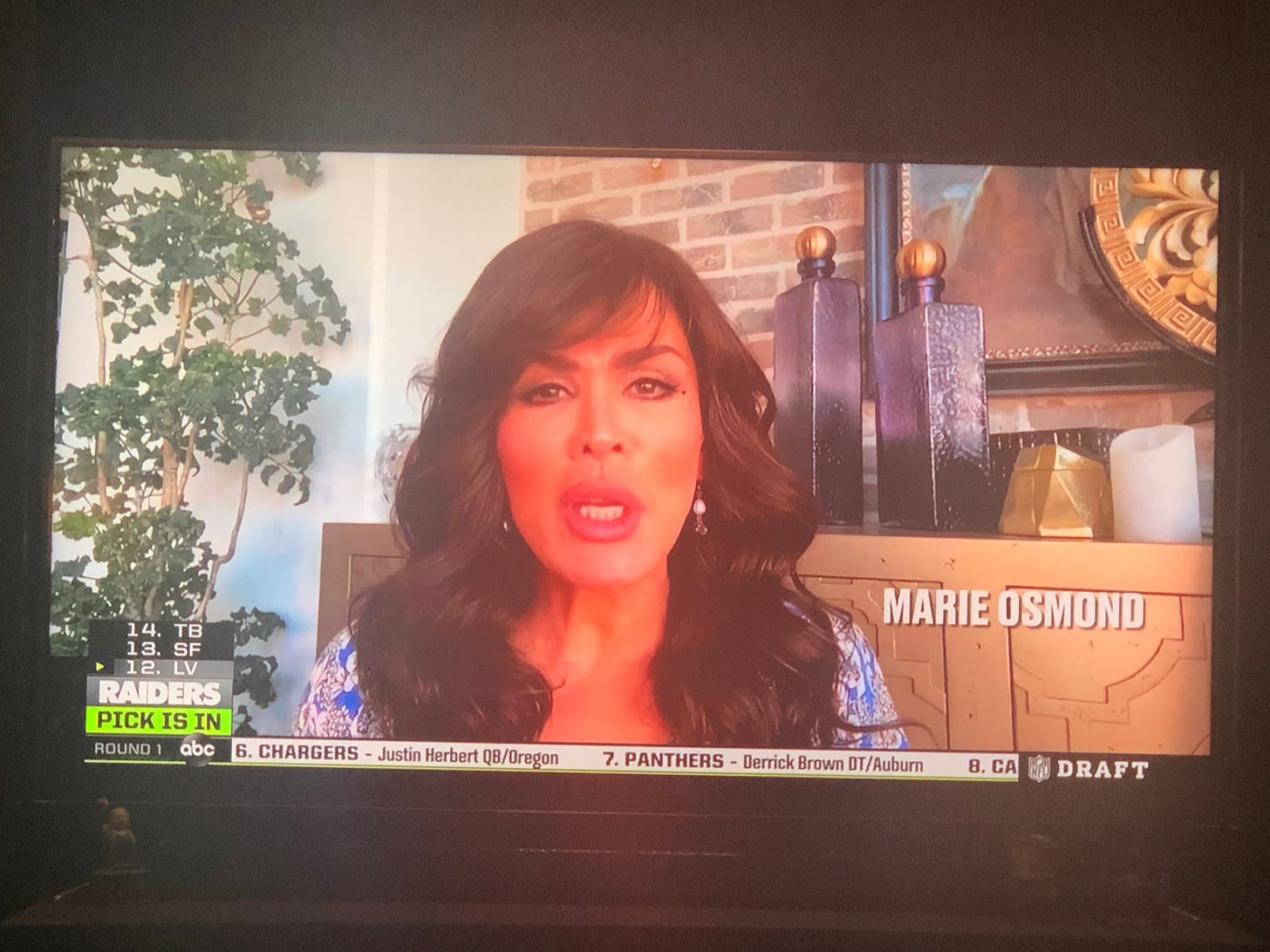 Raiders take Henry Ruggs III from 'Bama. And every year ESPN seems fascinated that great football players were great at other sports in high school. Gee, ya think?
Ruggs was at home wearing a bathrobe. I mean, why not?
Few were more excited for Ruggs to be drafted than Tom Rinaldi, who gets to do one of his weepy features on him because Ruggs' best friend died in a car accident in high school. Nobody sucks the life out of an event quiet like Tom Rinaldi.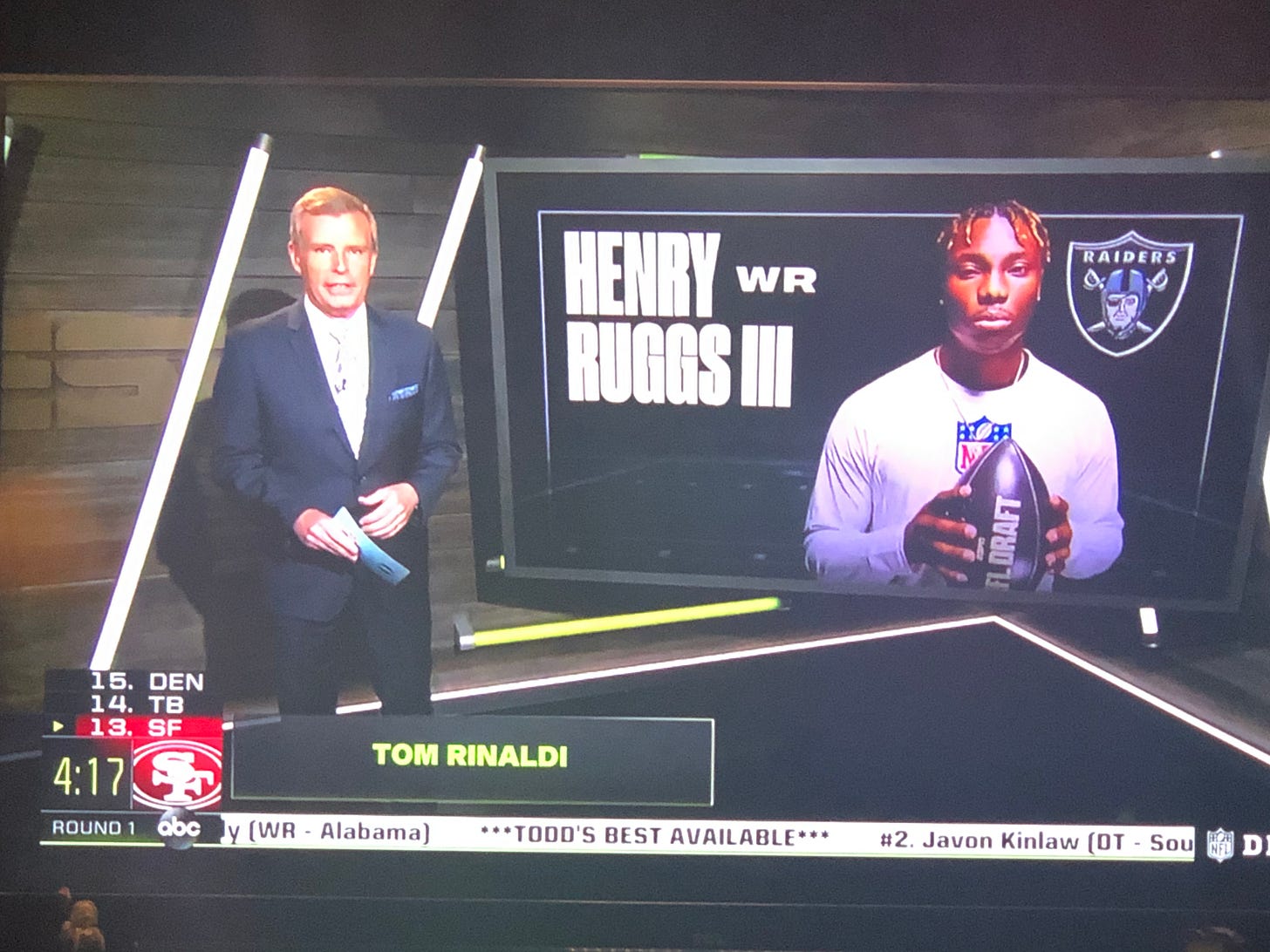 Shot of Jon Gruden after the pick appears to show his draft board. This would be trouble except nobody in the world wants to emulate the way the Raiders rank prospects.
Bucs take Tristan Wirfs, OT from Iowa and ESPN shows him jumping out of the pool.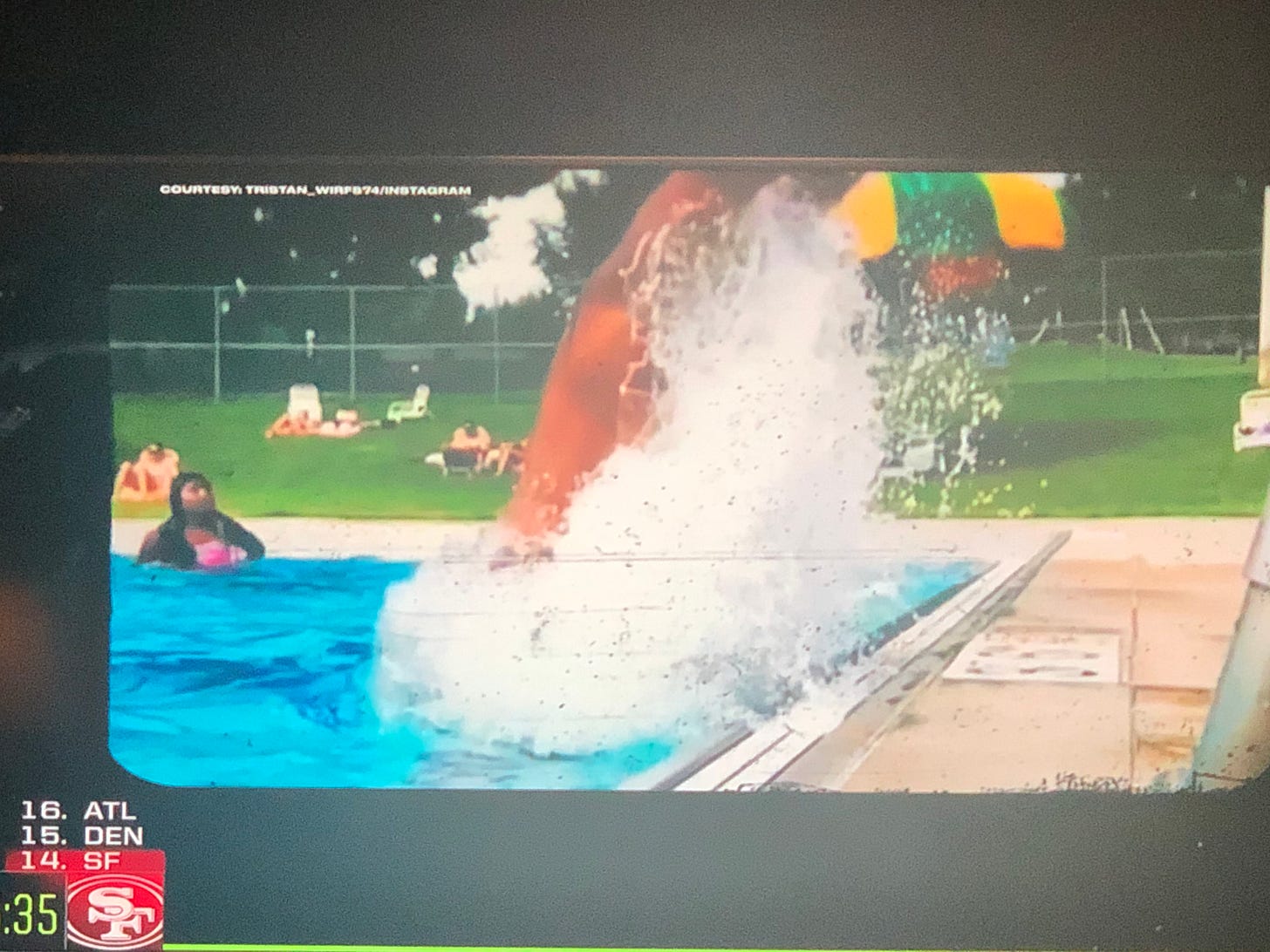 Like we needed any Jarron Gilbert memories.
ESPN talks about which WR the Niners will take a 14 and they instead take DL Javon Kinlaw, who we find out, spent some of his youth homeless. Man, Rinaldi has to be kicking himself for doing the car accident story instead.
Broncos take Jerry Jeudy. Hey, Drew Lock can't just keep overthrowing Courtland Sutton. He needs to be able to mix it up.
Goodness, I hope this ends the tragedy portion of the draft. In the last few picks we've had a best friend killed in a car accident, a homeless kid and now a dead little sister. (SPOILER ALERT: It did not stop. Every pick had Oliver Twist's backstory.)
Wingo says Falcons' pick AJ Terrell changed his major at Clemson from business to sociology because "I like to size people up." It also means he flunked all of the business pre-requisite courses.
All these shots of GMs and coaches with their kids' hanging around just means that Peter King's recap column will be even more insipid than normal. He'll waste thousands of words on cutesy anecdotes about this shit that nobody cares about.
And I totally forgot that Mike McCarthy, aka the living embodiment of Otto Pilot, is the Cowboys' coach. How could I forget that? It's just the greatest. He's such a moron.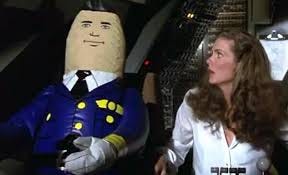 Cowboys take CeeDee Lamb, and the ESPN guys think it was to keep the Eagles from drafting him a few picks later. Always good strategy to draft guys and leave holes on your team to spite your rival. Never bites you in the ass. It's just like how Ryan Pace always trades up to keep washout D-III tight ends from Green Bay.
And, the tragic run does not end. We find out CeeDee wears a chain to honor his uncle who died on a business trip to China. I wonder if it was the bat soup?
Before the Dolphins' second pick (OT Austin Jackson) Goodell waves the card at the screen with the sponsored fans fake booing at him, and said, "Good news for Tua! I have good news for Tua here!" Oh, are those his x-rays?
Well, since he's in Miami, I guess my typo could be Tua's new nickname!
The Raiders are about to use the Bears' first round pick. Goodell announces that the "Vegas Raiders will host the 2020 NFL draft" since this year's was COVID'd out. Uh...but THIS is the 2020 Draft. Huh?
Raiders honor the Bears by drafting a third round talent, Damon Arnette in the first round. Ryan Pace should call Mike Mayock and yell, "IF YOU WANTED A THIRD ROUNDER WHY DIDN'T YOU JUST ASK FOR IT?"
Maybe Gruden erased the rest of their first and second round graded guys when ESPN accidentally showed his board?
Honestly, LSU linebacker K'Lavon Chaisson only went in the first round because his name is so much fun to say.
ESPN shows a quote from Chaisson that says: "When you hire somebody, do you want to hire someone who speaks one language or do you want to hire somebody who speaks three languages? I speak three languages: I do pass rush, I can drop into coverage and cover anybody you want me to cover and I can play the run..."
"I do pass rush?" I'm not sure he speaks one language.
Wingo reveals that next year's draft is going to be in...Cleveland? Talk about trading one plague for another.
The Eagles take Jalen Reagor, a WR from TCU whose dad, Montae won the Super Bowl with Indianapolis against the Bears. So fuck both of them.
Reagor does his best work on AstroTurf. Even in the living room.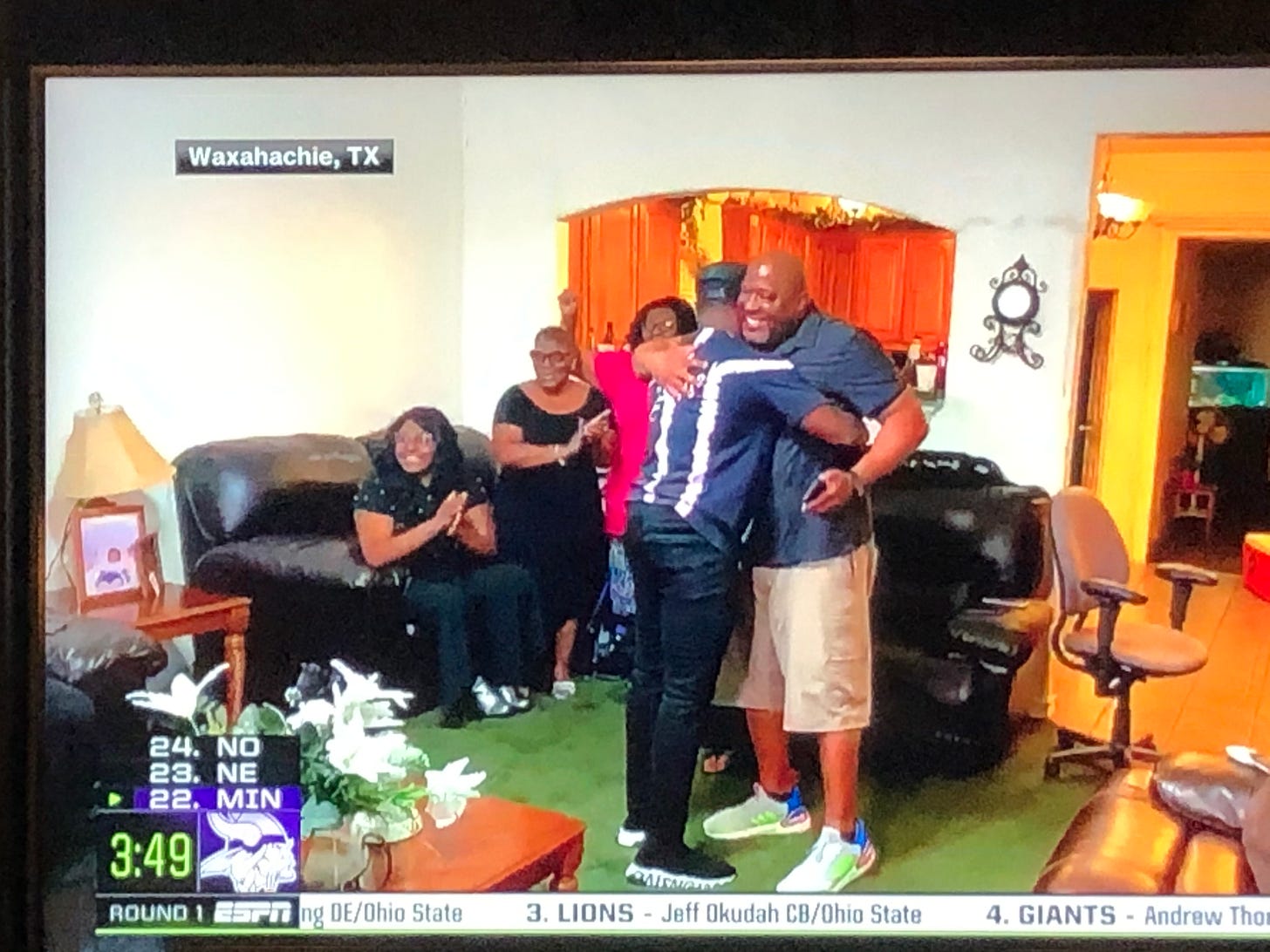 The Vikings are picking in the Bills' spot after trading Stefon Diggs, and take Justin Jefferson, a WR from LSU. I don't know about the pick, but I do know that Rick Spielman, the guy who make the pick is Chris' brother and used to work for the Bears...oh, and he puts his shoes on before his pants. Seriously.
And there is no way Mike Zimmer is pleased that that dog is in that shot.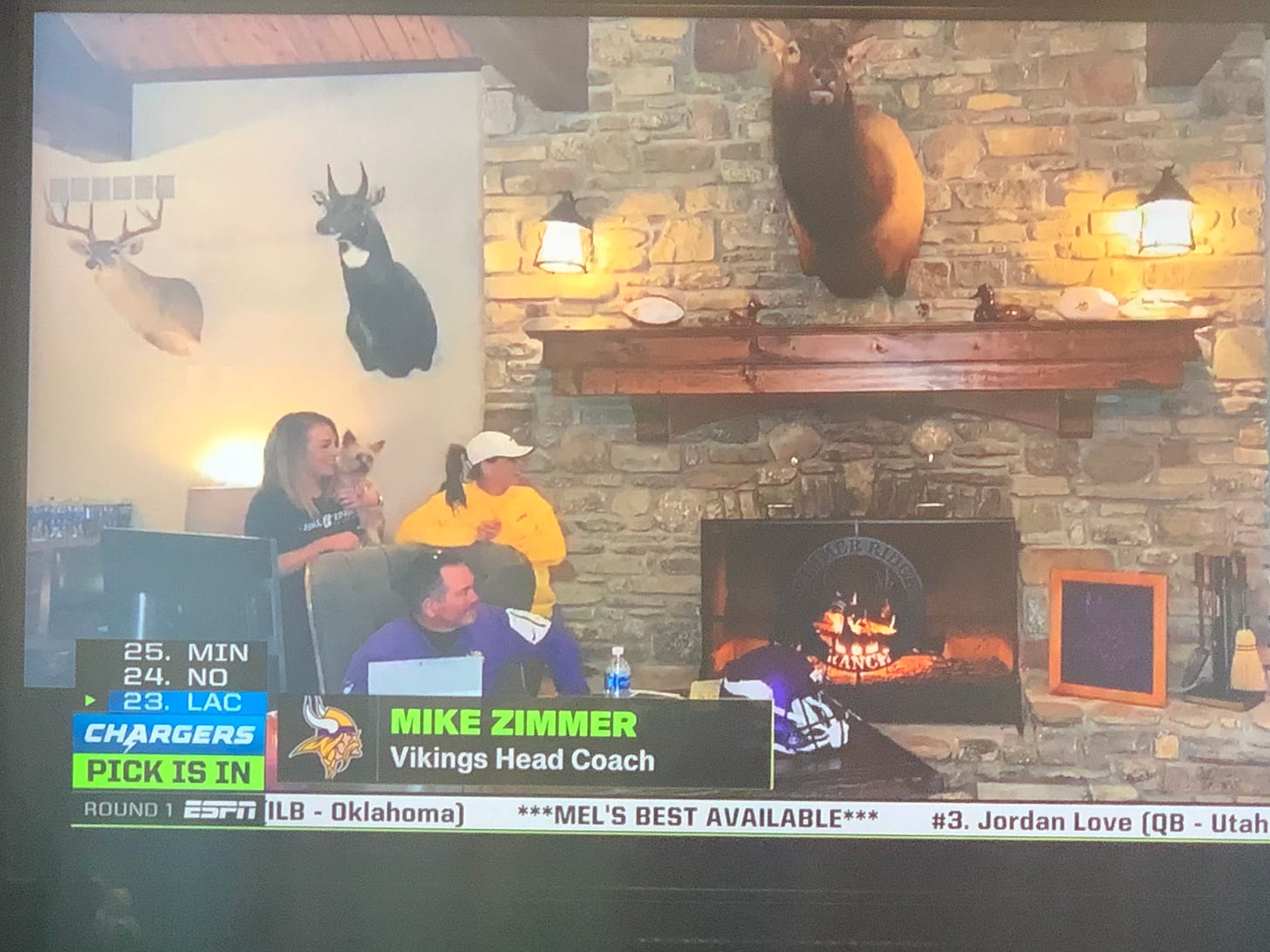 Patriots trade out of the first round and get a second and third rounder from the Chargers. They now have 47 picks in the draft and will spend the next 18 hours turning those into 109 picks.
Before the Saints pick we see a shot of Sean Payton's house and he's spent the night apparently crushing a two pound bag of Twizzlers and some Orange Crush. They just showed footage of him, fully recovered from the Coronavirus, donating plasma. I really hope whoever they give his blood to really likes sugar.
Wingo throws to Schefter to give the details on a Niners-Vikings trade and Adam's no where to be found. We know where he is. He was busy Tweeting this nonsense at that exact moment. Literally. It popped up on Twitter as Trey was going, "Adam…Schefty? Schefty are you there?"
Again, drafts are not sporting events. Mel Kiper Jr. put a first round grade in Schefter's back pedal.
Niners take WR Brandon Aiyuk with the pick they get from the Vikings. ESPN's graphic says Aiyuk's wingspan is 81 inches. Somewhere, Jay Bilas just got a tingle.
Packers trade up to take Jordan Love, which I'm sure won't piss Aaron Rodgers off at all. The idea is that Love will be the guy who torments the Bears for the next 15 years. Whatever.
In the 15 seasons he's been the Packers' QB they've never taken a first round wide receiver or running back. I'm sure Aaron won't bitch about this at all.
Everybody's commenting on how speedy this first round is. It's been four hours and they've picked TWENTY-EIGHT players! Oh, come on. They should be able to knock this shit out in an hour.
The Vrabels are really something. And just what's going on in that mirror there?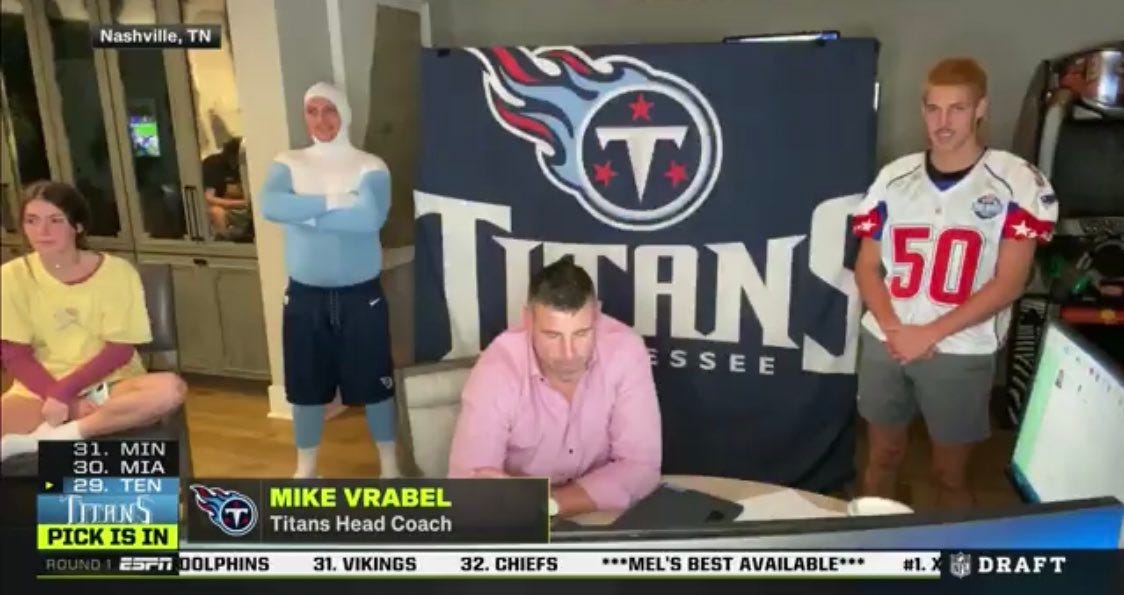 As we come up to the final pick of the first round (and of the night), Mel Kiper Jr's hair touts the Chiefs taking Wisconsin running back Jonathan Taylor. Mel says "he'd have gone a lot higher if he didn't fumble so much." He lost FIFTEEN fumbles in college. FIFTEEN! Oh, I'm sure he'll fumble less in the NFL. That's how that usually works.
The Chiefs do take a running back, but they take LSU's Clyde Edwards-Helaire. Pretty sure every single player on LSU's roster was drafted in the first round. Plus, you have to like having a guy named Clyde on your team.
The Bears will actually make two picks on Friday, unless they trade down to get more. Hell, they're just as likely to trade up to take A 4'11 wide receiver from a South Carolina trade school.
We'll just have to find out. See you tonight on the Twitters and tomorrow right here. Oh, and the podcast returned this week.