Discover more from Pointless Exercise
The only newsletter you'll ever need...(about the Cubs and the Bears and all kinds of other cool stuff.)
Fearless predictions for the 2020 MLB season
Can't wait to see who ends up in the playoffs? I'll just tell you now.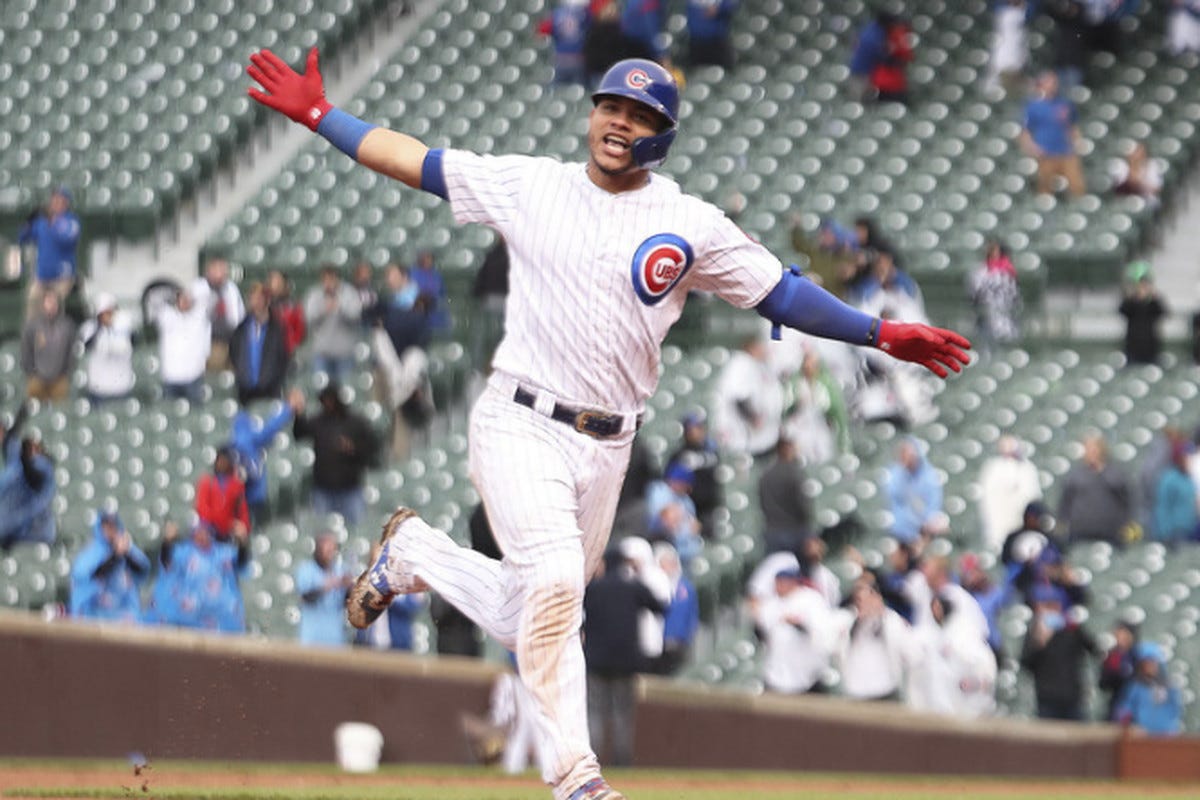 Baseball's back and it's gonna be weird but I'm here for it. They just randomly added six playoff teams three hours before the season started and I didn't even bat an eye. Nothing surprises me anymore.
The Cubs trimmed their roster down to 30 players, and given the lot they had to pick from at the end, it was like pruning Charlie Brown's Christmas tree. For some reason Dillon Maples made it. If Marquee wants a show people would watch they should film Maples and Tyler Chatwood trying to play catch. Mo Farah gets less running in during a regular workout than those two would chasing each other's throws.
Daniel Descalso was placed on the 45-day Wood Prior™ List with a foot he "injured" during his final summer camp at bat on Tuesday night. I really have to hand it to Descalso, that at bat was veteran savvy at its best. He just randomly started limping and you immediately knew what movie he watched Tuesday afternoon.
All that was missing was Dr. Beeper diagnosing it on the spot.
But, if you thought the Cubs were going to go into a season with just David Bote as their only crappy utility player, you'd be wrong. Last night they signed former Red Derek Dietrich. You remember him, the guy who just leans his elbow out over the plate in an attempt to get hit by every pitch. He hit just .187 last year with 47 hits in 113 games, but he got hit by 25 pitches. That was the third time in four years he got hit at least 20 times. That's a "skill" I guess.
He can play all three outfield spots, first, second and third. And that's the problem, just because he can play them doesn't mean he should, but smarter guys than David Ross have kept putting him in their lineup.
At some point, somebody is going to dub Dietrich and Anthony Rizzo the "Bruise Brothers" because of their proclivity to get hit by pitches and just the thought of that terrible pun is already making my eyes roll back in my head.
Dietrich won't start the season on the 30-man roster, but I'm sure it won't be long.

Now that we know how many playoff teams there are going to be this year, it's time to make some fearless predictions.
National League Playoff Teams
All first and second place teams will make the playoffs plus the next two best records
Division Champions - Dodgers, Cubs, Barves
Second place teams - Padres, Reds, Nationals
Wild Card teams - Cardinals, Mets
American League Playoff Teams
Division Champions - Astros, Twins, Yankees
Second place teams - A's, Indians, Rays
Wild Card teams - White Sox, Homeless Blue Jays
How can I constantly rag on the Cubs and then pick them to win the Central? Have you seen the other teams in the Central? The Cardinals can't hit, the Brewers might need to use nine pitchers every night, Pissburgh is an abomination and sure, everybody's excited about the Reds, but adding a few good players to a lousy team makes you better, not good. These Reds remind me of a Jim Hendry era Cubs team. They had glaring flaws and added some good players but didn't really fix anything, so eventually the wheels will still come off.
The Cubs should be the best of the lot, and finishing worse than second should be grounds for demotion to the Pacific Coast League.
Why the Padres? Because how could I bet against whatever a Jayce Tingler is?
The Sox aren't that good yet, but the AL doesn't have eight good teams. Let's throw in the Jays, too because they have an infield of guys whose dads were all big league All-Stars and no city will take them.
Will anybody hit .400?
The short answer is no, but even if they do, so what? Sixty-games is barely a third of a normal season so it wouldn't prove anything. The only good that would come of it would be that Bob Costas and Keith Olbermann would clutch their pearls and lose their collective shit. Nobody's come close to doing it over a full season since 2004 when Ichiro hit .372. Incredibly, at the 60 game mark he was "only" hitting .335. He hit .395 over the last 102 games. And, he hit .414 in the last 60. But in case you haven't noticed there aren't any Ichiros in the game these days.
Is Dusty Baker finally going to win a World Series?
He's managing the best team in the American League, even if their elaborate hit-the-trash-can-with-a-bat system of sign relaying is kaput. Dusty's got exactly what he wants. His centerfielder George Springer, leads off, his second baseman Jose Altuve bats second, he's got three catchers who can't hit, a bullpen that's already missing key pieces which gives him an excuse to ride his starters too hard. And, Lenny Harris is just a phone call away. This is all shaping up for a vintage Dusty playoff run that ends in soul-crushing fashion. Remember, his teams are 6-16 in the playoffs since the Cubs won game four of the 2003 NLCS, and have lost ten straight games when a win would have closed out the series in their favor.
Dude.
How many sellouts will the Cardinals have?
Hey, if they can act like this: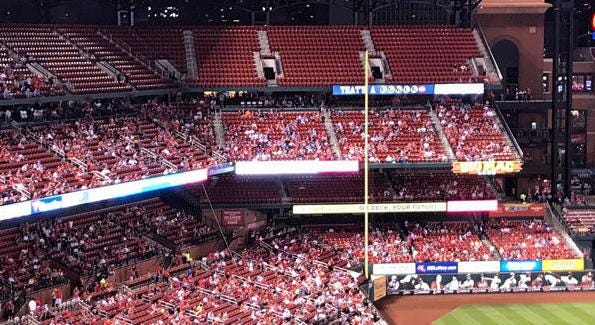 Is 42,127, then nothing's going to stop them from just declaring all of them sellouts even if fans aren't allowed to any of the games. And national sportswriters will just wax poetic about how that somehow proves what great fans they have.
Is David Ross gonna be worth a shit as a manager?
I still don't think he should be the manager right now. Sure, Joe Maddon had his faults—who doesn't?—but he's a Hall of Fame manager for a reason. So the Cubs, while still squarely in their window of contention decided to just let him walk to turn the reigns over to a guy whose never done this before at any level?
That said, I do think Ross will become a good manager some day. For all of our jokes about how many concussions he's had over the years he was a smart player, and pulled off one of the hardest things any athlete can do. He was a true leader on the teams he played for even though he wasn't a star. He also famously got on everybody's ass when he thought they deserved it.
But the rush to push out a proven winner to let him learn on the job didn't make any sense, and now, in a strange, rush to the finish half-assed season that practically cries out for an experienced manager the Cubs are left as pantsless as their mascot.
We know a huge reason for them wanting Joe to leave was that the front office was itching for a more direct say in how the games were managed. But with this bunch is that a good idea? For all of their supposed analytic brilliance how much of it has actually proven to be real? Just because you fill an office suite with Ivy League nerds in skinny jeans doesn't just magically result in baseball genius.
This front office has proven incapable of drafting pitchers they can develop, and basically inept at drafting any player worth a shit after the top half of the first round, They seem completely reliant on grabbing relievers off the scrap heap and hoping their junk science pitch lab will magically fix them. Other than a couple of months of Nick Castellanos, the only productive outfielder they've acquired since Dexter Fowler told the Orioles to fuck off is a catcher they took with the fourth pick of the 2014 draft. So forgive me if I'm skeptical of giving these guys more say in how the actual games are run.
The switch to Ross reeks of a front office expressing a kind of hubris that says, "just keep the guys in line and motivated and we'll handle the important stuff."
The sooner Ross is able to ignore any of their "suggestions" he doesn't agree with, the better.
Is this season going to be…fun?
It depends on how willing you are to ignore the inherent danger of what the players and coaches are being asked to do. This virus is real, and it's scary, and that rightly clouds everything.
If we're going to enjoy this we have to push those feels way down into some far off recess in our soul. And that's impossible right?
Well, I thought so and then I watched this, and like most Tom Verducci stuff it was overwrought and it pandered to us in a way that should have made me thoroughly irritated, and the damned thing gave me goosebumps.
So I can't pretend I'm not in, or that I won't enjoy having baseball back every day (hopefully), or that I won't throw myself headlong into this sham season with it's devalued championship awarded at the end.
The Cubs are back, and so is baseball, and I've missed it all way too much to act like I'm above it all. Let's enjoy it for what it is, and hope it's never, ever like this again.
The Pointless Exercise Podcast is new, and ready for your enjoyment. If you haven't subscribed to it yet, what are you waiting for? Don't cost nuthin'.