Discover more from Pointless Exercise
The only newsletter you'll ever need...(about the Cubs and the Bears and all kinds of other cool stuff.)
For tHom it really should be 'Enough Already'
But it's probably not, and the Cubs won the series with St. Louis even if it didn't feel that way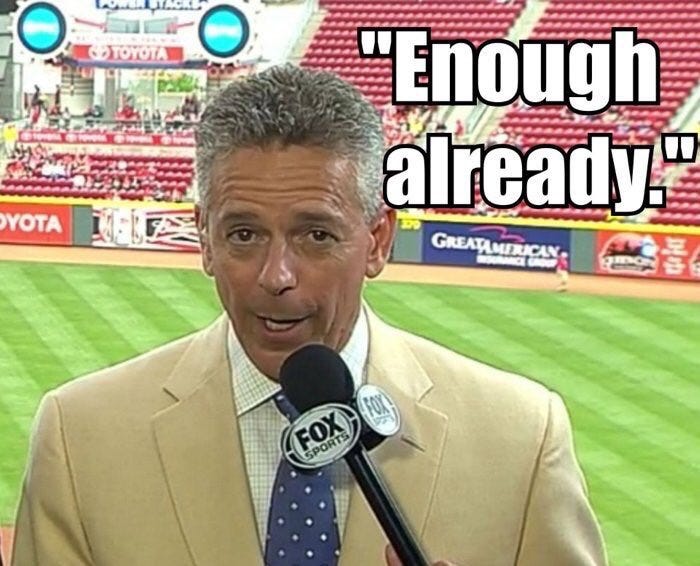 The Brennamen, Franchester and tHom have been mostly an annoyance in their combined 89 years of deep voiced prickishness on baseball broadcasts. It was typical Marty when a few years ago he complained about Cubs' fans standing and cheering on a two strike count with the home team well ahead of the Reds, "this is why people around the league hate the Cubs." It was a chef's kiss when Cubs' fans cheering another blowout of the Reds in 2016 IN CINCINNATI made tHom blow his little top and bellow, "Enough already!" into his microphone. But Marty retired after last season, and tHom may have ended his own career yesterday.
tHom was a Cubs' radio and TV announcer starting in 1990 until he left after the 1995 season because WGN radio and TV didn't want him doing Fox NFL games. His tenure with the Cubs is remembered for him missing some games one year with a broken jaw which occurred supposedly when he slipped in a hotel bathroom and hit his chin on the sink. An unsubstantiated rumor persisted that he'd actually pissed off his partner, Ron Santo, while out drinking and Ron had punched him in the face. It's one of those things that ought to be true even if it isn't.
The Bears' struggles these many recent years have plunged them into the Brennaman Zone on many weeks. Paired often with Brian Billick or Charles Davis or Chris Spielman if the Bears were a .500 or worse team in any given year we got to hear him a lot. To his credit, it was better than having to listen to Dick Stockton gargle his way through games, but not much.
Yesterday, tHommy fucked up, big time.
He got caught being a homophobe on a hot mic when he thought they hadn't returned from commercial. In other words, we got a glimpse into what he's really like, and it turns out he's just as big an asshole as we always thought.
Because it was a doubleheader, tHom ended up being able to apologize on air during the second game, and it was a pretty terrible apology, but also a great one. It was great because he couldn't have proven more that he was only sorry that he got caught if he'd have held up a sign that said that while he was apologizing.
Check this out:
tHommy hit all the notes of a half-assed apology.
He was "deeply ashamed" of his comment, which just means, "I can't believe those assholes in the truck left my mic on!"

He said, "If I have hurt anyone out there, I can't tell you how much I say from the bottom of my heart, 'I am so very, very sorry.'" The best sincere apologies use "IF I have hurt anyone" and always include the very sincere, "I can't tell you how much…"

He touted his faith, because…well, of course he did.

"I don't know if I'll be putting this headset on again. I don't know if it's going to be for the Reds, I don't know if it's going to be for my bosses at FOX." And here's where it gets really real. "I apologize to the folks who sign my paycheck." You'll notice at no point does he apologize directly to anyone BUT the "folks who sign my paycheck." Not to the LGBTQ community. Not to anyone who finds that kind of homophobic shit to be offensive. He didn't even pander to "the kids at home who shouldn't hear that kind of language."

And, of course, he said, "That's not who I am, and it never has been." Oh, it sure sounded like the tone and words of someone who is exactly who you are and have been.

"And I like to think that I maybe have some people who could back that up." Well, Marge Schott's been dead for 16 years, but well, maybe.

Then he literally begged for forgiveness and wandered out of the booth into the Cincinnati night more afraid of the mandatory sensitivity training that Fox Sports Ohio and FOX Sports are going to make him attend than actually losing either of his jobs. Why do you think he apologized directly to "the people who sign my paycheck?"
Meanwhile, somewhere in the greater Phoenix area, Mark Grace kicked back in his La-Z-Boy and said, "Hah, 'dingbat' doesn't sound so bad NOW, does it?"

The Cubs took three of five games in their ludicrously long series with the Little Red Plague™ but it didn't feel like they did, did it? Maybe it was just me. I guess it's because the Cardinals had barely played since the end of July and you felt like the Cubs should have slapped them around the yard for 37 innings over three days.
Instead, the Cubs pitched Brad Miller, of all people, like they do Ozzie Albies and Orlando Arcia.
Given how well Kyle Hendricks pitched in the first game on Monday the Cubs really should have won four of the five games, but if David Bote hadn't played hero twice I guess they were lucky they didn't lose four of the five games. The good news is that they're half done with the Cardinals already, don't have to go to St. Louis and are 2-0 as the road team at Wrigley against them.
Troubles do remain. Kris Bryant is in the less-than-capable-hands of the Cubs' training staff, again. How many times over the past few years has a Cub—usually Bryant, but others have done it—played through an injury only for the trainers to be puzzled why it's not getting better and then a subsequent test showed that the injury was shockingly worse than they thought?
This time it's his left wrist and a finger that he missed time with then came back and now is missing time again. The Cubs already have 16 wins, and given that more than half the league will make the playoffs, and 30 wins should easily be enough to get in, they could go 14-22 the rest of the way and make it. I don't suggest that they should, but they could, so here's a stunning thought…let his hand heal! A healthy-ish Bryant would be a nice thing to have for the playoffs for a change. It was pretty nice in 2016, for instance.
Javy has got to stop trying to hit everything 1200 feet. We go through this with him every year. He'll have a way too long stretch where he stops hitting the ball to the right side and he strikes out a billion times (which is not that unusual for him) without any production mixed in. He's been bad pretty much all season, and honestly, he wasn't so great in the second half last year (though a lot of that was due to a jacked up foot and then hand that, GASP!, both turned out to be more serious than the trainers thought).
Javy smoked a double and drew a walk on Tuesday night but even with that none of his at bats looked like he was trying to do anything but yank everything as hard as he could, and he went 0-for-6 with four strikeouts in the doubleheader yesterday. At some point he'll start driving the ball to right and he'll snap out of it, but it's beyond amazing that these long stretches every year are allowed to persist.
On the broadcast Tuesday, Len Kasper said that Cubs' hitting coach Anthony Iapoce is less worried about hitters' mechanics and more with "how they are feeling." Well, Javy should be feeling what it's like to bat eighth until he remembers there's another half of the field. I'm so glad the Cubs have that tough-talking-tell-it-like-it-is manager to apparently not remind Javy that he's fucking up the entire offense, again. Javy's too good a player for this to keep happening. Because to the naked eye he's not even trying to adjust, which is lunacy.
The Cubs knocked the Plague's™ ace, Jack Flaherty out of game one yesterday in the second inning, and they still lost by six, even with some patented Josh Phegley Phireworks late in the game. Old Pheggy homered to cut the lead to six in the seventh and final inning. Atta boy!
Somebody like to explain how the Cubs could start the season with a 16-man pitching staff and Adbert Alzolay wasn't on it?
On the other hand, Ian Happ continues to destroy. He's hitting .315 with a 1.109 OPS, and is especially tough batting lefthanded (.340/.459/.780/1.239) where 11 of his 17 hits that way have been for extra bases (five doubles, a triple and five homers). His numbers batting righthanded look solid enough (.261/.320/.565) but lately he's been doing a lot of flailing and has 11 strikeouts in 23 at bats that way. But he's going to keep getting ABs against lefties because, what, Albert Almora can do better? No, of course he can't.
And, Craig Kimbrel scared the crap out of us by having to get a real-live save in the second game on Wednesday. Bote and the Cubs rallied to take a 4-2 lead in the top of the seventh (as the "road" team at Wrigley), and Kimbrel mostly blew smoke. He was 97-98 again with his heater and he mixed in that ridiculous curveball. He hit Tommy Edman (which honestly, we'd all like to do) but struck out the immortal Max Schrock, the legendary Andrew Knizner and caught Kolton Wong looking to end it. In his last three appearances he's faced only 11 hitters in three innings, struck out seven, walked one, hit one and allowed zero hits or runs. It would be foolish to just hand him the closer's job again, I mean, it's only been three games, and why do the Cubs need a set closer anyway? I was surprised they didn't use him late in the game on Tuesday when instead they tried to get a second inning out of Casey Sadler and then Dan Winkler turned a five run lead into a save opportunity for Rowan Wick.
But they might as well try to add him to the seventh inning or later crew with Wick, Jeremy Jeffress and…uh…I guess, Ryan Tepera? See, they can't afford to be that picky.

Old friend Dan Vogelbach has been designated for assignment by the Mariners, prompting some thought that the Cubs should bring him back to DH. Could the Cubs use an upgrade at DH over Victor Caratini? Yeah, they could. Would Vogelbach be an upgrade? Probably not.
Vogelbach was an All-Star last year when he hit .238/.375/.505 with 21 homers and 51 RBI in the first half, but he was a disaster in the second at .162/.286/.341 with nine homers and 35 RBI. And so far this year he's been awful with just five hits in 53 at bats, (.094/.250/.226.) And he's basically useless in the field if you needed him to do anything there.
Sorry, Vogey. Pissburgh could use some help, give them a call.

The NL standings are interesting. Of the ten teams in the East and Central, only two—the Cubs and Barves—are over .500. But in the West, four of the five teams are. Even more of a reason why the goal should be to be as healthy as possible when the tournament starts.