Discover more from Pointless Exercise
The only newsletter you'll ever need...(about the Cubs and the Bears and all kinds of other cool stuff.)
Fun with the 2016 Cubs
Not having new games sucks, but rewatching the classics has been pretty good

I give Marquee Sports Network a lot of shit, and honestly, they deserve pretty much all of it. But, I have unreservedly enjoyed rewatching the Cubs' march to the 2016 World Series championship.
They're only showing the wins from the LDS and LCS, and they're going to show the whole World Series, even though most of us own the Blu-Rays. But so far, in every game something has happened that I didn't quite remember, and something has happened that I have actively fist pumped.
Javy's homer off Johnny Cueto and the Matt Vasgersian falsetto, "It's in the basket!"
Travis Wood becoming the second relief pitcher ever to homer in a playoff game. (And Bob Costas completely missing it.)
Willson Contreras' game tying single in that incredible ninth inning comeback in game four. Every time I see it, I still can't believe Will Smith pulled his glove back and let it go through. Clearly, he though it was headed right for Joe Panik. And, then you get meathead Hunter Strickland getting ahead of Javy 0-2 on sliders and then throwing him a very manly fastball that Javy lined to center for the eventual game winning run.
The bottom of the ninth in that game foreshadowed what for a good hour of our lives was going to be the latest, worst, Cubs' lament. David Ross caught Aroldis Chapman in the ninth after the big comeback in San Francisco. Chapman struck out the side on 13 pitches and all of them were fastballs.
Ross didn't catch Chapman again until the eighth inning of game seven of the World Series. Every pitch Chapman threw to Brandon Guyer and then Rajai Davis were fastballs, even the one Davis choked up on and lined off the Fox Sports camera in left field when we all slumped in our chairs and wanted to die.
Hey Rossy, mix in a slider!
The Miguel Montero homer in game one of the NLCS is positively iconic.
It's just an amazing moment. Even more amazing than the homer was how the Cubs loaded the bases in the first place.
Zobrist led off with a double. (no shock there)
Russell grounded out.
Jason Heyward INTENTIONAL WALK (indefensible strategy, ever)
Baez flies to right.
Chris Coghlan pinch hits for David Ross. (whatever)
Chris Coghlan INTENTIONAL WALK! (muahahahahahahaha)
Now, I'm not going to get on Dave Roberts for using an intentional walk with runners at first and second. You have an open base, and it doesn't always have to be first base to use the walk. But the Cubs tried to give you outs with Heyward AND Coghlan in the same inning and you recklessly gave away both.
So, how does it look when you put two crap hitters on base and then the third string catcher, who had a bad year and a bad back hits one into into the second to the last row in right field?
It looks like this, and it's glorious.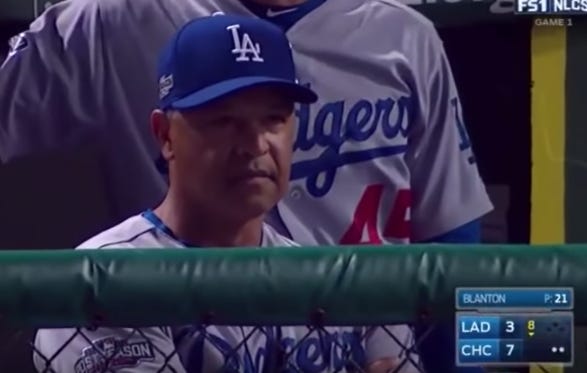 The NLCS game four moment that meant the most was Russell's two run homer in the fourth inning. The Cubs hadn't scored a run in 21 straight innings in the series before Willson Contreras singled in Zobrist (and Andrew Toles made a hilarious Juan Pierre-esque throw to the plate), but when Russell went deep the whole series flipped back to the way it should have been all along. It was a great moment, and it's just another thing that we look on back on now from that guy and are filled with rage that he turned out to be such a complete and utter shitbag.
And another great moment in that game was when a slumping Rizzo crushed a 3-0 pitch but it went just foul, and you thought, "man, he can't catch a break." And then Angel Hernandez blew the call on what was clearly ball four. It was all going the wrong way for Tony. And what did he do? He hit a homer on the very next pitch. How many times do you see it? Never. Well, almost never.
And then he didn't stop hitting until the Cubs were passing around the big trophy a couple of weeks later. And Matt Szczur never got that bat back.
Come to think of it, I hope he never asked Addison for those underwear, either.

The one thing the rewatch reinforces is that the 2016 Cubs were not a good, they were a bonafide great baseball team. They are the perfect example of how hard it is to win a World Series. They were the best the game had to offer that year. They were clearly better than any of the three teams they faced. And yet, had they not been able to dig deep into a bucket full of greatness they could have bowed out in any of the three series. And a big part of that greatness was just how deep they were. That's not a thing right now.
And, it's easy to think how foolish the fans were for panicking when it looked like the Giants were going to force a winner take all game five, or when the Dodgers went up 2-1 and the Cubs couldn't score, or when the Indians went up three games to one. Wait, not that last one, the Cubs really were looking screwed when that happened.
Because of the ludicrous ups and downs of game seven, the Cubs somehow don't get enough credit for winning three elimination games in four days.
The baseball playoffs are awful and great for the same reason.
They are awful because they are hard. And they are great because they are hard.
My lament about the seasons after the World Series isn't that the Cubs haven't won another one. There's no shame in falling short. It's that, especially the last two years, they've failed to create the depth they used to such great advantage when they did win it, and they have failed because they have put a bullshit self-imposed payroll limitation on themselves.
Marquee is calling it "Run for the Ring." I'd rather they be honest and call it, "Back when we cared enough to spend what it takes."

Coming up later this week I'm going to dig into the Nick Foles thing and why I really don't think it's a waste of time for the Bears.
And, if you have anything for the Tweetbag! Tweet it at me or email me at ask@desipio.com.