Discover more from Pointless Exercise
The only newsletter you'll ever need...(about the Cubs and the Bears and all kinds of other cool stuff.)
Further Review: Game 3, 2003 NLCS
It felt like things were finally changing, but then they kicked us in the balls anyway.

Since we're all rewatching old games these days, why not watch a forgotten Cubs' classic? Had things gone differently three, or four, games later, game three of the 2003 NLCS against the Marlins would be a treasured memory much like game five of the 2016 World Series is.
It was the kind of game the Cubs NEVER win, but the recipe for a tragic Cubs loss was right there. An early lead, an inability to add on runs in big spots. Leaving the starting pitcher in way too long, the bullpen crapping itself, and yet… Well, let's dig into it.
We flash back to October 10, 2003 with the NLCS tied 1-1.
The game's on big FOX and we are greeted with words that disappointed nobody:
"Wanda, Luis (Guzman) and Boston Public return next week with all new episodes!"
Well, maybe we were disappointed they'd be back?
"Miami" by Will Smith opens things. In case you didn't know where the game was.
There were more than 60,000 fans in attendance. That one gate alone equalled their regular season total. Probably.
For a little background, the Cubs blew game one, then blew out the Marlins in game two and Dusty Baker left Prior in with a huge lead. That inane decision to let Prior throw more than 115 pitches with a huge lead earned Dusty a lot of criticism on the off day, and FOX's pregame show was in full Dusty apology mode. Honestly, even his tax attorney didn't try to make a defense this impassioned for him.
Jeanne Zelasko asks Kevin Kennedy about it, saying, "A lot of the people criticizing Dusty Baker for leaving Mark Prior in criticized him for pull Russ Ortiz last year." Oh, for fuck's sake. There's a little difference in taking out your starter in game six of the World Series with a three run lead while giving him the ball to take with him, and wearing out your 22 year old ace with a huge lead in game two of a league championship series. Surely, Kennnedy won't take the bait.
Kennedy: "You can't win as a Major League manager" (well, YOU couldn't) "Dusty Baker knows what he's doing. (No. No he doesn't.) Look, the Cubs haven't gone to the World Series and won it since 1908. Ridiculous. Dusty Baker was in a must win situation. He had a gameplan of Kerry Wood (nope) of 115 pitches no matter what the score was, guess what? He threw 116 pitches."
Any gameplan that doesn't take the score into account is stupid, and it was Mark Prior, not Wood. "The Florida Marlins are the best comeback team in baseball, that's why he left Prior in." (Uhh...it was 7-0 after three innings and 10-0 after five. The Cubs won 12-3. And, you need to win four games to win the series not one. So it made all the sense in the world to save some bullets for your young ace to fire later. We all knew at the time it was going to haunt the Cubs, and man, did it ever.)
Then Kennedy credits Sammy Sosa's better play against the Marlins to him not swinging at balls. It might have been facing Ugueth Urbina and Brad Penny instead of Maddux, Glavine, and Smoltz.
Hey, Frank McCourt bought the Dodgers that day! What a great deal. For him, eventually. Nothing like buying a team with no money and then going bankrupt and getting paid to do it. And he still owns 50% of the parking lot concession at Dodger Stadium. What a world.
The commercials and promos for this are nearly as incredible as the game. The FOX NFL Sunday tease had an incredible - "Quincy Carter and the Bill Parcells Cowboys!" Yes, iconic.
"His father is the district attorney!" Oh god, remember those Ron Silver "Skin" commercials?
Hey, remember when Pudge Rodriguez signed a relatively cheap one year deal with the Marlins and the Cubs had Damian Miller and Paul Bako? Yeah, that was great.
The pitching matchup is Kerry Wood v. Mark Redman. Wood was huge in the NLDS against Atlanta, including a completely balls out performance in game five. He had pitched twice in the regular season against the Marlins and, get this, he went 2-0 with two complete games, allowed only one run, five hits and struck out 20. Well, this should be easy.
The announcers are tHom Brennaman, Steve Lyons and Al Leiter. In hell, all games are announced by Brennaman and Lyons.
Man, just how big is tHom's suit?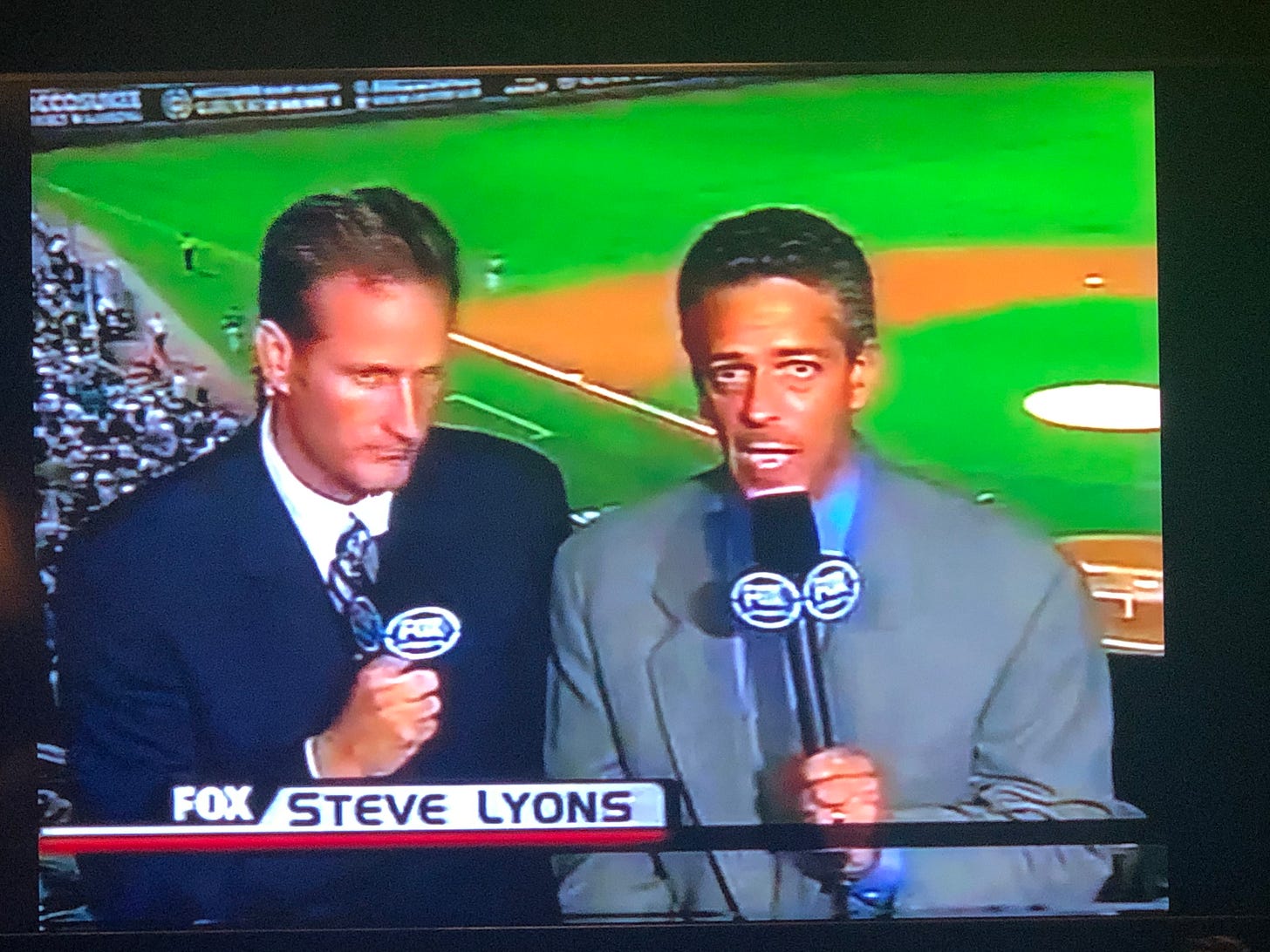 Here are your lineups:
Cubs
Kenny Lofton cf
Mark Grudzielanek 2b
Samuel Peralta Sosa rf
Moises Alou lf
E-ramis Ramirez 3b
Eric Karros 1b
Alex Gonzalez ss
Damian "Roger Chamberlain" Miller c (bonus points if you get that reference)
Kerry Wood p
Marlins
Juan Pierre cf
Luis Castillo 2b
Pudge Rodriguez C
Derrek Lee 1b
Miguel Cabrera 3b
Juan Encarnacion rf
Jeff Conine lf
Alex "Sea Bass" Gonzalez ss
Mark Redmond p
Both lineups feature the centerfielder leading off and the second baseman batting second. Just as the good Lord intended it, dude.
Top First
Kenny Lofton singles off of Derrek Lee's body and Redman goes down like a sack of wet poop as Kenny grazes him with his shoulder running past him as Redman was covering first. Redman wanders around the field acting injured. It goes on so long that even Carlos Santana thought it was ridiculous.
FOX shows a replay of Robert Fick punching Eric Karros in the glove on a close play at first in game three of the NLDS. It was a cheap shot that not only got him fined, but Bobby Cox benched him for being a dumbass. Not that the Barves missed him.
Redman's staying in and Grudz bunts Lofton to second. Nothing like just giving away an out in the first.
Sammy crushes one to left off the big casino wall out there to score Lofton on a single. Cubs lead 1-0. Yeah, that'll probably hold up.
Moises hits into a slick 4-6-3 Castillo-SeaBass-DLee double play to end the inning.
Bottom First, Cubs lead 1-0
Wood strikes out Pierre and retires Castillo on a grounder. tHom and Psycho are obsessed with those two running. For good reason, they'd combined to go 3 for 6 in stolen bases for the series. Is that good? Wait, that's not good. But once Brennaman latches on to a narrative he will not let it go.
Top Second, Cubs lead 1-0
Karros singles through the right side. Lyons says, that Eric used to be a home run hitter now he just goes the other way and "collects his two to three hits a game." Wait, Eric Karros averaged two or three hits per game? I'm going to suggest that it's unlikely.
Alex Gonzalez steps in 5-for-9 with three homers and 6 RBI in the first two games of the series. Hey, I'll bet that's what he's going to be best remembered for!
Gonzalez walks. Two on one out.
Then Damian Miller walks. The bases are loaded one out with Wood coming to the plate. Wood had a huge two run double in the Barves series, and I think maybe he gets another hit later on in this one, I really don't remember.
This time, he lines softly to center and it's way too shallow to score Karros. Oh, wait, it's Juan Pierre out there. Of course Karros could score. The throw barely makes it to the mound and kicks away.
Cubs lead 2-0. This really is gonna be easy!
Check out this graphic with Lofton's career postseason numbers. They are better than the entire Marlins team.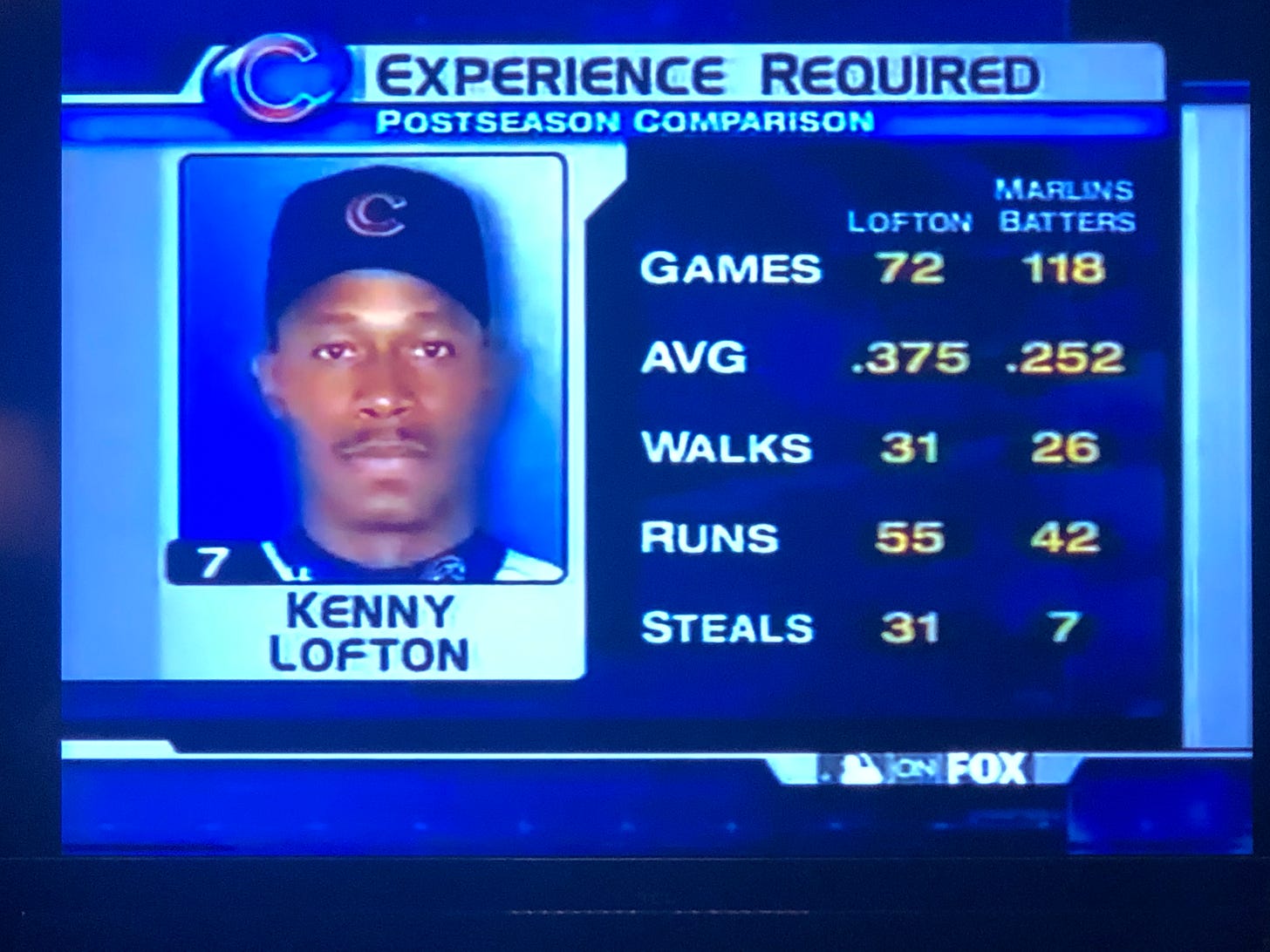 He singles but Miller can't score from second.
Grudzielanek flies softly to left to the end the inning and the Cubs only get one.
Bottom Second, Cubs lead 2-0
The blimp is branded by Saturn, a defunct automaker. We're lucky it didn't burst into flames and crash into the stadium.
It was 79 degrees at first pitch and Lofton is wearing a sweatshirt under his jersey. Does he think he's gotta make weight to wrestle Shute?
Rookie Miguel Cabrera steps in. This game was so long ago his his pants actually fit. He was already a problem at the plate. Including the postseason he came in hitting .354 with 5 homers and 19 RBI in his last 22 games.
Cabrera reaches on a soft liner that just gets over Gonazlez's head. That brings up Juan Encarnacion. Just four years later his career would end when he was with the Cardinals and he got drilled in the head in the on deck circle by an Aaron Miles foul ball. Yeah, I'm as surprised as you are that Aaron Miles hit a ball hard enough to hurt anybody.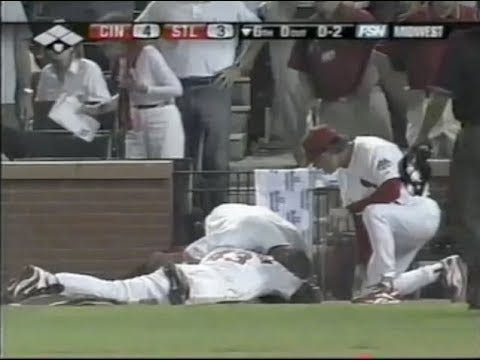 Here's Tony LaRussa saying, "You know, Juan, it doesn't look that bad. I mean, at least it's not shingles."
With two outs and runners at first and second Wood faces Sea Bass Gonzalez. The pitcher is on deck. Lyons says "You have to pitch to Gonzalez so Redman leads off next inning." That's fucking stupid, and Gonzalez singles to drive in a run. 2-1 Cubs.
A base was open, but it wasn't first, so it wouldn't have dawned on Dusty to use it.
So many OC commercials...
Top Third, Cubs lead 2-1
Alou doubles with one out. tHom tells a story about how Moises flew to the DR between games two and three to be with his son for his birthday. That's a nice thing he did. tHom says, "Travel was much different back when his dad, Felipe played, and he was rarely around for Moises' birthdays." Yeah, well, Felipe also has ten kids. Some even with his wife.
tHom and Lyons keep bringing up that Mark Redman won more games in 2003 than Wood did and lost fewer. Yeah, that makes him better, guys. That's how that works.
Bottom Fourth, Cubs lead 2-1
Wood hasn't had a good slider yet, but he strikes out Cabrera with one for his fourth of the night. Then he strikes out Encarnacion on one to end the inning. Hah, he's cruising now, can't lose this one!
The ribbon board behind home plate advertises The Next Joe Millionaire. Somebody fell for that again?
Bottom Fifth, Cubs lead 2-1
Hey look, it's Ricky Williams at the game with Karen Pence!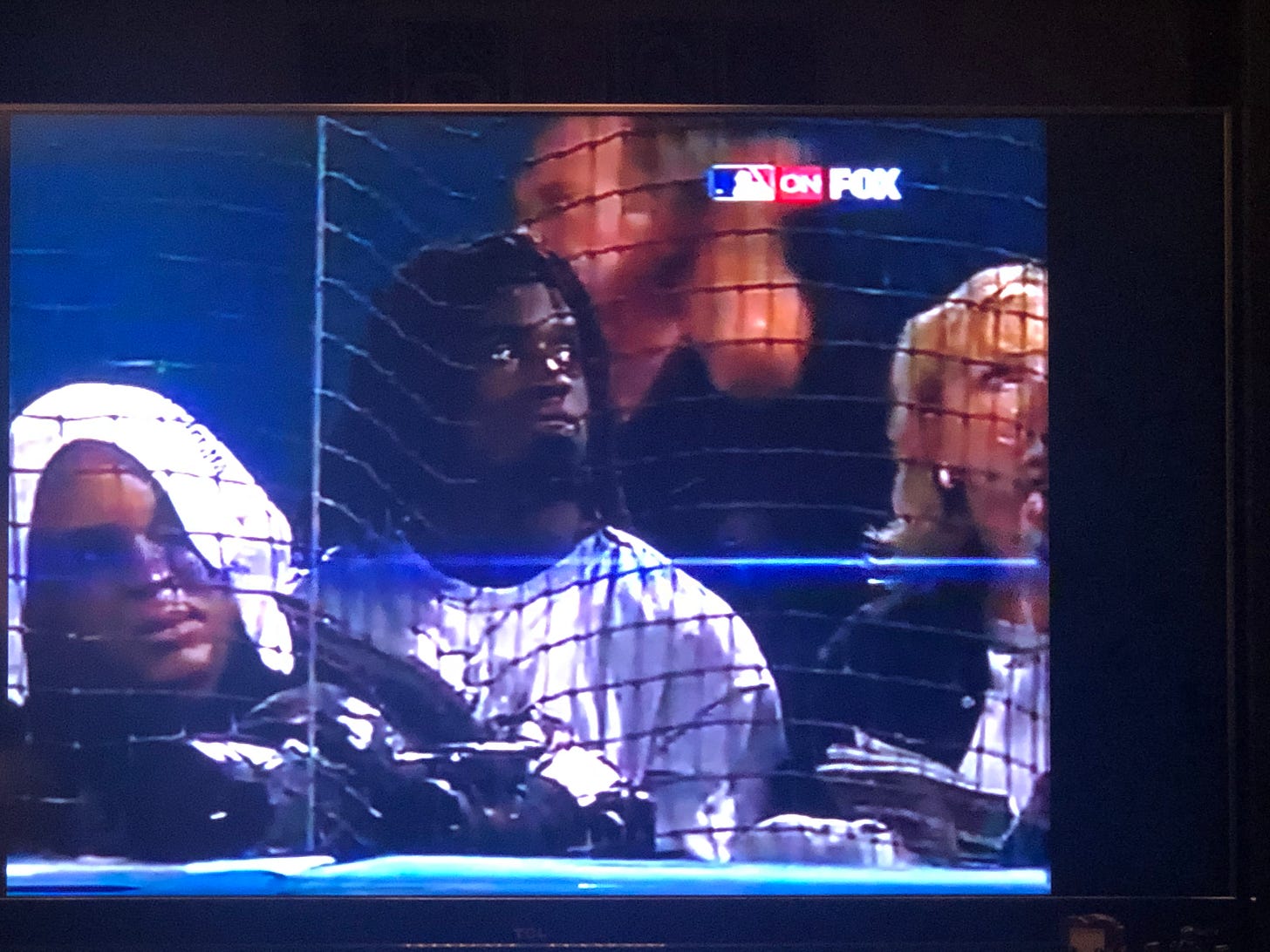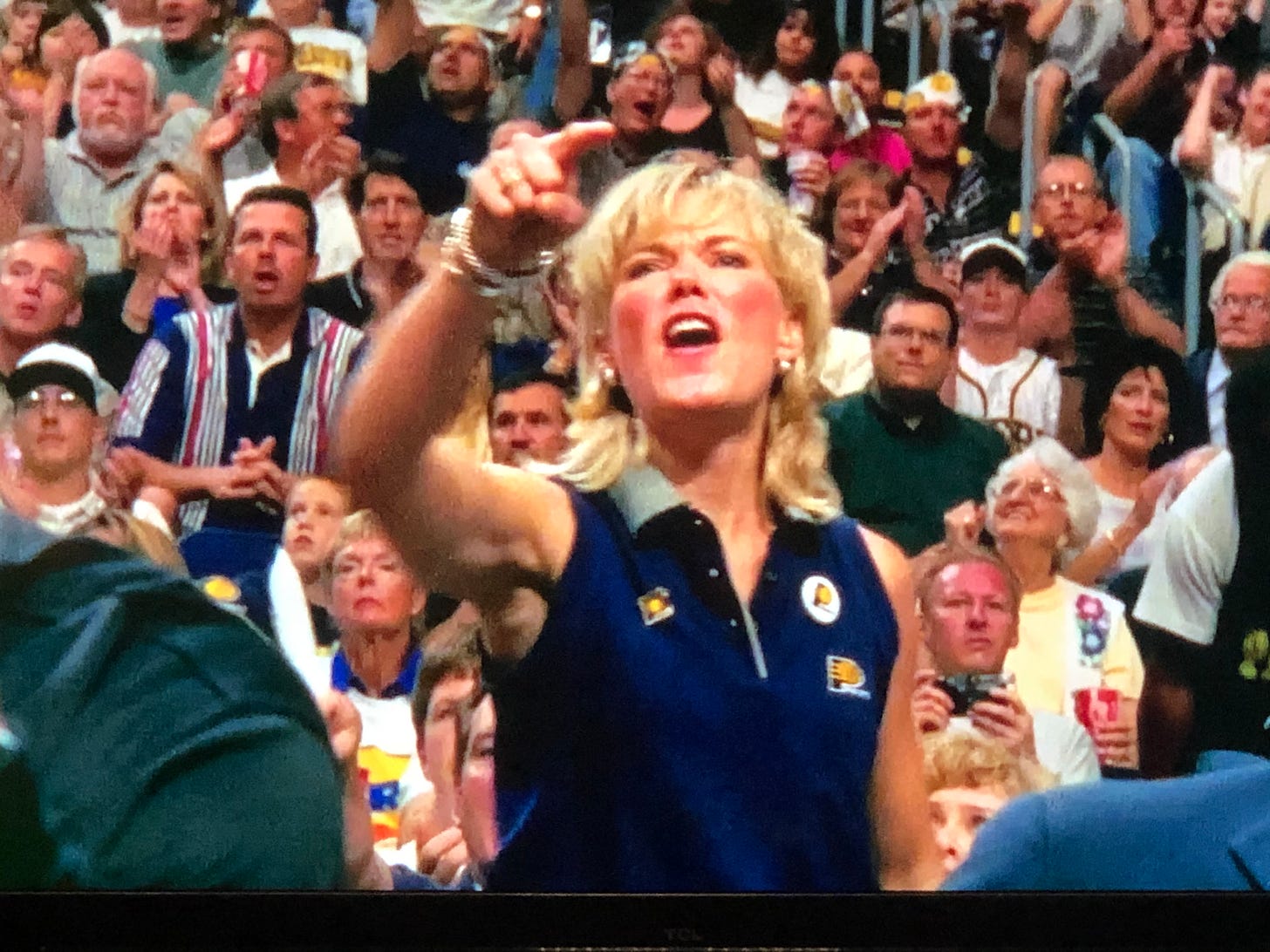 * That may not be Karen Pence.
Wood's cruising now in the fifth. He struck out Gonzalez for the second out and his sixth of the game. But then he walks Redman who hit .016 in the regular season. Oof.
I'm sure it was just to put somebody in front of Juan Pierre with two outs. Gotta keep him from stealing at all costs! Sure.
Pierre hits a bloop single. Did he ever hit any other kind? Bloopers just over the shortstop and the occasional bunt single once every 14 times he tried it.

Two on, two out. Wood then walks Castillo on five pitches (the 3-0 pitch missed but he got the stupid 'automatic strike' call). Wood's looking really shaky all of a sudden, and now Pudge Rodriguez is up.
I'm sure Dusty has the bullpen cranked up. Right? Nah. Don't need it. Never need it. Kerry's only thrown 75 pitches here in the fifth. So he's half way to his pitch count, dude.
Wood's 76th pitch finishes off a three pitch strikeout of Pudge. Just blew him away. Who knew? Cubs still lead 2-1.
They keep teasing the next day's game three Yankees v. Red Sox. It's Roger Clemens against Pedro Martinez. You might remember it.
Redman went into he sixth at 99 pitches and the Cubs really made him work. They went down 1-2-3 on five pitches. Some things never change.
Bottom Sixth, Cubs lead 2-1
"I believe Jack McKeon has more confidence in his bullpen than Dusty Baker has in his." Lyons - Yeah, no shit.
Lee leads off the bottom of the sixth with a single that Lofton cuts off with his bare hand (for some reason).
tHom warns us not to think Lee won't run. "Lee and Alfonso Soriano were the only players in baseball this season with 30 homers and 20 stolen bases." Hey, the Cubs should get both of them, that'll be unstoppable!
Top Seventh, Cubs lead 2-1
Cubs with the lead in the seventh, I'm sure Joe's got Aroldis up. Wait, no, never mind.
The Cubs are now popping everything up. Seems like a sound strategy to swing under pitches and hit the ball in the air in a fucking football stadium.
Sammy beats out a grounder to a diving Cabrera. If Miguel had let the ball go through Gonzalez would have thrown Sammy out at first by 30 feet. One thing Lyons keeps pointing out is how hard the Cubs are running. Lofton popped to center and was almost to second base when the ball came down. It really was impressive. But, let's just say that a year later the Cubs would not be so renowned for their effort.
Alou singles. Two on and two out. Jack McKeon is going to his bullpen and it's future Cub, Chad Fox. Remember when Dusty kept pitching Fox with a bad elbow? Yeah, those were not great times.
Fox walks E-ramis on four pitches to load the bases for Karros.
OK, now's the time to go with your lefty hitting first baseman, Randall Simon, right? This should be an easy move for "by the book" Dusty. Dusty leaves Karros in. But hey, do we really think Randall would ever get a big hit in a playoff game?
Fox had a 1.35 postseason ERA coming in and Lyons said he was "pitching great." The walk to E-ramis was the fifth walk allowed by Fox in six innings. So reliever ERA and starter wins and losses were still pretty big deals for the FOX crew in 2003, I guess.
Karros looks terrible in the at bat. He's just completely overmatched. He flails at three straight Fox sliders, none of which were close to being a strike. I'm sure that wasted opportunity won't come back to haunt the Cubs.
Bottom Seventh, Cubs lead 2-1
Sea Bass Gonzalez gets his second hit of the PLAYOFFS to lead off the bottom of the inning. Mike Lowell, hero of game one is up, but hey, Dusty must be relieved that it's not Lenny Harris.
Kyle Farnsworth and Mike Remlinger are warming up in the bullpen.
Wood walks Lowell, and tHom excitedly says, "You have the best bunter in baseball coming up!" Oooh, feel the excitement! Hey, where's Nate the Video Guy when you need him?
Pierre bunts the runners to second and third and I'm sure they faxed his bat to the Hall of Fame to commemorate the occasion.
Luis Castillo's up, Wood's over 100 pitches and is consistently missing his spots. The tying run's on third, the go ahead run's on second, and honestly, a real manager would have made a pitching change by now. But, the Cubs don't have a real manager, they have Dusty.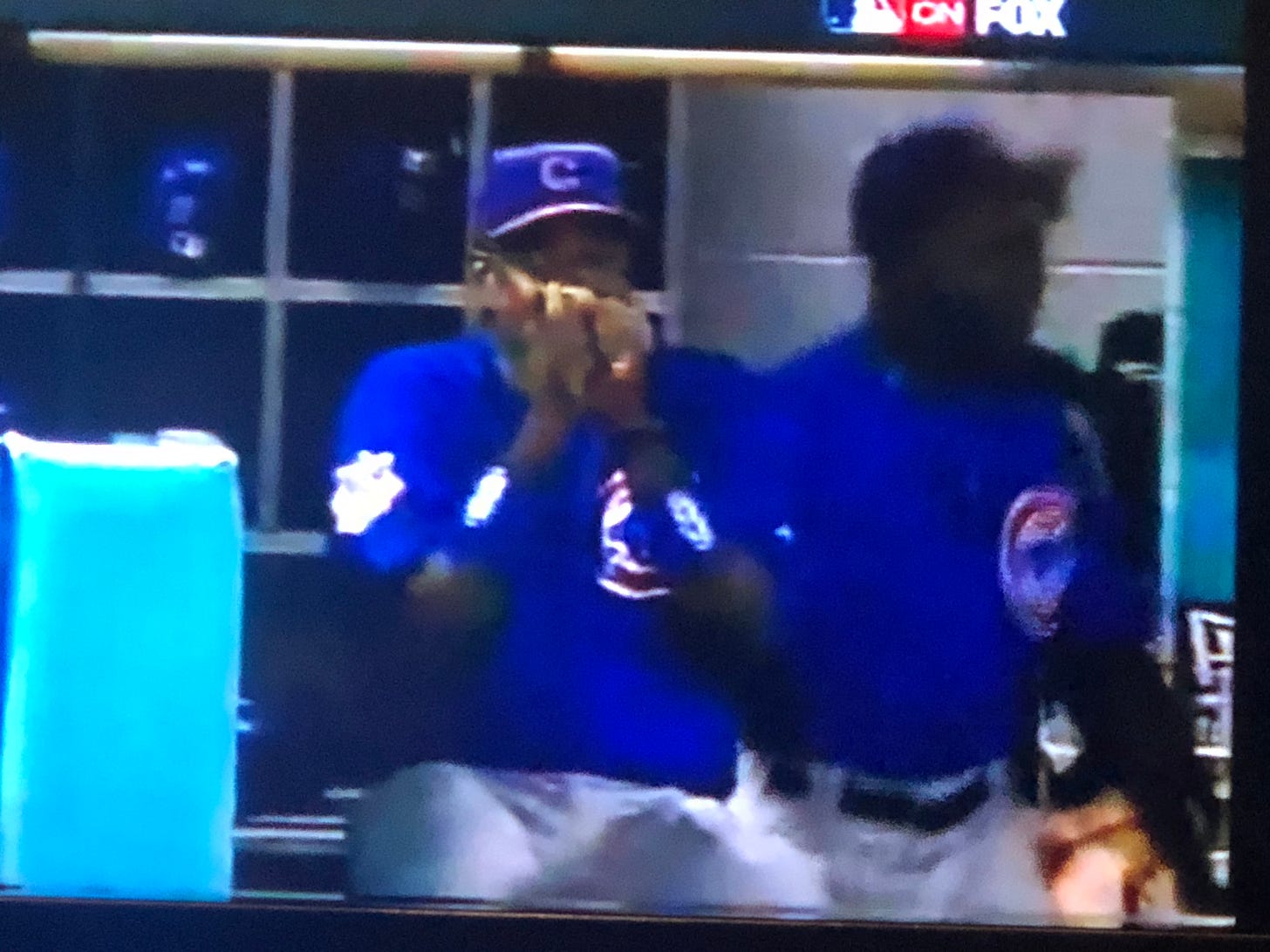 Wood gets ahead 0-2 and Castillo fouls off two pitches, takes a ball and then chops to Grudzielanek to tie the game.
I'm getting pissed all over again 17 years later that Wood is pitching to Rodriguez with a runner on third. I write a lot of mean stuff about Dusty, and I'm not wrong.
Farnsworth and Remlinger have thrown 1,000 pitches each in the bullpen, but Wood is still out there with no command of anything.
Pudge singles to right, Marlins lead 3-2. Now Farnsworth comes in. Dusty never did figure out that Remlinger was the best set up guy he had against right-handed batters.
Righties hit .178/.301/.319 against him. Lefties hit .269/.349/.452, and Dusty wouldn't bring him to pitch to tough righties (like Rodriguez) but would bring him in to face tough lefties because "he's left-handed, dude." Remlinger had a great changeup that he threw to righties but not lefties.
Anyway, The Farns is in and Simon has come in to replace Karros on the double switch. He should have already been in the game, but hey.
They show Wood looking dejected in the dugout and he's sitting right in front of a number 10 jersey the team has hung up. Ron Santo's back in Chicago having been diagnosed with bladder cancer. I mean, I think that's why the jersey is hanging up there. Maybe they guys just really miss Bruce Kimm?
Farns strikes out Lee to end things. But the damage is done.
Top Eighth, Marlins lead 3-2
Gonzalez leads off the top of the eighth with a 410 foot flyball to center which is an out in Joe Robbie/Pro Player/Landshark/Whatever Else Park.
Tom Goodwin is in to hit for Miller, which means we're getting Gabor Paul Bako into the game in the bottom of the inning! I'm sure that won't bite us in the ass.
Goodwin misses a homer by about two feet and ends up with a stand up triple! The Cubs never get pinch hit triples! McKeon comes out to bitch about possible fan interference which is pretty goddamned rich considering what happens later in the series.
All the Cubs need now is for Randall Simon to roll one over to second and drive in Goodwin from third.
Randall says, "Screw your roll over grounder to second!"
First off, Randall Simon was the fucking best. Second, it was a bomb. Third, it was the coolest thing ever. The Cubs NEVER came back to win games in the playoffs, ever, and so once they fell behind 3-2 you knew it was over. But somebody forgot to tell Randall.
Oh, and he should have been up to do that an inning earlier with the bases loaded. He also was only on the team because Rafael Palmeiro refused to waive his no-trade clause and killed a trade from the Rangers. Palmeiro didn't want to leave Texas and couldn't take a hint. They weren't able to trade him, but they also didn't offer him a contract after the season. So, he went to Baltimore for a second tour there and eventually flunked a steroid test.
Anyway, the Cubs picked Randall up after he got ARRESTED in Milwaukee for this:
It's just another reminder that Milwaukee sucks.
Simon's homer was the 14th combined home run in the series to tie an NLCS record. And it was GAME THREE!
Bottom Eighth, Cubs lead 4-3
The Farns is still in (it should be Remlinger) and he serves up a leadoff single to Cabrera on the first pitch. Mike Mordecai bunts Cabrera to second. You know, even when it "works" bunting sucks.
This is Jeff Conine's fourth AB of the night and they have not mentioned that he's a world-ranked racquetball player yet. I think that's the furthest into any game he ever played without that little anecdote being shoved down our gullet.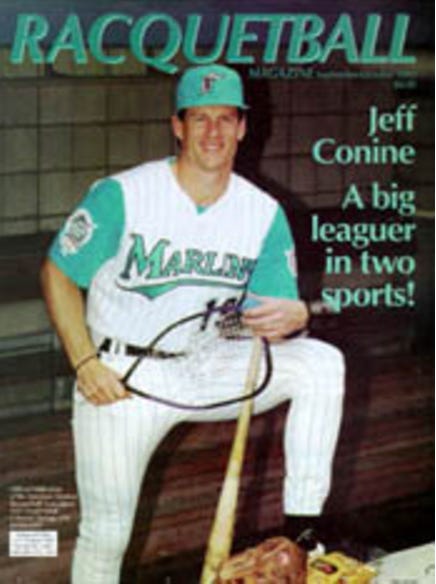 Conine hits a shot to center, but it's right at Lofton. OK, all the Cubs have to do is just get Todd Hollandsworth out, then bring in Joe Borowski (yes, he was the closer) and nail this one down.
Dusty instead brings in Sweaty Joe to try for a four out save, and he double switches Ramon Martinez in at second base. Man, the Cubs bench was chock full o'bums.
Lyons tells a story about Sweaty Joe turning down the Cubs offer in 2000 because he was making more money in the Mexican League. Good god, man.
Hollandsworth works a long at bat and singles to left. Moises has a decent shot to throw out Cabrera but he nearly falls down fielding the ball and then nearly throws it into the dugout. Hollandsworth walks into second due to Moises airmailing the cutoff man by a good 40 feet.
Lowell sends Sammy to the track to end the eighth.
Top Ninth, Tied 4-4
Ugueth Urbina's in to pitch the ninth and face Sammy. Here's what happened the last time this occurred:
It does not happen this time. Urbina strikes him out on a much better executed slider. What's Ugy up to these days?
E-ramis gets a 3-0 fastball with two outs and smokes it foul. How awesome would that have been? Instead, he eventually strikes out. Which was not so cool.
Bottom Ninth, Tied 4-4
Joe's back out for the bottom of the ninth. A run loses it for the Cubs. I'm sure this will go fine.
Pierre leads off with a bunt single. Oh whatever, we watched this slapply little bastard lead the big leagues in outs in 2006, so I can't be convinced that any of this is entertaining.
Castillo bunts Pierre to second. The strategy's not a shock, Jack McKeon played with AG Spalding back in the day.
The Cubs walk Rodriguez, so Derrek Lee is up with a chance to win the game.
Remlinger's up in the bullpen again. He caught Tommy John Disease back in the seventh, but has had enough time to get the surgery and do his rehab because this game is taking forever.
Lee flies to center for the second out. So here's Miguel Cabrera and he's only 20 years old and it's already terrifying. Mike Mordecai's on deck, so the Cubs should not be pitching to Cabrera.
Joe's pumping heaters up there at about 90 MPH. Gulp.
Pierre steals third, and tHom lectures him about how bad it would have been for the Marlins to make the final out at third. Hey, tHom, that's some quality foreshadowing!
Joe hangs a 3-1 curveball that just screams "HIT ME!" but Cabrera takes it for ball four. The game really should have been over right there. If he'd swung, he'd have hit it 12,000 feet.
With the bases loaded, Mordecai flies harmlessly to center and we're going to the tenth!
Top Tenth, Tied 4-4
Dusty's great in game maneuvering now has this bunch coming up in the 10th: Ramon Martinez, Gonzalez, and Paul Bako. All to avoid having to pinch hit for pitchers that he was not going to leave in the game.
Martinez works the count to 3-2 and then swings at a pitch two feet outside. Quality. Gonzalez pops up literally a foot in front of the plate. Lyons wonders why McKeon doesn't bring in his only lefty to pitch to Bako. Yeah, sure, like you need to do that to get Gabor out. Yeah, you don't. Bako whiffs.
Bottom Tenth, Tied 4-4
Joe is still pitching, now in his third inning of work, which is absurd. But Remlinger is still warming up. He's been warming up on and off for FOUR innings! Dusty's a goddamned menace.
tHom sees Lenny Harris in the on deck circle and opines that because Lenny's the "all time Major League leader in pinch hits" that this "has to be Borowski's last hitter." Yeah, it's not. But, we do know that Dusty fears Lenny. So much that he let Mark Guthrie pitch to Mike Lowell in the 11th inning of game one to keep Lenny on the bench. Lenny sucks, and Lowell did this:
Joe somehow retires the great Lenny Harris.
Aroldis Borowski went 2 1/3 and the only run he gave up was charged to the Farns.
Top Eleventh, Tied 4-4
Simon leads off the 11th. The Cubs haven't had a hit since he homered in the eighth, but he lines softly to second for the first out. Lofton follows with a slap single to left and Doug Glanville is going to hit for Borowski. The only guy left now is Troy O'Leary. Man, that's a terrible bench.
Dusty's a manager of automatics. Automatic lineups, automatic pitching changes (when he actually bothers to make them) and so a 2-1 pitch to Glanville with Lofton on first was an automatic hit and run, AND IT WORKED! The double play grounder to short rolled through the vacancy that Gonzalez left to cover second, and it even got past Conine in the outfield. Lofton scores easily from first and Glanville ends up with a pinch hit triple. When was the last time the Cubs had a pinch hit triple? Oh I guess it was the eighth inning when Goodwin did it.
Cubs lead 5-4. Here's Sammy with one out and a big State Farm Insurance run on third. Nope, the Marlins walk Sammy, so here's Moises with a chance to bust it open instead.
Moises hits one deep and foul that Cabrera can't quite get to, but even if he could, that's one you have to let drop. Better to have a foul ball strike than a foul out with Glanville scoring from third. Lyons is all over it and wonders if Cabrera would have known what to do because he's "never played right field before in his life." Yeah, so much different than left where he played when they called him up before Lowell got hurt.
Remlinger is still throwing in the bullpen. I mean, he's been warming up for at least two and a half hours. I would hope he's warm.
Moises pops up and Lee catches it on the mound. That was no bueno.
It's up to E-ramis. Mind you, in less than 24 hours E-ramis will hit a grand slam and another homer in an 8-3 Cubs win. But not this time. He pops up to second and the Cubs leave two. Hold onto your butts!
Bottom Eleventh, Cubs lead 5-4.
Glanville stays in to play left. Sure, why not? In a one run game just keep taking all of your competent hitters out. Why would you possibly ever need them again?
Remlinger is finally going to get to pitch. And, if you want scary, Antonio "El Pulpo" Alfonseca and Dave Veres are warming up now. Oh, for fuck's sake.
Pierre is not bunting, which is confounding. I mean, why did he even bother to roll his balls down both foul lines eight hours ago?
Remlinger gets ahead 0-2 but then runs it 3-2. The good news is that we know Pierre never walks. On the tenth pitch of the at bat he grounds to Gonzalez for the first out.
Castillo turns around to bat right-handed, which makes no sense. Guys who switch hit should never bat righty against Remlinger. Hell, guys who only bat right handed should bat lefty against him.
Remlinger strikes out Castillo, but Gabor lets it go right through his legs and Luis reaches first. Man, Bako was the worst. This is setting up to be an all-timer loss, even for the Cubs.
So, here's Pudge to hit a homer and end the game and make us all want to kill ourselves, right?
tHom wonders why the Cubs keep pitching Rodriguez away. "If he hits one to right, Castillo's going to third." You know, Castillo's hell bent to go to third any way possible, tHom.
Pudge hits one right back to Remlinger who is going to wheel and throw to second, but drops the ball, so he settles for just one at first. He probably would have been late to second, but it would have been worth a shot because they'd have still gotten Rodriguez at first.
Now it's up to our future favorite Cub, Derrek Lee, again.
And then, all hell breaks loose. Lee grounds it to E-ramis but the ball doesn't take a normal bounce. It just flattens out. E-ramis kicks it, but he looks up and Castillo is running right at him. So all he has to do is hold it a beat, throw to second as Castillo retreats and then take the return throw and tag him out. Holy shit! The Cubs won? They had a dropped third strike and a booted game ending grounder in the final inning and won?
Josh Lewin grabs Doug Glanville for the post game interview and asks him, "Did you do what you wanted to do in that at bat?"
No, Josh. He didn't want to hit the game winning triple. Have fun doing the Madden Bowl again.
You wonder why we called him Sweaty Joe?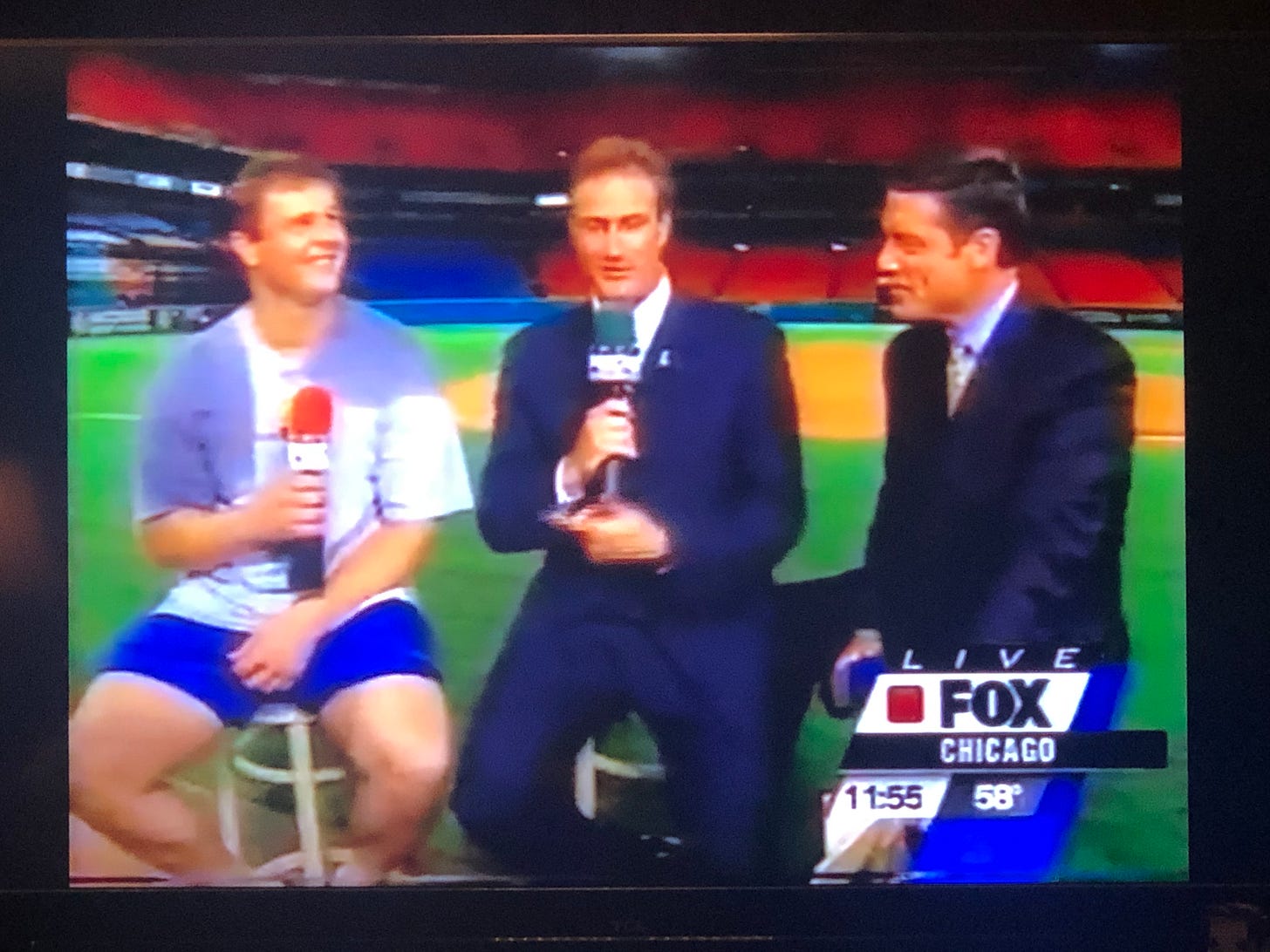 The 5-4 win really felt like a turning point for the Cubs. The postseason to that point had been full of shit they just never did. They won the NLDS even after coughing up a chance to wrap it up at home in game four, then had to go on the road to win game five. That was the first time they'd won any kind of postseason series in 95 years. And, thanks to the shared incompetence of the White Sox it was the first time any Chicago baseball team won a playoff series in 88 years. Then, the Cubs tied a playoff game with two outs in their final at bat in game one of the NLCS (even if they did eventually lose the game). Then this. They would easily win game four the next night, and then. Well, you know.
But this game, even though it was a win, was a microcosm of the things that cost them the pennant. Dusty overtaxing a starting pitcher. Dusty not trusting his bullpen and then grossly misusing it when he finally went to it. His weird obsession with double switching even when he had no intention of keeping the reliever in the game anyway. And, his complete inability to grasp in-game strategy.

This game is the perfect reminder that "it doesn't have to be good to be a classic."
Have another game you think we should give the Further Review treatment? Make your suggestions on Twitter at twitter.com/desipiodotcom or at ask@desipio.com.