Discover more from Pointless Exercise
The only newsletter you'll ever need...(about the Cubs and the Bears and all kinds of other cool stuff.)
"He is not gonna pass this f-ing ball. It's his turn."
Did the Bulls win a sixth title? You'll have to read to find out!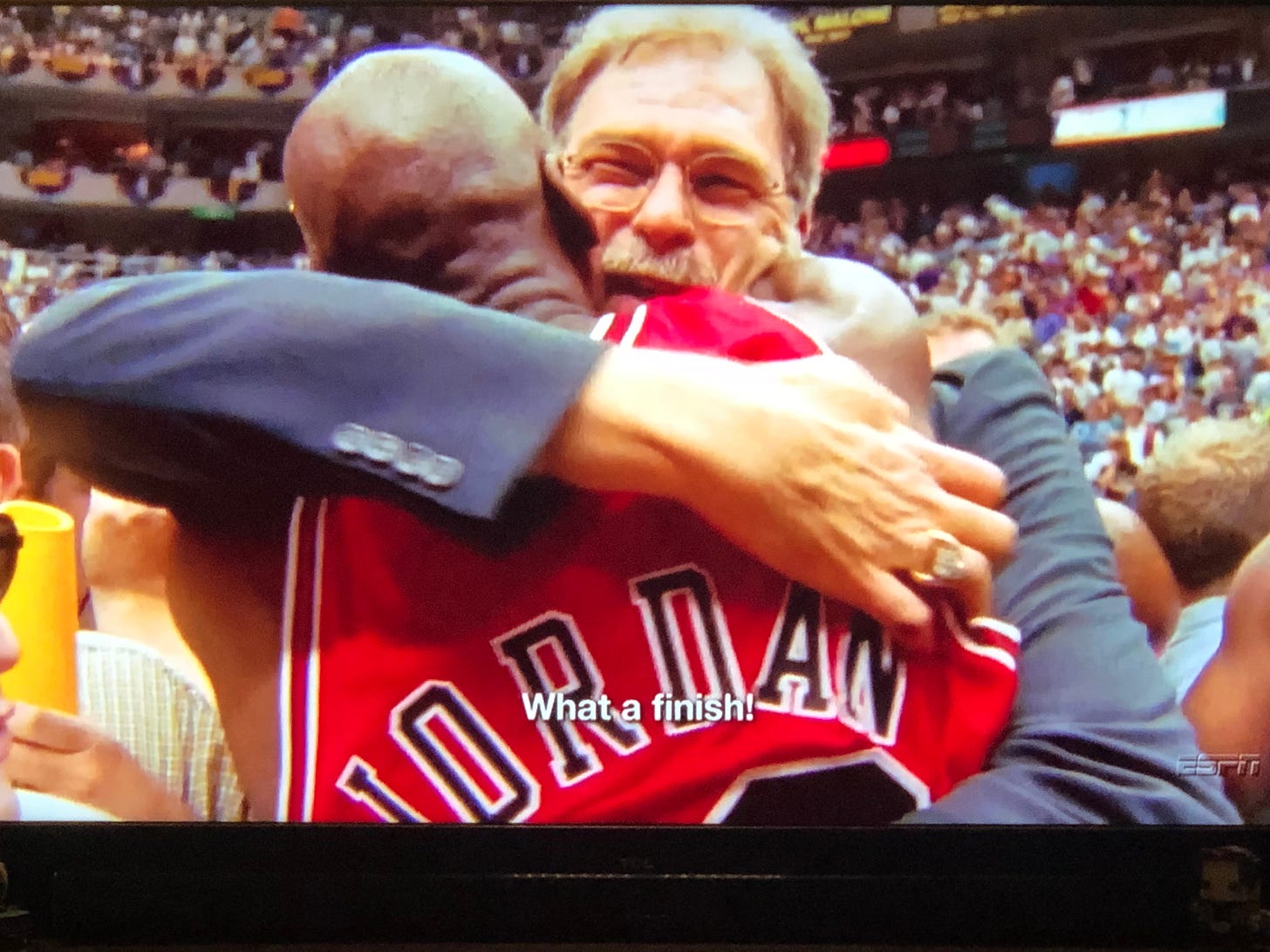 "What a finish!" It's kind of jarring how surprised Phil Jackson was at the end of game six in 1998 wasn't it? It was like he couldn't believe how well Michael Jordan coached the final 41 seconds of the game. But I guess we'll get to that.
The final night of The Last Dance starts with the 1998 Eastern Conference Finals, and the flagpole with ears that was and still is Reggie Miller.
They show a shove fight that Jordan and Miller got in sometime during their careers. The doc plays fast and loose with timelines in this kind of footage, but honestly in this case, it doesn't really matter.
Jordan was mad that people pried them apart, "Don't hold him back!"
Reggie insists, "I didn't fear him like the rest of the league did." Sure. Whatever.
"He probably thought I was just some mouthy, skinny kid." He did. We all did. You were.
Jordan almost paid the Pacers a really big compliment, but then couldn't. He said they were the toughest matchup the Bulls had..and then said, well, other than the Detroit Pistons.
"Every time I went into a fucking game [with Indiana], I came out with a new scratch. It became personal with me."
Woah, now these are some shoes.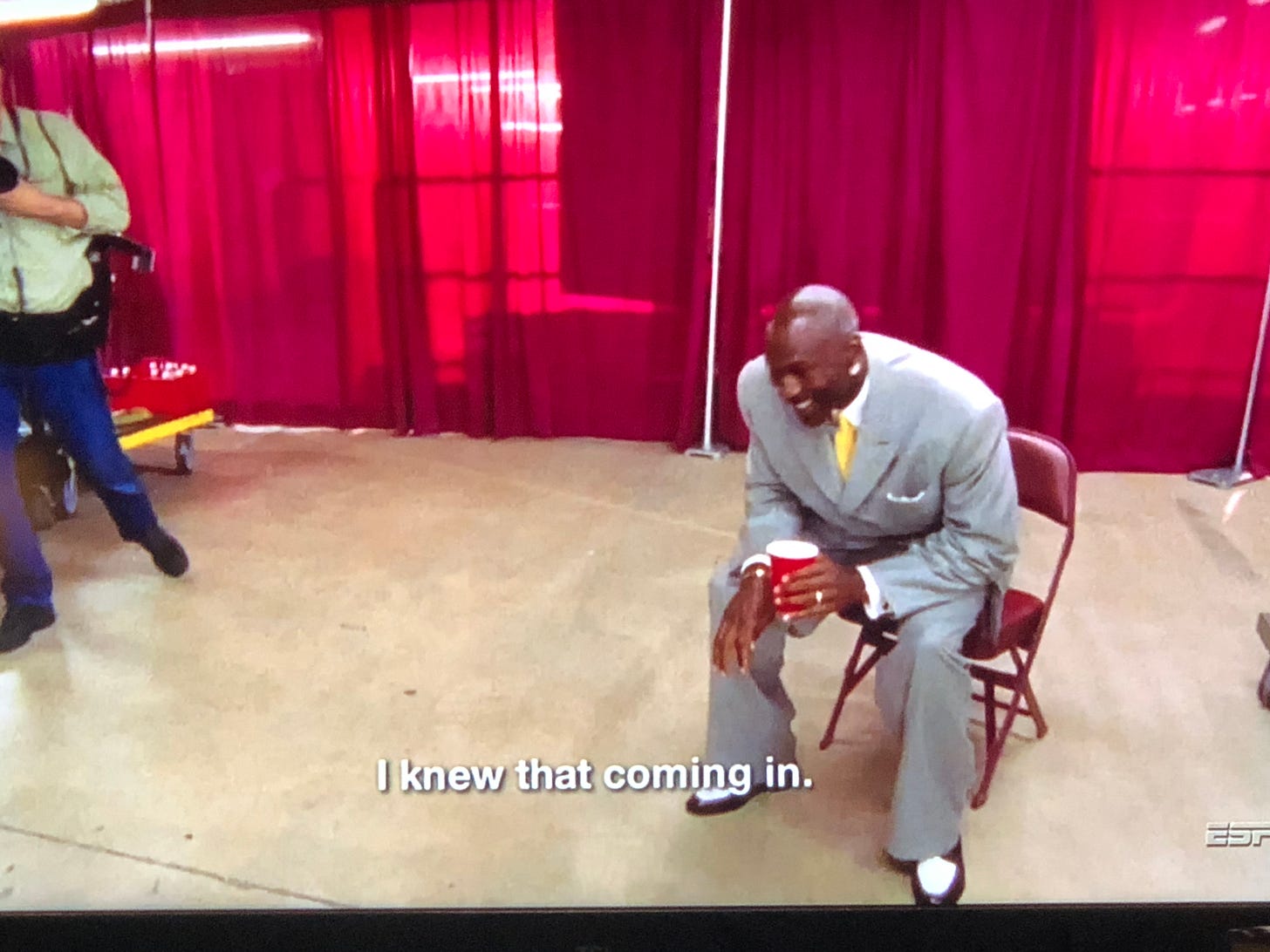 Several Bulls commented on how tough the Pacers home crowd was. Including, apparently, Karen Pence*, who was a big fan.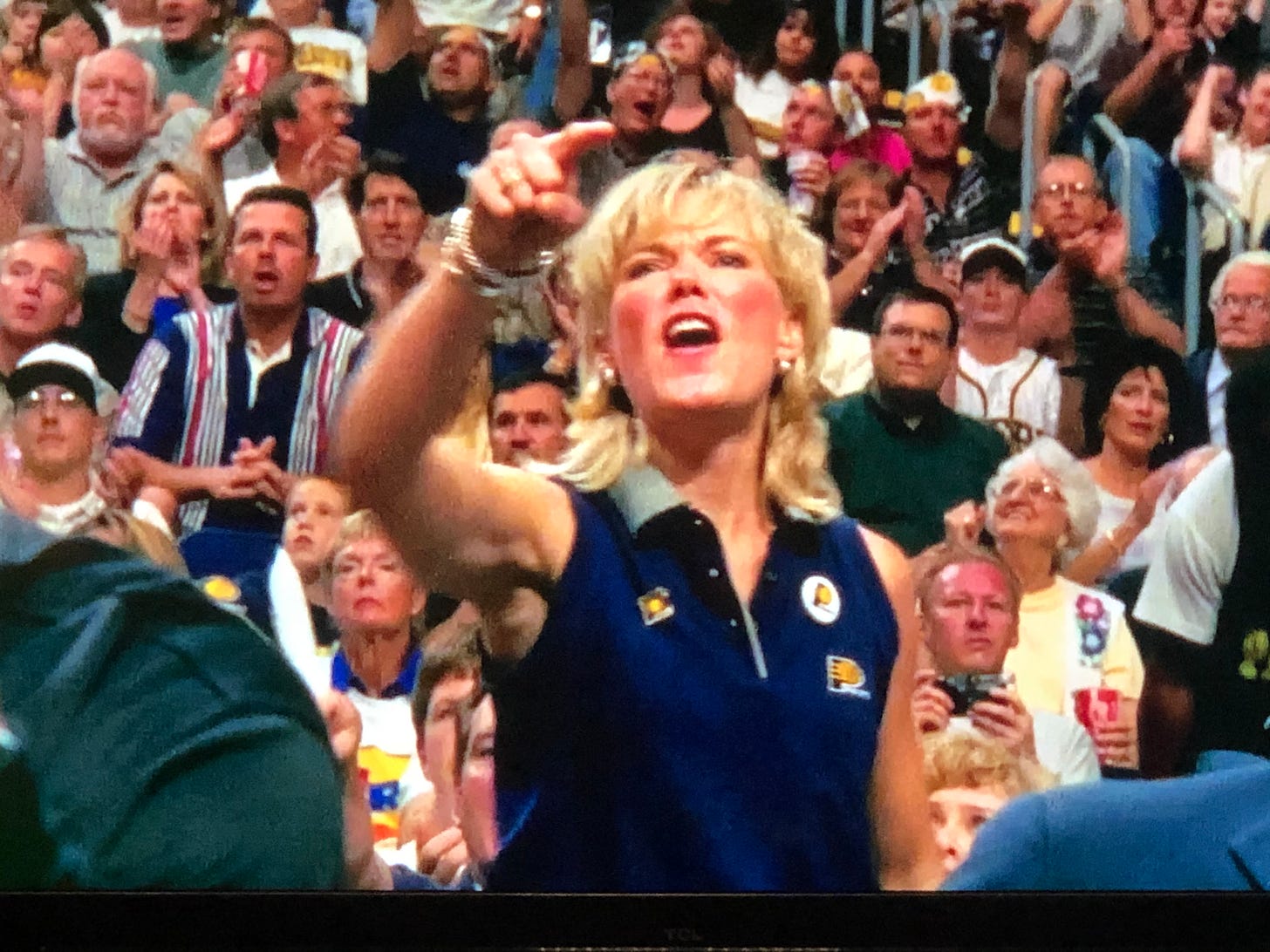 * That's not really Karen Pence.
Reggie really was trying to make "The Black Cat" a thing, eh? Reggie. It's not a thing.
Seeing Rik Smits' freshly shaved head for the Eastern Conference Finals reminded me of something Phil Jackson said that I always think of when I see a pasty bald head. I'm not sure Phil said it about Smits, he may have been making fun of Matt Geiger. I'm not sure. But Phil said, "If a white guy decides to shave his head, he really should invest in a tanning bed." That's pretty sound advice.
Those '98 conference finals the Pacers probably were the closest the Bulls came to losing a series during the six title runs. They only had one other game seven ever, in the 1992 conference semis with the Knicks, but the Bulls won that by 29 points and it was never close. But, the Pacers series in '98 didn't have to be close. The Bulls won the first two games at home, barely lost game three and the end of game four is how the Utah Jazz have always thought game six of the Finals that year ended.
The Bulls were up one late and Scottie Pippen got fouled and he biffed BOTH free throws. Come on, Pip.
"There are a lot of players who are going to make shots the first three quarters of the game," said Jalen Rose—for some reason, I don't know why anybody was asking him. "But you need a shot late. Give the ball to Reggie." OK, remember that quote for later. Just tuck that away.
The Pacers advanced the ball to half court and ran a set play for Reggie that included him shoving Jordan with both hands to get to the ball, then making a really tough shot for the lead.
Jordan nearly rendered Reggie's moment completely forgotten with a clock defying double pump runner that hit glass and spun out.
The series was tied and heading back to Chicago, even though the Bulls had outplayed the Pacers in ALL FOUR games.
Now, we get in Jason Hehir's time machine and go back to the 1997 Finals. People actually do forget that the year after they won 72 games, the Bulls won only 69 (nice) games.
Anyway, the Bulls faced the Jazz and a very bad thing happened to Karl Malone. He won the regular season MVP. Why is that bad? Because Michael Jordan knew that just like in 1993, the only reason he didn't win the MVP was that voters were tired of voting for him. Karl had a great season. He scored 27.4 points per game, and averaged 9.9 boards and 4.5 assists. Michael averaged 29.6, 5.9, 4.3 and he was Michael Jordan. So he should have been the MVP.
"I'm not saying he wasn't deserving of it. I'm saying that fueled the fire in me. You saying he's the MVP? OK, fine. No problem."
No.
Problem!
That problem was the Jazz's. And Bryon Russell didn't help things, either. Last week we found out the infamous LaBradford Smith story was bullshit, because Michael made up LaBradford's legendary slight against him. But this week we learn that what Bryon Russell did that sounds made up was real.
While Jordan was "retired" the first time, he headed over to see his former Dream Teammates, Malone and John Stockton when they were in Chicago to play the Bulls. Russell came up to him and said, "Man, why you quit? You know I could guard you. You quit."
Stockton said, "Bryon was very playful." Oops. Michael doesn't do playful, and never forgets and he repeatedly got even with Russell, and twice in very large spots.
The first was at the end of game one of the '97 Finals.
I mean, I know even in ten hours they couldn't include everything. But how do you set up the end of that game and not include Scottie's most famous line, ever?
Malone was fouled with 9.2 seconds left in an 82-all game. Here was the MVP's chance to give his team the lead, get a stop and steal game one on the road.
Just as Karl was taking his spot at the line before the first free throw, Pippen strolled by and said, right in his ear, "The Mailman doesn't deliver on Sundays."
It was perfect. Even more so when Malone missed both.
The Bulls came down, Michael was being guarded by Russell, gave him a little shake, and went the opposite of the way he would a year later, and made the shot at the buzzer for the win.
And then he did the pose.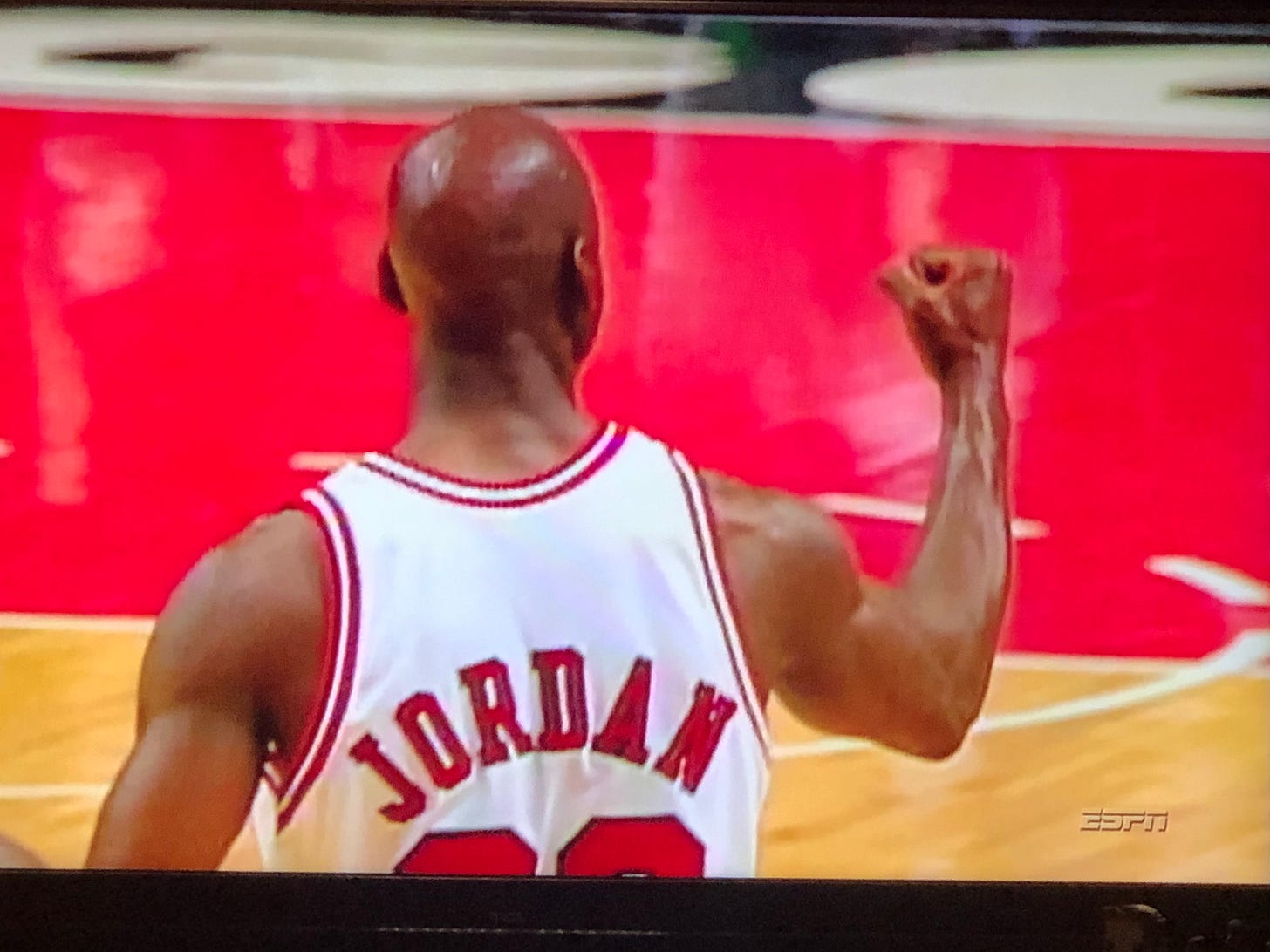 We all did that pose. Nobody has ever looked cool doing it but Michael.
The Bulls won game two, but Utah won games three and four in Salt Lake, setting up a big game five.
The Bulls had to make a choice about where they were going to stay when they went to Utah. Either a swanky resort in Park City, or the Marriott in Salt Lake. Jordan, of course, preferred Park City because of the golf, but his teammates didn't want to deal with the long drive every day and somehow outvoted him. So they were were, in the fuckin' Marriott for a week, and the night before game five, Michael was hungry. Nothing's open in Salt Lake City after like 6:30, and so at 10 p.m. they're having a hard time finding anything. Finally, they find a pizza place that's open. They order the pizza and as Tim Grover tells it, there was a problem.
"We open the door and there's five guys delivering one pizza."
Nobody volunteers to be a food taster, though, and so Michael eats the whole pizza. And clearly, at least one of those crazy Mormon pizza delivery boys wiped their hiney on the pizza because Michael got super sick.
He's up all night barfing, and who knows what else (come on, we know what else, he had food poisoning, it was coming out of everywhere.)
Jordan looked like death the next day. So much so that even Bill Wennington, who even for a Canadian is really, really white, commented on how "ashy" MJ was.
The crowd was out for blood. I really enjoyed the creative, "Yoo-taw Jazz, Yoo-taw Jazz, Yoo-taw Jazz" chant they had. That's what not drinking coffee does to you, kids.
Now, we get some unintentionally hilarious quotes when taken out of context.
Scottie: "A lot of times when you're sick, you're able to find something deep down inside that you didn't know was there." Yeah, it's usually things you forgot you ate.
Marv Albert, as Jordan was getting on a roll in the second half: "And this, his best spurt of the night." Ewww.
The amazing thing about "The Flu Game" wasn't just that Jordan willed himself through it, but he had a great game. He played FORTY-FOUR minutes! He scored 38 points! That was twice as many as anybody else in the game. Malone had 19. Jordan had seven boards and five assists.
Scottie: "He had shown that no matter how sick he was, he was still the best player in the world." Uh, yes.
Now, it's time to do one last backstory. This time on Steve Kerr, who grew up the son of two college professors in southern California.
"Monday through Thursday we were not allowed to watch TV," Steve said. "Unless there was a big game on. My dad came in handy at those times."
Steve's dad, Malcolm, was a Middle East expert and while Steve was still in high school, dad went to become the president of the American University of Beirut. The job was open because the prior president had been…kidnapped.
Look, gang, when I interview for jobs, I always ask why the job is open. You're hoping it's because the prior occupant got a promotion either within the company or somewhere else. I think that if the to my question ever answer was, "Oh, he's been kidnapped. We're not sure if he's still alive" I'd just run for the door.
Kerr made a typically self-deprecating comment about how unpopular he was in high school with two key demographics. Girls and college basketball coaches.
One story they didn't leave in, which seemed kind of odd, was that he took an on-campus visit was to Gonzaga and got to scrimmage with some of the guys on the team. A floppy haired local kid wearing nut-hugging shorts named John Stockton ate his lunch so thoroughly during the scrimmage that Gonzaga never called Steve again.
He ended up doing just fine. He went to Arizona, played on a Final Four team with Kenny Lofton, Tom Tolbert, Jud Buechler and some guy named Sean Elliott.
While he was at Arizona he got a phone call early one night with the tragic news that his father had been assassinated in Lebanon. Some time later Arizona State fans were just pretty fucking disgusting about it.
Anyway, we got more cool old news reports, and this week, playing the role of quality archive footage news star was, a very attractive Judy Woodruff.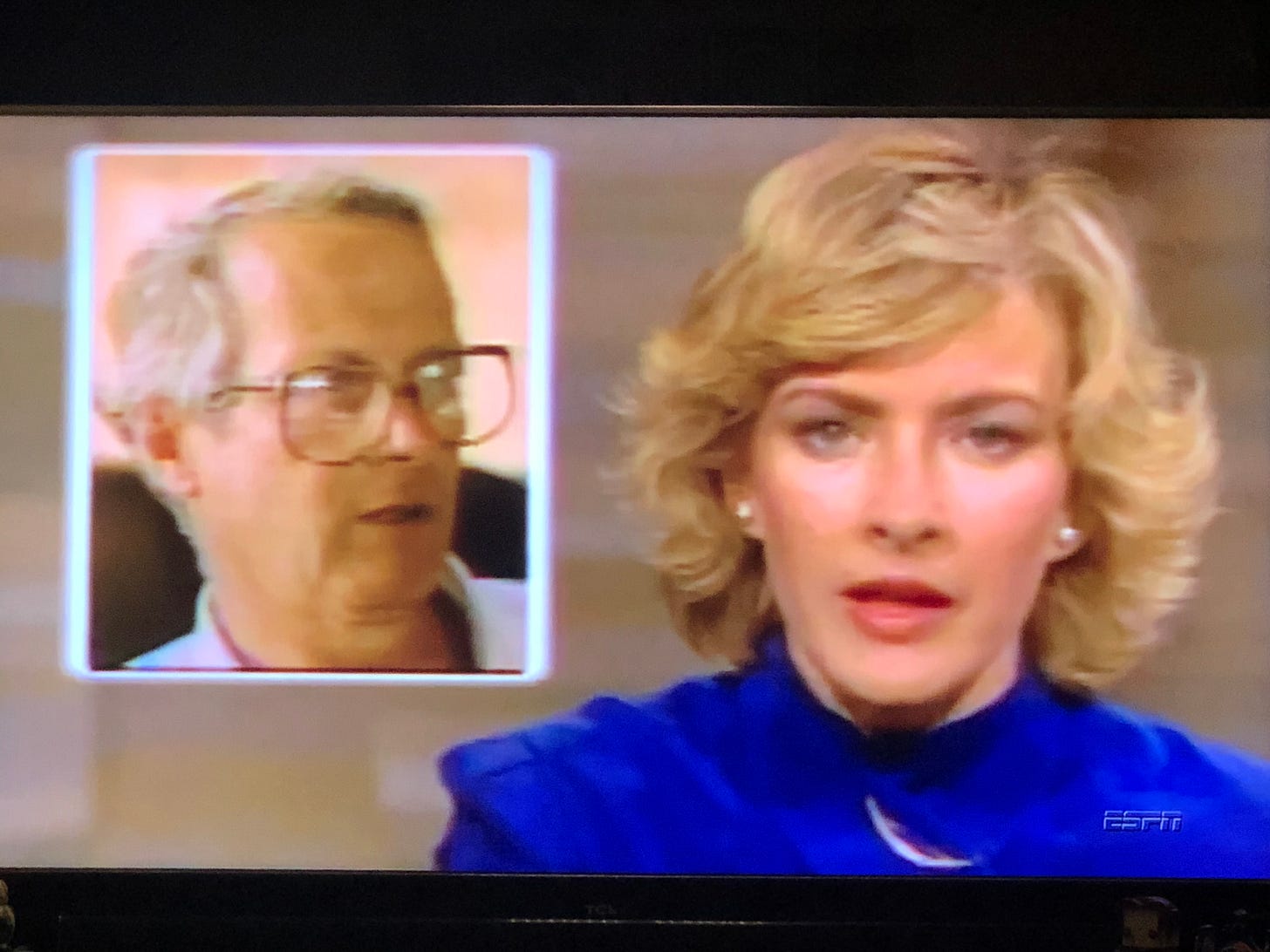 Anyway, yadda, yadda, yadda, Kerr earns MJ's trust, tells a funny story about not playing it cool in the final huddle of game six of the '97 Finals, then nails the championship winning jumper and subsequently wins the Grant Park rally with, "I guess I have to bail Michael out again."
Now we zip back to the '98 Eastern Conference Finals and on to game seven. Phil might need to work on his pre-game speeches: "I told them today that you could lose."
Michael did not need to work on his:"We're gonna win game seven. We will win game seven."
The game was back and forth and a key sequence arose late in the fourth quarter. With the Pacers up three, Michael and Smits had a jump ball. The 7'4 Smits just had to control the tip, keep possession for the Pacers and if they get a bucket they are up five and in control.
Instead, Smits won the tip and tried to direct it to Reggie, but Pippen outmuscled the waifish Miller, got the ball, fed it to Kerr who tied the game with a three and the Bulls took control of the game.
Hey, remember this quote from Jalen Rose earlier?
"There are a lot of players who are going to make shots the first three quarters of the game. But you need a shot late. Give the ball to Reggie."
Yeah, about that. Late in the third quarter of game seven, the Bulls put MJ on Reggie. Reggie didn't score a point after there were two minutes left in the THIRD quarter. The THIRD! Reggie never did anything but score. He didn't rebound (3.0 per game for his career) and he didn't pass (3.0 assists per game for his career). He played shit defense. So if he wasn't scoring, he was useless. For the final 14 minutes of the biggest game of his life, he was useless.
And yet, to this day he says stupid shit like this. "We had the better team. I really do believe that." No. No, you didn't. Your team wasn't better, in large part, because your best player disappeared when he was needed the most, and the other team's best player kicked your ass.
Michael celebrated the big win by dressing like a french fry.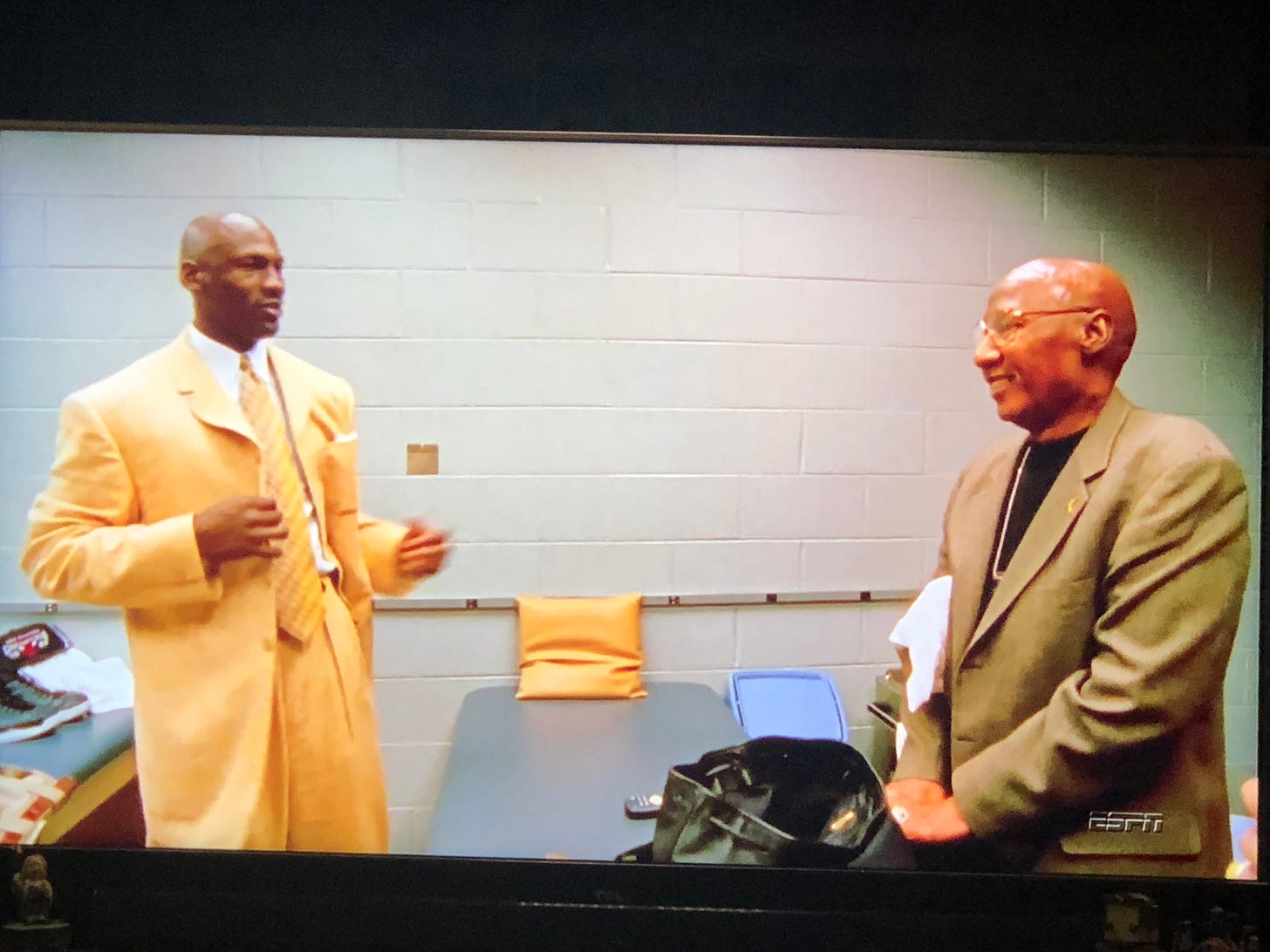 That set up a repeat Finals with the Jazz, and what the hell is this sign? What is wrong with those people?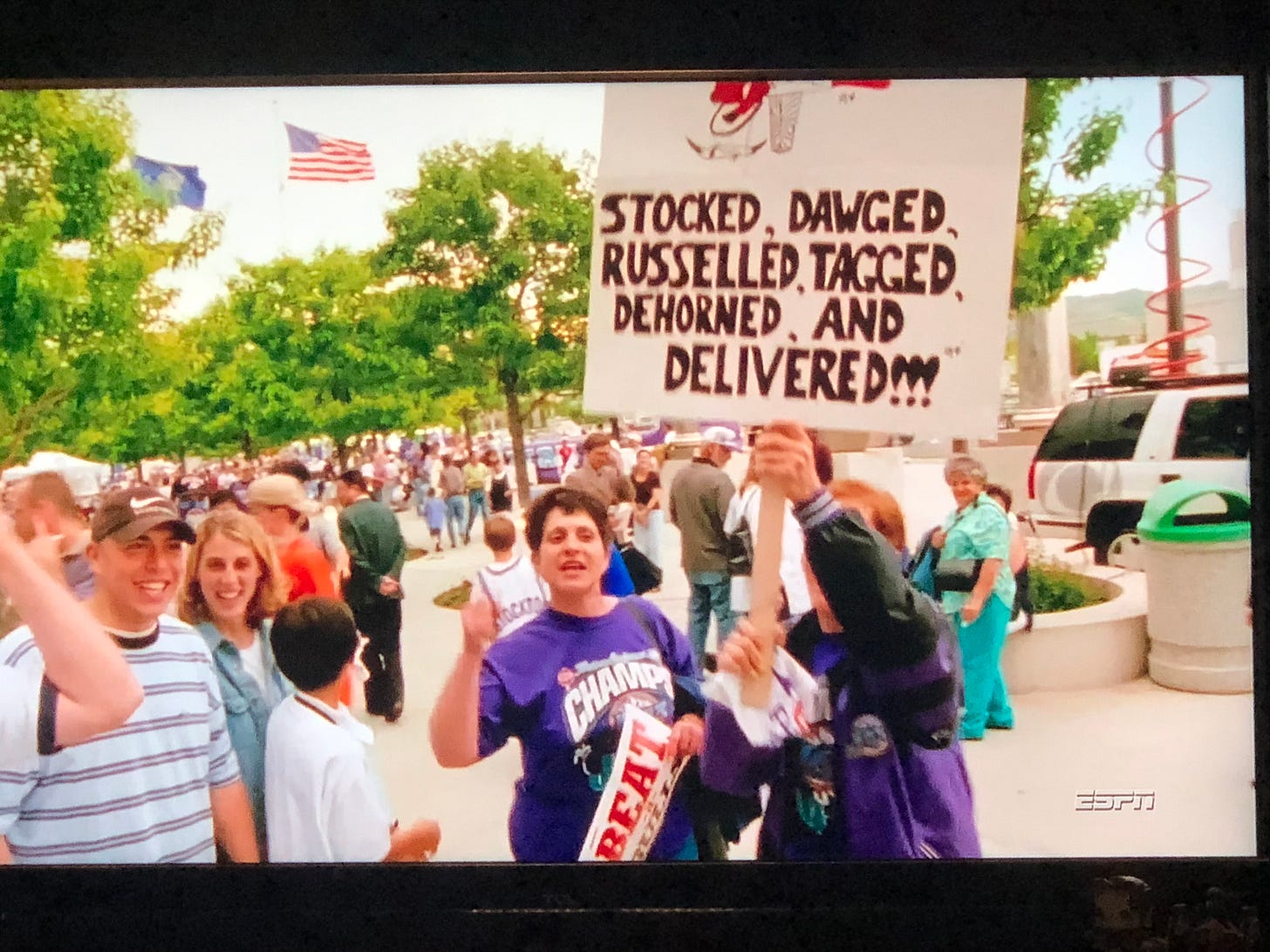 Jordan was super loose before game one. He was dancing around with his headphones on and when asked what he was listening to he bragged, "Kenny Lattimore. Brand new. Not even out yet. He's a friend of mine."
When it comes to music, don't go to Michael. When he was in college he was once asked who his favorite group was. He said Peaches and Herb. Seriously.
But, on this day he's giving everybody shit and says something that Phil Knight probably wouldn't have been cool with.
Don't look at my fuckin' feet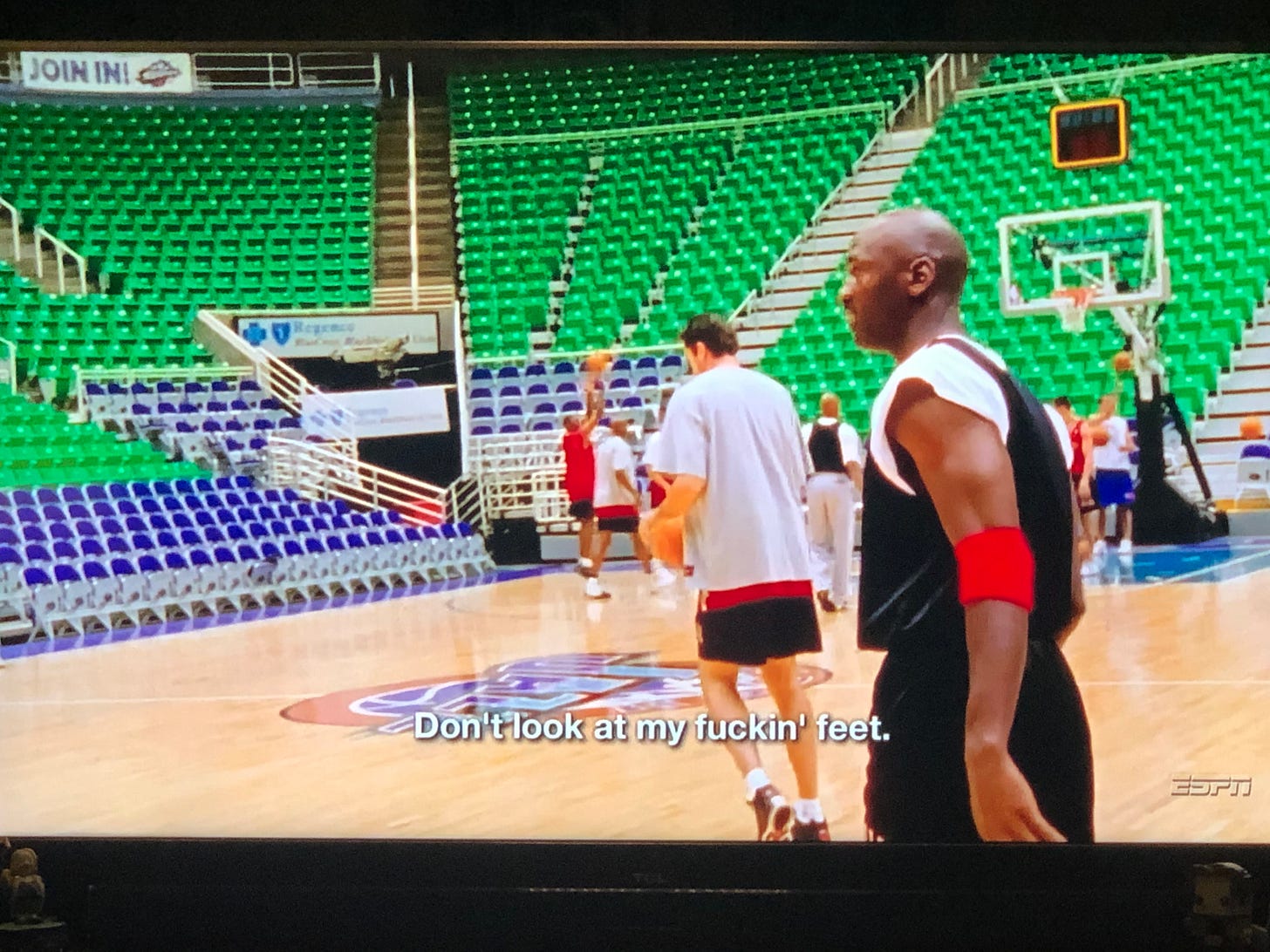 And hey, look, it's a socially distanced Chip Schaefer!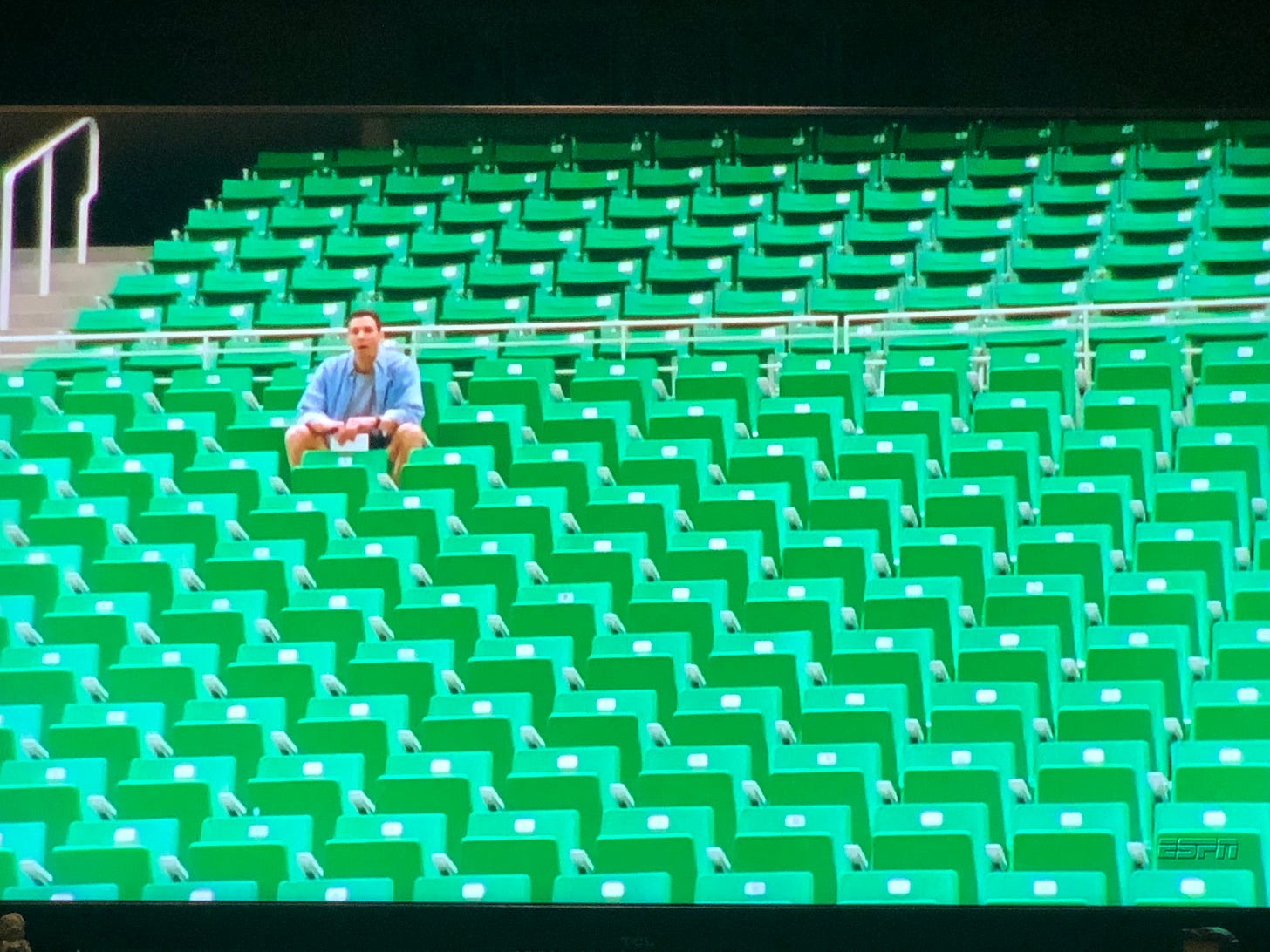 How desperate were the Jazz to win game one? They paid the ridiculous amount necessary to get Michael Buffer to make sure everybody knows they should prepare to rumble.
Late in the game, the Bulls were down one and Phil really showers the guys with confidence by saying, "Guys, this is a scary fucking situation."
It was, but Luc Longley came through! His jumper tied the game, but the Bulls lost in OT.
They won game two, though, and in the locker room somebody was telling Jordan how impressive it was to steal a game in Salt Lake considering the Jazz had swept the Lakers and their 380 pound manchild center.
Michael was not impressed.
"Like I said, I ain't Shaq."
The Bulls would win game three by 42 points. Seriously. The Jazz only scored 54 points. Fifty-four! It is still the fewest in any game since the shot clock. Not playoff game, any game, ever.
So, the Bulls are up 2-1 and things are going great. Right? Well, Dennis doesn't show for practice before game three. He's…uh…well, he's wrestling with Hulk Hogan in Detroit. Dennis, explain yourself:
"I was just trying to play basketball, party, dah, dah, dah, fuck all the girls. Just be me. Shit."
Uh, OK. But, honestly, I think Dennis should have been forgiven. I mean, it looks like he went to Detroit to hit the lead singer from Nickelback with a chair. I mean, even though the band hadn't formed yet, it's still worth it.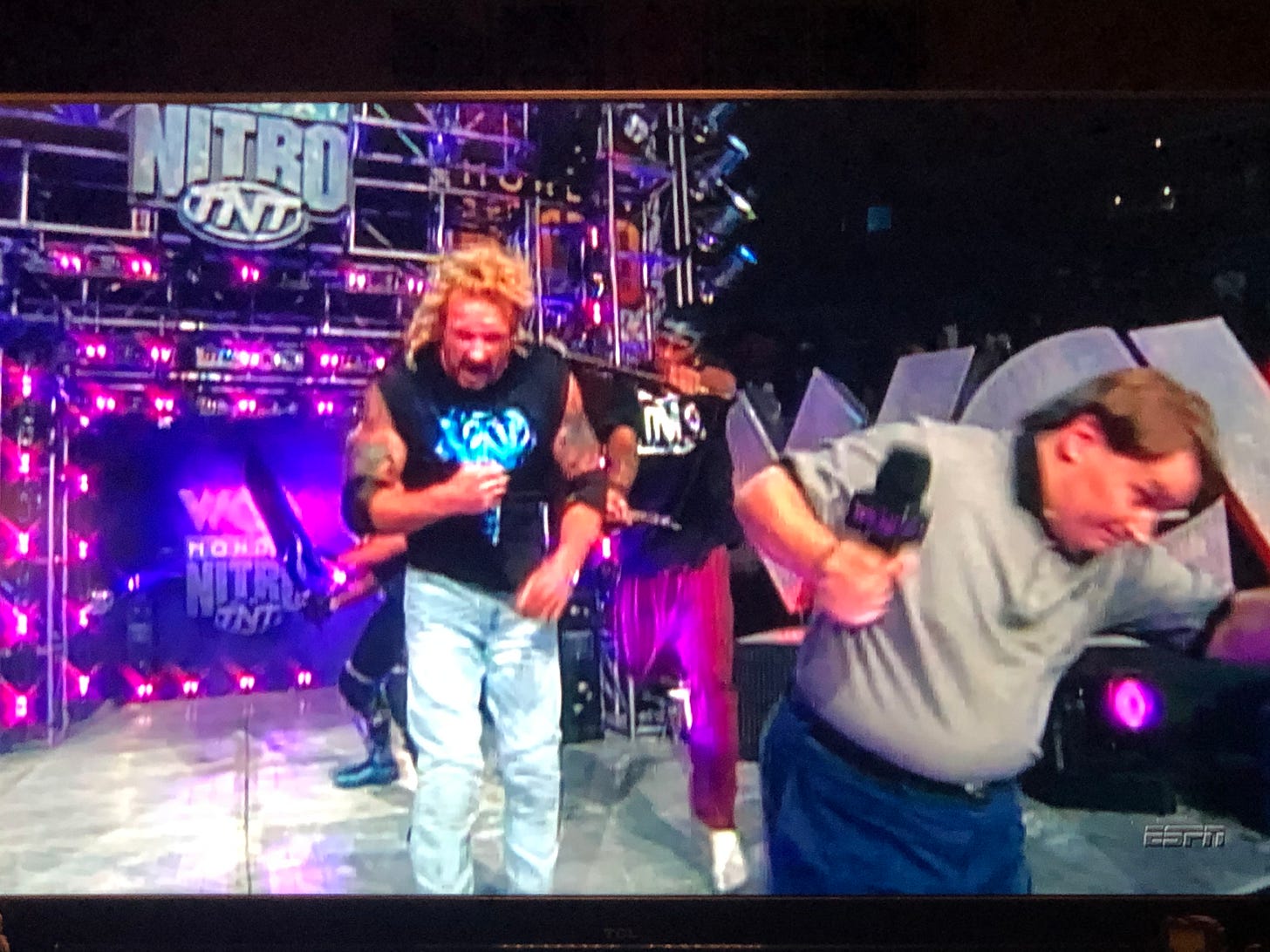 Dr. Jack Ramsey was not amused. Dave Twardzik never pulled this shit.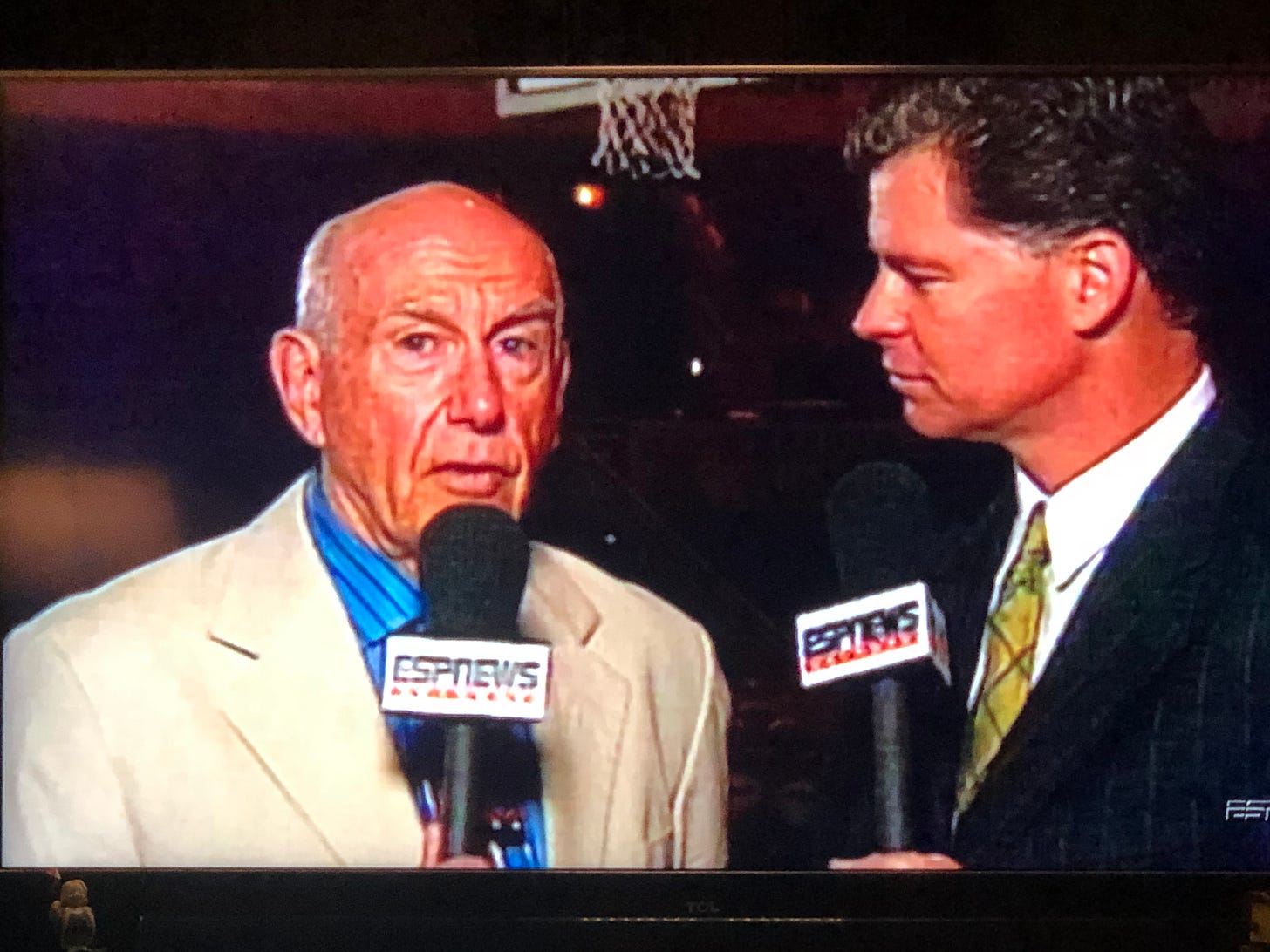 Phil was asked if Dennis was taking the team's focus off the Finals. "No, he's only taking your focus from the Finals, not ours."
Anyway, the Bulls win game four, and everybody's fired up about the Bulls wrapping it up at home. Only, the Bulls didn't play well in game five—I guess somebody should have volunteered to eat some bad pizza—and the Jazz had a late lead. Jordan nearly won the title with a last shot before the eventual last shot? What? Jack Silverstein can explain it better than me.
Anyway, that meant the Bulls had to get on a plane and fly back to friggin' Utah. And Scottie Pippen's back was not cool with that.
Pippen had taken "numerous" charges in game three and his back was not in great shape from that point on. It was particularly bad by game six and that meant MJ was going to have do it himself. Luckily, he had a little bit of experience doing that.
Pippen dunked on the first play of the game, but his back started to flare up.
Phil: "When Scottie left, we were just kinda holding on."
That's not great.
Scottie: "I was a decoy that whole game, but they didn't know it."
Oh, I think they knew it, Scottie. Give him credit, he would play until his back locked up then go get treatment, then come back and play some more and then go get treatment. He left it all out there. But any time he had to make a quick move his back would lock up and he'd run squatted over like a little kid trying to walk and not shit themself. At one point he made a tough shot and Bob Costas said, "Pippen hits a turnaround. He's playing through clenched teeth!" And clenched something else.
Michael: "Pippen's barely getting up and the down the floor. So I'm taking all the shots. I'm bringing all the energy. I barely got anything left."
But, Rodman and Harper threw in a couple of shots, and Scottie, though severely limited is actually making a few shots. Then, the key sequence of the season.
John Stockton hits a three with 41 seconds left to give the Jazz an 86-83 lead. Uh oh.
Jordan comes down and goes straight to the basket. He scores in four seconds. So it's just a one point game.
Michael wants it to be over. No game seven. No overtime. Just end it. So, he recognizes the set the Jazz are running because they'd run it just a couple of possessions before. They're going to Malone on the block, and because Dennis has been doing his crazy Dennis shit (and driving Costas batty with it) all night, Malone is completely focused on him. Jordan knows that when the ball goes into Malone it's not coming back out, so he just leaves his man alone under the basket, comes up behind the Mailman and steals the ball from him.
Now, the Bulls have the ball with the shot clock off. Phil's not calling timeout because the only reason to, would be to set up a play for Jordan, and Michael already has the ball, so just go.
The director asks the simple question: "What was going through your head when you were coming back up the floor?" And gets two great answers.
Pippen: "Get the hell out the way!"
Rodman: "I didn't have to do shit. All I did was plant myself down there. He's gonna shoot this fucker. He is not gonna pass this fucking ball. I don't give a fuck if it's John Paxson, or fuckin' Steve Kerr. Hell no. This is his turn."
Michael says he knew he could either get to the basket or pull up, he just had to decide which one and with how much time left.
"Everybody said I pushed off, bull shit. The man, his energy was going that way, I didn't have to push him." But you did, just to be sure. And I'm totally cool with it.
Costas, even though he had entered the bloviating gasbag portion of his career by this point, absolutely nailed the summation of that shot. "That may have been the last shot Michael Jordan will ever take in the NBA. If that's the last image of Michael Jordan, how magnificent is it?"
Pretty goddamned magnificent.
The Bulls still needed a stop to win the title. And, Scottie, who can't bend at the waist because he's in so much pain, tells Jordan this: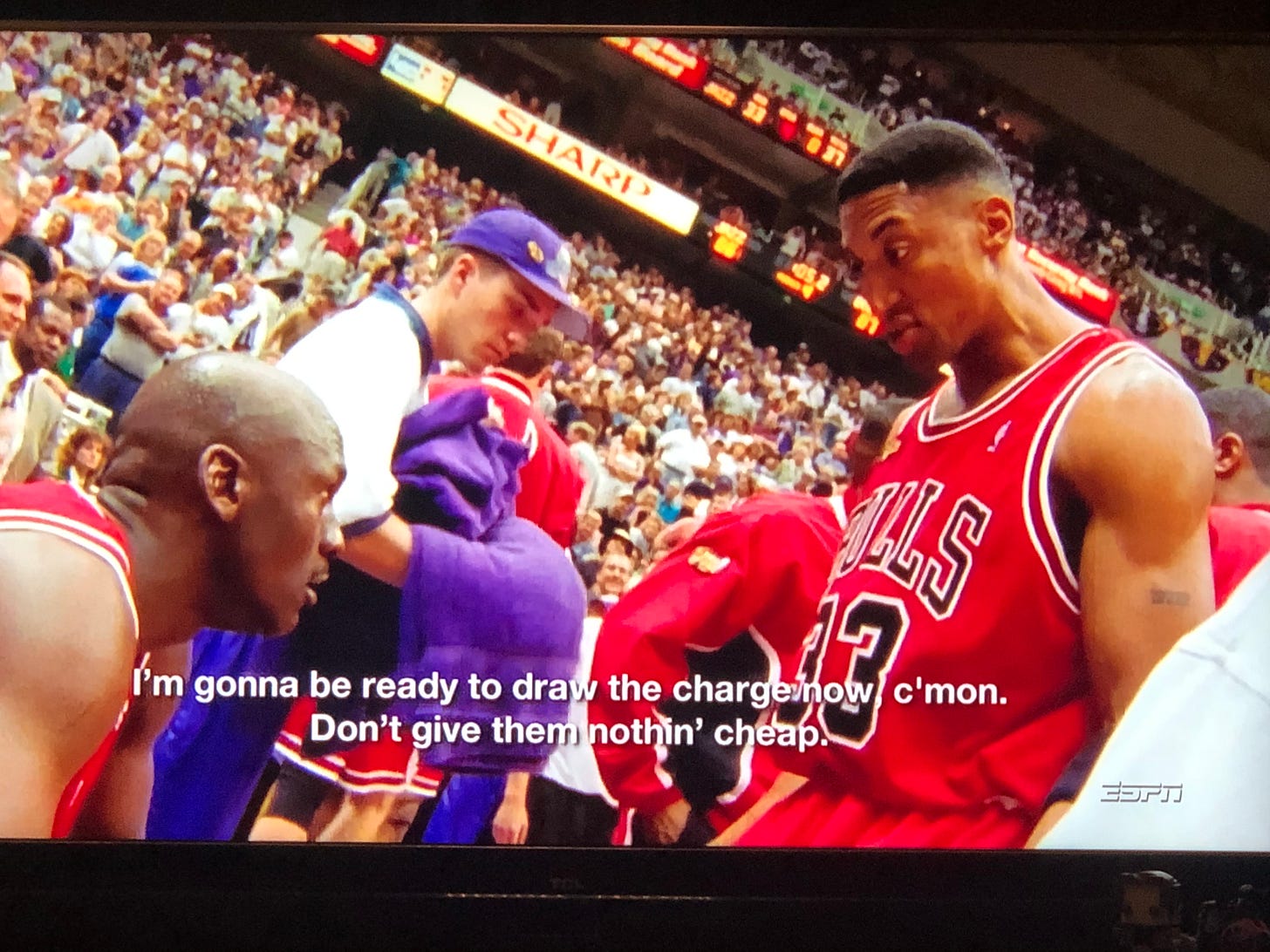 I mean, come on. And people wonder why we love Scottie?
"My-cal, my disks are bulging pretty bad, but just funnel your man over to me and I'll take the charge to end this thing."
Jordan was pretty amped up (as you'd expect after the game.) He was sitting in the locker room, opening another bottle of champagne and musing about the state of the Jazz specifically, but the entire NBA in general.
"They can't win 'til we quit."
Then we find out he thinks he watched the movie "The Man With The Iron Face" the night before.
And, he sums up eastern religion: "Stay in the moment. You know, that Zen Buddhist shit."
Phil gets in one last passive aggressive shot at Crumbs. "I want to thank Jerry Krause for giving us the opportunity to do it. He had other plans, but he put those aside."
Jerry Reinsdorf goes into a mind-numbingly tortured explanation of how they couldn't bring the team back for a shot at a seventh title because…Ron Harper, Steve Kerr and Dennis were going to be too expensive? Harper took a three million pay cut to go to the Lakers. Kerr signed for $1.7 million for 1998-99 with the Spurs. Dennis never played a full season again. OK, Jerry. Whatever. He also says he offered Phil a chance to come back but Phil passed. Well, he neglected to mention that he'd told Phil they'd have to rebuild. Oh, and they hired Tim Floyd, but "not to coach." Sure. Whatever. Anyway, Phil was done. He wanted out. Krause was hell bent on blowing it up and the only way to have made it work would have been to fire Krause and keep Phil, and Reinsdorf was never going to do that.
They hand Jordan the iPad and he watches Reinsdorf's explanation of why they blew it all up.
MJ scoffs at Jerry's explanation why they "had" to break it up. Jordan makes a pretty persuasive argument that all those guys would have come back on one year deals to try to win it again. Well, except maybe Scottie. But then Jordan decides, "Scottie's not going to want to miss that." I'm sure if the Bulls had given Pippen $25 million for a shot a seventh ring that might have persuaded him. But short of that? Nah.
Jordan is asked if it was cool to leave after winning a title or maddening.
"It's maddening, because I felt like we could have won the seventh. We may not have, but man, to not be able to try. that's something that I just can't accept."
That's just what the current Bulls franchise needs. Another generation of players wondering why they blew up the best team they'll ever have. Have fun with that, Arturas.
Going their own ways, the Bulls met for one last time, and Phil throws a bone to his ex-wife June and says that he decided to use an exercise she did with grieving patients. He had all of the guys write what it meant to them to be a part of the team. Then they read what they wrote, put it in a coffee can and burned it. By all accounts it was really cool, and Michael not only wrote something, he wrote a poem.
Phil: "It's a depth of emotion you didn't know he had."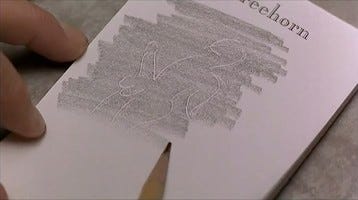 And, as you'd expect, Jordan sums the whole thing up perfectly.
"We went from a shitty team to one of the all-time best dynasties. All you needed was one little match to start that whole fire."
Sure, if the one little match is the greatest player of all-time.
Is the ten-hour documentary perfect? Of course not. But it's really good, and a fitting document to a dynasty that was amazing to live through as a fan for the unmatchable combination of a great player, a great team, a great coach and personalities that made the whole thing even greater than the sum of its parts. And man, did they have some parts.
So, we're gonna miss this documentary. I mean, what's next Lance Armstrong? Ugh. Well, I suppose I can write a few thousand words on how some fans are upset that when baseball comes back the players won't be able to spit.