Discover more from Pointless Exercise
The only newsletter you'll ever need...(about the Cubs and the Bears and all kinds of other cool stuff.)
Heyward enjoys hittin' 'em where they is
His two hits last night were the first ones he's had to right field all year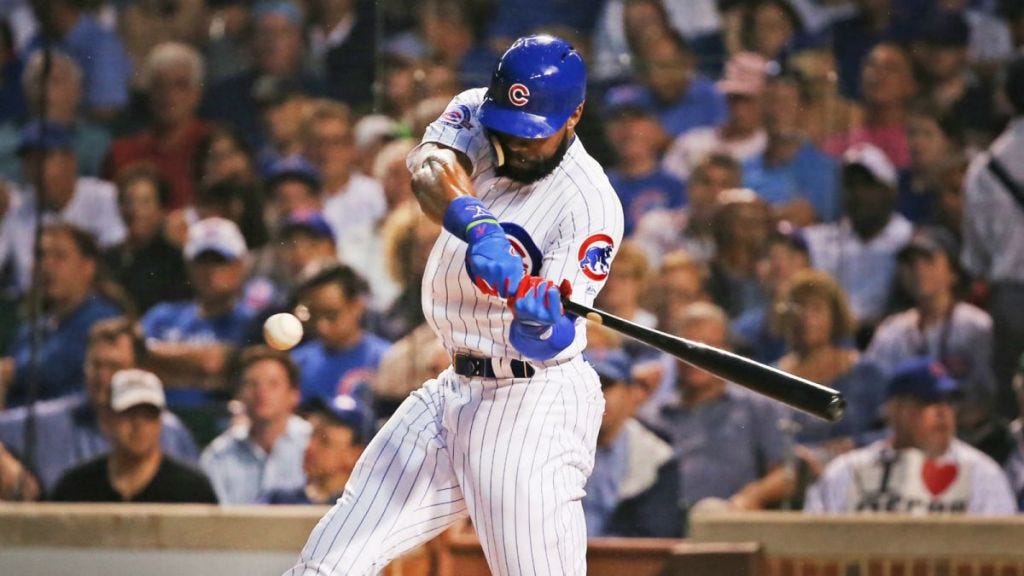 David Ross has done plenty right since taking over as manager of the Cubs, as the Cubs 9-2 record shows. He's been given a terrible bullpen and is trying to wade through it, and hey, he's even figured out how to put Jeremy Jeffress into a game without the bases loaded.
One thing Ross hasn't figured out though, is where to bat Jason Heyward. Heyward is the rare player who has value and is worth playing most days (just never, ever, ever against a lefthanded starter) without having much value in his bat.
Ross has been hitting Heyward sixth, and it's not going well. Heyward was off to a .192/.250/.192 start before he hit a big two run homer and added a single last night. He has only struck out four times, but only walked twice. Putting him in the middle of the order isn't helping anybody…well, other than the other team's pitcher.
Michael Cerami over at Bleacher Nation broke down that Heyward's hard contact rate is up. But, mostly on the ground, which makes renders is mostly useless. Especially since Heyward is pulling most of those grounders, straight into a shift.
Eleven games into the season and Heyward has performed his specialty of grounding out to the second baseman only twice. That's great! Right? Especially since one of them drove in a run in the third game of the year.
Well, it might only be two 4-3 putouts, but it's not for a lack of trying.
In 29 at bats, Heyward has grounded to the right side of the infield 11 times. He's grounded out to the first baseman FIVE times. He's grounded to the third baseman three times when the third baseman has been playing on the second base side of the shift, including the rare 5-6-3 double play.
Heyward's hitting the ball sharply, but he's trying to hit it through an extra defender and he's only gotten it through once. His single last night was the first time all year that a ball he hit on the ground to the right side didn't end up creating at least one out.
Since he only has seven hits, it's not that hard to track. Six singles and a homer. One single was to left center, four rolled over the second base bag and he finally successfully hit two balls to right last night.
He's a 6'5, 240 pound ground ball singles hitter. And yes, he's a great defensive right fielder and when he gets, on a terrific baserunner.
He has no business ever batting against a lefty (this year he's only had nine plate appearances against them, with three inexplicably coming in a start on Monday against Danny Duffy, and he has just one hit and a walk against lefties. That's still very bad.)
Heyward should not be batting sixth, where he has 29 of his 32 plate appearances, with those other three the ones against Duffy when he hit seventh.
He should be batting ninth, though if Ross wants to keep doing the the second leadoff-hitter thing with Ian Happ hitting ninth, then Heyward should be hitting eighth.
You can say, hey it's only been about 11 games, what's the rush? Well, the season's already a sixth over and the Fighting Yadis are trying to sabotage it and make it even shorter. The Cubs have had five years now for Heyward to prove he's not a productive hitter, it's time they finally believe him.

The other thing that needs to stop is Victor Caratini serving as the DH. Victor's a top notch backup catcher. It's cool that he switch hits, but he's basically just a really slow singles hitter.
So far this year he's hitting .250/.308/.333, with two doubles in 24 at bats. Sure, that's not a lot of at bats, but those doubles are only the 36th and 37th extra base hits in his four year career!
He has a lifetime slugging of .377. I'm no Steven Souza fan, but even he has a career slugging of .416.
Using Vic as a way to get an extra lefty bat into a lineup once in a while is a fine use of him, but honestly, they're far better off using the DH spot to play Kyle Schwarber, Kris Bryant and David Bote in the lineup as much as possible.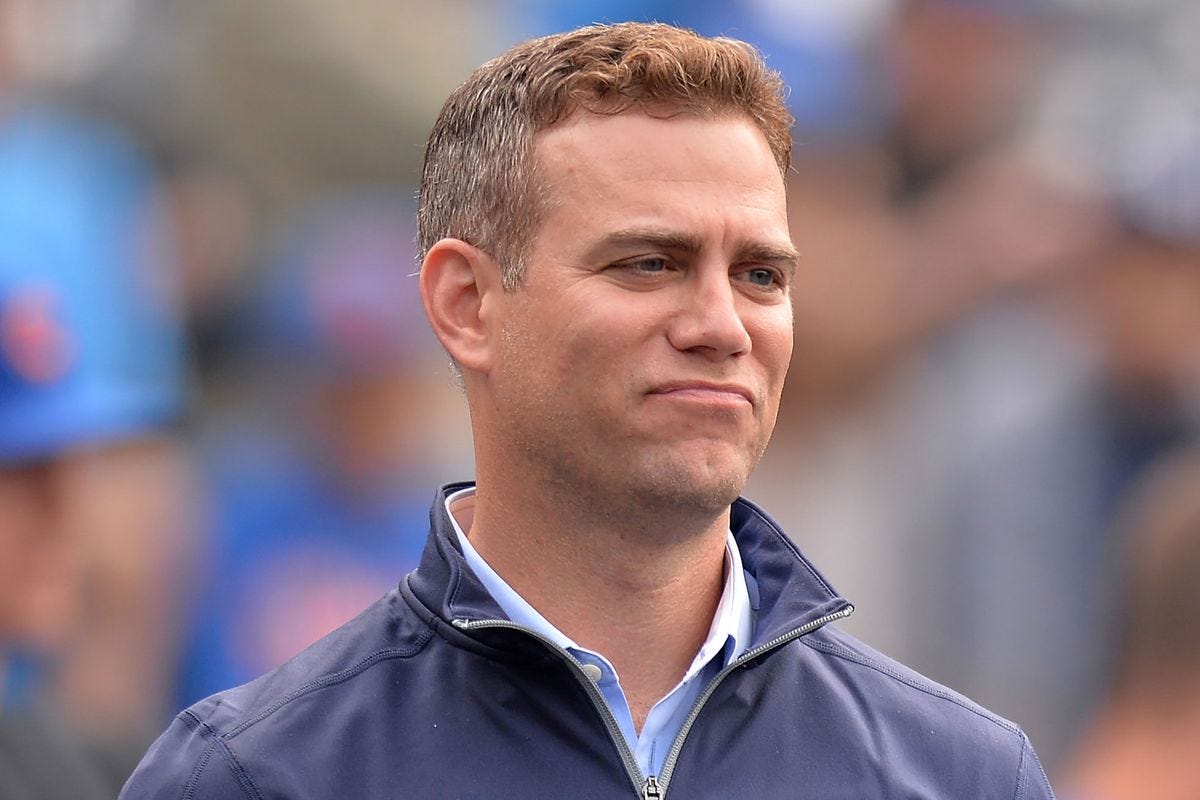 Before Tuesday's game, Teddy Epstein took a weird victory lap a whopping 10 games into the season. Meeting with the media he took a very petty swipe at the only living Cubs' manager to win a World Series by bragging about his boy, David Ross. "He has stepped in and helped address some things that have been lingering for years."
You might want to pump the breaks there Harvard. We all appreciate the job you've done, but first off, your team is only a sixth of a way through this half-assed season and even though they're 9-2, I'm not even sure they play the same sport as the Dodgers. Second, the reason it's hard to be too confident in this team is that the bullpen that you've "built" is a complete fucking embarrassment. And, it's largely been your inability to build a bullpen the last four seasons that has crippled this franchise's chances. You can criticize the way Joe Maddon handled those bullpens, but you can not pretend that you ever bothered to give him a full hand to play with.
The bullpen has caused a lot of stress but miraculously hasn't blown a save yet. But it's coming, and you can't delude yourself that it's not. It's one thing to survive against mostly punchless offenses like the Brewers, Pirates and Royals, and to limp through a pair of wins in Cincinnati thanks to having just enough tack on runs. Oh, and the suddenly washed up closer you are overpaying and will obviously need to DFA was signed largely on the recommendation of…David Ross.
So, before you feel like giving in to the urge to badmouth your previous manager again, take a good moment to remind yourself that your inability to supplement any of the NINE pitching staffs you've built in your time in Chicago with pitchers your regime has developed, is a huge reason why the window is slamming shut on this team with a trophy case that might finally have something in it, but still is pretty goddamned light.

Let me go all Pauly Howard here and just start naming Cubs I can remember like he does on that unfortunate VSIN Follow the Money commercial Marquee shows four times a game. If you've never seen the show, it's actually not bad. At least it's a thousand times better than the laughable Lombardi Line that replaces it on the weekend with everyone's favorite football meathead and my former cubicle mate at The Athletic, Mike Lombardi.
Lombardi's media career is astonishing, considering he just tells the same eight stories from his days in NFL front offices, when he was either driving Bill Walsh's car, trying to avoid Bill Belichick's ire or mostly successfully remembering not to erase Al Davis' office whiteboard.
Anyway, it's been a weird season so far with some MLB teams playing 11 or 12 games and the Marlins still stuck on three, but that doesn't mean there aren't some trends that look sustainable. There's not much value in the Dodgers or Yankees because they are every bit as good as we thought they'd be, but the Padres are very frisky and it's fun to check the MLB odds to find your chances to make money betting against the Red Sox and taking the under on every Indians game.
The Cubs looked like a lock for the over most nights, with a balanced offense and a starting staff holding teams to a 1.95 ERA and then being backed by a flammable bullpen with an ERA over 9.00. But the Cubs still scratched out 2-1 and 2-0 wins on Sunday and Monday. I guess all we need is for Kris Bryant to promise his son he'll hit a homer for him every game and the offense should perk back up.
As long as Kyler doesn't get greedy.

NBC Sports Net announced a company wide set of short-sighted layoffs yesterday, and it included some of the more talented people at the Chicago version. Laurence Holmes is going to be sorely missed on the Bears postgame show (if there's a season…and given the NFL's lack of care for its players, I'm sure there will be).
You would think the geniuses at Marquee would see this as an opportunity and create their own Bears postgame show (they sorely need to create some non-Cubs programming and should have done it months ago), and they could start by trying to hire Holmes and see how much of the very good NBCSN postgame he used to host they can steal.
But they also should hire Leila Rahimi and let her loose on the network. Build something around her. Show some actual creativity for the first time ever. She's a talent and wouldn't even need to be shoehorned into one of the current, awful shows. You have many hours of TV to fill every day, figure it out.
And I hope NBC Sports Net at least does a farewell "best of Sports Talk Live" just so we can all relive the time Jason Goch forgot to cut the tag off the sleeve of the blazer he bought on the way to the show, the time David Schuster nearly combed his hair, and I think we all want a montage of all of the salient sports points the Harry Caray's bartender used to make.
And, with all of their "access" why isn't Marquee doing stuff like this?
H/T to Jimmy Traina