Discover more from Pointless Exercise
The only newsletter you'll ever need...(about the Cubs and the Bears and all kinds of other cool stuff.)
How much longer can the Bears outplay their coaching?
Bad strategy and bad offense all lead back to one guy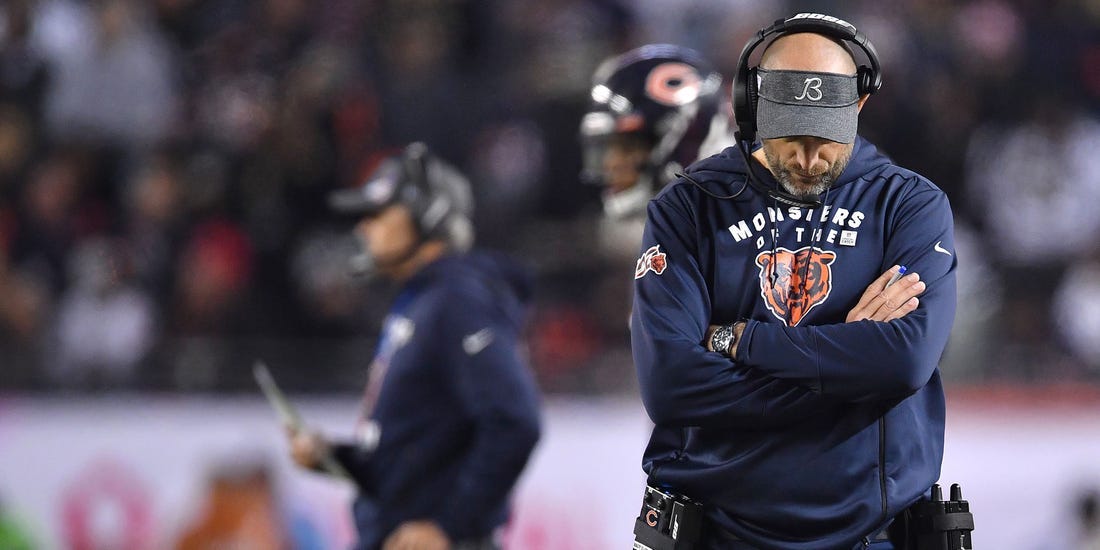 The Bears are 5-1. They are are a half game clear of the Packers at the top of the NFC North. Their defense is still legitimately very good. Mitch Trubisky spends games on the sidelines with a clipboard and a crayon. They seem to have actually found a kicker in pocket-sized Frodo Santos, who hit a 55 yarder yesterday with a good 15 yards to spare.
So why do we all spend Sundays yelling at our TVs and writing mean things about them on Twitter?
A couple of reasons, really.
1 - The success feels fluky and likely to end at any moment.
2 - We have a pretty strong suspicion that the head coach is a moron.
The evidence for the first part is that the Bears have benefitted weekly from key injuries to very important players on each of their opponents, the five wins are by an average of four points, and the starting quarterback gave an impassioned post game press conference yesterday where he basically said, Everything on the team is good but our offense and we're winning, which means when our offense catches up we'll be great!
Here's the problem with that. Wait, here's the problem with that: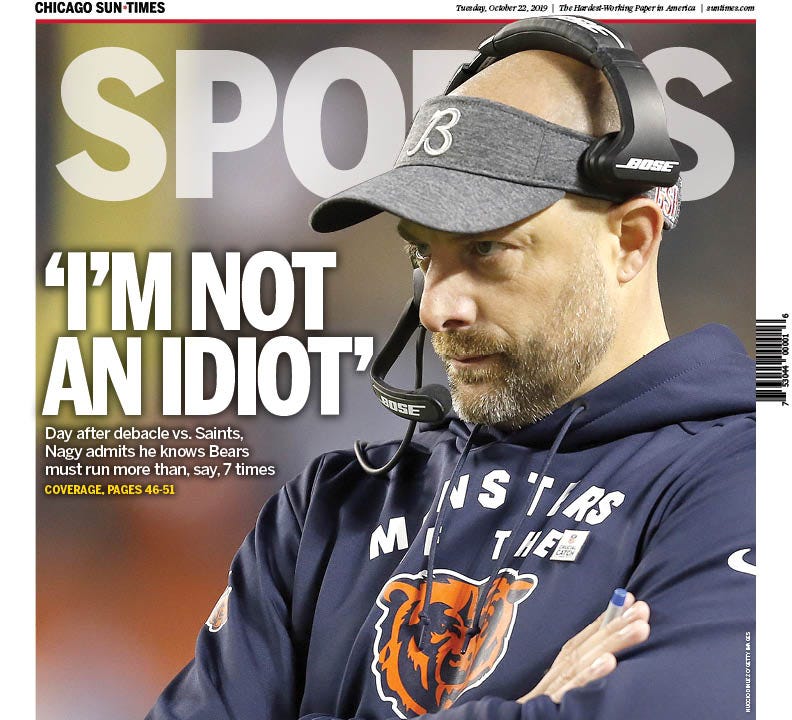 It seems ludicrous to complain about a head coach who is 24-15 in his first 39 games. But when you watch the games it's not so ludicrous.
We hear all the time about what a great culture Matt Nagy has created with the Bears. Players like playing for him. Players play hard for him without question. He lets his defensive coaches run that side of the team. That's worked well. Vic Fangio didn't need (or want) any help from his rookie head coach in 2018 and Chuck Pagano's been fine being left alone in the two seasons since.
All of that is good.
Culture's important, but Nagy was also brought in because he was supposed to be an offensive whiz.
What has been the Bears biggest problem since Nagy took over? A complete inability and unwillingness to run the ball on offense, right?
Well, it's a more recent problem than we might think.
He inherited a mess of an offense. Under John Fox and Dowell Loggains the Bears finished the 2017 season 30th in the NFL in points and 29th in total yardage. There are 32 teams, so yes, both of those are bad.
The Bears didn't just add Nagy in 2018. They also brought in Allen Robinson, Trey Burton, Taylor Gabriel and Anthony Miller.
They jumped impressively to ninth in points and less impressively 21st in total yards, but still, it was an improvement. A lot of the points jump was due to short fields provided by the Bears defense forcing 39 turnovers and scoring on six of them.
Because they had so many short scoring drives and played with the lead so much the 2018 Bears ran the ball…a lot. They rushed 468 times (sixth in the NFL) for 1938 yards (11th).
Jordan Howard led the team with 935 yards (only a 3.7 yards per carry average, though), and Tarik Cohen (444) and Mitch (421) both rushed for more than five yards per carry.
The Bears traded Howard to the Eagles because Nagy couldn't run the sets he wanted to with him as his primary runner because Howard can't really catch. They traded up (of course) to draft David Montgomery because he can.
But, given a backfield more to his liking, Nagy stopped running the ball. Carries fell to 395 (20th) and 1458 yards (27th).
Coming in to yesterday's game the Bears were 29th in rushing attempts and 27th in yardage this season. Considering they ran 25 times for 63 yards against the Panthers, don't expect a jump in either category.
They never trailed in the game yesterday and still managed to throw 39 passes.
It's not that I want them to just run the ball. If they were actually good at passing it I'd be perfectly happy to see them do it. But they aren't. And, they have become a strangely unimaginative offense, too.
There is very little play action in the offense now. You could say that since they can't run the ball that play action wouldn't work anyway, but, it still does. It's not when a defense is effectively stopping your run that play action fakes fail to get their attention, it's when they don't believe you're actually going to run it that they don't. Teams can afford to ignore the run against the Bears because the Bears are also ignoring it.
Switching from Trubisky to Foles was supposed to bring back to the RPOs that Nagy talked so lovingly about. They had to mostly abandon them because Mitch could never make the proper reads. It's a misconception that you need a running quarterback to run RPOs. Most of the time the run part of the run pass option is the QBs decision to hand off or pass. It almost makes you think Nagy was using Mitch's inability to figure out what to do as an excuse to just throw more. Crazy, I know.
It would be ideal, of course, if the Bears didn't just try to run the ball, but were good at it. Their offensive line play ranges from OK to ick depending on the game. But scheme seems to play a big part in their struggles here, too. Most of their run sets involve a single back, and they are often in the shotgun. Neither of those things should prohibit you from being able to run successfully. But the Bears tend to run plays that take a long time to develop. Montgomery seems to always need to break a tackle before he even gets off tackle. And yet, when was the last time you saw the Bears run a sweep or a pitch out? Stick linebackers in the gaps between guard and tackle on both sides of the line and the Bears will never gain a rushing yard against you. It's odd to complain that your line can't hold blocks for a long time while continuing to run plays that require them to hold blocks for a long time.
The lack of running success then leads to terrible strategic decisions. Nagy has proven time and again in his two-plus years with the Bears that he has no concept of how to manage the clock or his timeouts.
Take yesterday for example. The Bears had some amazing sequences. On their first drive of the game they got the ball on the Panthers seven yard line after a Tashaun Gipson interception, and on third and goal from the four they needed to burn a timeout to avoid a delay of game. And then, after the timeout they took a delay of game. Oof.
There was a three play sequence in the second quarter where Eddie Jackson forced a Mike Davis fumble and Akiem Hicks wrestled the ball away from two teammates, either of whom would have scored, and he fell down. Then Nick Foles threw a terrible blindly tossed, back foot interception on the next play. Then, Bridgewater threw a pick that Eddie Jackson returned for a touchdown on the play after that, only to have it overturned by pass interference on Kyle Fuller.
There was a four play sequence in the third quarter where the Panthers had a fourth and one on their own 34 and caught the Bears with too many men on the field. Then Mike Davis ran for four yards. Then Bridgewater completed a pass for a loss of two yards but there was a five yard penalty on the Bears for Robert Quinn lining up in the neutral zone. Then the Bears had too many men on the field again. Impressive.
But the one that took the cake was this one. The Bears got the ball with a seven point lead and 1:55 to go. The Panthers had all three timeouts left. So if you just run the ball three times they burn all of their timeouts and you're probably punting the ball back to them with about 1:30 to go.
The Bears ran on first down and Montgomery picked up seven yards on first down. Hell, if you get the first down the game's over. The Bears ran it on second down and Montgomery gained a yard. The Panthers used their second timeout. With 1:44 left the Bears not only threw, they lined up in the shotgun to make sure the Panthers knew they were going to throw. The pass was to Robinson right at the first down marker, incomplete. The Bears had to punt it back to the Panthers with 1:40 to go and the Panthers still had a timeout.
Nagy was asked about it in the post game press conference and his answer was incomprehensible.
"You can run it there on third down and make them use the timeout, but that's not being aggressive."
Ugh.
Is lining up in the shotgun on third and two with a your kick returner as the lone running back when a first down will end the game being aggressive? That's not the word I'd use. How about desperate? Incompetent? Asinine?
Now, it all worked out because Pat O'Donnell boomed a 54 yard punt to the end zone and on the first play, Bridgewater threw a pick right to DeAndre Houston-Carson. That allowed Nagy to act like he'd made a courageous, aggressive decision, when, in fact what he did was stupid.
Forcing the Panthers to drive the length of the field against his defense with no timeouts should have been the worst outcome of that third and two. It wasn't.
You coach the team you have, and Nagy apparently thinks he has one with a functional offense. It's just as infuriating as his moronic statement last year when the Bears were struggling that, "They didn't bring me here to run the I-formation."
No. They brought you here to do what you had to do to win football games. If that means the I-formation, or the fucking wing T, or punting on third down, you do it. Well, maybe not that last one.
The one big problem the Bears defense has is that they do not stop the run with any kind of consistency. Do you think it has something to do with practicing every day against an offense that can't and won't run the ball?
The Bears are not a bad football team that just bungled their way to 5-1. They had to make the plays for the late comebacks against Detroit, Atlanta and Tampa. The defense is good. So the frustration is that the coach has given no indication that he can make the kinds of adjustments needed when the schedule gets tougher starting this week with the Rams. You want to think the Bears are 5-1 on their way to 11-5 or 12-4.
You want to feel like you can get excited about them, and not in a, 'hey the Cubs are 13-3 no matter how much they suck from here on our they can't miss the playoffs" sort of way.

When Eddy Pineiro is healthy is there any reason to give him his kicking job back? He's 9-for-11 on field goals, made the game winner against the Bucs and drilled a 55 yarder yesterday. There's some talk that the Bears will go back to Eddy because they gave up a seventh round pick for him. Hey, if Ryan Pace is worried about throwing away draft picks it would be the first time.

It seems like it's time for the Bears to tell Ted Ginn he doesn't have to return punts any more. Given the effort Ted's putting into it, he's not going to mind. He's returned four in three games for 18 yards. Not an average of 18 yards, 18 yards total. Given how many dumb things Anthony Miller does in any given day I can see why the Bears are afraid to have him do it, but doesn't anybody at Halas Hall still have Keith Ortego's phone number?

Did you guys know Bears rookie tight end Cole Kmet is from Lake Barrington, went to St. Viator and played football and baseball at Notre Dame? People should really talk about this more.

Another reason the Bears should keep winning is that right now they're in the Kenny Albert - Jonathan Vilma Zone. Fox has them in the fourth tier of announcer assignments, even at 4-1 going into yesterday's game. Now, granted, upcoming games with the Rams (Monday night), Saints (3:25 pm start) and Titans (oh, can you imagine what Derrick Henry is going to do to the Bears' rush defense?) will upgrade the announcer level, and some wins would keep it that way.
Vilma had a rough game, but for me the dumbest thing said was that Robert Quinn has "really played well the last three games." In those previous three games, Quinn had a single solo tackle, one assist and a fumble recovery.
That's it. One solo tackle and one assist against the Colts, and the fumble recovery was when he picked up the ball after Kyle Fuller's forced fumble against Tampa, the one where the ball just laid on the grass and the Bucs didn't bother to pick it up because it was being ruled an incompletion on the field.
By that standard, Jonathan Vilma announced "really well" yesterday.

Every running play looks like the Bears are trying to run through a brick wall.
(And did we know Nick sounds like a Muppet?)