Discover more from Pointless Exercise
The only newsletter you'll ever need...(about the Cubs and the Bears and all kinds of other cool stuff.)
How ruthless is David Ross willing to be?
The Cubs roster is only good enough to win with if he's willing to hurt a lot of feelings.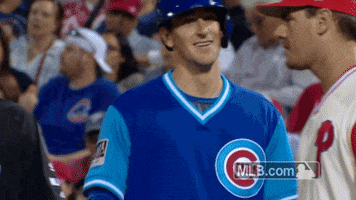 It's at least a year and three months late, but Kyle Hendricks is finally going to be an Opening Day starter for the Cubs. The team's most consistently good starting pitcher will get the ball on Thursday against Milwaukee. Yu Darvish will start on Friday, Jon Lester on Saturday and then…well, who knows? If the season makes it to day four maybe Jose Quintana can pitch right handed? Would it really be that much worse than his second half was last year?
And, it really needs to be Darvish following Hendricks. Putting Lester in there to go right-left-right might seem like a good idea. It's not. It could be the difference between 12 starts for Yu instead of 13, or even 14 instead of 13. In a short season he needs to get as many as possible. It seems like a small thing. It's not.
Hendricks looked great in the spring and then carried that over to "summer camp" when admittedly he's been baffling his teammates, which might be a bad sign.
The Brewers haven't announced their starter for the first game, though the assumption is that it'll be Brandon Woodruff. Then again, I haven't take a good look at their 60 man roster, so I guess it could be Moose Haas.
Fangraphs released their season projections and they foresee a pretty crowded bunch of standings.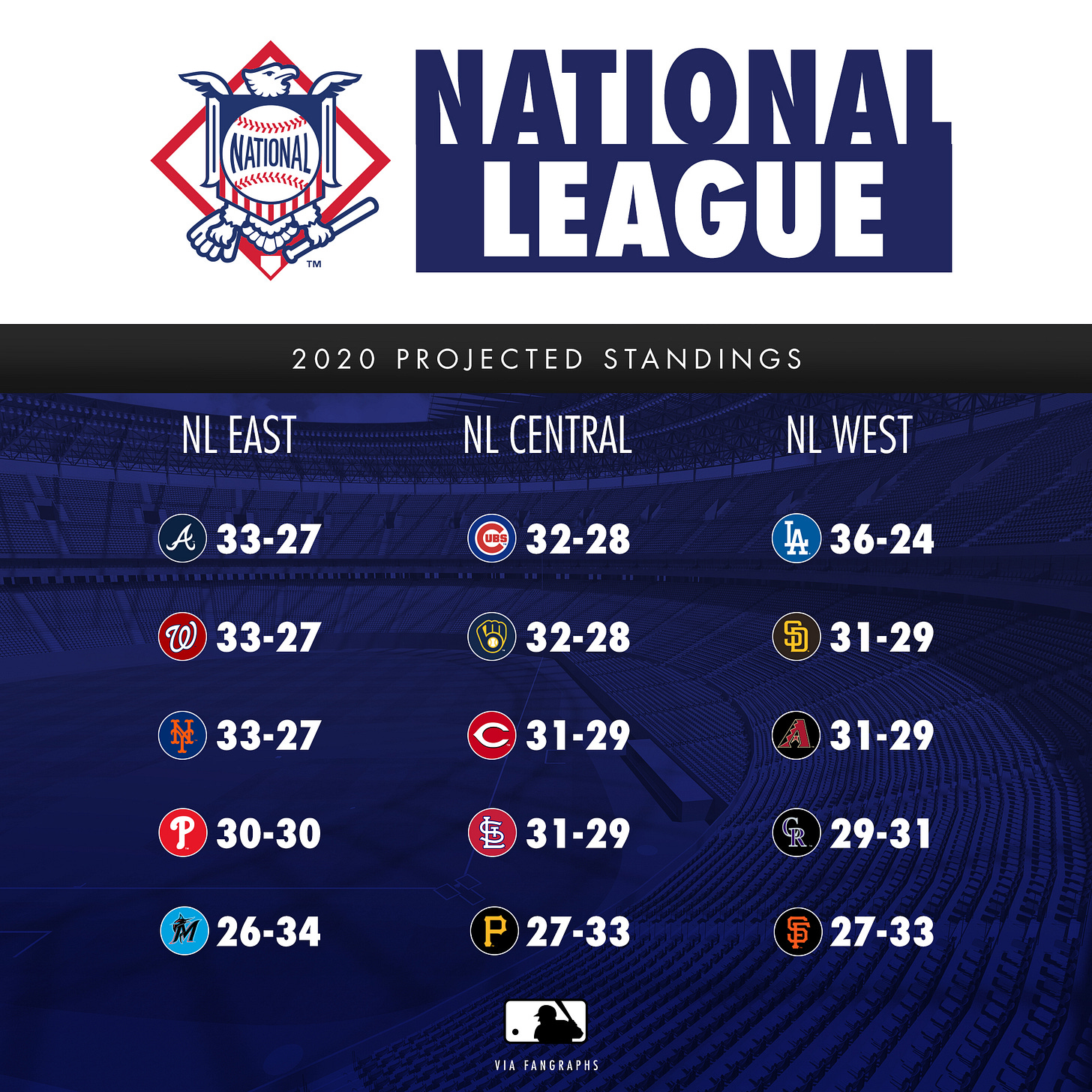 If it played out this way, we might need a few extra days to settle things.
The Dodgers would win the NL West. But that's all we'd know.
The Cubs and Brewers would play a game 61 to determine who wins the NL Central. The host would be the team with the better head-to-head record, though there's an even number of games between them this year (10) so in case of a tie, there would be a coin flip. Let's hope the Cubs manage more than one run this time. The losing team would be out because…
There's a three-way tie in the NL East and everybody has 33 wins, which the loser of the Cubs-Brewers tiebreaker would not have.
It'll take two days to determine which team is the division winner and which two are wild card teams, but in some order it would still be the Barves, Nats and Mets getting in the playoffs.
Cardinals fans on Twitter were predictably losing their shit over their team being picked to finish fourth (actually tied for third). The fact the projections puts four teams in the Central within one game was completely lost on them. It's all a toss up. Math, much like a dentist, is a foreign concept in Mizzourah.
(How do you know the toothbrush was invented in St. Louis? Because if it was invented anywhere else it would be called a teethbrush.)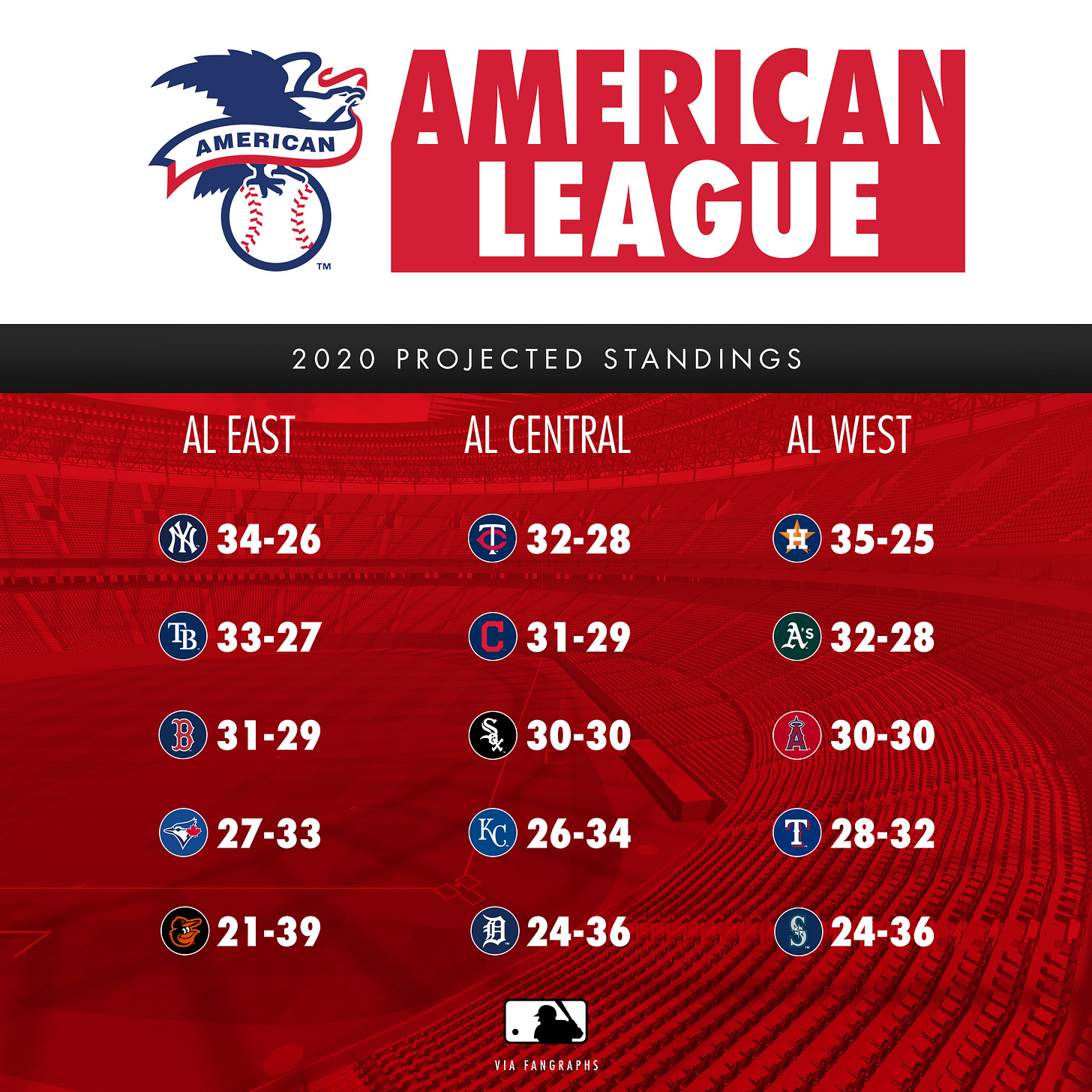 Over in the American League, things get sorted out without any extra games. Dusty Baker's fighting toothpicks win the West (despite every pitcher catching Tommy John Disease, I assume), the Twins win the Central, the Yankees the East and the A's and Rays are the Wild Card teams.
The Sox just miss the playoffs, presumably because at some point down the stretch Rick(y) Renteria asks Eloy Jimenez to try to catch a fly ball or make a throw.
What does any of this prove? Nothing, really. And everything. It shows just how close things are likely to be when you play barely a third of the normal amount of games.
It will be interesting to see how ruthless David Ross is willing to be in a short season. Every start given to Tyler Chatwood is a waste of a game, every at bat against a lefthander that Jason Heyward gets could be the difference between a playoff spot or not. I'd be pretty patient with Albert Almora's new approach at the plate though. I'd give him an at bat in the opener, but that's probably enough.
The short season demands creativity. If you're the Nationals and you have Stephen Strasburg, Max Scherzer and Patrick Corbin your entire goal is to get those three guys as many innings as possible.
If you're a team like the Cubs or Brewers who only has a couple of starters you think you can really rely on, you have to be willing to piggyback relievers with your starters and shuffle your bullpen guys on and off the active roster as much as possible. If a starter has a short start one game, he's in the 'pen on his throw day. If this season's supposedly a sprint, treat it like one.
We've already talked about this some on the podcast (and I'm sure we'll be beating it to death all season long—regardless of how long that the season really is) but a smart move for the Cubs would be stocking the bullpen with live, multi-inning arms, no matter how unproven and following Jon Lester, Quintana (if he gets in shape in time) and (gulp) Chatwood or Alec Mills with Adbert Alzolay, Brailyn Marquez, Duane Underwood and/or Jharel Cotton. There's no need to worry about getting five innings out of anybody but Hendricks or Darvish on a regular basis. The rest of the guys should be treated like Joe Maddon treated Jason Hammel. First sign of trouble and YANK. There quite simply is no time to dick around.
Gordon made a big deal out of the agreement between the players and owners to effectively pro-rate any incentive based automatic options, because now Lester "only" needs 74.1 innings instead of 200 to have his $25 million extension for 2021 automatically kick in.
That's still more than six innings per start if Lester gets 12 starts (no sure thing either), which quite frankly isn't happening unless he is shockingly rejuvenated. It'd be a great sign, but it's just not going to happen.
I'm hoping for a good season out of Jharel if for no other reason than I could use this a lot: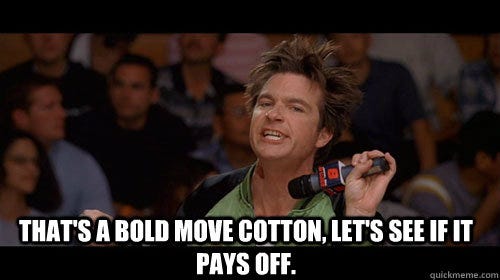 The decision to bat Kris Bryant, Anthony Rizzo and Javier Baez 1-2-3 is especially attractive in a short season. Every team should be front loading their lineups to try to squeeze out as many at bats for their best hitters in such a short time. The DH in the National League should also mean very few—and preferably no—days off for your best players. The Cubs shouldn't actually have a DH. That slot should merely be a way to get Bryant, Baez or Rizzo a day off their feet, or Willson Contreras at bats on days he's not catching. The immediate assumption was that Kyle Schwarber would get most of the DH at bats, and he might, but at what cost? The Cubs outfield isn't exactly an area of such depth that you really want to dip into it daily to fill out your lineup. The most passable outfield they have is probably Schwarber-Ian Happ-Jason Heyward. That's fine against righties where they sport OPS's of .872, .855, .797.
But death against lefties when it drops to .658, .707, .648.
Is that good? That really doesn't seem good.
So that means more at bats for who? Stephen Souza? Almora? We could be looking at more outfield time than ever for Bryant, with David Bote at third, and/or heaven forbid Contreras. It's not that I mind Willson out there, I just assume he's going to leave his hamstring in a pile in the grass at some point.
I suppose there's at least a chance you could see Nico Hoerner or Jason Kipnis (Did you know he's from Northbrook? That seems like something somebody should talk about…incessantly.) in center. Both of those should fall under "the ship be sinkin'" protocol, only.
Also, the Cubs are getting a lot of pats on the back for not having any positive COVID tests yet. But it's not really something they can control. At least not fully. You can be careful and it's your best bet to have any chance to avoid it, but you can't control everyone you come in contact with. It's no different whether you're trying to cram in a half-assed, sped up baseball season, or if you're just making the occasional trip outside of your home.
But another big thing the success of the season will hinge on is a rookie manager, who is a former teammate of many of his players, being completely willing to piss them off. There's no time for a honeymoon, there's no time to let guys play their way out of slumps. This season is a different beast and needs to be treated that way, even if it means some hurt feelings.
After all: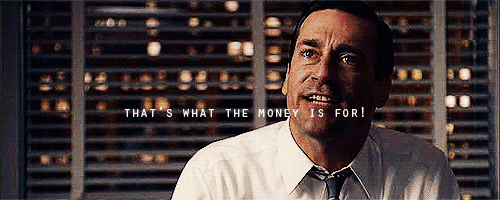 One more last thing, I've already pissed and moaned about how the worst thing about these shortened NBA, NHL and MLB seasons isn't going to be sportswriters and broadcasters constantly talking about whether there should be an asterisk attached to the winners or records or any number of things. No, the worst thing is how many of them think the word is asterICK instead of asterISK.
Yesterday I listened to the first 30 minutes of a Ryen Russillo Podcast (I know, I know) and he had Kevin O'Connor on to talk about the NBA restart. Not only has O'Connor decided to cosplay as Calvin Schiraldi these days: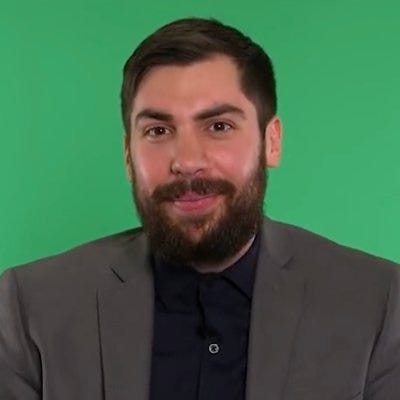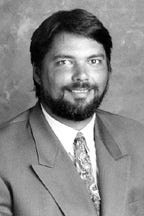 But he really doubled down. He didn't go asterICK he went full aster-ICK-T at least 20 times in 30 minutes. I was listening to it while running and somehow avoided throwing myself into traffic…but not for a lack of trying.