Discover more from Pointless Exercise
The only newsletter you'll ever need...(about the Cubs and the Bears and all kinds of other cool stuff.)
I hope your team loses, dude
The Astros and Dusty don't deserve your sympathy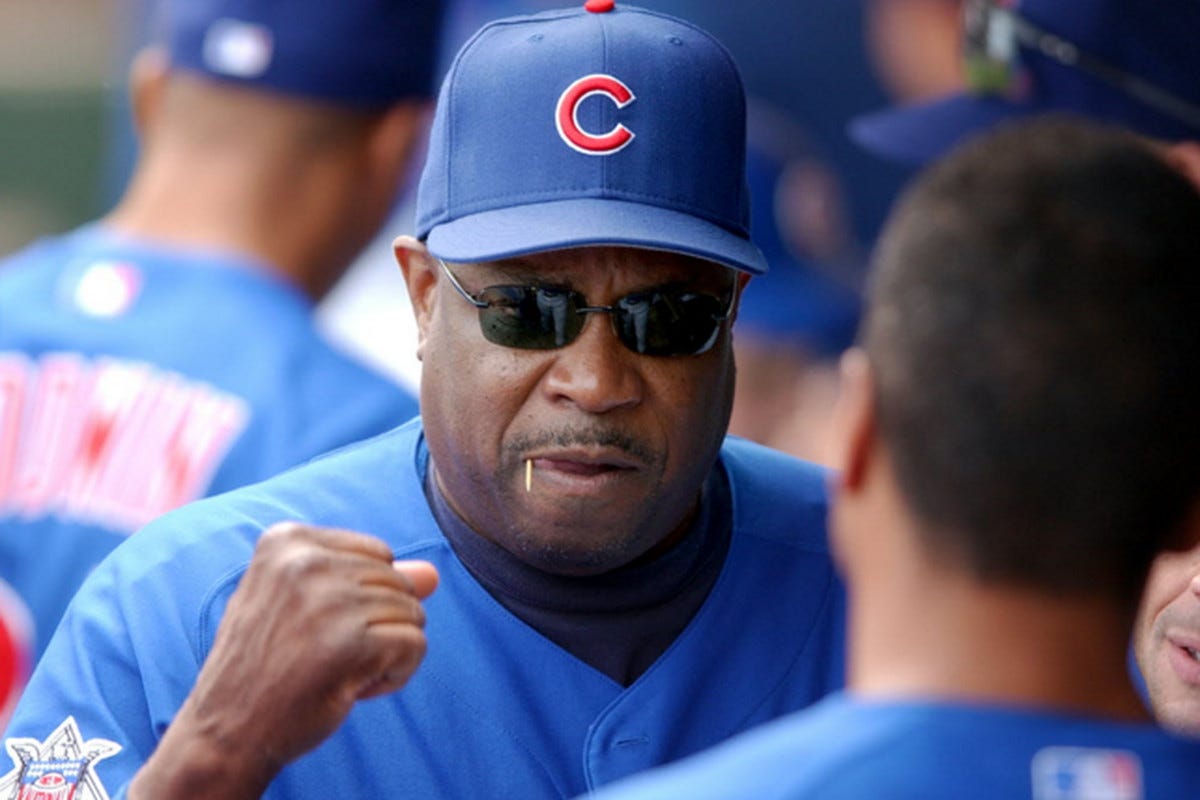 For some reason the baseball playoffs have continued even after the Cubs crapped out in two games. I mean, what's the point? Anyway, they have, and I think we're all really happy for those plucky underdog Astros. They made the playoffs with a losing record and won both games against the Twins and then took three of four against the A's to return the ALCS for the fourth straight season.
They've had it rough. In the last 12 months they've had to fire Assistant GM Brandon Taubman, GM Jeff Luhnow and manager AJ Hinch. Yet here they are soldiering on.
Oh, what now? They fired Taubman for taunting female reporters as he celebrated the fact that the team's domestic abusing closer closed out a playoff series? And they fired the GM and manager because they at best looked the other way while their players created an intricate system of stealing and relaying pitch signs, and at worst were in on the planning and execution of the scheme?
So, we're supposed to feel bad for the players who got away with cheating for years and were not punished at all? We're supposed to be inspired by owner Jim Crane who paid the team's fine to MLB out of petty cash? And we're supposed to think everything's all warm and fuzzy because they hired Dusty Baker to manage these cheating assholes?
No thanks.
I wasn't surprised when the MLB Players Association stood by and didn't push for Astros players to be punished. You would think that an association that represents every player would want there to be consequences when a handful of them cheat the rest. But the Players Association also stood by and watched guys 'roid themselves out of their minds for years, putting the the livelihoods and or health of the rest of their players at risk. You either didn't do steroids and lost your job to guys who did, didn't do steroids and lost your job because guys who did were lighting you up on the field, or you cheated to keep up.
Anyway, guys like Alex Bregman and Jose Altuve can act like they didn't do anything wrong, but if they did, it really wasn't that big of a deal, all they want. We don't have to buy any of it. And we sure as hell don't have any sympathy for their "plight."
As for Dusty, I know there are a lot of people in baseball who genuinely like him and wouldn't mind seeing him finally manage a World Series champion.
I don't happen to agree with any of them. I, like you, lived through his 2003-2006 run with the Cubs, and watched it all fall apart spectacularly and completely. He took the job because even after managing the Giants to the brink of a World Series championship they chose not to sign him to a new contract. That should have been a very red flag. He took the Cubs job mainly because he was still up to his ass in tax debt. The IRS had been garnishing his wages with the Giants. That should have been another very red flag.
The first year with the Cubs seemed to go so well.
He turned a team coming off a terrible 2002 season into winners. And, he was innovative. I mean, think of all the stuff Dusty did that nobody else had thought to do.
He played 38 year old Lenny Harris in 35 games at third base, even though Lenny couldn't bend over to pick up a grounder and was hitting .183. Jim Hendry would waive Lenny to keep Dusty from playing him. Lenny signed with the Marlins and the Cubs lost game one of the NLCS because Dusty was so afraid of Lenny that he used lefty Mark Guthrie so the Marlins would pinch hit Mike Lowell instead of Lenny. Lowell homered in extra innings to beat the Cubs.

Dusty knew that letting your best young pitchers throw as many pitches as possible was good for their development. Mark Prior went 9-1 in his final ten starts in 2003 with a 1.64 ERA. He was awesome. He also threw 1,207 pitches in those games. An average of 121 pitches per start. He was 22 years old. Grizzled veteran Kerry Wood was 24. Kerry struggled in a few starts in August, but he finished the season 3-1 in his last six starts with an 0.84 ERA. He also averaged 121 pitches in those starts. Dusty waited a year before really cranking up Carlos Zambrano's workload. Carlos went 7-2 with a 2.42 ERA in his final 12 starts that year and averaged 116 pitches per start. Carlos was 23. The Cubs handed Dusty an incredibly talented young pitching staff and he responded by trying to blow their arms off their bodies. He managed to succeed 67% of the time.

Prior's career ended in Dusty's final season. One of the best young pitchers in franchise (if not league) history was toast at 25 years old, going 1-6 with a 7.21 ERA in nine starts. It wasn't just the pitch counts. A shoulder capsule injury that Prior suffered in 2003 combined with the abuse to shorten his career. Remember when he ran into Marcus Giles between first and second?

Does that look like a collision that your young pitcher should get up from and keep pitching?

That happened in the second inning. Dusty left Prior in to pitch the third, fourth and fifth and throw 61 more pitches. Prior gave up six runs. He missed the next three weeks. Then he came back for a six inning win over the Padres and then started the ten game march to the finish mentioned above.

Prior was amazing in game three of the NLDS that year beating some guy named Greg Maddux 3-1 and throwing a complete game. He threw 133 pitches. Five days later he pitched game two of the NLCS and the Cubs had an 8-0 lead after three innings. It was 11-0 after five, but Prior pitched the sixth and seventh, racking up 116 pitches in just seven innings. Do you think the 10 game slog down the stretch, plus the 133 and 116 pitch games in the playoffs might have led to him running out of gas in the eighth inning of game six? Do you think his manager should have had somebody warming up in the eighth? Do you think the manager should have gone out and talked to his 22 year old pitcher when a fan knocked a foul ball away from Moises Alou?

His 2002 Giants lost games six and seven of the World Series (including blowing a 5-0 lead in the seventh inning of game six), then his Cubs lost games five, six and seven of the 2003 NLCS. His postseason embarrassments didn't really let up. His 2010 Reds got swept by the Phillies which included a no-hitter by Roy Halladay. His 2011 Reds were up 2-0 in the five game NLDS against the Giants and lost the last three games. His 2016 Nationals were up 2-1 in the NLDS against the Dodgers but lost games four and five. His 2017 Nationals were tied 2-2 with the Cubs and had a 4-1 lead in game five. That game is best remembered for the Cubs scoring four runs off Max Scherzer in the fifth in an inning that included three hits, two errors, a catcher's interference and an intentional walk to Jason Heyward.

Until his Astros won the second game of the Wild Card series this year to advance, Dusty's teams had lost 10 straight series clinching games over 17 seasons.

His 2004 Cubs were beset by injuries (carrying over from his abuse of pitchers in 2003) but they were in great shape to make the playoffs with a week and a half to go. Then they lost seven of eight, some in spectacular (Victor Diaz) fashion. That team featured pitchers telling sportswriters "I can do your job but you can't do mine," (LaTroy Hawkins) pitchers calling the broadcast booth to complain that Cubs announcers were saying nice things about Roy Oswalt, pitchers screaming at announcers on the team plane (Kent Mercker did both of the last two), Sammy Sosa leaving the final game of the season early (with Dusty's permission) only to be thrown under the bus for it, and then an anonymous player (everybody's pretty sure it was Wood) smashing Sammy's boombox. (That part seemed fine, actually.)

Dusty barely went through the motions in 2005 and 2006, and pissed and moaned about not being offered a contract for 2007 even though he didn't want to come back just as much as the Cubs didn't want him back.

His legacy with the Cubs was back to back choke jobs, terrible in-game managing, avoidable injuries that set the franchise back a decade, and getting his adorable son to sit on his lap during postgame interviews to try to distract from the tough questions he was there to dodge.

Dusty can charm people with his stupid toothpick and wristbands, his incessant stories about playing with Hank Aaron, his love of Miles Davis and by calling everybody dude. Other people can pull for him and feel sorry for him. I'm going to pass.

He constantly gave at bats to washed up guys over young players with the Cubs, and when pressed about it said, "We're in the earn it business, dude. The veterans have earned it." It made no goddamned sense. Neither did his weird paint by numbers lineup construction. The centerfielder must be fast, so he leads off, the second baseman bats second…

Winning a title in a short season by going along for the ride with a talented, shamed team doesn't seem like the "earn it business" does it?

I will maintain until my dying day that the 2016 Cubs would not have won the World Series without Aroldis Chapman. Yes, it was terrible to have to root for him, and at least we can watch the final out of that series without seeing him throwing the final pitch. The Cubs traded Gleyber Torres for him, and Gleyber is a bonafide star. If that was the price for the World Series title, I'm glad the Cubs paid it.
But, the Yankees thought they pulled off an incredible coup by using Aroldis to get a star and then signing him right back after the 2016 season. The thing they didn't factor in was that the Cubs, and especially Joe Maddon, never pretended they were going to use Aroldis as anything but an expensive, hard throwing rental. Joe pitched the shit out of Aroldis, who was out of gas at the end (and that nearly cost the Cubs everything), but it worked.
But the Chapman the Yankees got back isn't the same as the one they gave up. He was incredible for the Cubs. Allowing only 12 hits (no homers) in 24 innings in the regular season and then pitching a ludicrous 15.2 innings in the postseason (including 7.2 in the World Series alone—with one memorable homer allowed).
Since he's been back with the Yankees his velocity's been down (admittedly it's down from ludicrous speed to merely really fast), he's battled injuries in two of the four seasons, and he's allowed season ending homers in the last two postseasons. Granted, he's not a kid anymore, he's 32. And he's been throwing balls out for 11 big league seasons. So this was inevitable at some point. But it sure feels like renting him out hastened his decline. Though they do have Gleyber to show for it, and will for a long time.
And hey, at least Aroldis has a World Series ring to show for his sabbatical on the north side. Only one of his current Yankees teammates (Brett Gardner) has a ring.


It's Monday and you're used to listening to Mike Pusateri and me make fun of the Bears. So here goes, we recorded it on Friday since they played Thursday, so if you've already listened to it, listen to it again! Don't cost nothin.'