Discover more from Pointless Exercise
The only newsletter you'll ever need...(about the Cubs and the Bears and all kinds of other cool stuff.)
If that was Jon Lester's last home start, Marquee didn't notice
The Cubs in-house network was distracted by Taylor dragging the infield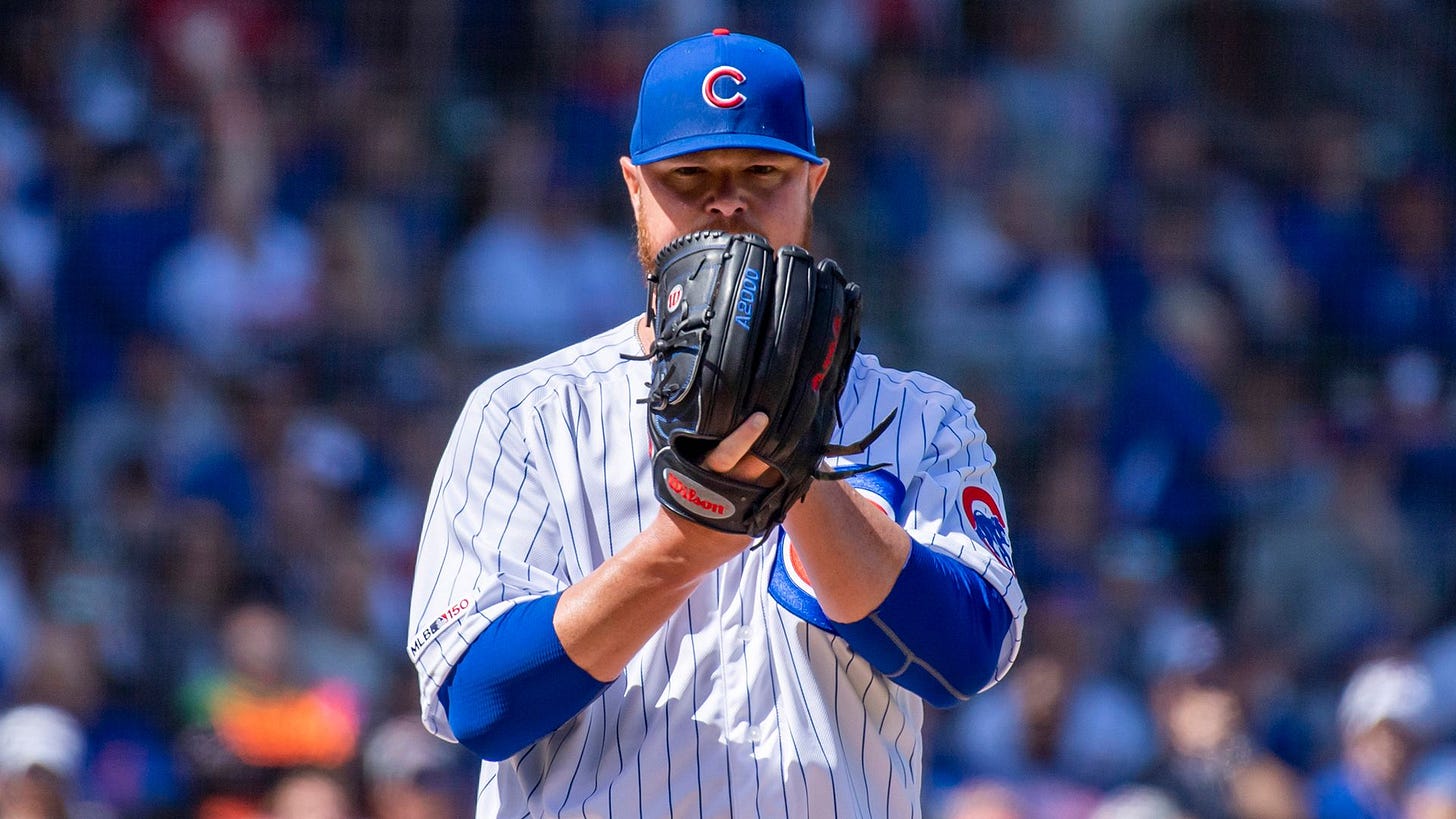 In six seasons with the Cubs, Jon Lester has started and won some of the biggest games in franchise history. His arrival in 2015 was the signal that the rebuild was over and it was time to win, and the Cubs have done just that. In game five of the 2016 World Series with the whole thing about to slip away from the Cubs Lester took the mound, struck out the side in the first, set the Wrigley crowd into even more of a frenzy than they already were in and held the fort until the storied comeback could commence. Then, in game seven, the bullpen door flew open and out came Lester. The beginning of his relief appearance scared the crap out of us, but once he got done bouncing a fastball on a bounce off David Ross' face, he was nails.
And nails is what he's been for six years. Jake Arrieta won a Cy Young, Kyle Hendricks won an ERA title, Yu Darvish is in the midst of an incredible stretch, Jason Hammel ate potato chips, and Lester was just Jon Lester. And that was exactly what the Cubs needed. He's the rare free agent signing that was worth every goddamned penny.
And now, he has a very large option for next season that the Cubs are not going to pick up. There's a chance he'll sign a short deal in the offseason to stay, but nobody knows. So, it was great to see Marquee Sports Network take the time during what could very well be his final Wrigley Field start to honor him. It was great when they showed the walk-off bunt against Seattke, his first career homer, him throwing his glove and the ball to first…twice, and all those iconic moments.
Oh, that's right. Marquee didn't do any of that. They barely mentioned it, if they mentioned it at all. The Cubs garbage TV network just sputtered along with another ponderous, bloated, nonsensical broadcast.
Jon Lester deserved better. So did we. But Marquee doesn't really do better, or even mediocre. Why change now?
Participatory journalism can be really interesting. George Plimpton famously went to training camp with the Detroit Lions, played goalie in an exhibition game for the Boston Bruins, pitched against real-live National Leaguers before an exhibition game, and let Archie Moore and Sugar Ray Leonard punch him in the face.
You may remember him better from this Intellivision commercial.
Then, there's whatever Taylor McGregor was doing last night. She basically went on a field trip with the Wrigley Field grounds crew. She got to drag the infield, drive a lawn tractor (I'm pretty sure they told her she was mowing the grass but didn't actually show her how to lower the deck and start the blades), and…here's a fresh story…they sent her up to go inside the Wrigley Field scoreboard.
As Harry Caray would have said, "interest in that story went out with high buttoned shoes." And, while she was setting up her long, long, long, bit in the scoreboard (in which she made the one guy left to put the manual scoreboard numbers up really uncomfortable by not wearing a mask), the Indians tied the game on a homer that nobody called.
And, that's not the first time.
(I don't know if that's a real stat, but I can't afford a fact checker now that Ed Hartig won't work for dry soup anymore.)
She did an interview with Dan Kiermeier, the head groundskeeper and she was really interested in the fact that his brother is Tampa Bay Rays centerfielder Kevin Kiermeier. Nothing makes an interview subject feel better than, "Enough about you, tell me about your brother!" At one point, while they were walking around the infield she asked him where dirt cam was. The only correct answer from Kiermeier would have been, "Who gives a shit?"
Ryan Dempster was inexplicably in the booth again last night and he stole McGregor's scoreboard anecdote thunder by talking about going up there as a player, standing on top of it and seeing all kinds of Chicago landmarks that you absolutely can not see from the top of the scoreboard. As McGregor asked him the riveting question, "Did you ever come up here in uniform?" Nico Hoerner made a great barehanded play to end the inning and mercifully send us all to commercial.
Little Taylor's day on the farm was just another in a long list of terrible ideas the gang at Marquee has had this season. From Mark Grace broadcasting and talking about his ex-wife from the bar in his house, to Dempster third-wheeling it in the booth, to dirt cam (which shows nothing but dirt, ever), to the most boring pre and postgame shows ever (not even the electric personality of Sean Marshall can liven things up, and Ryan Sweeney always looks like he realized he was late for work about 40 percent of the way through shaving) to the awful "'Quee's to the Game" to whatever their pointless wind graphic is supposed to show. No matter how many exclamation points they put on the titles of their shows, there's just been a lot of bad.
It was so bad that when last night's game had a seven minute "drone" delay, you weren't sure if it was of the unmanned aerial vehicle variety or just Dempster breaking out more of his ponderous profundities. He's already the master of saying, "good job of not trying to do too much" a thousand times a game, but now he's mixing in such gems as, "he's such a great teammate, he knows it's about we not me." Last night he interrupted Jim Deshaies to point out that "here's a good count to send the runners on." It was a 3-2 pitch with two outs. Yeah, Canucklehead, anybody who's played baseball from basically age 11 on knows you do that. Every time.
There's only a week and a half left in the season, and we'll have no need to watch a second of Marquee until February at the earliest. I think we all need the break.
Maybe in the downtime they will realize one of the greatest pitchers in team history might be leaving.

Dempster went on a long tangent about how some team is going to get hot here at the end of the season and grab the second or third seed and roll through the playoffs.
That's one of those things that sounds like it could be true. But the reality is that it doesn't matter what your seed is. These moronically expanded playoffs are going to be played at neutral sites. So whether you're the first seed, the fourth seed or the eighth seed or anything in between it makes little difference.
It's increasingly likely that at least two, and maybe three sub .500 teams will be in the National League playoffs. The American League will almost certainly have all eight teams over .500, though if the Indians nosedive continues who knows?
Commissioner Tob Manford* said yesterday that he thinks the expanded playoffs will probably stay. Oh, you think so? Baseball Twitter went nuttier than usual, but there was no way we weren't going to be stuck with 16 playoff teams in a 30 team league from the minute they instituted it. Playoff games are pure revenue for owners, and they are never going to have fewer playoff games.
Not only is it cash, but it allows more teams to sell the illusion they are contenders without having to actually spend what it would normally take to be a contender. Get ready for this. In two years the Cubs' roster is going to be a mere shell of what it is even now, full of cheap duds like Kyle Ryan, localkidJasonKipnis, Nico Hoerner and the promise that Ed Howard will be coming soon! And yet, if the Cubs can stay within shouting range of .500 they'll technically be in the playoff hunt every year.
Yay?
The other pertinent announcement was that there will be no scheduled off-days in the playoffs until the World Series. The only way you get a day off is to end your series early, and even then if your next round opponent is done, too they can just have you start your series. The reason is three-fold.
It's to get the playoffs over as quickly as possible before everybody catches Coronavirus.

Gotta build in some schedule flexibility if the Cardinals do a little postseason casino doorknob licking.

Why not cram as many games into as few days as possible? Not like people want to actually watch these games. It'll be great on the second day of the playoffs to have eight games in one day overlapping. Hey, maybe play them all at the same time? Even if it means having four teams on the field at once.
Playoffapalooza requires an extra TV partner to even get all the games on the air. In addition to ESPN, Fox, FS1, MLB Network and TBS, baseball's going to get a game or two on old fashioned over the air ABC! Oh, this will warm the cockles of Bob Costas' heart. Maybe they can dig up Howard Cosell, Don Drysdale and Earl Weaver to call the game.

Our new podcast "Remember this Crap?" is back for episode two. We start with the question (in honor of the Bears' week two opponent) "Who's your favorite New York Giants coach?" And we just go from there. Brad Muster gets a fair amount of run in this one, as does a long list of tiny kickers with hilarious names. Don't let me spoil it. Just listen.