Discover more from Pointless Exercise
The only newsletter you'll ever need...(about the Cubs and the Bears and all kinds of other cool stuff.)
Is baseball really going to give out awards?
Of course they are. Even if it makes no damned sense.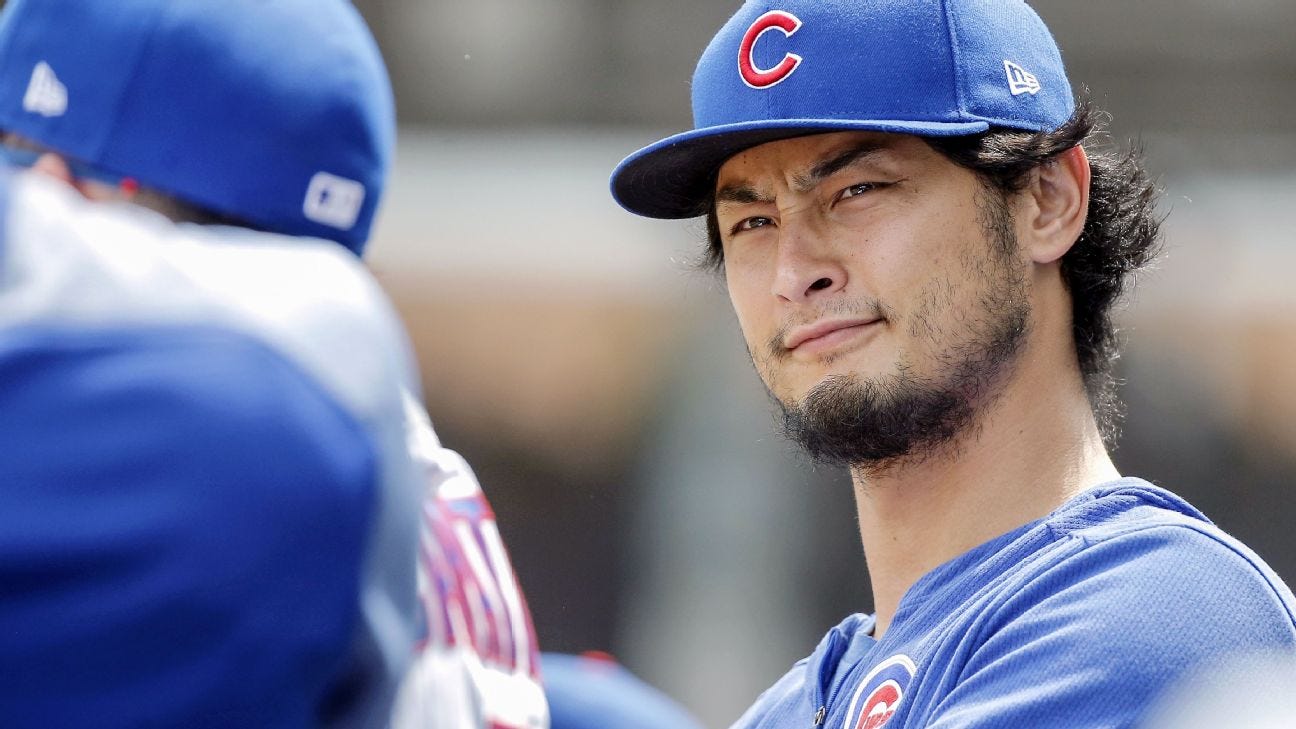 The matchup last night of our favorite pitcher, Yu Darvish, and Len Kasper's favorite pitcher, Trevor Bauer, apparently shifted the National League Cy Young Award race in favor of the cyber bullying misogynistic temper tantrum throwing guy in the ill-fitting jersey. Seriously, what size does Bauer wear? Because it's not whatever size the Reds' equipment guy issues him.
My complete disdain for Bauer isn't just why I think baseball giving out their annual awards this year is just complete nonsense. Seriously. I don't think he'll win the Cy Young even if they do decide to completely devalue it by awarding it this year.
It's not just that this half-assed season is barely a third the length of a real one. Some teams aren't even going to bother to play the 60 games that everybody's supposed to play. It's even simpler than that.
How can you be the MVP or Cy Young winner in your league when you only play or pitch against FOUR of the teams in your league?
As great as Yu has been this year, and he's been great, he benefits greatly (and so does Bauer) from playing in a division where there aren't any good teams. He will not have to pitch to a Dodger or a Padre or a Rocky (Rockie?) or a Barve or Juan Soto. I'm not saying it makes his complete domination irrelevant, I'm just saying that no pitcher can be hailed as the best in his league when he only has to pitch against 27% of the teams in his league and only over 37% of the length of a real season.
Now, if they wanted to give the awards out the way they've divided the league into thirds, maybe that would be OK. I guess they could give out MVPs for the combined AL and NL Easts, Centrals and Wests, and a Cy Young for each of them. You could name the awards for this year after a great player in each of those division groupings. All-timers like Sandy Koufax, Willie Mays, Pedro Martinez, Greg Maddux, Yaz and Josh Vitters. Would anybody mind? Then again, would anybody really give a shit?
The way baseball has gimmicked up the season with a last second shift to a DH in the National League and the completely absurd extra innings rule, and the seven inning doubleheaders, and the apparent decision that Javy Baez, Christian Yelich and Cody Bellinger all have to suck this year, I really think that baseball should just finish up the season, back slowly away, and let us start the very necessary process of forgetting any of this ever happened.

The most commonly aired commercial on Marquee Sports Network the last couple of weeks literally starts with the line, "Many of us have herpes…" Honestly, gang, I do not want to know what demographic research they have done on the fanbase, but I'm very glad the the only bathroom I've used since March 13 is the one in my basement.

Congratulations to The Athletic for their insistence that they now have 1,000,000 subscribers. If you're scoring at home that means at least a dozen people they don't employ to write about the Bears or host a podcast pay to read the site.

The NFL season starts tonight with the defending World Champion Kansas City Chiefs led by the great Patrick Mahomes taking on Mitch Trubisky and the Houston Texans!
I don't ask for much. I'm not greedy. But can't I live in a world where Ryan Pace may not have had the foresight to draft Mahomes, but at least knew enough to draft the best quarterback in the ACC that year and not trade up to draft (charitably) the fifth best?
Mina Kimes and Domonique Foxworth were talking about the upcoming season on her podcast this week and she asked, "If the Bears had Jameis Winston would they be a Super Bowl contender?" And Domonique rightly said yes. That's how low the bar is. It's Jameis Winston low! Just imagine if this exact Bears team had Deshaun Watson on it.
Oh, never mind. I'll just hate watch the opener. And you know what, it still won't be as frustrating as last year's was.

Speaking of football, we have two new podcasts already this week.
Mike Pusateri and I are hosting the Pointless Exercise Bears Podcast this year, and he talked about being in a Super Bowl commercial with Deion Sanders, we reacquainted ourselves with the Bears roster (they are dangerously thin at Ivy League tight end) and we tried to make a case for them to make the playoffs. Well, we tried.

And, if that's not enough, Mike Donohue and I started our new high concept podcast. We intentionally go off on tangents about random Bears and Cubs. I jokingly referred to it in the episode description as "the best idea for a podcast ever" but you know what? I think it is.

If you already subscribe to the Pointless Exercise podcast you're all set. If you haven't? You should fix that, right now.