Discover more from Pointless Exercise
The only newsletter you'll ever need...(about the Cubs and the Bears and all kinds of other cool stuff.)
It's the most wonderful time of the year
Check out our holiday shopping guide, click a few links, and get back to drinking
Some very efficient people have already finished their holiday shopping, but let's face it, that's not you or me. The good news is there's plenty of time and plenty of bargains left.
I have compiled a list of great ideas for you to put a little glee in somebody's stockings. That sounds dirtier than I expected.
Pointless Exercise is a reader-supported publication. To receive new posts and support my work, consider becoming a free or paid subscriber.
Anyway, here are some great gift ideas for you (and let's be honest, you're going to buy some stuff for yourself, too, aren't you?).
Give the gift of Pointless Exercise
If you are a free subscriber or you want to gift someone a paid subscription (it's the gift that keeps on giving) or both, you are in luck.
Is there a Black Friday sale? You bet your ass there is. From now through Sunday, November 27 a one-year subscription is 40% off. Forty! I"m practically giving them away. You can pay monthly or annually.
So you can hit this button to subscribe yourself:
And, you can hit this one to give a gift subscription at the same low-low rate.
OK, now that you've bought several subscriptions (wink, wink) is your shopping over? Probably not.
Well, you are in luck.
Our friends at Obvious Shirts have a Desipio promo code you can use to save 20% on your entire order. Seriously. They do.
If I may recommend a purchase, the Wrigley 1:20 clock is a great shirt.
The sweatshirt version is also cool, but it's often sold out. Good luck, though. I have one and you can't borrow it.
I also like the Seiya shirt in the style of the SEGA logo.
But look around, just make sure that before you check out use the code DESIPIO20 for your discount.
If you like your shirts just a little bit more offensive, well, I might be able to help you out. On Black Friday, our partners at Spreadshop are going to make everything in the Pointless Exercise Shop 35% off.
There are old favorites in the store and some brand new ones. Let's take a look at just a few of them. They come in your choice of colors and short and long sleeve options.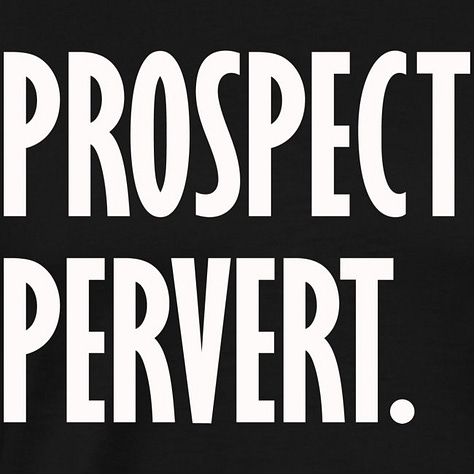 There's even a shirt designed to prompt people to Remember Some Crap with you.
Look at that guy. He's clearly got a lot of crap to share.
One of the most popular Obvious Shirts is this one that says THE GREATEST GAME EVER PLAYED WAS ON A WEDNESDAY IN CLEVELAND. Get that and use DESIPIO20 to get 20% off.
And…you can also buy the Pointless Exercise version that I think just might be a little more accurate.
And, we even have a shirt for all of us who have caught a foul ball at a big league game and have a minimum 20 minute story about it that we're just dying to tell over and over and over again.
So head on over to the shop and you can probably get all of your shopping done. But, if you need a few more ideas, you are in luck.
You can get a THE BULLS DON'T SUCK. YOU DO. shirt in our store, but maybe that's a little aggressive for you?
Fanatics has this really cool Bulls shirt. I'll take an XL if you're trying to figure out what to get me.
It also comes in red, and that's also cool.
I'm famously not a fan of the Cubs City Connect jerseys, but mostly because the font on the front is obnoxious and the dark blue jersey, dark blue pants combo makes them look like they work in a Jiffy Lube. But I have this sweatshirt and it's terrific.
Funko has a ton of great stuff, and here's one of Jed Hoyer after he fails to sign any of the shortstops. It's just $15.
If the people you are buying for will actually read books, here are a few I recommend.
Happy shopping!
Pointless Exercise is a reader-supported publication. To receive new posts and support my work, consider becoming a free or paid subscriber.