Discover more from Pointless Exercise
The only newsletter you'll ever need...(about the Cubs and the Bears and all kinds of other cool stuff.)
Leadership: The Jordan Way
The Last Dance on retirement, baseball, 1.8 seconds, fathers, and the leadership seminar you could never handle but could really use.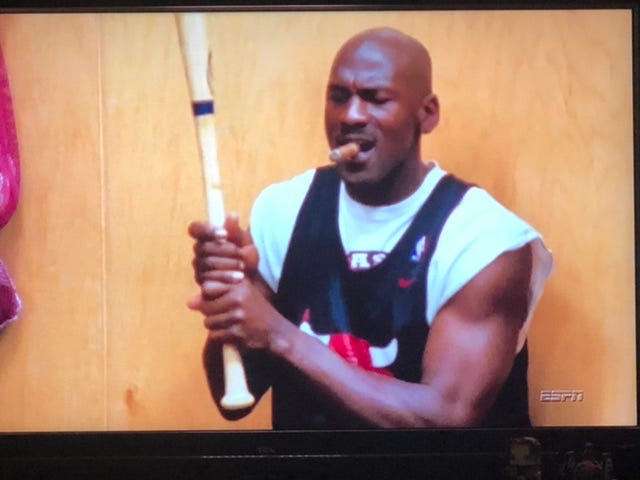 It's Monday, so it's time to re-live last night's two episodes of The Last Dance. The others are all here. You know, there's only one more week of this, so it'd be nice if baseball would get their shit together and figure out their return plan.
But, anyway, on to the Bulls when they were relevant.
Craig Sager kicks off the playoff run by asking Jerry Krause if he's surprised that despite all the back stabbing the Bulls were in position to win another title.
"First of all, there's no back stabbing going on here."
Then Krause waddles off in a huff and some reporter drops the perfect: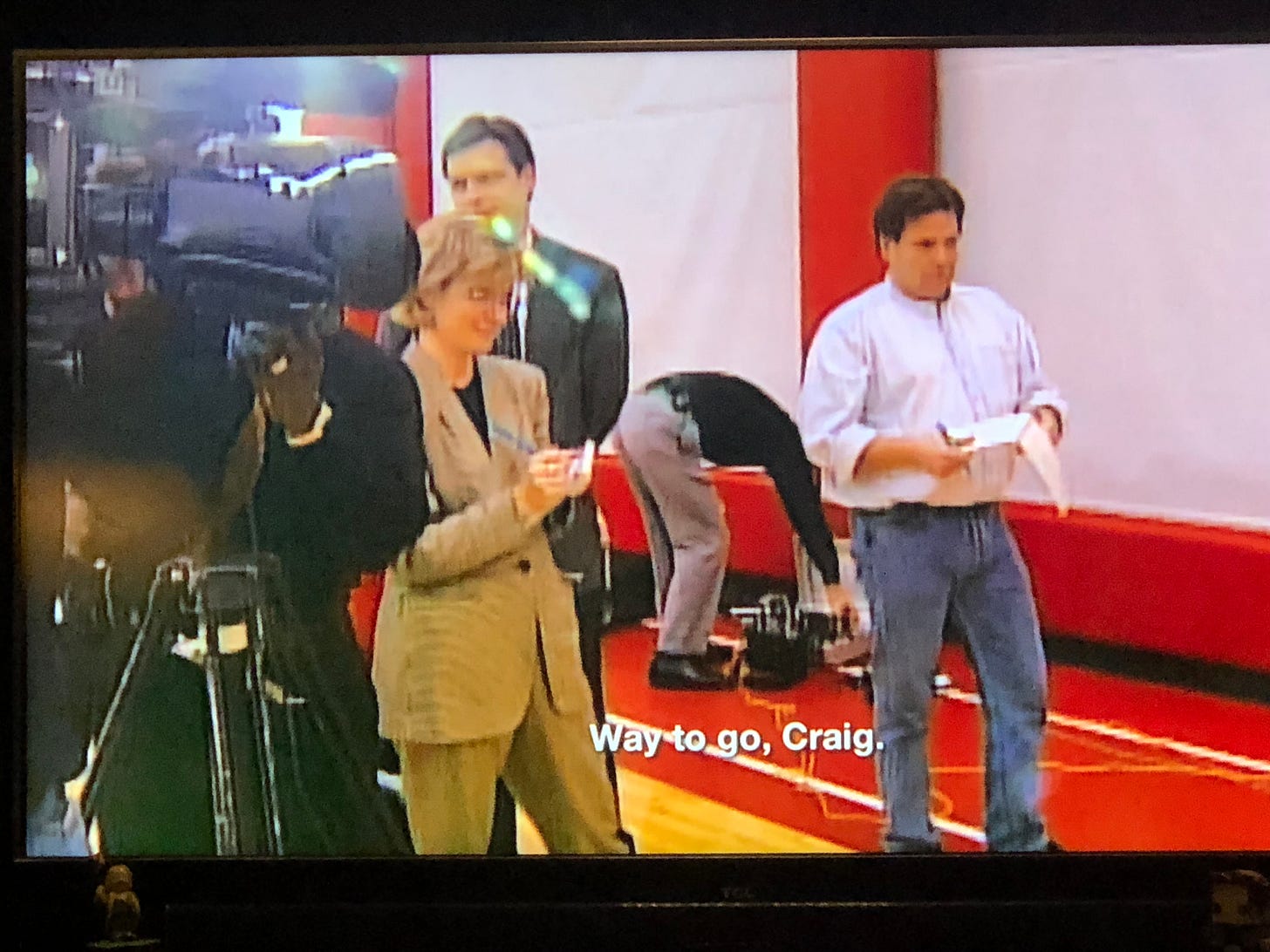 "Way to go, Craig."
The Bulls opened with the Nets and Dick Stockton was on the call. The first sign of his cognitive decline may have shown itself when he said, "You can see the athleticism of the Nets early on," just as the camera was showing… Chris Gatling?
We flash back to 1993 and the disappearance of Michael's dad, James. Now, and at the time, people made a big deal about how weird it was that James Jordan often, when driving late at night would pull over and nap on the side of the roads. But, as David Halberstam tells it in "Playing For Keeps," it was not that uncommon for African-Americians in the south his age or older to not feel comfortable stopping at hotels or motels to rest. They had grown up not feeling welcome and that feeling, right or wrong, never went away. Think about that, they felt going to a motel was actually less safe for them than being on the shoulder of a highway.
After a three week search, James Jordan's body was found in a creek. He had been robbed and murdered by two 18 year olds, who dumped his body and smashed up his car.
Now's the time to start getting all of the bullshit gambling suspension shit out of the way, and especially the ugly, irresponsible conspiracies about James' death being tied to Michael's gambling.
Sam Smith says characterizing the gambling tie in to the murder is "unfair."
Bob Costas says "there isn't a thimble's worth of evidence."
Despite Mark Vancil's bold claim that Jordan told him a year before he was going to retire and go play baseball (sure, Mark, whatever) the tipping point for all of this was his dad's murder.
The only positive I can think of about the retirement announcement itself was that Jordan's decision overshadowed a rare White Sox playoff series.
Lester Munson was on "Chicago Tonight" saying, "Well, he did leave in the middle of a gambling investigation."
Brian McIntyre, who started with the Bulls and then went to the NBA's communications department, said about the gambling suspension rumors, "How can I phrase this delicately? Total bullshit." Seems pretty clear to me.
Phil earned some big points with Michael when he didn't try to talk him out of retiring. The natural thing for any coach whose best player wants to quit is to desperately plead with him to not do it. But all Phil said was, "You're denying a gift to society, but I understand. I understand."
The press conference to announce the retirement was an absolute circus. What I remember was watching it on TV at NIU and it was on EVERY channel. It was on all of the local channels, it was on ESPN, CNN, and it was even on BET. Hell, it was probably on The Weather Channel. It sure as hell would be now that Byron Allen owns it.
What I didn't remember was that BJ dressed like Eazy E for it.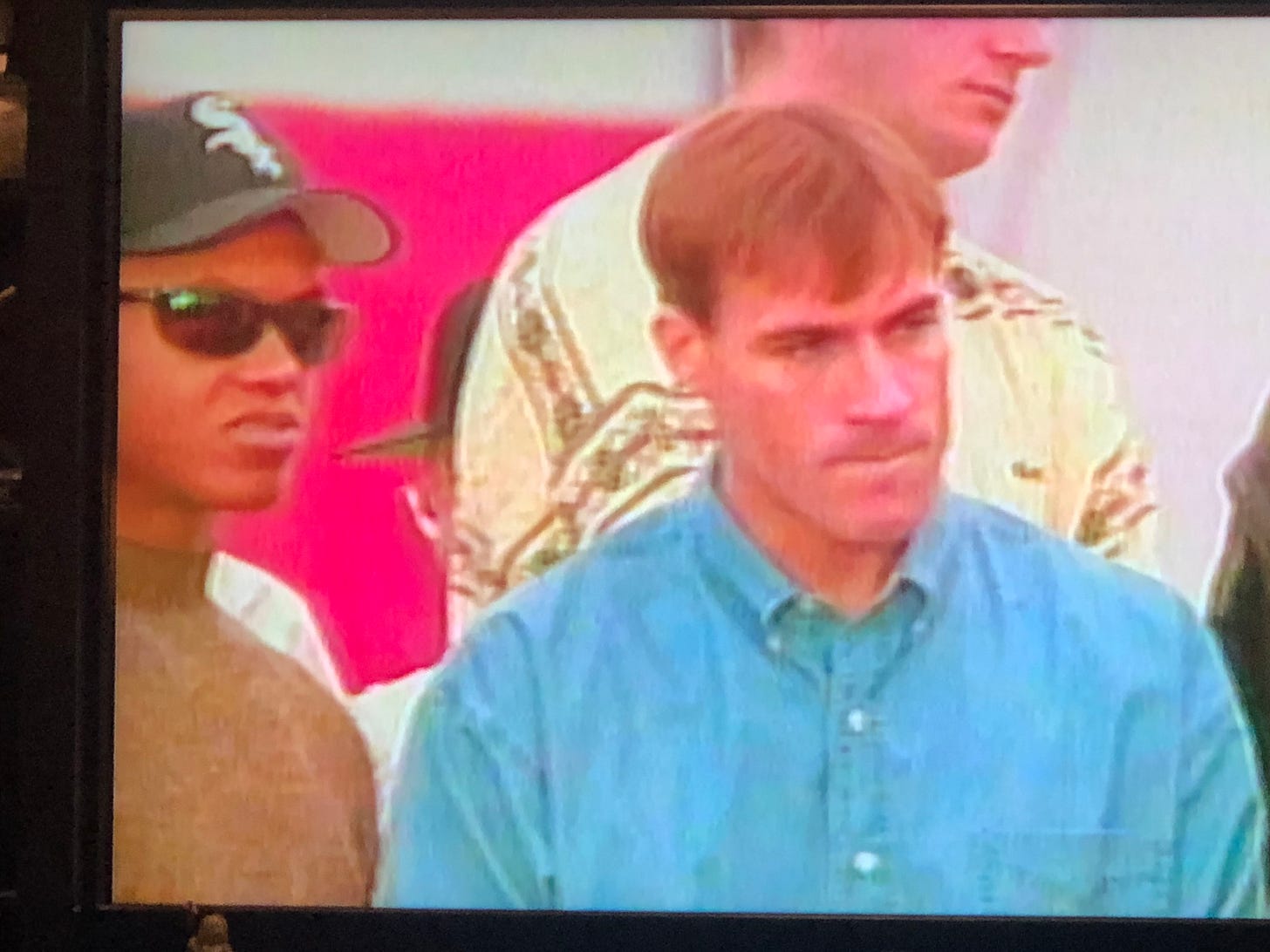 Meawhile, Toni was standing the back trying to find flights back to Spain. He had given up his big European contract to play with Jordan, and now, before he even got to attend a single practice with him, Jordan was gone.
Just a few months later, Jordan was working out for the White Sox and signing with them. I think we all know that Michael knew not to sign with the Cubs because there's no way he'd have cracked a stacked outfield lineup with Sammy Sosa, Derrick May, Tuffy Rhodes, Willie Wilson or Eddie Zambrano in it.
Give the man credit, Ron Schueler was rocking a home quarantine haircut way back in 1994.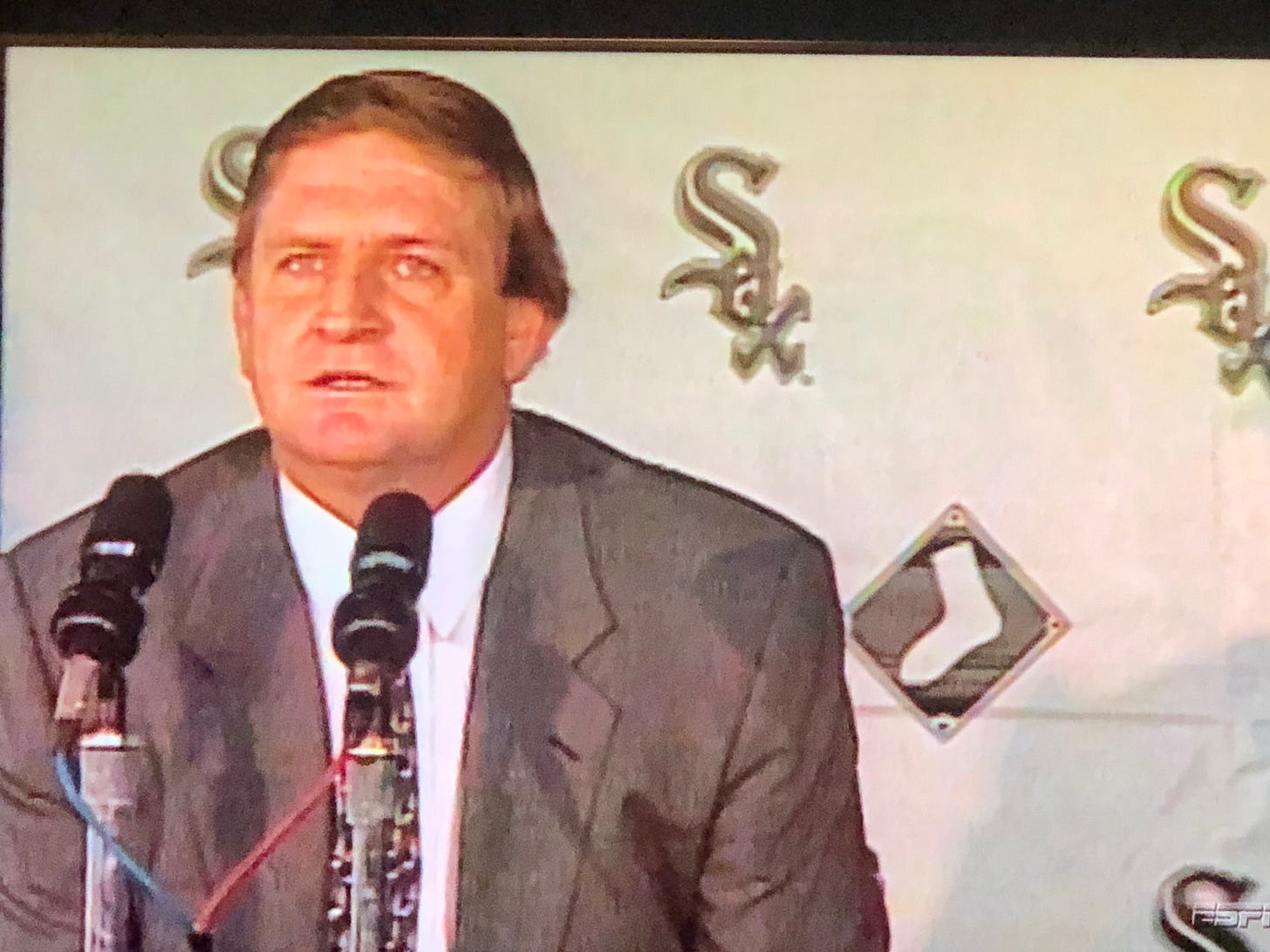 Here's a deal the directors should have insisted on. If Jeremy Piven gets to weigh in on MJ's retirement, MJ gets to weigh in on Piven's toupee.
Another reason to disbelieve the secret suspension shit is that Jerry Reinsdorf paid Michael his full salary in both seasons he missed to play baseball. Are we supposed to believe it was a paid secret suspension? Of course not. But, Jerry's reasoning probably didn't make Scottie Pippen very happy.
"No reason to pay [Michael] other than he'd been underpaid his whole career, he made a lot of people a lot of money."
Terry Francona describes his introduction to Michael in the most Terry Francona way possible. "Hey man, I'm Terry, and I guess I'm gonna be your manager."
Jordan started at double-A Birmingham only because the Sox were worried that the press facilities at rookie ball or single-A were inadequate?
Oh, bullshit. They started him at double-A because the stadium was bigger and they could sell more tickets.
MJ started the season with a 13 game hitting streak, but, then the curveballs started.
Francona was impressed that Jordan finished the season strong. "I can't believe he actually hit .202. He drove in 50 runs, we had a lot of good prospects who didn't drive in 50. If he'd gotten 1500 at bats he'd have found a way to the major leagues."
Uh…OK, sure.
Now we flash back to 1998 and Toni is explaining what it was like to play with Michael when the Bulls lost.
"He would say, 'You motherfuckers didn't do anything today. Come ready to practice.'"
Nothing is more illustrative than the way Michael treated Scott Burrell. I mean, look at this viciousness.
"You can't even guard Jud."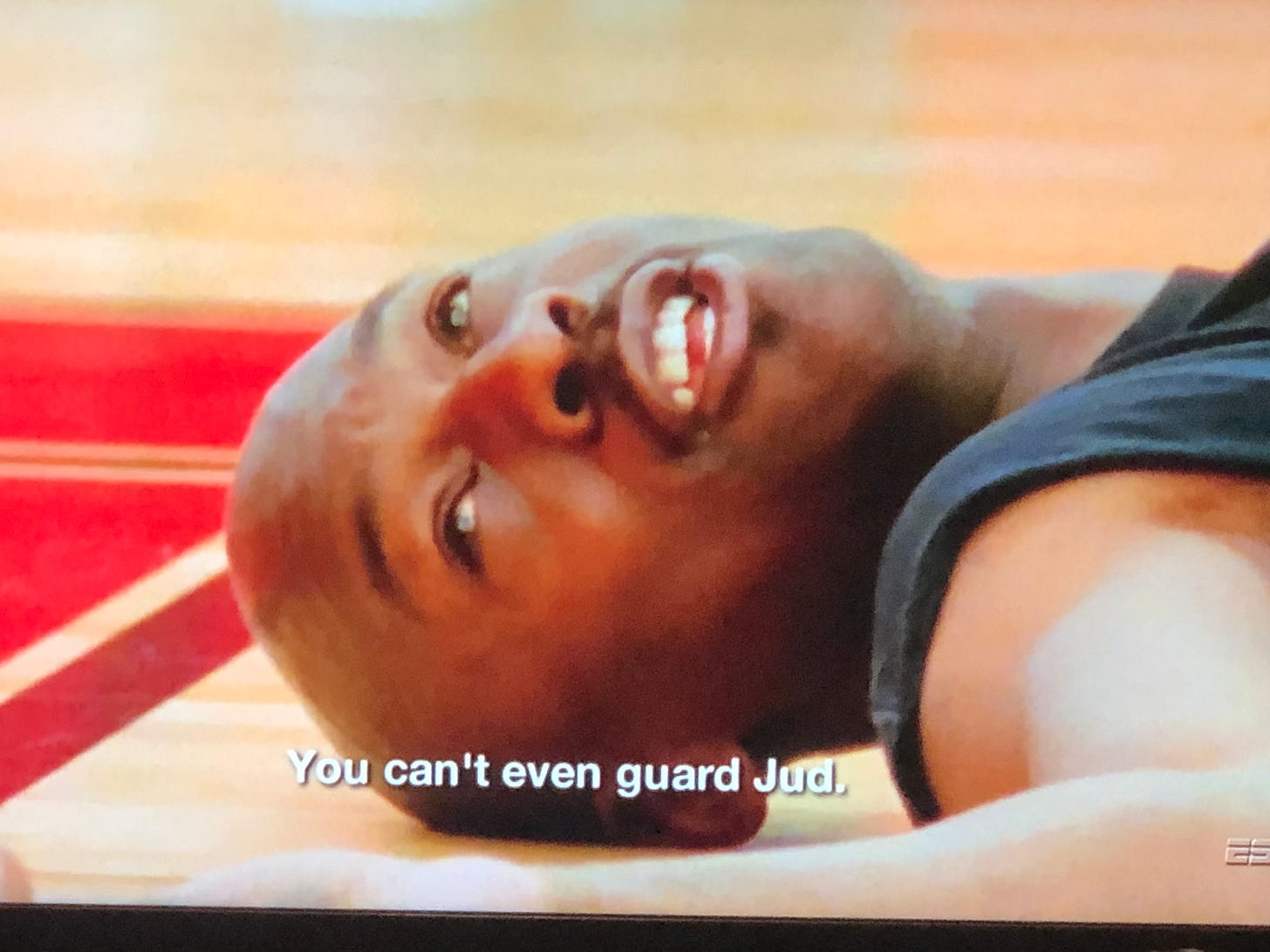 And Michael said he tried all kinds of tough love on Burrell, who he didn't think he was getting enough of out his talent.
"I tried to get him to fight me a couple of times...in a good sense." Oh, sure, in a good sense.
We're not even sure who Jordan said this about. "Why you keep fucking up that play you big fathead motherfucker?"
Jud Buechler said, "We were his teammates and we were afraid of him."
"He was an asshole, he was a jerk, he crossed the line numerous times," Will Perdue said, "But as time goes by and you think back about what he was actually trying to accomplish, yeah he was a hell of a teammate." Sure?
Scottie said, "I needed him to be the bad guy, the tough guy."
And Scottie, how did that team do the first year without Michael?
"Great. They had nobody yelling at them. They got up plenty of shots." You know this is true.
The 1993-94 Bulls were a shockingly fun team to watch play, and you know it was surprising how well they played in that first season without Michael. Enough that at media day that year a reporter said to Phil, "I heard Chuck Daly say 'Let's see the triangle work without Michael.'"
"Did he really say that?" Phil asked. "Wait until I see Chuck."
There really are only four things people remember about that team and two of them are bad. BJ Armstrong got voted into the All-Star Game starting lineup, which wasn't bad, but just wrong. The Bulls won 55 games. Hue Hollins fucked them in game five of the Eastern Conference Semifinals—and yes, they would have wrapped that series up in game six. They might not have beaten the Pacers in the conference finals, but hell, the Knicks did.
Oh, what's the fourth thing?
Scottie and the awful, no good, terrible 1.8 seconds.
What has been kind of lost to history because what Scottie did was so wrong, was that the reason he was so mad was that on the possession before the Knicks tied the game with less than two seconds left, Scottie had called a clear out and Toni, as he did quite a bit, didn't bother to clear out. It screwed up the whole set and the Knicks had the chance to tie. So, when Phil draws up the final play and tells Scottie to throw it in to the guy who just fucked up his chance to ice the game, Scottie was pissed.
Was Scottie right to be pissed? No! Of course not, but we all get pissed for the wrong reasons from time to time.
"I felt like it was an insult coming from Phil," Scottie said. "I was the most dangerous guy on our team, so why are you having me take the ball out?"
So Scottie said fuck it and said he wasn't going to go back in. Jim Cleamons had to tell Phil, who asked Scottie"Are you in or out?"
"I'm out."
Horace Grant was dumbfounded (yes, more than usual.) "When Pip refused to go into the game it was like a Twilight Zone moment, what the hell is going on?"
Pete Myers took Scottie's place, made the pass to Toni who turned and bailed Scottie's ass out. Everything that happens after, happens the way it does because Toni made the shot. It's followed Pippen for 26 years, but can you imagine what it would have been like if the Bulls had lost that game?
Honestly, the guy who should have pissed was Jo Jo English. That's who Phil should have drawn the play up for.
"We didn't know how to act," Steve Kerr said. "Scottie's one of our favorite teammates, our favorite people in the world. He quit on us."
Famously, Bill Cartwright was in the locker room trying to talk through tears. "Scottie, I cannot believe you quit on us like that."
"The worst is that we knew it was not Scottie's character," Kerr said. "It was not him, and we knew it would be a stain on his character."
Scottie was beloved by his teammates. He had stepped up and taken on the heavy load with Jordan tooling around the Southern League, and now this happened? But, it was the very same affection that allowed them to get over it. Even if Scottie probably didn't learn much of a lesson.
"It's one of those incidents where I wish it never happened," he said. "But if I had it to do all over again, I probably wouldn't change it."
The Bulls hosted game four next and needed a win to even up the series. Did Scottie respond, and did the fans forgive him?
What do you think?
Now the discussion turns back to Jordan's..uh…leadership style.
"Was he a nice guy?" BJ Anderson was asked. "He couldn't be nice. With that kind of mentality, he couldn't be nice. He could be difficult."
"Winning has a price and leadership has a price," Michael agrees. "I pulled people along when they didn't want to be pulled. I challenged people when they didn't want to be challenged. My teammates who didn't come after me didn't do all the things I did. Once you join the team, you live at a certain standard that I played the game. And I wasn't going to take anything less. Now, if that means I had to go get in your ass a little bit, then I did that. You ask my teammates, one thing about Michael Jordan is that he never asked me to do something that he didn't fucking do."
Wow. That clip sums it up. That is why we, as Bulls fans during that time, admired that guy so much. We may not have known his methods, but we knew he wouldn't let us down, and we knew he wouldn't let his teammates let us down. For the one and only time in our sports fan lives we went into big games knowing our team was going to win, somehow. Because we had that man. It's just as incredible as it sounds. I recommend it. Good luck ever finding it.

Episode eight starts with a little bit of BJ delusion.
"I knew that system better than anyone," he said. "And I knew how to beat them."
For his career BJ was two and ten when he played against the Bulls. So, no, he didn't.
He was in Charlotte after being picked in the expansion draft by the Raptors and being traded to Golden State. Then, the Warriors traded him to the Hornets for Muggsy Bouges and Tony Delk. The Bulls win game one of the second round series with Charlotte and then BJ has a good game and the Hornets win game two.
They won 78-76. Wait, that was the final score? Are we sure both teams didn't just forget to play the fourth quarter?
BJ hit a jumper to put Charlotte up 76-71 with 18 seconds left and started jawing at Jordan and Jackson.
"I let Michael know and I let Phil know," BJ said.
"I felt like BJ should know better," Michael said. "I'm supposed to kill this guy, I'm supposed to dominate this guy. From that moment on, I did."
I immediately thought of the LaBradford Smith story, and sure enough, so did the film's producers.
In 1993, the Bullets rookie had a great game and scored 37 points in Chicago against Jordan and the Bulls. Naturally, the Bullets still lost, but Jordan was upset that on the way off the court, Smith said, "Nice game, Mike."
The next night, the teams played again, in DC.
BJ says Jordan told him, "Tomorrow in the first half, I'm gonna have what this kid had in the game. I've never seen a man go after a kid the way he did."
Sure enough, Jordan scored 36 in the first half.
So man, just how dumb was LaBradford Smith to talk trash to Michael Jordan? Well, not as dumb as you always thought.
Jordan said, "Did he say 'Nice game Mike?' No, I made it up."
So, with the Bulls heading to Charlotte for game three, Jordan said, "I think BJ kind of forgot what drives us." And MJ put his foot up their ass and it ended in five games.
Now, we zip back again to 1994-95 and Major League Baseball is in the midst of a strike that some guy named Jerry Reinsdorf just happened to be one of the driving forces behind. Granted, the Sox have actually benefitted from the long held idea in Chicago that they would have won the World Series that year had it not been cancelled. When, in reality the Yankees and Indians were both already better than them in their own league. But, hey, at least the owners' plot to use replacement players (which, Bruce Miles and I discussed on the Pointless Exercise podcast last week) forced Jordan back to basketball.
"If Michael Jordan had stayed with baseball he'd have gotten to the Major Leagues," Jerry says. "Well, sure, maybe Michael could have platooned with Danny Tartabull in 1996?
Anyway, Jordan walked out of spring training. He went back to Chicago called BJ and said those magic words, "Let's meet at Baker's Square."
A day later he's at practice just "hanging out" with the guys. Jud turned to Ron Harper and asked, "Harp, what's going on?"
"The man is here."
A few days later, the immortal faxed press release was issued:
"I'm back."
And all was right with the basketball world again.
He returned for a game in Indiana, wearing his baseball number, 45. Forty-five is a terrible basketball number. Aesthetics matter. Only one man can pull that awkward looking number off: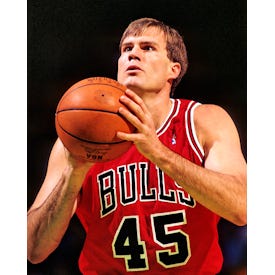 A lot was made about Jordan wearing his shorts backwards in that game. Uh…the guy knew how to tie a pair of basketball shorts. The NBA logo label was on the wrong side. We've been through this, guys.
Michael struggled in that first game, but six days later he made a buzzer beater in Atlanta with Johnny "Red" Kerr's famous call, "He…is…NOW back!"
Then it was off to the Garden to do what he did best. Completely overshadow a good Patrick Ewing game. Jordan scored 55 and at the last second dished to Bill Wennington for the winner.
The Bulls beat the Hornets again in round on and then got the spunky, Horace Grant-led (not really, he was still only the fourth best player on that team) Magic. The Bulls looked like they were going to steal game one, but Nick Anderson stole the ball from Jordan and Horace got an easy dunk for the go ahead basket. Then Jordan went up for a game winner himself but at the last minute tried to pass to Scottie and threw it away.
After the game, Nick bragged, "It was like '45' wasn't '23.'"
That was enough for 45. Jordan switched back to his real number for the next game.
"I felt like 45 wasn't natural," he said. "I wanted to go back to the feeling I had with 23." The new number worked as Jordan had 38 points and the Bulls won, but eventually he wore down and out and it turns out a roster with three centers, Toni Kukoc trying to play power forward and a Corie Blount isn't fully equipped to beat a good team.
Jordan's personal trainer, Tim Grover knew Jordan always took some time off after a season to rest before he got after it. So he said goodbye to Michael after game six.
"I'm out of here, let me know when you want to see me."
"I'll see you tomorrow."
Oh, it's on.
That was the summer of the cinematic classic Space Jam, and Michael told Warner Brothers that he needed a place to play and work out between filming. So, they build him a full court gym on the lot with extra room for his weight equipment.
(Kudos to the producers for some very high quality Paula Zahn footage during the news clips in this episode.)
NBA players quickly found out they could flock to LA and play pickup games with Michael after filming wrapped every night, and a lot of them did. I could have done without the shirtless shots of Shawn Bradley, though.
Dennis even showed up, getting a head start with his new teammate.
"By the time camp started he was in incredible shape," Steve Kerr said. "But he was also frothing at the mouth. That's how angry he was from losing. Every day at training camp was a battle, every day was a war and he talked a lot of shit."
"Steve and Luc came in riding high on the three championships we won in 91 to 93," Jordan said. "And they had nothing to fucking do with it.
"One day at practice, Phil puts Steve Kerr guarding me. Phil sensed my aggression, and he was trying to tone me down, but he starts calling these ticky tack fouls. Now I'm getting mad. For you to be protecting this guy, that's not going to help us when we play New York, or play these teams that are very physical. The next time I did it, I hauled off. I said, when I fouled Steve Kerr, now THAT'S a fucking foul."
"I have a lot of patience as a human being, but I tend to snap," Kerr said. "Because I'm extremely competitive, too, I'm just not good enough to back it up usually. I'm going. I'm gonna fight."
"He hits me in the chest," Jordan said. "So I go off and hit him right in the fucking eye. And Phil just throws me out of practice.
"I'm in the shower and I just said, 'I just beat up the littlest guy on the fucking court.'"
Hey! Michael, I don't consider myself a little guy, and I'm only an inch taller than Steve Kerr. Enough with the short shaming, OK? Anyway…
"It's probably the best thing I ever did," Kerr said. "Because I stood up to him."

The 1995-96 Bulls started the season 23-2. Is that good? That seems good.
"I'm sitting on the plane with Steve and Scottie Pippen," Jud said. "Scottie looks at the schedule and says, 'I don't think we're gonna lose a game for...three months.'"
The Bulls tore though the season, won a then-NBA record 72 games and dismissed the Heat and Knicks without breaking a sweat. Then, they got their rematch with the Magic. Only this time, they didn't have an exhausted, rusty Michael Jordan, and they had actually rostered a real power forward. The Bulls swept Orlando and put an end to the long, distinguished career of Jeff Turner in the process.
Their opponent in the finals? Steve Scheffler and the Seattke SuperSonics.
The Bulls won the first three games and now, 24 years later we're supposed to take Gary Payton and JD Adande seriously that the series would have been different if George Karl had put Payton on Jordan earlier?
Oh, for fuck's sake. Let's see what MJ thinks:
Jordan admitted he was distracted as it became imminent that the Bulls were going to win his first championship without his father. As it was, after the two meaningless losses in Seattke, the Bulls won it in game six, on Father's Day.
You know what the two greatest Father's Day sporting moments ever were?
Michael and the trophy after that game six win.
And…
In an emotional speech after the game…and if this doesn't get you, you have no heart, Michael said, "This is for daddy."
The episode ends with that familiar shot of Jordan on the floor with the game ball sobbing. Only this time, we hear the audio, and it's…man…it's really something.
Next up? The '98 Bulls are off to the Eastern Conference Finals to face the Larry Bird coached Pacers. Reggie Miller says, "I feel to this day that we were the better team."
You know, Reggie, this is why nobody has ever cared what you have ever said about anything.