Discover more from Pointless Exercise
The only newsletter you'll ever need...(about the Cubs and the Bears and all kinds of other cool stuff.)
Marmalard! Dead! Niedermeyer! Dead! Frey...
The guy in charge of the best Cubs teams of the 80s has died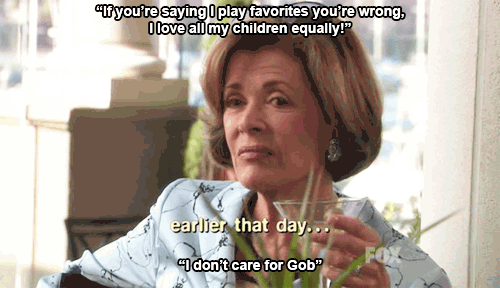 There were 39 years between Charlie Grimm managing the Cubs to a World Series and Jim Frey finally taking the team back to the postseason. It would be 32 more years before the Cubs actually won something important.
I was a kid in 1984 and already a rabid Cubs fan, so you'd assume that those guys, or at least some of them, were heroes of mine. Well, sorta?
It took me a while to warm up to Rick Sutcliffe, for instance. Why? I mean he went 16-1 after his June trade to the Cubs and won the Cy Young and the division clinching game in Pissburgh. Well, I liked Mel Hall, and he was in the trade for Sut. Mel used to wear a pair of batting gloves in the back pockets of his pants with the fingers sticking out so they would "wave goodbye to the pitcher when he hit homers." Mostly they waived goodbye when he struck out and was walking back to the dugout. Mel turned out to be a pedophile. So maybe those gloves meant something else?
Certainly I was a big fan of Ryne Sandberg, right? He blossomed into a superstar right before our eyes in 1984. I suppose I was, until the next season when Shawon Dunston took over at shortstop, and it wasn't that I didn't like Ryne, I just liked Shawon more.
A lot of the '84 Cubs were old. Maybe not old for humans, but old for baseball. Larry Bowa was 38 and he sucked, Ron Cey was 36 and a dwarf with enormous teeth, Gary Matthews was cool, but he couldn't catch a flyball or keep his batting helmet on and he was 33. Keith Moreland played rightfield like he was still a catcher and he was 30. Bobby Dernier wasn't old, he was only 27, and I do remember thinking he was cool, but his career peaked in '84 and he was downright bad in '85 and '86.
Basically, for a kid, your favorite player on that team was either going to be Sandberg because he was turning into a great player, Leon Durham who was cool right up until he couldn't bend over to field a grounder in Jack Murphy Stadium in the final game of the playoffs for the Cubs, or Jody Davis, especially with Harry Caray singing "Jo-dee, Jo-dee Davis!"
The Cubs pitching staff was, in hindsight—at least for me—surprisingly young. Sutcliffe was 27, Steve Trout was only 26, Dennis Eckersley was 29 (though his liver was pushing 40), Scott Sanderson was only 26, and opening day starter Dick Ruthven was the old man at 33. Lee Smith was 26, and since he slept the first six innings of every game, he was always extremely well rested.
Anyway, by now you've been muttering, "Where is this going?" for at least three paragraphs.
I had a complicated relationship with that Cubs team. When they shit all over themselves in San Diego after going up two games to none I couldn't believe it. How could a team be that good for that long and then just blow it? To the Padres? It just seemed inconceivable to me. I was 11 years old, and while my friends were like, "Hey, they'll be good next year," I wanted somebody to blame. It had to be somebody's fault.
Don't give me that crap about Sandberg accidentally dumping the Gatorade jug on Durham's glove during game five, or the Tony Gwynn grounder that would have been a double play but hit a rock and bounced over Sandberg's head.
The whole experience, in total, had to be somebody's fault.
I decided it was Jim Frey's fault.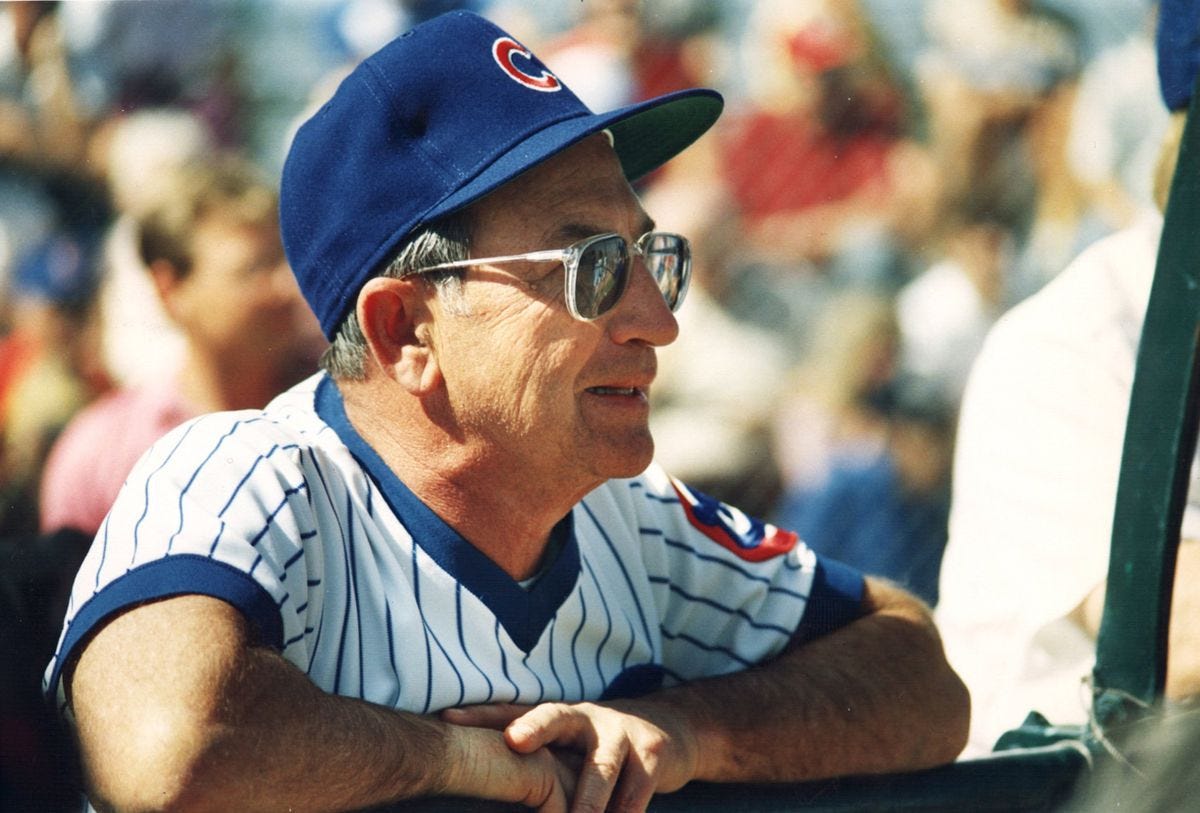 Maybe it was those awful bifocal Transitions glasses he wore. They were always somewhat shady and it made HIM seem shady. Or the fact that he wore blue running shoes with his uniform instead of spikes.
I'm sure that most of my loathing for Frey is actually a compilation of his time as manager, his one season as a terrible radio analyst and mostly, his mind-numbing moves during his stint as general manager.
Frey's the guy who let Scott Sanderson start game four in San Diego because he wanted Sutcliffe to be lined up to start game one of the World Series against the Tigers. He's the guy who traded Lee Smith for Al Nipper and Calvin Schiraldi, who traded Rafael Palmeiro to Texas in a deal that brought back Mitch Williams because after dumping Smith a year earlier it was clear his team didn't have a closer. He traded Dave Martinez for Mitch Webster. (Well, I mean, the Palmeiro and Martinez deals may have had non-baseball reasons, too.)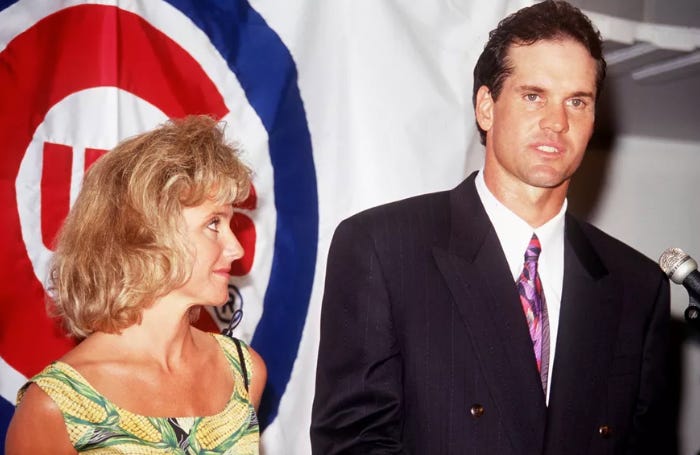 But the move he made that set the Cubs back more than any other was when he fired Gordon Goldsberry as farm director a year to the day after Frey took over as GM for Dallas Green.
The Cubs that Frey inherited had that rare thing for any Cubs' team. Actual prospects and young players that were worth a shit.
Goldsberry had drafted Greg Maddux, Jamie Moyer, Mark Grace, Palmeiro, Dunston, Damon Berryhill, Joe Girardi, Dwight Smith, Jerome Walton, Jeff Pico, Les Lancaster, Mike Harkey, and on and on. This was not typical. The demise of the Cubs' farm system in his absence certainly was.
Frey told Goldsberry he was going to keep him and then fired him anyway. Always a class move. (Then again, Goldsberry's last first round draft pick was Ty Griffin, one spot ahead of Robin Ventura, but that was also Frey's first draft as GM, so let's just blame that on Jim, too.)
We've heard the story a million times that Frey told Sandberg to pull the ball and hit homers one day, almost in a whim. Look, I know Ryno's a little slow, but even he would have figured that out eventually. Right?
I met Frey once. It was at a Cubs' Convention and against my wishes my dad thought we should get his autograph since there wasn't much of a line. I got it, and said, "Hey, we'll get those Padres in game six." He was not amused.
From 1945 until the crazy 1998 season the Cubs had only made the playoffs twice. Frey was the manager of one of those teams and the GM of the other. So, you'd think I would give him his due. He deserves that much.
But, nah.