Discover more from Pointless Exercise
The only newsletter you'll ever need...(about the Cubs and the Bears and all kinds of other cool stuff.)
MLB still values the Cubs as programming, at least
Thursday's rainout was all about baseball needing a game to show today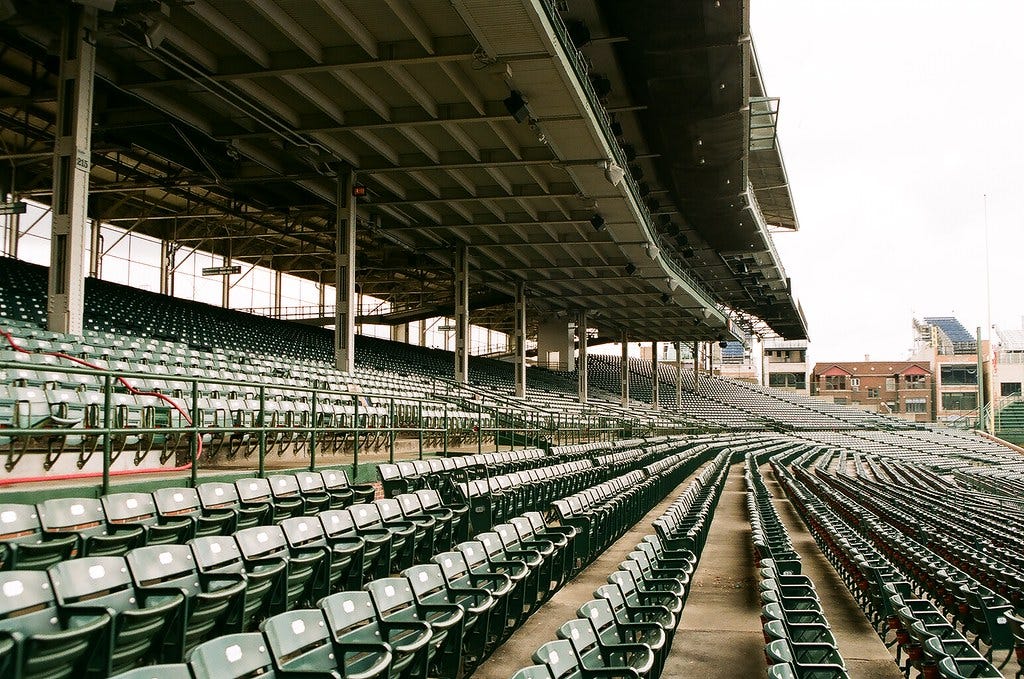 The Cubs playoffs life lived to see an extra day and it had nothing to do with the middle (or top, or bottom) of their order finally remembering how to hit. On a partly cloudy day with about a 20% chance of light rain, word came out a couple of hours before what could have been the last first pitch of the Cubs' season, stunningly announced that game had been postponed. The weather forecast was so non-threatening that baseball had to reassure the media that it was not a Covid-related cancellation.
The first thought was that MLB didn't want a repeat of what happened Wednesday night when the Indians and Yankees played a four hour and 50 minute game made even longer by an hour and 16 minutes worth of rain delays.
But that wasn't it. With the fear that all of the National League Wild Card series would end on Thursday, MLB jumped on a chance to push the Cubs and Marlins to Friday. Let's just say they know the Cubs as well as we do, and typically when they are up against elimination they tap out with a whimper. I can think of only five times in the last, oh, 112 years when that wasn't the case.
So, hey, just bang the game and then dumb Cubs fans like me will have something to watch on Friday! Or, you know, you could have actually spaced some of your precious playoff games out. I know, crazy. Right? So, you did it anyway, and gave the Cubs the kind of sunny rainout that once drove Craig Counsell to drink an entire beer once.
The Cubs are down 1-0 to the Fucking Marlins because they are one of the worst fastball hitting teams in the league and Sandy Alcantara kept blowing them by them. Anthony Rizzo said it was "weird" because the Cubs "hunt fastballs." Yeah, they hunt fastballs with about as much skill as Donald Trump Jr. hunts Mongolian sheep. I'm sure if you drugged the baseballs and hit them with a Jeep a few times before you corralled them, I'll bet Tony and Krissy and Javier could do some damage on one, too.
The Cubs wasted a gutty, gritty effort from Kyle Hendricks on Wednesday. The Cubs new all-time leader in postseason starts (it's 11…damn we root for a shitty franchise) didn't have much command but there he was in the seventh with a 1-0 lead. He clearly was done, but David Ross was busy doing his anti-Joe Maddon thing and he was going to show that if you just trust Hendricks and leave him in it'll work and you'll look super smart.
But, there's a reason good managers get criticized for taking starters out too early. They don't wait for the bad shit to happen, and yes, sometimes that is to their detriment, but what Ross did on Wednesday happens to managers other than Dusty once or twice and they decide for the rest of their lives they'll risk making a move too soon rather than too late. (Now what Ricky Renteria was doing yesterday…nobody knows.)
Anyway, slappy former Pirate Corey Dickerson hit a three run homer on Hendricks' last pitch (when his last pitch should have been at least two batters before). And given the comatose state of the Cubs' offense (Dylan Cease and Reynaldo Lopez are not walking through those bullpen doors) being down 3-1 might as well have been 30-1. The Marlins tacked on two extra runs just to piss us off even more.
Dan Winkler finally did something productive when he accidentally hit Starling Marte with a pitch and broke his hand. But you know what? I'm sure whatever the hell a Magneuris Sierra is will have four hits and drive in five runs in his absence today.
The fact remains that the Marlins are not good. Beating them twice is not exactly a huge ask. But you have to score a few times to do it.
Everybody you follow on Twitter retweeted this yesterday:
Maybe that's why the Cubs are 4-8 in those games, and 1-6 in the last seven.
Ya think?

The Cubs need Yu to outduel the immortal Sixto Sanchez today. The last Marlin with six toes was a real detriment to the Cubs' chances of winning though, too.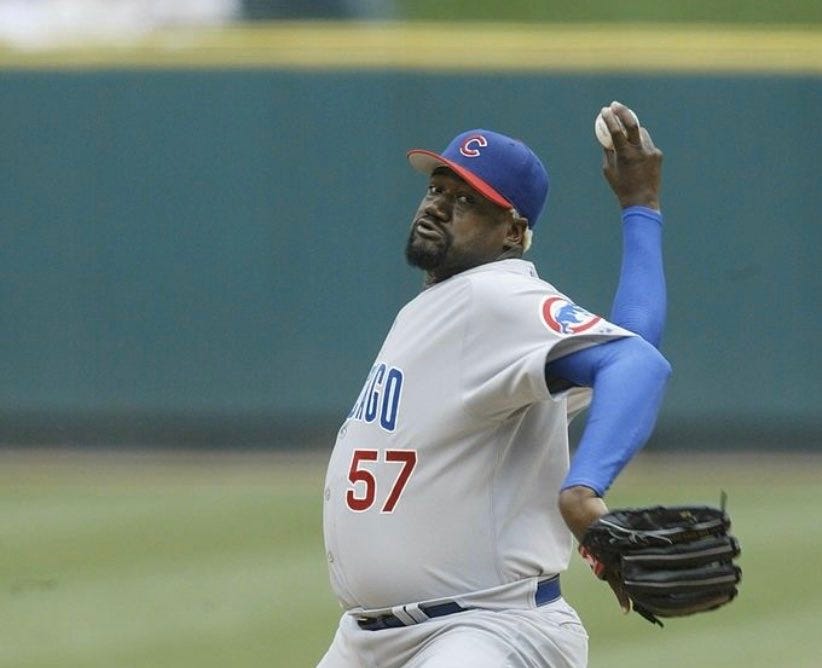 How did things go in the other series?
Remember how Tob Manford* really punished the Astros for the most egregious cheating scandal in baseball history? He suspended their GM and manager (and both got fired) and he didn't do shit to any of the players. Well, the Astros wandered into these ridiculously expanded playoffs with a losing record and got to play the Twins in the first round. Minnesota had lost 16 straight playoff games. Not anymore.
Now it's 18. The Astros are moving on. I'm sure they've really learned their lesson. Nice job, Tob.
The White Sox are already done, due mostly to the fact that the A's only had one lefthanded starter for them to light up. The Sox were without defensive whiz Eloy Jimenez for the series, but they hit well enough to win. They lost mainly because Ricky treated game three like a spring training game, used NINE pitchers and they blew a 3-0 lead. But hey, how could you possibly overcome this?
The Indians got swept by the Yankees and they have now lost ten straight elimination games. Any idea what the first three of those might have been?
The Rays smoked the Bufforonto Blue Jays in two games and I don't think anybody watched any of it.
Over in the National League the Reds…well, screw those guys.
They played 22 innings in their two game playoff "run" and didn't score a run. Even the Cubs have scored at least one.
The Cardinals managed to draw a Padres team that doesn't have a single healthy starting pitcher. They tried to call Eric Show, but forgot he was dead, but I'll bet Scott Sanders still thinks he could give them five quality innings (he never could.) The Cardinals won game one just to annoy us, and then had 4-0 and 6-2 leads in game two. Boob Nightengale had already written the first 2,500 words of his inevitable, interminable "what a gutty effort by the team everyone left for dead—of a virus they picked up in a Sauget, Illinois casino" when they gave up four homers to Fernando Tatis Jr. and Wil Myers and lost 11-9. The Padres closer is apparently Trevor Rosenthal? Oh, for god's sake. And they aren't sure who will start game three against Jack Flaherty. The best part is that at least half of Cardinals fans are still rooting against Jack because he very vocally supported the Black Lives Matter cause. What a fun bunch.
I'm writing this before the Dodgers and Brewers game even ends, which is reckless because how will I know what time to wake up?
Does Bob pay USA Today more than Phil Rogers has to pay Forbes to write for them? You know what? I don't care to know.
Regardless, the Dodgers won, because the Brewers are the worst playoff team ever, and that's saying something.

We're still getting Boog Sciambi and Chipperjones for game two and three*, right? I fear that with the TWO series that Matt Vagersian and ARod were doing both over that ESPN will foist them on us. I really can't handle ARod. He's just awful. He's somehow an even less self-aware Ryan Dempster.
Boog and Chipperjones were…fine…in game one. They hammered the shit out of a very obvious fact that the team that homers more than the other wins a lot. And Boog got way too excited when Chipperjones revealed he is shorter and heavier than his baseball card said. Yeah, so is every player in every sport, ever. But I'll take them over ARod and anybody, every time.

Seventy percent of the teams in the AL and NL Centrals made the playoffs. This morning when you woke up those teams had gone 2-11 so far. Is that bad? That seems bad.

The 3-0 Bears take on the 2-1 Colts Sunday. Vegas is so impressed by the undefeated Bears that the Colts are 2.5 point favorites on the road.
Don't they know that Nick Foles is the Bears quarterback now?
I admit, I'm more optimistic about Foles than most. I thought it was a sham that The Visor went with Mitch to start the season. We've seen enough of Mitch to know that there's a lot he can't do. He can't throw deep with any accuracy at all. He can't read defenses. He can't follow a basic passing route progression. He can't drive his grandma's Camry. Wait, no, that he can do.
There is this narrative that Foles is a one trick pony and that trick is running in from the sidelines to save the day in a pinch. That's a pretty good trick. But I subscribe to the idea that something clicked in his second stint in Philadelphia when Sunday's opposing head coach, Frank Reich was his offensive coordinator.
Foles was obviously excellent filling in for Carson Wentz in 2017 with the Eagles. The Super Bowl MVP trophy in his house is evidence of that. He was also very good filling in for him the next year, and yes, he struggled for much of the playoff game that year against Mitch and the Bears. But he led the Eagles to a go ahead score with 1:01 left, and yes, Mitch got the Bears into double doink range and should have won the game, but who had the tougher task? Foles going against a very good Bears defense on the road or Mitch going against a mediocre Eagles defense at home?
Foles had a bad year in Jacksonville last year, but playing on a lousy team and breaking his collarbone in the first quarter of the first game might have had something to do with that. I know, I'm waaaaay out on a limb there.
Foles allows the Bears to function like a real NFL offense. He throws deep well, he knows how to get them out of bad plays and he can actually run the RPOs that The Visor had all but given up trying to run with Mitch.
The worst part of this is that Foles' skillset would have unlocked Tarik Cohen, but Tarik blew out his knee while fair catching a punt.
I get that Foles' three fourth quarter touchdowns against the Falcons merely matches Mitch doing the same thing against the Lions in week one. But a quick rewatch of Mitch's last two drives as a starter reveal why Nagy lost his shit and made the change. He missed Anthony Miller by a lot on a deep route right up the middle of the field. It was a sure touchdown (assuming Miller caught it). Then on the next drive Allen Robinson was wide open (not the kind of wide open that Mitch took an exaggerated amount of heat for in the Packers opener a couple of years ago:)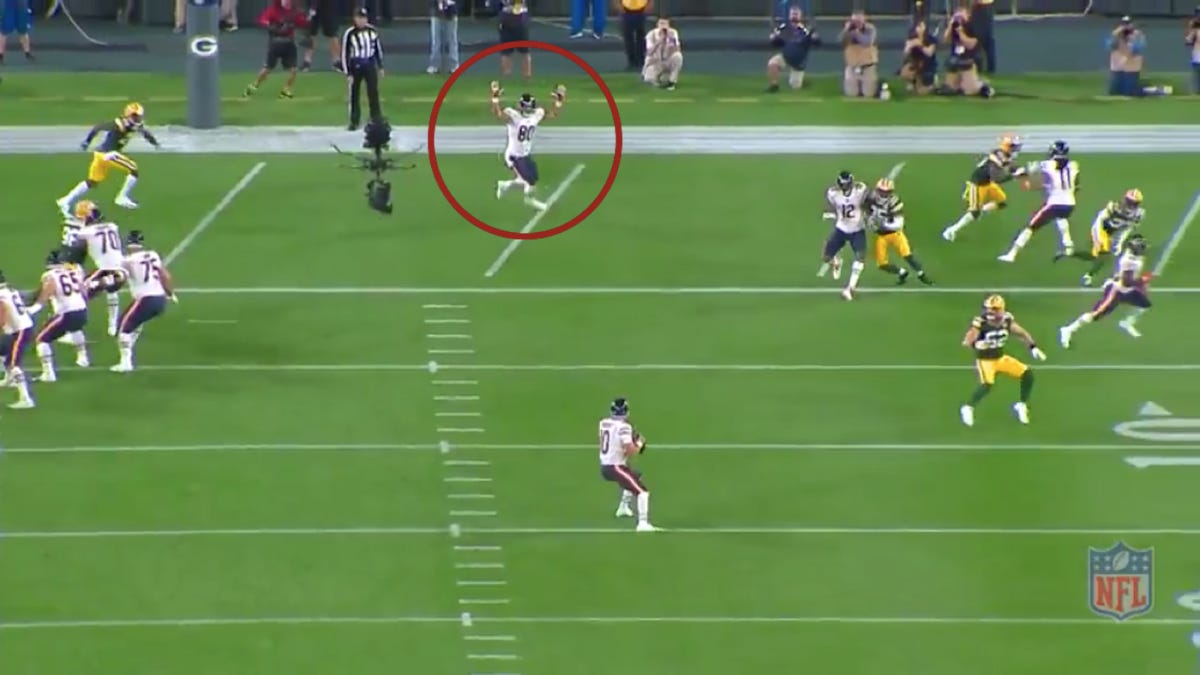 Robinson was really wide open, but Mitch was locked in on Jimmy Graham who was not open, and Mitch threw it anyway, and made a terrible pass to go with his terrible decision. Some guy named Blidi Wreh-Wilson made the pick, and while Mitch made a nice tackle, it was more than enough for Nagy.
The Bears were losing because of Mitch. That wasn't the case in the Lions game when he stuck with him.
The Bears should have been more aggressive in addressing the QB problem last offseason (Cam) but they went with the guy much of their offensive worked with in either Kansas City, Philly or Jacksonville. Foles should be good enough to capitalize on this start and get the Bears into the playoffs now. If they lose Sunday it will more likely be because their run defense continues to be bad. They should fix that.
Anyway, now Mitch is the second stringer. I mean, he is, right? Should he be worried that the Bears keep using their practice squad protection on Tyler Bray every week?
What kind of car does Tyler's grandma drive?