Discover more from Pointless Exercise
The only newsletter you'll ever need...(about the Cubs and the Bears and all kinds of other cool stuff.)
Real baseball is on the way
Well, I mean probably, maybe, I guess.

The "real" baseball season is so close you can almost taste it. And, it tastes like hand sanitizer and desperation, but whatever. The Cubs and Sox played the first of two tune ups last night, and then the Twins are at Wrigley on Wednesday to put an end to Summer Camp.
The game last night was an improvement over what we've had, which had been nothing, and then intersquad games. The Cubs pitching? That looks less than fine. I'm sure Ross can just "leadership" his way through that. No problem.
Anthony Rizzo says he "hopes" to be in the lineup on Friday against the Brewers. His back or ribs or whatever it really is, has sidelined him for more than a week now, but he claims that the last couple of times he's done fielding drills and taken batting practice and it's gone well. Victor Caratini might enjoy playing first and not having to squat for three hours while guys throw their balls at him, but he's a rough watch. His athleticism around the bag makes Daniel Murphy look like JT Snow. As a first baseman, Victor makes a fine DH.
The Cubs are going to play 23 of their 30 home games at night. The given reason will be that later starts give the teams more time to get their COVID-19 test results, but the real reason is to maximize the TV audience for the Cubs. Hey, you know what would maximize the TV audience? Getting Comcast to carry the network.
We'll hear every day between now and Friday's opener that the Cubs and Comcast are "close" to a deal. But we'd hear that whether it was true or not. What are the Cubs going to say? "Oh, there's no deal. We really fucked this whole thing up. It's like the Jason Heyward and Tyler Chatwood contracts had a baby…and that baby started dating Craig Kimbrel's contract. I mean, it's baaaaad."
You know the season's weird when the broadcasts start with a disclaimer that THERE MIGHT BE SWEARING! Wait? Are you telling me that athletes use foul language from time to time?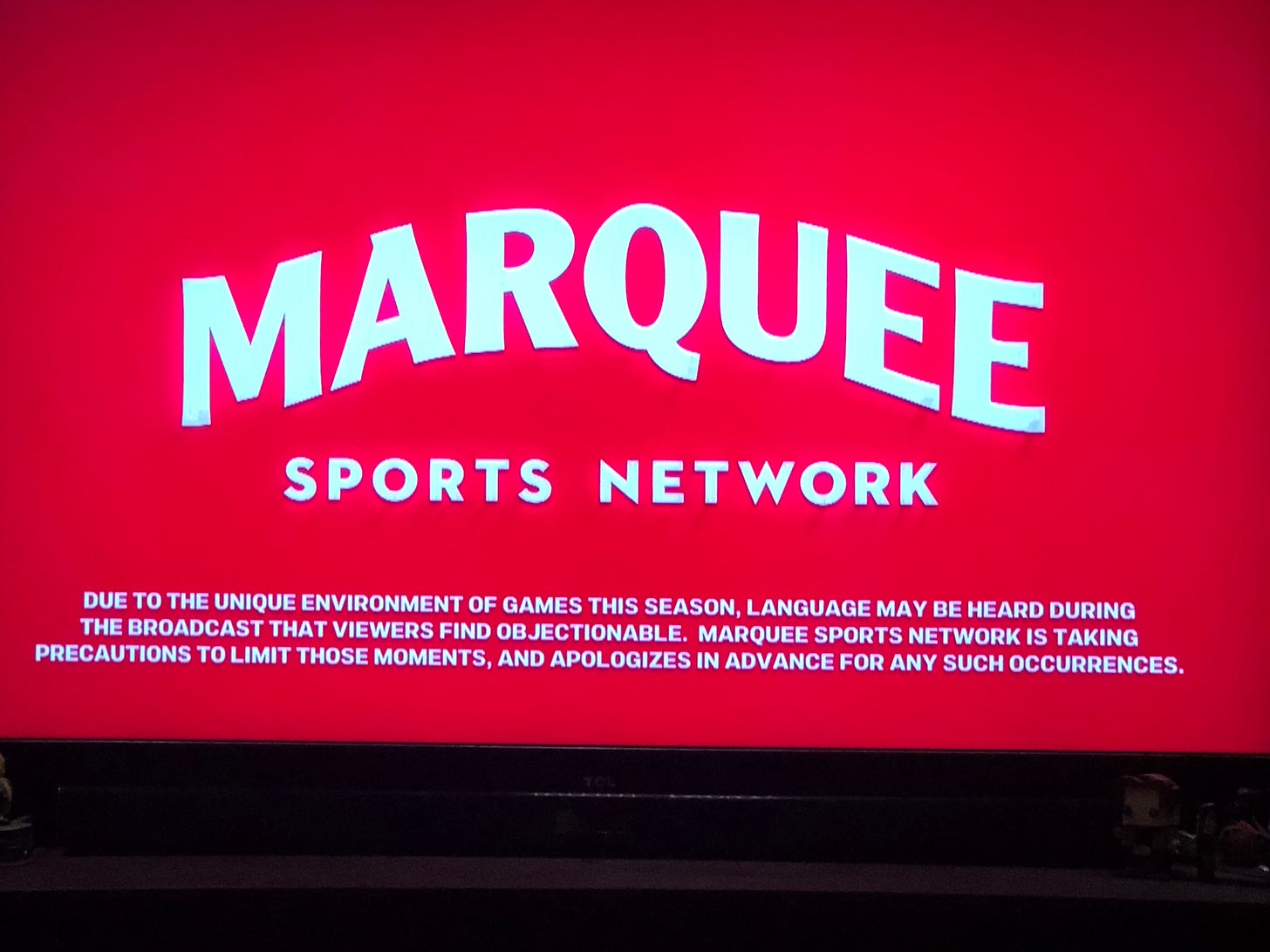 I'll be sure to watch games within range of my fainting couch. I wouldn't want to injure myself while suffering a profanity induced swoon.
To attempt to drown out the cussing, every big league team is piping fake crowd noise over the PA. It's not just on the broadcast like in soccer, oh no, this stuff can be heard by everyone in the park.
If the Cubs want to make it feel authentic they need to crank the noise every time one of their players hits a routine fly ball to the outfield. And when/if Kimbrel gets a game to the final out with the lead they need to play the sound of the fans going nuts, and then play a big "oooooooohhhhhhh…boo!" when Kimbrel gives up a 500 foot bomb to blow it.
And honestly, if they're going to put up a warning when they're worried about our sensibilities, how about one on the team Twitter feed before they show a pantsless bear doing jumping jacks?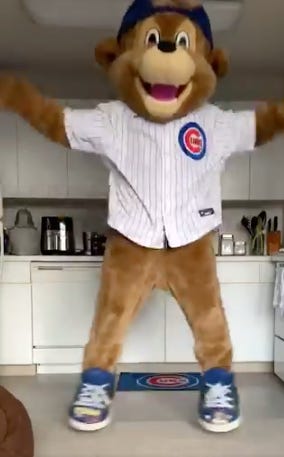 "Hey kids, want to join my special club?"
You need to see this whole thing. Clark hides his junk with a towel when he gets out of the shower, but his calisthenics are straight to PornHub.
Marquee is going to produce a one hour pregame and one hour postgame before and after games. There will be a special two-hour pregame before Friday's opener. Both of the shows are very aggressively punctuated.
Cubs Pregame Live! Cubs Postgame Live!
They sound more like threats than shows.
So, for those of us who actually get Marquee, you're probably asking, what did the pre and postgame shows look like last night? Oh, they didn't do them. Why work any of the bugs out when you can just slap it on the air for the first time right before the opener? And, why put any programming on you could actually sell ads for around the exhibition games? Every day something happens where it feels like the network is a complete surprise to the franchise.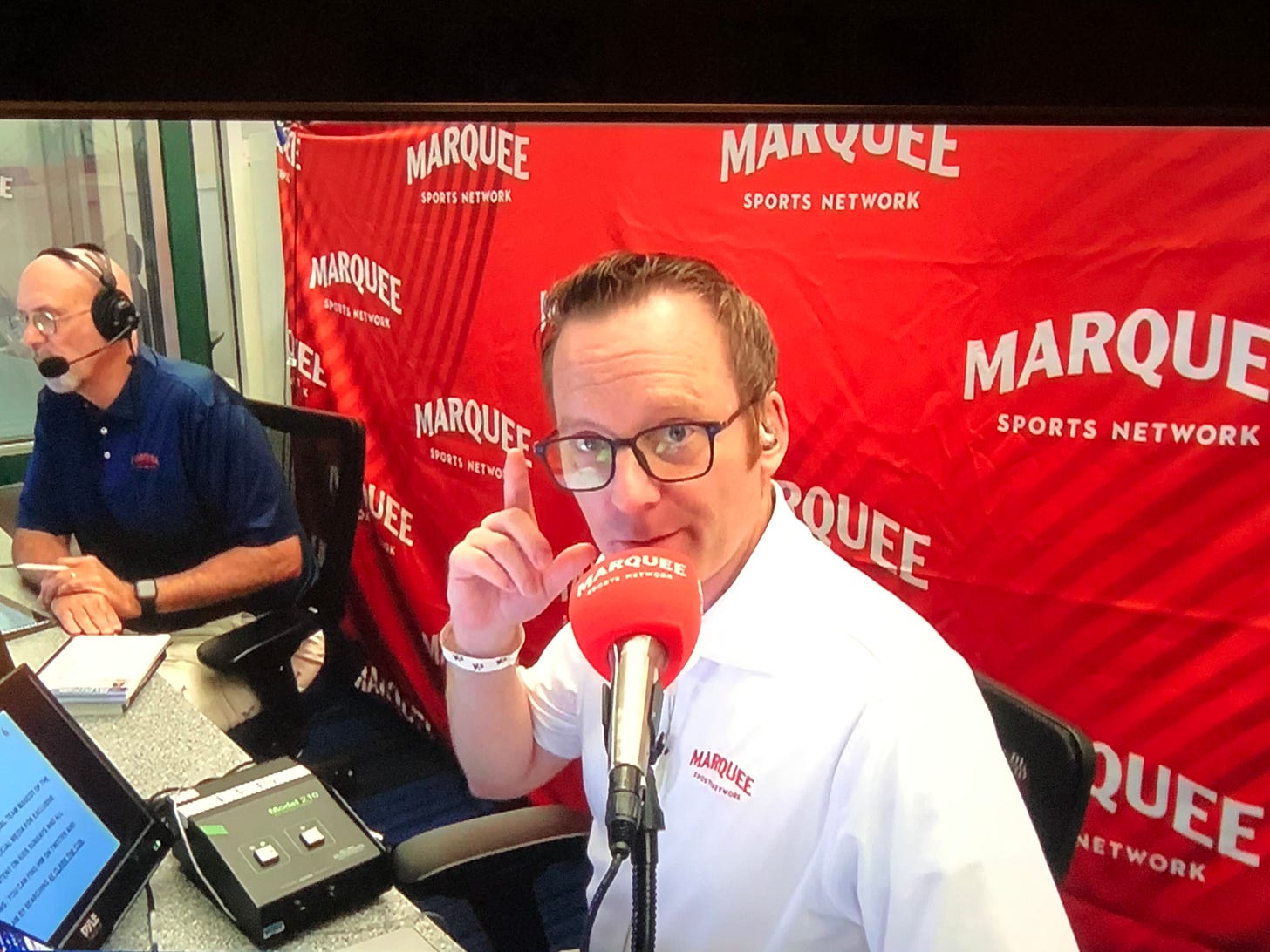 Check out the banner in the booth. It looks like some poor intern brought it to the park wadded up in a backpack.
"Wait, was that THIS year we were going to start the network?"
"What's on right now? Nothing! Do we have footage of Ryan Dempster impersonating a test pattern? No? Then just run some more Prevagen ads!"

The Cubs have set their rotation for the opening series. Kyle Hendricks gets the opener, then Yu Darvish and then…wait…no, this can't be right…Chatwood? Why? What's the hurry to break out the Walk-o-Rama? Are they trying to save Jon Lester for Monday's game at Cincinnati?
The Cubs open the season with 17 straight games, and I'm sure Theo and Jed are already dusting off the, "the guys are really tired" excuses for the end of that run. It's not like they've just had four months off or anything.
They have to trim the roster down to 30 by Thursday, and unlike a normal season they don't have to waive players to get to that number. Anybody currently on the 60 man roster can simply be put on the taxi squad. So if you're a huge Daniel Descalso fan who lives in South Bend, man are you in luck!
The Cubs could still waive him, but if they do they cannot bring him back at any time during the season. That sure would be a tragedy.
Descalso had a signature moment last night. He came up after the three batters in front of him all walked to load the bases. Daniel then struck out…on three pitches.
The Cubs didn't even ask him to pick walk up music this year. He's the only player with walk back to the dugout music.
The Cubs have been hell-bent to carry three catchers and before the pandemic it was setting up for them to waste the 26th spot on the roster on Josh Phegley. Now, with the season starting with a 30 man roster and with the NL adding the DH and Caratini being likely to get a regular turn in that spot, they really want to carry Phegley. I guess in that instance carrying a third catcher makes sense. If you start Willson Contreras at catcher and DH Caratini, if Willson gets hurt and you move Victor to catcher you lose the DH for the rest of the game. But that doesn't mean I'm cool with giving an actual roster spot to Josh Phegley. This is Tim Federowicz holding a roster spot hostage for two months in 2016 all over again. Phegley's best season was five years ago in Oakland even that was bad.
The advantage of having two good catchers in Contreras and Caratini is supposed to be that you don't have that black hole on your roster of a shitty backup catcher. Most teams have a crap backup catcher. Apparently, Theo's jealous.
If Phegley's not quite bad enough, the Cubs just signed Jose Lobaton. You probably remember Jose from this glorious moment. The Cubs should have given him a full playoff share.

How's the pandemic going? Well, here in the US we're doing such a bang-up job that Canada told the Blue Jays they can't play games in Toronto because they don't want swarthy Americans going back and forth across the border to play them. I can't say I disagree with that.
The Jays were going to play their games at their triple-A park in Buffalo. But apparently there are two problems with that. One, the lights at the stadium in Buffalo are not "Major League quality." Two, it's Buffalo.
Jays players told the organ-i-zation that they really want to play in a real big-league stadium. So that rules out Miller Park, I guess! (Boom! Roasted! Go suck it in your stupid retractable roof dairy barn.)
The newest option is to play at PNC Park in Pissburgh. It's a very nice park, the Jays and Pirates only have conflicting home games on seven dates all season, and it'd be nice for the good people of Pissburgh to see an actual big-league team for a change.
The conflicts include Jays "home" games against the Nationals (July 29), the Yankees (September 8-9) and the Yankees again (September 21-24). The solution would be for the Jays to just be the home team in Washington for that one game and at Yankee Stadium for those six.
Wait…the Yankees would get SIX extra home games? Man, when will that poor franchise ever catch a break? I would think that a better solution would be to play the four game Yankees-Jays series somewhere other than the Bronx. Maybe they could throw Buffalo a bone and play those four games there? Here's a shocking thought. If the lights aren't "big league grade" maybe play them…bear with me here, it's a crazy thought…during the day?
If you can play a game in an Iowa cornfield, you can play four in a ballpark in western New York.
Maybe you could even allow some wholesome tailgating?