Discover more from Pointless Exercise
The only newsletter you'll ever need...(about the Cubs and the Bears and all kinds of other cool stuff.)
Same Mitch, different year
He's still good enough to beat Detroit, which is nice.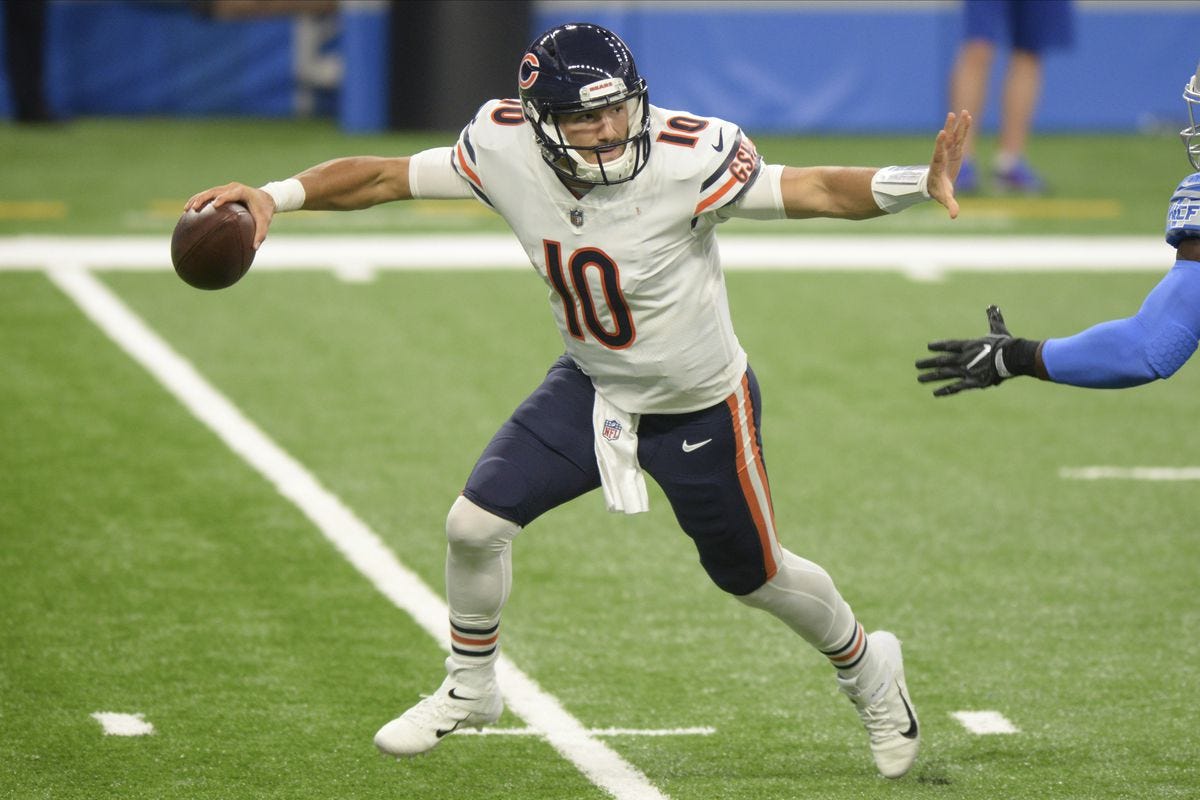 There's an old expression that football coaches like to believe is just full of profundity: "If you ain't gettin' better, you're gettin' worse." Isn't that just the most football coach thing, ever?
If it's true (which it isn't, but if it were) what would that say about what we saw from Mitch Trubisky on Sunday? The Bears insisted he had improved his footwork, his decision making and just maybe his ability to throw left. But their actions, when they quietly and not so confidently leaked the news that he'd "won" the quarterback job on the Friday of Labor Day weekend spoke volumes.
And, on Sunday we all saw what we sadly expected. He's not better. He's not worse. He's Mitch. He still doesn't really understand what he's looking at on the field. He's still a good athlete who can make some plays, but those are always outweighed by all of the plays he just doesn't make.
For three quarters the two things digging the hole the Bears were in were a complete lack of pressure from their defense, and a staggering number of missed opportunities on offense.
The Lions are not good, and the only thing keeping the Bears from being 35 points down was that the Lions are not good. Despite their thorough Lion-ess, they had a comfortable 23-6 lead.
The deficit forced the Bears into the mode Mitch is relatively competent in. Lots of no huddle, one read to make and just go. It limits the offense terribly, but you hope the tempo makes up for it. What really benefitted the Bears was three Lions defensive backs being out with injury, and defensive end Jamie Collins being out for…uh, this:
Mitch made plays in the fourth quarter. He threw three touchdown passes. He led the Bears back, improbably, and they have now beaten the Lions five times in a row over the last three seasons. Matt Nagy has never lost to the rapidly expanding Matt Patricia.
And, Patricia left an imprint all over this one. A flurry of terrible decisions opened the door for the Bears and Mitch drove through it like he was in grandma's Camry.
The injury depleted Lions' defense switched from zone to man which simplified Mitch's reads. They inexplicably tried a 55-yard field goal which would have put them up 13 points instead of 10. Hey, when you have the chance to take a two score game and make it a…uh…two score game, you do it? Matt Prater's miss set the Bears up at their own 45. Not punting Mitch down deeper into his own end is a criminal offense.
They threw threw a third down pass when they were trying to run out the clock. It was just before the two-minute warning, so an incompletion or a sack wouldn't have been the worst outcomes for them. But instead Matt Stafford threw an ill-advised pass into traffic and Jaylon Johnson knocked it up into the air where it was picked off by Kyle Fuller.
Lions running back D'Andre Smith dropped a sure touchdown pass on the second to last play of the game. Detroit also missed an interception deep in their own end and the Bears somehow survived a Trubisky third down fumble/sack that cost the 18 yards and forced them to punt on fourth and 41 with 8:23 left in the game down by nine points.
As Ebby Calvin "Nuke" Laloosh famously said, "I like winnin'. It's like better than losin'."
And the Bears win was their first opening game win in seven years. So that's great. But you'd really like to be able to think it's the start of something. And maybe it is, but it sure doesn't seem like it.
Same old Mitch is not going to do anything for the Bears. They have to have improved quarterback play to win consistently, and the tepid response to a big comeback win is telling. The decision making was still stupefying. The lousy footwork still put him in impossible positions to throw accurate passes far too often.
Mitch is an easy guy to root for because of his personality and his obvious want to win. But he's also impossible to have any confidence in because he does nothing consistently well. Wait, that's not true. He beats the Lions, consistently. He's won four in a row against them, now. So that'll come in handy on December 6. What it does for the Bears between now and then is anybody's guess.
If the quarterback competition was really a competition, the Bears are screwed. If the decision to start Mitch wasn't based on the idea (a farcical idea, but an idea nonetheless) that once the glass is broken on the emergency backup quarterback case that Nick Foles comes packaged in, that there's no going back to Mitch ever, then there's no hope.
Because if the Mitch we saw on Sunday is actually a better bet to win games than Foles, the Bears are doing what they do best. They're just wasting our time. Again.
The overwhelming likelihood is that Foles and Mitch are just two different styles of mediocre, but for now it's easy to delude yourself that there were a lot of really horribly missed easy throws in the first three quarters of that game that Foles would have hit. The Bears would not have been down 23-6, and wouldn't have needed the combination of frantic comeback and epic Lions' choke job to win the game.
Mitch will always be compared to Patrick Mahomes and Deshaun Watson, and that might not be fair, but it's the reality. Maybe the Bears would have screwed either one of those other guys up. We'll never really know. What we do know is that they've been unable to unscrew Mitch.
If the Bears defense doesn't improve quickly who the quarterback is will be of far less importance. The Lions picked Adrian Peterson up at the bus stop about ten minutes before game time and he ran for 93 yards on just 14 carries. The Bears did not put any kind of consistent pressure on Matthew Stafford. They sacked him only once and he threw for 297 yards and one real touchdown and a dropped game-winning touchdown. In fact, the Bears defense's poor showing may have been the reason the Lions felt emboldened to throw that third down pass late in the fourth quarter.
It's a bold strategy. Play just bad enough to make the other team reckless at a key point in the game.
Key offseason acquisition Robert Quinn did not play, which necessitated great name/not so great player Barkevious Mingo playing the defensive end spot opposite Khalil Mack. And, like too many times last year, Mack was ganged up on. That doesn't work if somebody else starts making plays.
Chuck Pagano has clearly not figured out how to scheme Mack away from those excessive amounts of extra help. He really needs to figure something out. Already missing Eddie Goldman, the Bears can't afford to be missing any real impact from Mack, too.
The Giants lost to the Steelers on ESPN's College Football game of the week last night. Did Chris Fowler and Kirk Herbsteit win a raffle? What was that?
Anyway, the Giants looked awful. Ben Roethlisberger played the whole game in obese mountain man slow motion and had few problems with them. The Steelers lost starting running back James Conner in the first quarter. It didn't matter.
Daniel Jones looked a lot like Mitch Trubisky last night. Saquon Barkley rushed for only six yards on 15 carries. The Giants offensive line is lousy.
2-0's a real possibility for the Bears, gang.
Get the Bear Raid siren fired up.

Another very important reason for the Bears to win games is so that we, the home viewer, get better announcing teams. With Fox apparently caught unaware that Kenny Albert was hanging out in Edmonton calling Stanley Cup playoff games and that he would need to quarantine upon his return to the states, they had to literally dig up Dick Stockton for the game.
Dick is 77 years old and Fox flew him to Detroit in a pandemic to stand in a booth with only an Old Country Buffet sneeze guard to protect him from anybody else. I'm sure there's some science that will tell us that embalmed people can't get the 'rona, but why risk it for Bears-Lions? To be fair, Fox offered to let Dick do the game from home, but abandoned that idea when he asked, "Could somebody send me a Kinescope of the game?"
I guess they could have had him recreate the action from telegraph descriptions. I'm not even sure we'd have noticed.
Our only option was to turn down the sound and turn up Jeff Joniak doing the Bears' radio call.
Now, why would anybody subject themselves to that on purpose?


Mike Pusateri and I break down Mitchapalooza, try to figure out what Fox was thinking in exhuming Dick Stockton in a pandemic, marvel at everything the Lions had to execute to blow that game and we look ahead to the Giants game.

Why is Dan McNeil still a thing, anyway?