Discover more from Pointless Exercise
The only newsletter you'll ever need...(about the Cubs and the Bears and all kinds of other cool stuff.)
The 2-0 Bears have nothing to apologize for
And we look back at the last time they were 2-0...cover your eyes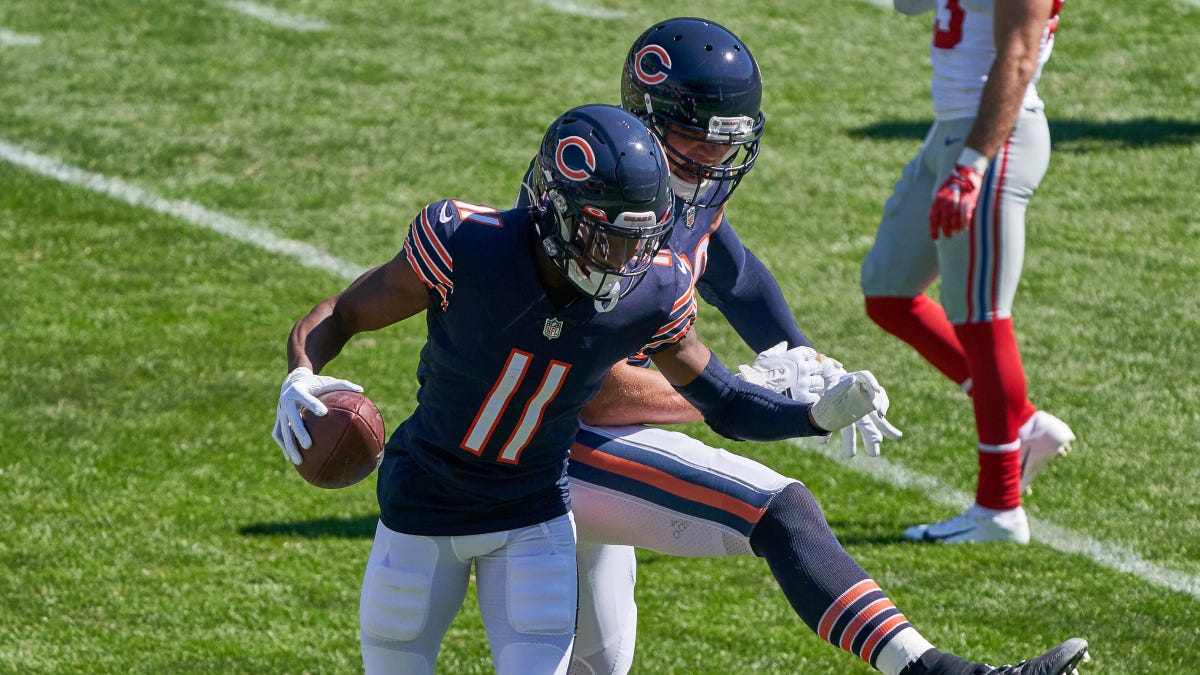 Do you remember the last time the Bears were 2-0? You have probably tried to block it out. The year was 2013 and Chicago was in the grip of Trestmania.
He brought the promise of a modern NFL offense and for some reason brought Mel Tucker along to try to run Lovie Smith's defense so the grumpy veterans left behind wouldn't have to learn a new scheme, or new signals.
Anyway, the Bears beat the Bengals 24-21 in Cincinnati despite a touchdown run from the great BenJarvus Green-Ellis. Jay Cutler had actual weapons, and Martellus Bennett and Brandon Marshall both caught TD passes and Matt Forte was still around to run for a score.
The next week was a wild 31-30 home win over Leslie Frazier's Vikings. Cordarrelle Patterson ran the opening kickoff back 105 yards for Minnesota to start the scoring. Bennett and Marshall caught caught first quarter TD passes. The teams traded defensive scores with Brian Robinson returning a Cutler fumble (on a sack by Jared Allen) 62 yards for a score. Tim Jennings picked off Christian Ponder (oh, no wonder the Bears won) and returned it 44 yards for a score.
The Vikings led 30-23 on a Blair Walsh field goal with 3:17 to go. And then Fourth Quarter Jay took over. he went 8 for 11 on the final drive and found Bennett for a 10 yard touchdown with :10 left for the eventual winning score.
Super Bears. Super Bowl.
The Bears would win the next week on Sunday Night Football in Pissburgh, forcing five turnovers in a 40-24 win and well, that's as good as it would get for Marc Trestman. (Actually, the turnovers masked that the defense was continuing to get shredded. The Steelers put up 459 total yards.)
The Bears lost three of their next four, and five of their next eight. Then Trestman had Robbie Gould kick a 47 yard field goal on SECOND DOWN with 4:17 left in overtime in Minnesota. He missed, and the Bears went on to lose.
They made it to the final game of the regular season 8-7 and would win the NFC North with a win over 8-6-1 Green Bay at home. If they lost, the Packers would go to the playoffs instead of them. You remember the game for Chris Conte being the only guy on the field who thought they were in zone coverage on fourth and eight from the Bears 48. Conte let Randall Cobb pass (who did a safety think he was passing him off to, anyway?), Cobb was all alone, Aaron Rodgers didn't miss him and the Packers won 33-28.
I remember it for that, and for the Bears not bothering to pick up a fumbled football on their own 15, and Jarrett Boykin looking around, trying to figure out why nobody had blown a whistle, then picking it up and running in for a score for the Packers.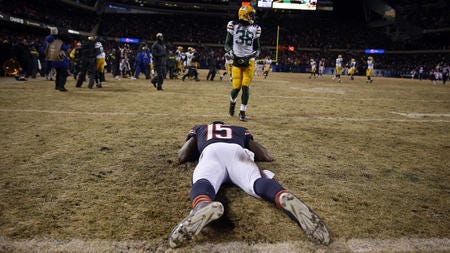 Anyway, that's how long and miserable it's been since the Bears showed the minimum amount of competence to string consecutive wins together to start a season.
So nobody on this team should apologize for being 2-0. Sure, they've only played well in maybe three quarters, but if that's all it takes, that's all it takes. The teams they have beaten, the Lions and Giants are a combined 0-4 and have been demolished in the two non-Bears games they've played. This week's opponent, the Falcons are also 0-2 and just suffered an epic collapse that barely registers on their indignity scale since they've done it even worse in a fairly recent Super Bowl.
As Joe Maddon used to say (and I'm sure still does), box scores are numbers not pictures. When the Bears are slap fighting with three other teams in December for the seventh playoff spot in the NFC those two wins will count just as much as anybody else's.
Is it troubling that the offense goes through long stretches of nothingness, and that the only times we've noticed Khalil Mack so far are when the other team has just forgotten to block him? Yeah. It is.
But there's some good. The Bears, through two weeks have made a concerted effort to run the ball, something they have never been accused of during Matt Nagy's first two seasons. That allows the play action and RPO stuff to actually work (even if Mitch is still bad at his fakes.)
Sure, it's weird that they only have one real running back. David Montgomery is playing through a groin injury and literally landed on his head on Sunday. When he's out, the options are a kick returner (Patterson), a punt returner (Tarik Cohen) and whatever the hell Ryan Nall is. An injury that actually keeps Montgomery sidelined would be a convenient excuse for Nagy to just chuck the run game altogether. It's what he wants to to do anyway.
The Bears have both Nagy and "offensive coordinator" Bill Lazor look like they're calling plays in to Mitch. That way, the other team doesn't know which one is doing it. Football coaches worry about the dumbest shit.
The media has just accepted that Nagy's still calling plays, and he probably is—at least most of them. But the fact that they don't just run it twice in the first quarter and then say, "fuck it, let's throw!" makes me think that Lazor might actually be doing it.
Mitch has thrown five touchdowns and two interceptions, and the interceptions were of the strange variety. The first one, Giants defensive back James Bradberry IV literally ripped the ball out of Allen Robinson II's hands. Man, does everybody have a Roman numeral in the NFL? That interception was not Mitch's fault. And, I'm still convinced it was incomplete, because Robinson's foot was out of bounds as Bradberry was pulling the ball away from him. Oh, well.
The other interception was deflected off of Robinson and caught by Giants safety Julian Love. That one was a bad decision by Mitch, but bad luck that it was intercepted.
For the most part Mitch has taken good care of the ball. Oh, he nearly sabotaged his own dramatic comeback by throwing a pick near the goal line in Detroit, but let's not think about that.
The Bears defense was a sieve against Detroit, allowing 426 yards and letting the Lions drive right down the field on the final possession and only escaping when D'Andre Swift dropped an easy TD pass on the second to last play.
But against the Giants, they posted good numbers. Only 295 yards allowed, two turnovers forced, four sacks and a game sealing interception return for a TD by Eddie Jackson that was called back because Jackson was just a little too quick to the ball and bumped the receiver and was called for pass interference.
Granted, it helped that the Giants lost their best running back (and one of the best in the game) and best receiver in the first half. But the Bears have been torched by plenty of second and third options in recent years. We'll take it.
Other fanbases might scoff at the Bears 2-0 record because they haven't beaten anybody.
So what? So let's dance!
Speaking of MC Hammer…trust me, he's in that montage if you watch it…up next are the Falcons who did this on Sunday.
And who tried to recover an onside kick like this:
Wait, no, like this:
So, there's two ways this could go. The Falcons could take out their frustrations on Mitch and have Julio Jones and Riley Ridley's older, better brother run roughshod over the Bears, or they could be so emotionally scarred from blowing a huge lead that a good start by the Bears could cause them to collapse.
Let's go with the second option.

Kris Bryant left last night's win over Pissburgh with an oblique injury. It's just the latest in a long string of injuries for him dating back to when he crashed while diving at the first base bag in Cincinnati in 2017. He's had a miserable year and his OPS+ of 60 is one of the worst for any regular in either league. Obliques are a bitch, so chances are he's out for a while, and it's a sad but true current state that David Bote is an offensive upgrade over the 2016 MVP right now.
One thing that Bryant isn't, is soft. If anything his willingness to try to play through injuries (and the Cubs willingness to let him) have been a detriment. One thing you can't fault these Cubs of recent years for is toughness. Anthony Rizzo jammed a swollen ankle into his shoe and tried to take on the Cardinals last year. Javy Baez played for weeks with a foot that the team later acknowledged was worse than they thought (the Cubs have the worst trainers…do they share them with the Bulls?). Bryant fits right in. When he hurt his shoulder last year he decided he could still play as long as he didn't actually finish his swing. What? Who does that? Make no mistake. When fans claim he's not tough it's only because his production has dropped when he's been hurt. That's not the same thing. At all.
And, stop the nonsensical talk that this was Bryant's last game as a Cub. If the injury is severe enough (and/or if the Cubs postseason stay is a short one) he might not play again this year, but he'll be back in 2021. The Cubs wouldn't be able to trade him with one season left on his contract for anything worth getting in return, especially coming off this lousy season. And, they aren't going to non-tender him. Too many great players have had substandard seasons (Bryant's offensive season, as bad as it's been is only slightly worse than Baez's). Guys like Christian Yelich, Jose Altuve, JD Martinez, Cody Bellinger and on and on and on have struggled in this weird, short season full of really scary real-life distractions. Front offices that use this 60 game abomination of a season to make really tangible decisions on where players really are, are just going to be doing it as an excuse to save some money. (Uh oh, that sounds like the Cubs.)
When this year is over we'll all want to take our brains out and scrub 2020 right out of them, and this baseball season's no exception.