Discover more from Pointless Exercise
The only newsletter you'll ever need...(about the Cubs and the Bears and all kinds of other cool stuff.)
The Bears leave no doubt
They really were a bad 5-1 team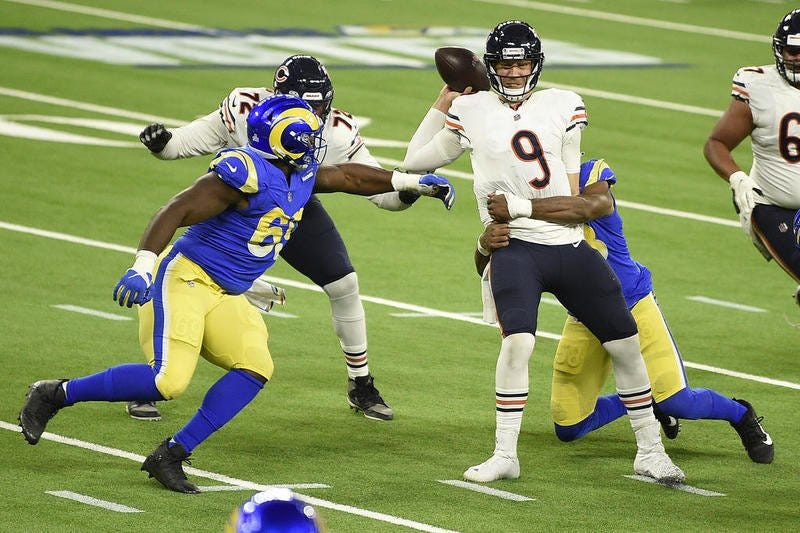 We learned this week that since 2010 the Bears had the best record of any team on Monday Night Football. It didn't seem real, especially after they flew to LA and spent three hours shitting down their leg. It shouldn't be a surprise because last year they went to LA in week 11 and did the exact same thing only on Sunday night.
A lot is made of Matt Nagy's career 25-13…now 25-14 record. We're supposed to believe this is proof he's a good coach. The problem, of course, is that we actually watch the games.
Of his 25 wins, eight have been against teams that finished the season over .500.
Half of those wins are against the Vikings. Two of them were against the 8-7-1 Vikings in 2018, and one was last year in the final game of the season when Minnesota didn't try to win. The total also includes a win over the Bucs this year. They look like a sure bet to finish over .500, but stranger things have happened.
Nagy's a guy who took over a team with a great defense and a lousy offense. From day one he let everybody know that he wouldn't be coaching the defensive half of the team. There's no problem with that. But it means his total focus in three seasons now has been this offense and it's somehow gotten worse every year.
What we've seen is a coach who continues to run the offense he wants to run despite the fact he does not have the personnel to run it. That's not coaching. A coach takes the player he has and figures out what they can do. Maybe it's not much with this current offensive team (of which he's had three years of input into the players he has), but it's got to be more than what we're seeing.
The worst part of watching Matt Nagy go up against good coaches isn't just that the Bears are going to lose, but it's going to be three hours of constant reminders that the guy the Bears hired to finally modernize their offense is completely overmatched.
And it's not as simple as play calling. You can take the play calling away from him (and they should) and while that might help, it won't fix a lot of what's wrong with the Bears.
On the rare occasions the Bears get into field goal range I expect them to unfurl a Mission Accomplished banner on the sidelines.
Signs your team is poorly coached:
Javon Wims runs an out a yard short of the first down marker on third down, catches the ball and then still doesn't realize he's short of the line to gain.

The Bears don't realize it's a bad spot and don't hurry to snap the ball when a first down is incorrectly given to them, which gives the Rams ample time to call for a replay. The officials figure out it should be fourth and one.

When the ball is respotted short of a first down the Bears go for it on fourth down at their own 20 early in the second quarter. Their left guard false starts which likely saves them from turning it over on downs.

Allen Robinson is given a catch on a ball that almost certainly hit the ground. The Bears don't rush to the line. McVay takes mercy on them and lets the catch stand unchallenged.

They call timeout twice between 3:24 and 2:55 left in the second quarter, with the ball. After one timeout the genius play they came up with resulted in a three step drop and a sack.

Cordarrelle Patterson continues to ignore the fact that touchbacks go to the 25 and returns the ball to the 18 consistently.

Speaking of returns. What is the point of having Ted Ginn Jr. return punts? Can the Bears really even call him a punt returner? He never even bothers to catch the punts, must less actually return them. Johnny Hekker punted five times and every one of them landed in the field of play. Ted didn't even try to catch them. All five punts hit inside the 20, all of them could have been fair caught to save the Bears precious yardage in front of their own end zone.

The Bears let the last 15 seconds of the first half tick off when the Rams faced fourth down and would have had to punt. But why bother? It's not like Ted was going to actually bother to catch it anyway.

This is an offense that needs all the help it can get and its own special teams are very obviously sabotaging them. They can not survive if every drive that starts after a kickoff is inside their 20 and every drive after a punt starts inside the ten.

No well-coached team has ever wanted to make Demetrius Harris a thing. The Chiefs gave up on him, even Freddie Kitchens figured this out quickly in Cleveland last year. Demetrius sucks. He's the Bears fourth best tight end (out of four), and yet, how many times do we see Jimmy Graham or Cole Kmet leave the game so Nagy can force something to Harris that Demetrius can fuck up. He had quite a game last night. He dropped two passes and was called for holding at the one yard line, when in reality he was in the end zone and it should have been a safety.

The Bears went for it on fourth down in the third quarter. It was fourth and one and they ran a sweep with the kick returner. The play appeared designed take as long as possible, give the ball to Cordarrelle five yards short of where hhe needd to get and break four tackles to do it. Amazingly it didn't work. Gee, who would have possibly seen that coming?

The Bears one game streak this season of scoring in the third quarter came to an end. It may never happen again.
The Bears supposedly watched film of the 49ers running all over the Rams last week. What was their response? They ran the ball 17 times. Seventeen. For a whopping 49 yards. Cordarrelle ran three times for a yard. He literally averaged one foot per carry.
Coming up this week the Bears host the Saints. Why is that significant? Last year the Bears ran the ball seven times for 17 yards against them in a 36-25 loss. And don't let that score fool you. It was 36-10 with 2:37 left in the game.
In three years the one thing we've seen Nagy do with consistency is give up on the run as quickly as possible. He wants to chuck it. He doesn't have the personnel to do it. This is a team that if it were going to take advantage of having Allen Robinson and Darnell Mooney and the occasional flash of brilliance from Anthony Miller, needs to establish the threat of the run, and he just doesn't want to do it.
When you see the Bears try to go down the field why is there always a safety coming over to break it up? Because no safety has to ever worry about run support against them.
The Bears are wasting a very good defense, again. In their long and storied history that's the most Bears thing, ever.

In the postgame, Nagy seemed shaken by the fact that the defense outscored the offense last night. He acted like he'd never seen that before. Hell, those of us who have been Bears fans for any length of time have seen that a lot. Lovie always seemed surprised when the offense outscored the defense.

What's most telling about Nagy's offensive brilliance is that he changed quarterbacks and didn't change the offense. Nobody with a half a brain in their heads would think that a play caller who knew how to maximize the talent he had would run the same plays with a mobile inaccurate passer and with an immobile accurate passer.
It's just more proof that this isn't an offense. It's a random assembly of half assed plays.

The 1989 Bears were 4-0 and ended up 6-10.
I'm not saying.
I'm just saying.