Discover more from Pointless Exercise
The only newsletter you'll ever need...(about the Cubs and the Bears and all kinds of other cool stuff.)
The Bears, masters of the inexplicable
It hasn't been pretty, but they have more wins than Tom Brady can count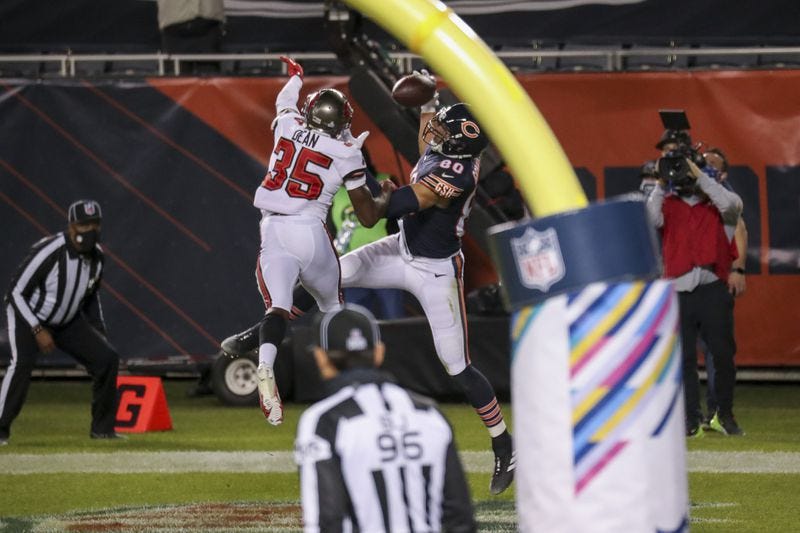 The Bears spent Sunday getting their asses handed to them by the Colts and just four days later the first quarter against the Tampa Bay Buccaneers didn't look much different. Missed blocks, missed tackles, missed throws to occasionally open receivers and you would be forgiven for thinking, "Man, the Bears suck."
And then, just like in the first three games of the season a sudden burst of competence turned the game. Down 13-0 and doing nothing, the Bears converted a third and seven at their own 44 on a short pass to David Montgomery. Then a 12 yard pass to Allen Robinson. Then 25 more to Cordarrelle Patterson (who must have pretended he caught the pass seven yards deep in his end zone), and they're somehow at the three yard line. Montgomery plowed in for their first rushing touchdown of the season. Their first rushing touchdown. IT'S WEEK FIVE!
With just 1:48 left in the half you just wanted the Bears to not allow any more points and get to the locker room just down six.
But then this happened:
Kyle Fuller destroyed Ke'Shawn Vaughn on third down. The first fear was that he'd be called for unnecessary roughness even though on the replay you could see it was a textbook hit. The refs huddled and agreed it was clean. Incomplete pass. Hey, the Bucs have to punt. But then the refs huddled again and it went to video replay to see if Vaughn had possession before the hit which would be a fumble. My first concern was that no Bear bothered to pick up the ball. I remembered that Fuller didn't. But sure enough Robert Quinn did. That used to be a thing the Bears did automatically. But then Lovie left and for a long time they couldn't be bothered to bend over and pick up a loose ball.
The refs decided it was a fumble and gave the ball to the Bears at the Tampa 27. After a third down conversion by Patterson, Jimmy Graham did this:
We all thought the Bears signing Jimmy (and giving him $16 million and two years) was ludicrous. But he already has four touchdowns, and this catch was impressive. Did you know he played basketball? That's something I wish announcers would bring up incessantly.
The Bears somehow led at the half 14-13. It didn't feel like it, but the scoreboard was apparently correct.
The problem with the Bears going to the half is that they have to come out and play the third quarter.
Teams with good coaches take advantage of the third quarter. They make adjustments at the half and fix what's not working. How good are the Bears at it?
They have now been outscored 29-0 in the third quarter of their five games. They are the only team in the NFL to have not scored in that quarter. That's how good they are at it. Terrible.
But the defense showed up the rest of the way. As much crap as we give them, the Bears have the number one red zone defense. Mike Evans first quarter touchdown catch (which shouldn't have happened because running back Ronald Jones should have scored on the play before but the refs put the ball on the one after first incorrectly ruling his diving catch incomplete) was the first TD to a wide receiver the Bears have allowed all season. And they've allowed a league low four TD passes overall.
It's not always pretty, mostly because they have a confounding difficulty tackling running backs. But this defense is good.
Last night, Khalil Mack spent the second half giving Tom Brady a lap dance. Mack has disappeared for long stretches the last season plus, but in this game he abused both Tampa Bay tackles. The Bears even had a shared sack between the immortal James Vaughters (Canadian Football League great) and Barkevious Mingo (great name).
The Bucs only had two productive drives in the second half. One of 40 yards and one of 66, but both crapped out and they had to settle for field goals. Their other drives were minus-two yards (punt), minus-two yards (punt), 16 yards (loss on downs). It allowed them to withstand this great production from the Bears offense:
First drive of the second half - three plays, two yards

Second drive of the second half - three plays, minus eight yards

Third drive of the second half - twelve plays, 59 yards (field goal)

Fourth drive of the second half - five plays, eight yards
That fourth drive really looked like doom for the Bears. They were down 19-16 and had to punt the ball back to Tom Brady with 2:48 to go. The Bucs were running the ball well enough to get a first down or two, make the Bears burned their time outs and salt the game away.
But, on first down Brent Urban knifed through the line and dropped Jones for a two yard loss. The Bears called time out. And then the Bucs threw on second and third. Both were incomplete. Suddenly they were punting after using just 11 seconds.
Ted Ginn Jr. actually decided to bother to return a punt for a change and the Bears took over at their own 42. They had two timeouts and the two minute warning. And you still figured they were going to fuck it up.
But they didn't.
They almost immediately faced a third and nine, and Foles found Anthony Miller who for some reason ran just inside the first down marker but held the ball outstretched in his hand past the marker. Would it have killed him to actually get his whole body in front of it? I guess it would have. Whatever, he got the spot for a first down.
Once the Bears got into Tampa territory the Bucs started using time outs to save time for a final drive if the Bears scored. Clearly, Bruce Arians has more faith in the Bears offense than we do.
The big play was a really nicely executed wheel route for 24 yards to Montgomery down to the 25.
On the broadcast Troy Aikman couldn't figure out why the Bears wouldn't just run the ball a couple of times, bang the field goal through and not leave much time for Brady to come back.
Maybe in Troy's oft-concussed world the Bears just knock in 42 yard pressure field goals with regularity, but not in ours. So when Foles tried to hit Allen Robinson down the sidelines inside the 10, Troy thought it was lunacy, but we were all lamenting how close it was to actually working.
On third they got Cairo Santos four yards closer with a pass to Robinson.
Ryan Succop is the Bucs kicker and he and Cairo were teammates in Kansas City for a little while one preseason. How tiny is Santos? Well, Succop is supposedly 6'2. But he's a kicker's 6'2, so he's like 5'11. Look at the two of them standing next to each other: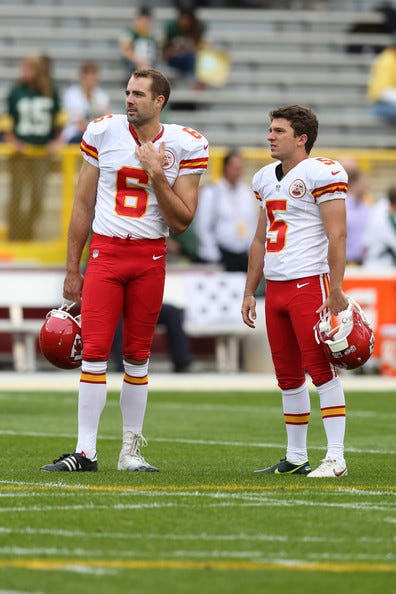 Cairo looks like they just zip him up in the bag with the balls and tees and toss him in a locker after practice.
And so this tiny little bastard was the only thing between the Bears and a two game losing streak.
Now all the Bears had to do was keep the greatest quarterback of all time (a guy they had never beaten in five attempts) out of field goal range (especially since the Bucs have an adult-sized kicker) with more than a minute left. No problem, right?
Well, they did it, and it didn't hurt that Brady somehow lost track of what down it was.
Whoops. Looks like he forgot to take his NeuroSafe.
I mean, it's no Prevagen, I guess.

The Bears are 4-1 for the first time since 2012 when they went 10-6…and missed the playoffs and Lovie got fired. But there's an extra playoff team in each conference starting this season, and if they go 6-5 in their last 11 (or, heaven forbid, better) they'll almost certainly be in the playoffs. That's going to make firing their fraud GM and their overmatched coach nearly impossible, but we'll worry about that if the time comes.

Foles got off to a terrible start, to the point where some fans were non-ironically calling for the return of Mitch. Thankfully that didn't happen (and I think we're likely to see Tyler Bray prove once and for all that he's not an NFL QB before Mitch takes an important snap again). The Bucs have a very good defense, and one that is particularly good at pressuring passers. Foles eventually figured out enough of what the Bucs were doing to move the ball, even if it was all back footed floated passes which drive us all nuts. Mitch doesn't have that ability. Mitch understands less of what's going on the longer the game goes on, not the other way around. The Bears still don't have much at the position, but there's no doubt that Foles give them a better chance to beat good teams than Mitch. Even if neither gives you a great chance.

The Bears offense looked so bad in the first half, and the Bears defense was struggling so much against the run, that Arians called timeout before a fourth and one at his own 19 yard line and then went for it! It was a blatant show of disrespect at the Bears defense, but even more at the offense. He was basically saying, "We're gonna make this, but if we don't, you'll be lucky to kick a field goal." At that point in the game, he wasn't wrong.
But, if you're going to be cocky, you should at least stick with it. Down 17-16 with 4:49 to go at the Bears seven, the Bucs kicked a field goal on another fourth and one. Does it make football sense to pass up a sure chance to take the lead in the fourth quarter? Probably not. But you know the Bears were happy to see the kicker come out on the field, and when your move brings relief to the opponent, it's probably the wrong move. A first down there was pretty likely, and at worst it burns more time before you kick an even shorter field goal. At best you punch it in and make the Bears score a touchdown to beat you. Instead, it allowed the Bears to mount just a 32 yard drive on their final full possession to win the game.

The short week means the podcasts have stacked up!
Here's the most recent Remember This Crap and we kick around the Bears-Bucs rivalry and recounted all of the various awful ways Tom Brady had beaten the Bears before.

And, Mike Pusateri and I will be recording our recap of this game, but while you wait, you can hear how pessimistic we were about it as we recapped the Colts loss.