Discover more from Pointless Exercise
The only newsletter you'll ever need...(about the Cubs and the Bears and all kinds of other cool stuff.)
The Bears offense leads the league in one key category. Doing dumb stuff.
Javon Wims' idiocy can't be allowed to overshadow the rest of the bad, though.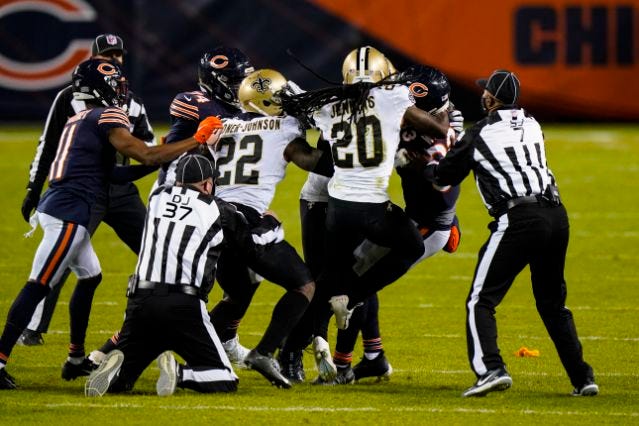 Typical of most Bears games this season, even the five they allegedly won, there was a whole lot of dumb during yesterday's 26-23 overtime loss to a Saints team that basically played without any wide receivers and a quarterback who can't throw the ball six yards in the air anymore. It was a game the Bears somehow led at one point by 10 points. It's a game they shouldn't have lost, but did, and it was yet another impressive showcase of the incompetence of their visor enthusiast head coach.
But the worst part of the game, and the biggest example of dumb was when fifth string wide receiver Javon Wims, he of 27 career receptions for 253 yards in three seasons, sucker punched Saints defensive back Chauncey (the) Gardner-Johnson.
It happened with 9:06 in the Bears favorite quarter, the third, with them on their own 36 yard line facing a second and five.
And then when the bodies were all pulled off each other it was second and 20, and Wims was ejected.
Fox showed a replay of Garner-Johnson poking Anthony Miller through his facemask after the previous play, and Gardner-Johnson has a history of being an asshole. His teammate, Michael Thomas was suspended for a game that he was going to miss due to an injury anyway earlier this year because he punched Gardner-Johnson in the head during a practice.
The penalty, the loss of field position (which resulted in Nick Foles throwing a terrible—even for him—interception on the next play) and Wims getting tossed weren't the worst part of the incident.
The worst part is that Matt Nagy used an oversized chunk of his postgame press conference lamenting how much it bothered him. Wims losing his shit and punching a dude in the helmet (the dumbest part of all of this) can now be used by The Visor to try to paper over the rest of yesterday's bad.
Wims becomes (in Emmitt Smith's famous words) an "escape goat." What he did was so mind-numbingly selfish that the Bears would be completely justified in releasing him today, but it wasn't the reason the Bears lost. They looked determined to do that whether or not a bottom of the depth chart wideout was ejected.
I don't want Wims moment of pre-pubescent fury to overshadow the moronic playcalling, two terribly placed timeouts (one in each half, just for symmetry), a complete inability to manage the clock, and some of the worst coverage schemes ever conceived of.

The Bears earned this loss. It was a team effort. Jimmy Graham went into full "Green Bay Jimmy" mode and running his routes at half speed and only showing any real effort when he went after a Gatorade jug a la Sean Rodriguez on the sidelines.
Nagy finally unleashed the long awaited Taysom Trubisky package, and it was fitting and very predictable (and I did predict a couple of weeks ago on the podcast) that he did it against the Saints. It consisted of one play, a Trubisky keeper for three yards and then…that was it. What was the point? After the game Nagy said there's possibly more to it (gee, there could hardly be less) and he liked that other teams will have to prepare for it. I've got news for you, Matt. None of your upcoming opponents is going to waste much time prepping for, "Mitch might come in, fake a handoff and fall down."
Both Wims (before the ejection, naturally) and Miller continued the ages old Bears tradition of running pass patterns a yard short of the first down marker.
Roquan Smith and Eddie Jackson made great breaks on passes late in the game. Roquan would have scored and Eddie would have thwarted the Saints eventual game-winning field goal. But, neither one actually caught the ball.
The Bears' below league average offensive line certainly wasn't built with having three backups playing, but that's what's happening. Bobby Massie joined Cody Whitehair and James Daniels on the sidelines. At its healthiest that's not a real dynamic group, just imagine how bad it gets when Sam Mustipher, Rashad Coward and whoever Jason Spriggs is are taking all the snaps?
Even before Massie's injury the Bears had two so-obvious-you-couldn't-even-miss-them-on-the-TV-broadcast screw ups where a player (most notably Coward) couldn't read an obvious line stunt. It's bad enough that they guys are limited talent wise, but the least they could be is prepared.

There was some good.
Cairo Santos made all three of his field goals on a terrible day wind-wise to kick, including having to make a 51-yarder twice in the waning seconds to send the game to overtime.
New punt returner Dwayne Harris actually returned some punts! Will wonders never cease? Not only did he return three, he also charged up and dove to fair catch one which saved the Bears at least ten yards of field position. Ted Ginn not only didn't return punts he wasn't on the active roster. He worked up just as much of a sweat as he does when he "plays."

The Bears inability to run a two-minute offense is a tradition unlike any other. If you teach your team nothing else when it comes to running a hurry up, late game offense it's this. Checkdowns are worthless. Even football meathead Mike Lombardi, who is wrong about almost everything, knows enough to hammer this point. You have to drive the ball down the field, because you do not have time to take a two or three yard gain, especially since those short passes nearly always result in a player being tackled in bounds. Second and seven or eight with the clock running is worse than second and ten with a stopped clock. Plus you waste even more time if your receivers and backs have to run back from 20 yards down the field to get lined up because you gained a whopping six feet.
And yet, the Bears entire two minute offense seems to be two or three yard checkdowns or square ins short of the first down marker. It was so blatantly obvious that even Troy Aikman, whose brain is a thin gruel these days was getting mad just watching it.
The Bears had yet another scoreless third quarter. They have now been outscored 49-7 in that quarter. Nothing is an indictment of a coaching staff in-game more than the fact that whatever halftime adjustments they make NEVER work.

The trade deadline is tomorrow, and it should go without saying that Ryan Pace should be locked in a closet in his office. This is not a very good team and trading away draft picks to try to patch a hole or two with a player his current team doesn't want is a terrible idea.
The 5-3 Bears look destined for a 7-9 finish. A competently run organization would be looking for a new GM and a new coach after the season, and shouldn't be giving away draft picks. Granted, the Bears are very unlikely to change either guy, but the picks need to stay, regardless.

The Cubs spent $27.5 million over the weekend on player options and retained exactly one player.
Anthony Rizzo gets $16.5 million to play for the club next season, Jon Lester got $10 million to avoid paying him $25 million next year, and he might actually be back next year for something just north of $10 million. It makes sense. You're already paying him that much, you might as well throw in a little more and have him. And, in the toughest decision of all, they paid Daniel Descalso a million bucks to finally go away.
All in all, Descalso made $6 million to play 82 games in two years (81 too many), and slash .173/.271/.250 with eight extra base hits.
I enjoy making fun of the old, ridiculous scout concept of "the good face." Basically, there were old timey scouts who claimed they could tell if a player was going to be a success, all things being equal, if he looked like a baseball player. It's how Brett Jackson got drafted in the first round even though he struck out at an alarming rate (117 K's in two and a half college seasons at Cal) for anyone considered an actual prospect.
But look at Daniel Descalso. This is such a bad baseball face it almost makes me believe in the concept.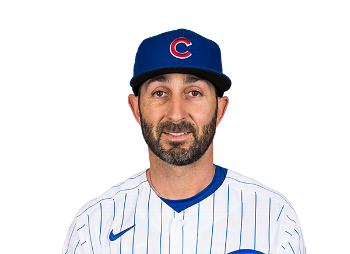 That's the face of the guy watering the lettuce at the supermarket with a hose.

How do we know for sure that Joe Ricketts doesn't meddle in the Cubs day to day affairs like a Covid Heartland version of Jerry Reinsdorf? Because Tom Osborne would be managing the Cubs if he did. And Scott Walker would have Theo's job.
Wait, I probably shouldn't give him any ideas.