Discover more from Pointless Exercise
The only newsletter you'll ever need...(about the Cubs and the Bears and all kinds of other cool stuff.)
The bullpen isn't only offensive thing about the Cubs
They can hit, too.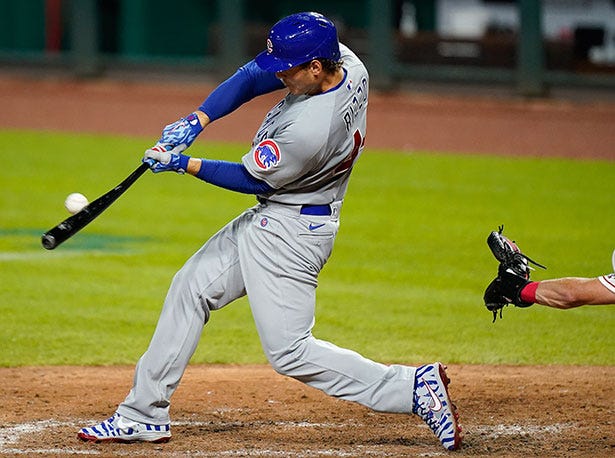 Ten percent of the Cubs' season (at least) is over, and what have we learned?
That they're pretty good, especially with an offense that appears to finally be back to the grind-it-out/wear-out-opposing-pitchers approach that seemed to disappear during the World Series parade, the starting pitching is solid, the defense is a marked improvement over the aimless meanderings of 2019, and the bullpen is so horrifically terrible that all that other stuff might not really matter.
With these Cubs no lead is safe…in either direction. On Monday they had seven run leads…twice, as late as the seventh inning and needed a miracle to escape with a win.
But we've whinged about the bullpen enough for a while (though it'll be news if we're not doing it all season), and instead we should take a moment to focus on the positive and an offense that currently ranks first in the NL in runs (second in all of baseball behind the Twins), total bases and being hit by pitches. Ouch, babe. The Cubs have been hit 11 times in six games, most in baseball—the Yankees have only been hit once.
The Cubs rank second in homers, third in slugging, OPS and doubles.
They also have not yet been caught stealing.
That might be because they have yet to attempt a stolen base. Man, somebody's taking this DH-style shit seriously.
They've done this with Kris Bryant doing basically nothing (2-for-22 with 10 strikeouts and two walks), Anthony Rizzo only hitting homers (four hits on the season, but three of them rattled around in the bleachers, he's been hit five times and walked four more so his OPS is a terrific 1.265) and with Jason Heyward throwing the parking brake on the offense with a robust .133/.235/.133 in the six hole.
Nico Hoerner is hitting .389 with a .368 on base average (totally sustainable) and Willson Contreras has continued the tear he was on in spring training and summer camp and he's off to a .313/.389/.625 start.
The Cubs do not have a conventional (i.e. good) outfield. Kyle Schwarber's off to a slow start (.729 OPS), Ian Happ's hit for power but not much else yet (.579 slug but .286 on base), and then…well, there's nothing. But, David Bote had a very good second half last season that was overshadowed by some incomprehensible key errors for a guy who really is a good defender, and he's off to a great start (5-for-10 with two homers and a double). So, would you really complain if the Cubs rocked a regular outfield of Schwarber in left, Happ in center and Bryant in right? Of course you wouldn't, because you are a very smart person. I can tell.
All of these numbers are still firmly in the way too early to get too excited category, but the Cubs are second in the league in pitches seen per at bat, and that's what we've been waiting for.
Bryant and Rizzo set a tone at the top of the order, and it's nice to have it roll over with Happ at the bottom and then suddenly the pitcher is looking at KB, Rizz, Javy, Schwarber and Willson all over again. You almost expect the opposing pitcher to step off the mound look at the dugout and go, "Hey, can you send Almora up now?" Sorry, buddy.
Teams that score runs are fun to watch. Now, if only they didn't NEED to score so many.

The Cubs are home the next five games and the next seven are all against Pissburgh (three at Wrigley this weekend) and Kansas City (two at Wrigley Monday-Tuesday, then off to KC Wednesday-Thursday.)
The Pirates coughed up a four run ninth inning lead against the Brewers on Monday, came back down 6-2 to Milwaukee in the seventh on Tuesday and then got shut out on Wednesday. The Pirates are…how should I put this scientifically…not good.
It's going to seem strange to play Pissburgh and not have Clin Turtle's bright orange visage leering back from their dugout while trying to get his pitchers to throw at the Cubs all the time. Yeah, he'll be missed. Sure.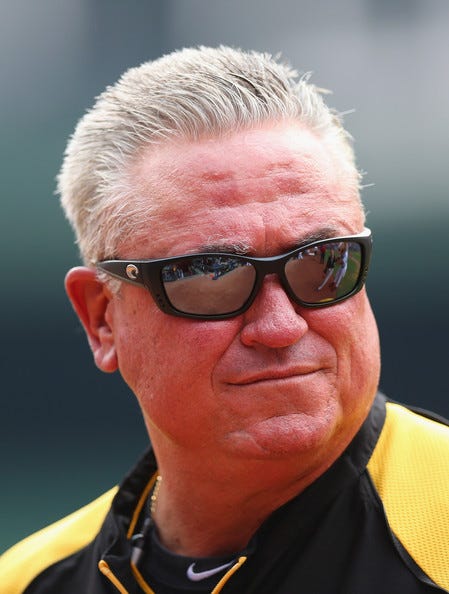 The Royals series will reunite the Cubs with a few of their old pals. Jorge Soler was off to a slow start (10 strikeouts in his first 21 at bats) before he fattened up on the Tigers last night with three hits (two doubles). If the rotation holds, Mike Montgomery (who has four career saves—just a random stat for you with no real importance, especially not the first one he ever got) will start the second game in Kansas City. He lasted a whopping two innings (giving up five earned runs) against the Tigers in his season debut.
Two guys who I'll bet you thought were retired are at the back of the Royals bullpen. Greg Holland and Trevor Rosenthal. Man, some people just can't take a hint.
But, the real treat will be a chance to see our old friend and favorite failed commercial real estate tycoon, Mike Matheny who is now managing the Royals, and trying to be just as dynamic as Ned Yost was. Tough act to follow. Though, I'm sure Matheny's perfectly willing to fall out of a deer stand to get a cell phone commercial, too.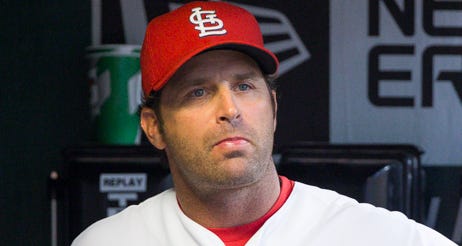 Oh, how I've missed him staring blankly out onto the field pondering the most optimal time to use a lefty reliever who can't get lefties out against Rizzo, while also lamenting how the good people of O'Fallon, Ill. just weren't quite ready to appreciate the nuance of that Dave and Buster's.
Given the state of these two teams the Cubs should go at least 5-2 against them, which would be nice considering the 15 games following this stretch are against the Cardinals (six), Indians (two), Brewers (four) and White Sox (three).
Of course by then, Craig Kimbrel will have rounded back into form.
Hah! Almost got you there, didn't I?

By now, I'm sure you have subscribed to the Pointless Exercise Podcast either through Apple Podcasts, Spotify, whatever you losers who have Androids use for that stuff or whatever the hell Stitcher is.
This week's was particularly epic, with Deadspin's Sam Fels, Wisconsin's Kyle Reichert and myself making fun of the bullpen, Theo and Jed's inability to ever develop a single pitcher, Josh Phegley's squatting inability, a week's worth of Marquee and a new segment sure to thrill the nation (and Sweden…we're big in Sweden), "Is this joke too mean?" (Spoiler alert: It was.)