Discover more from Pointless Exercise
The only newsletter you'll ever need...(about the Cubs and the Bears and all kinds of other cool stuff.)
The Cardinals are trying to ruin this for everybody
Monday Morning Cubbin' Down

The Cubs keep winning, the Cardinals are trying to sabotage things, and Marquee continues to be aggressively terrible at some of the most basic things.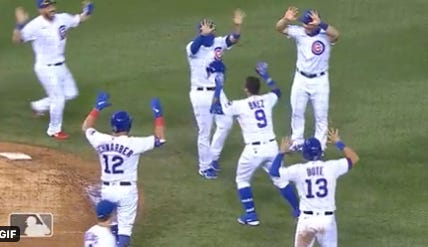 Baseball's been back for about a week and a half and there are a few things we know. The Cubs are doing all of this the right way. They're clearly taking the pandemic protocols seriously, they seem to be having more fun than just about anybody else, and other than the pitchers who sit in the cage under the bleachers they're really good.
One of the other things we know is that the Cardinals are somehow going to fuck this up for everybody.
It's one thing when the Marlins have 18 positive COVID tests. They're down there in south Florida where they hand out oranges, cocaine and deadly viruses at every stoplight. Plus, it's a very bad team full of players that nobody cares about. If baseball could contain this outbreak just to them they could send the whole franchise to hang out at Mar-a-Lago for the rest of the season and nobody would miss them.
The Phillies, Yankees and Nationals have had to postpone games merely because they either came in contact with the Marlins or they came in contact with people who came in contact with the Marlins.
But there's another outbreak that has nothing to do Miami. And you'll be shocked to know who it involves.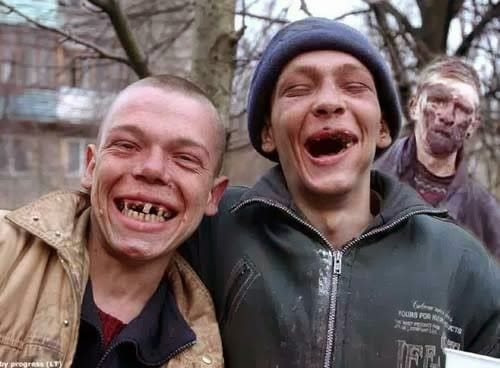 Of course, it's the Fighting Yadis. Who else would it be? The Cardinals spent a couple of nights getting their asses handed to them by the Twins and when they arrived in Milwaukee they started flunking tests like a fraternity at an SEC school.
Of course, being the Cardinals they are upset that people want to figure out what they might have done to cause a rash of positive COVID tests. Why, haven't you heard, they do things "The Cardinals Way" and you should take their word for it that they've followed all the rules. Just like how they would never violate federal law by hacking into an opponent's scouting database.
The Cardinals spent the weekend hanging out in Milwaukee where all three games ended up being cancelled. They were supposed to play games in Detroit on Monday and Tuesday then play the Tigers in St. Louis on Wednesday and Thursday. Instead, the new plan is for them to play all four games in Detroit. Single games Tuesday and Thursday and a doubleheader on Wednesday. Then, they would return home to play the Cubs over the weekend.
If I'm the Cubs, I'm saying, "fuck that." No one should ever be forced to go to St. Louis, especially in the summer, but especially not while their players are shedding a supervirus.
Remember how much the Cubs fought going to Washington for a makeup game late in the 2018 season? Sure you do, it created a scenario where the Cubs had to play 31 games in 30 days, and Hurricane Florence was bearing down on the Atlantic coast. The game is best remembered for Anthony Rizzo flying in and out in full uniform and for Pedro Strop pulling his hamstring while batting in extra innings (Pedro was never really right after that—physically, I mean.)
So if Theo and Jed could throw a world class hissy fit about a one-off Hurricane game, I would think they can mount a pretty good pout about risking the health of their players by having to go down to Dogpatch to play a team whose players have been seen going to casinos and boat parties and eschewing masks like Louie Gohmert at a Bubba Gump Shrimp Company.
If the Cardinals continue to do "significant numbers" when the results of yesterday and today's tests are known, they shouldn't be sent to Detroit (that city has suffered enough).
No, send them to mingle with their fans at Lake of the Ozarks for the rest of the season.
The Cubs, and most of the other teams in the big leagues, have worked too hard, and followed the actual rules, and they don't deserve to have this all fucked up for them.
You know what? Let the Cardinals play one more game. They can go to Iowa and play in that dumbassed Field of Dreams game against the White Sox, but they have to do it in full haz mat suits, and Timothy Busfield has to pretend he can't see them until his niece chokes on a hot dog.


Speaking of morons, let's check in on our friends at Marquee. It's only been nine games, but they've already established that there's no good reason to waste any time watching their pre or postgame shows.
Sure, you might miss some fascinating insight from the electric personality of Sean Marshall, or maybe you just can't get enough of Ryan Sweeney's wispy mustache. Otherwise, you're lucky if you can avoid Ryan Dempster.
Look at the incredible chemistry that group has:
But that's not even the most irritating thing about their coverage. This is something I've had a problem with going back to the NBC Sports Net and WGN days, but it's exacerbated this year.
Marquee has a refusal to show pitchers warming up in the bullpen that's bordering on pathological. This is the network that brags about how they're going to do all sorts of groundbreaking stuff in their broadcasts (SPOILER ALERT: They aren't.), and so far all we've gotten is Len Kasper and Jim Deshaies forced to wear suits, Len and JD being forced to babysit Dempster for three innings on nights he's on hand to further ruin the already bland pre and postgame, the weird weather thing that they never use to show anything interesting, and that ridiculous camera buried in the dirt near the second base bag. They showed off 'dirt cam' the other night when Jason Heyward over ran second base on a single to the outfield and was nearly thrown out trying to get back to to the base. Shockingly, you couldn't see shit.
But here we are with a good Cubs team that is fun to watch, and their only real deficiency is an unbelievably terrible bullpen. So, it's a huge part of the strategy in every game no matter the score. Which means the fans at home are hyper focused interested in how David Ross is going to deploy his inept relievers in such a way that they might not ruin every game.
And yet, Marquee stubbornly refuses to let us know who is warming up. They have a camera in the bullpen, all they have to do is cut to it once and a while. If, for some reason that's a big deal because they have to share their feed with the opposing team's TV network (which makes no sense, because I'm sure the other team's announcers would like to be able to talk about who is warming up when) they could just have Len tell us, or, even better, they could just add a one line graphic to the cluttered mess they already have on screen that just says who is warming up.
They can virtually add a stupid Draft Kings ad to the stands behind the plate for every pitch, they can run ludicrous commercials during innings, but god forbid they actually help fans "manage" along with the game with a little basic information. How are they so bad at so much?

The Cubs bullpen finally showed some competence on Sunday, holding the Pirates scoreless for five innings. But here's how bad the situation is.
Over the past few days they signed Cody Allen who posted a cool 6.26 ERA in Anaheim last year, and who wasn't good enough to stick with the Rangers this spring/summer (by fiat, very Cubs pitcher has to pitch for the Rangers at some point).
They signed Matt Dermody from the Sugar Land Skeeters. He last pitched in the big leagues in 2017 with the Toronto/Buffalo Blue Jays.
They called up Colin Rea and Justin Steele to add to their pile of bad relievers, in the meantime. Rea led the Pacific Coast League in ERA last year (which is like having the best toupee at the barber shop) and last pitched in the bigs in 2016. Steele is a Cubs draft pick (so you know he sucks) who gave up 45 hits and 20 walks in 38 innings at double-A last year.
I wouldn't say this is like rearranging the deck chairs on the Titanic. I'd say it's more like trying to clean dog shit off the floor with a paint roller.
Anyway, enjoy the Cubs while you can. I'm sure Harrison Bader is out there somewhere wandering around a Buffalo Wild Wings, hitting on high school girls, being yelled at by the manager for taking his shirt off and calling anybody wearing a mask "sheeple."