Discover more from Pointless Exercise
The only newsletter you'll ever need...(about the Cubs and the Bears and all kinds of other cool stuff.)
The Cubs finally get to play somebody else
The Marlins bring a tired flashback of playoffs past, but at least they aren't the Reds or Cardinals again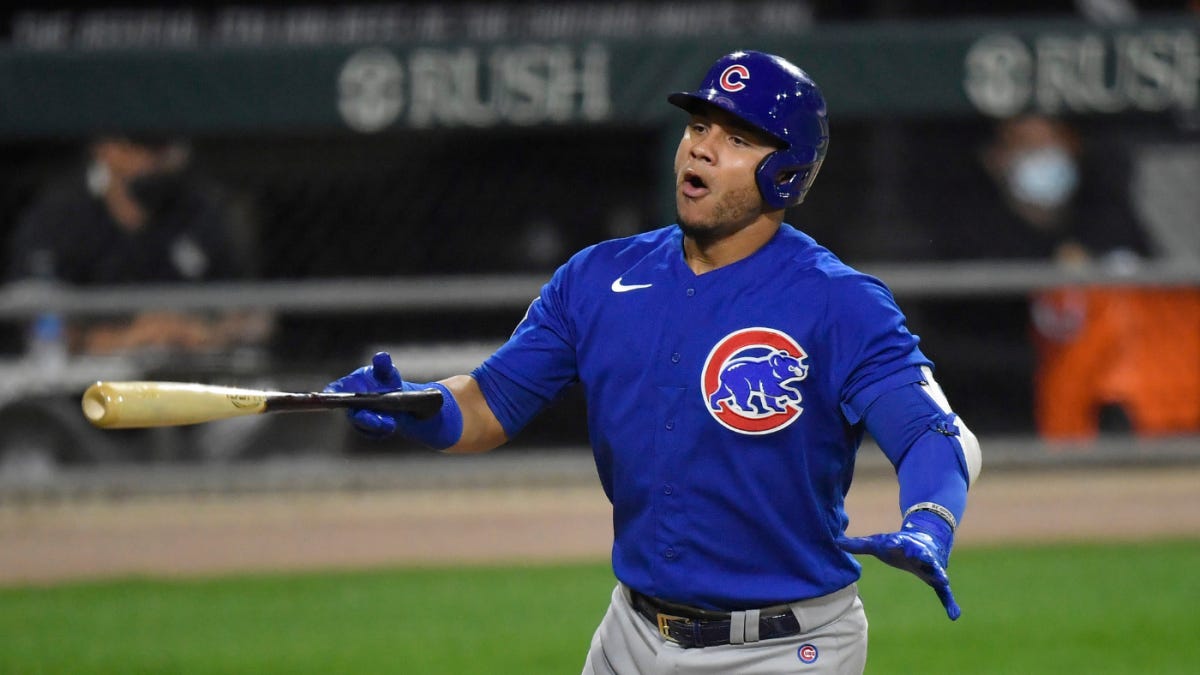 The Cubs took care of important business this weekend. Their offense woke up, they won their third division title in the last five years, they maintained possession of the prestigious Crosstown/BP/Wintrust/InfoTapes.com Cup for the fourth straight season, they secured a first round playoff opponent that isn't one of the three other NL Central teams, they let the White Sox show their ass, and they probably got Rick(y) Renteria fired.
Not bad for three days work.

After a terrible trip to Pissburgh, where the Cubs managed to lose three games in four tries to a truly awful Pirates team, they limped into US Comiskular with a playoff spot locked up, but with a chance for somebody else to steal the division title from them. Granted, in this 60 game, half-assed season, the division title doesn't mean that much, but it would mean a guarantee of home playoff games in the Wild Card round and if they didn't win it, the Cardinals would, and fuck those guys.
The White Sox clinched a playoff spot even before the Cubs did, but they were mired in an even worse stretch of play, having lost five in a row and going from a great shot at being the overall top seed in the American League to being in danger of blowing any chance at their division or even home playoff games.
The Cubs led 1-0 on Friday when Willson Contreras stepped in with two on in the third and did this.
Remember last year when Tim Anderson and the White Sox made such a huge deal about the Royals' red assed reaction to his bat flip? They were right to do it and got a tremendous amount of support. Baseball's supposed to be fun and you should be able to express yourself while you play it. So surely the Sox wouldn't have any problem with what Willson did, right? Sure he bat flipped it to the moon, but he did it towards his own dugout and it was cathartic for the Cubs to finally score some runs.
Nope. The Sox had Jimmy Cordero hit Willson four innings later.
Whatever. It was an impotent attempt to show how tough they were, while getting lit up by a less than impressive Cubs offense as Yu Darvish was competely shutting them down. The Cubs went on to win 10-0. They lost the next day, but Kris Bryant returned from an oblique injury with a grand slam, and the Cardinals lost, wrapping up the Central for the Cubs.
Yesterday, the Cubs got a terrific pitching performance out of Adbert Alzolay, who needs to be a big part of the postseason staff. He's got 29 strikeouts in his last 21 innings. Things were going swimmingly, as Bryant homered again. Billy Hamilton homered (it went over the fence and everything) AND stole home, and the Cubs learned they'd be hosting the Miami Marlins in the playoffs starting Wednesday at 1 p.m. on ABC. Yes, ABC. You can watch the game with an antenna. No shit.
The Cubs added hot shot prospect Brailyn Marquez to their 40-man playoff pool. It was mostly a procedural move. He's at a point in his minor league service time where he needs to go on the 40-man roster this offseason anyway, and he's a live arm they can go to in the playoffs if guys start dropping like flies and the Cubs last long enough in the playoffs for it to matter.
The Cubs announced they were going to let him pitch an inning on Sunday. It was a curious move, not because of any lack of talent on Marquez's part, but because you're not going to add a guy to your real postseason roster based on one appearance on the last day of the season.
Marquez showed off his easy gas. His fastball ranged from 97 to 100 MPH and he is anything but a max effort thrower. He shattered Yasmani Grandal's bat. He struck out Jose Abreu. But, he also walked three guys, threw two wild pitches and allowed five runs. It went on way too long. If the idea was to give him a taste of the big leagues they could have pulled the plug on it after he walked Edwin Encarnacion.
It sure felt like the Cubs were passive aggressively sending a message to all interested parties that they had decided to emphatically prove that Marquez isn't ready.
Will it do any harm to him? Not if he's as good as we think he is. He got to pitch in a big league game, he lit up the radar gun, and showed off some impressive sliders, and knows once he locates better he'll be breaking bats and striking out MVPs On the regular without the walks and wild pitches. If the Cubs were trying to keep from getting criticized for not having Brailyn around when Kyle Ryan costs them a playoff game, it's a pretty shitty way to cover their collective asses in advance.
The reality is that Marquez should have gotten his big league feet wet weeks ago, back when they could have given him a couple of appearances and sent him back to South Bend with things to work on. Their handling of Alzolay this summer was nearly as curious. Maybe it's worked out, and Adbert will be a useful piece in the postseason. But in both cases it smacked of the Cubs being overprotective of the only two pitching prospects they can currently hang their hats on. Not overprotective of the players themselves, but overly protective of themselves. Now they can cling to the illusion for another year that they might finally have developed an actual pitcher or two.

Kris Bryant gets a lot of undeserved crap. Injuries the last few years have taken a chunk out of his production, but his track record of being a Rookie of the Year, MVP, three-time All-Star and the guy who hit the biggest playoff homer in Cubs history should be enough to mute a lot of it. That's not how things really work, is it?
He came into the weekend injured again, trapped in a season with only two homers and five RBI, and I think most of us expected that he wouldn't be able to play again this year. But he played Saturday and Sunday, went three-for-eight with two homers, six RBI, four runs scored and a walk. If he has a strong playoff run nobody's going to care that he hit only .206 with four homers and 11 RBI in 34 games this "season."
How much does the Twitter criticism bother him?
Happy now, gang? You made Kris Bryant swear.

The best thing about the Cubs getting the Miami in the Wild Card round isn't even really about the matchup. Going into the weekend their three likeliest first round opponents were the Reds, Cardinals or Marlins.
The Reds and Cardinals made up a third of the Cubs schedule this season. Did anybody really want more of that shit? This way, at least we get to see them play somebody else, even if it's Jesus Aguilar, Starling Marte and a bunch of guys we've never heard of. Wait, I take that back. Their closer is former Cubs asshat Brandon Kintzler.
The Cubs got Kintzler in 2018 because Nationals' GM Mike Rizzo found out they had a clubhouse snitch and decided it was Kintzler. It turns out it wasn't, but we also had that weird thing where Juan Soto kept yell that he was going to kill him during his own at bat while facing Kintzler. His nickname was "Salt" which was apparently given to him by himself and promoted by living proof that ESPN doesn't give a shit about baseball—Jesse Rogers.
Are the Marlins any good? Not really. They won 31 games after nearly shutting the entire league down because of a Covid-19 outbreak that likely resulted from a bunch of the players going to bars in Atlanta after exhibition games before the season even started. Their expected record is only 26-34 and they were outscored by more than 40 runs over the course of the season. They made the playoffs largely because they went 11-3 against the Orioles and Phillies, and because of all the cancellations from their outbreak they played seven of those Phillies games in one five day span in early September. The whole thing was weird.
So are their black uniforms, which also sport black numbers. You can't tell who anybody is. Not that it would matter if you could.
So, the Cubs should tear right through them, right? I mean, Yu Darvish is pitching game one and Kyle Hendricks never loses at home and he's pitching game two.
Well, the Cubs didn't exactly storm their way to the playoffs. And they always struggle against pitchers they haven't seen (or have rarely seen), and the two of three first round is a complete crap shoot. Is this probably the best matchup they could have gotten? The Brewers are pretty bad, but yeah, this probably is. But that's never stopped the Cubs from losing in the past, why would it now?
Every series in the National League features one NL Central team. Three of the four American League series have an AL Central team in it. Seventy percent of the playoff teams are from those two divisions. You'd think that would mean all those teams are battle tested. You'd probably be wrong. There's a whole lot of mediocre in those seven teams.
The Cubs played just 17 games this season against teams that didn't make the playoffs (Royals (4), Tigers (3), Pirates (10). The Marlins played only 19 against teams that did, and went 7-12 in those games. The Cubs went 24-19 against playoff teams.
What does any of that mean? It's 2020. Nothing means anything.

The Marlins have never lost a playoff series. That's right. They are 5-0. They are the only franchise in any of the four major sports that has never been beaten in a playoff series. So, they're due. Then again, they were due in 2003 and that didn't work out for the Cubs, either.
But hey, that was 17 years ago, and the Cubs have won a World Series, so we won't have to hear about Steve Bartman or any of that stuff, right?
It's not a goddamned sequel, Boob. Nobody on either team is still around from 2003. Well, Len Kasper, but he actually changed teams, and Marquee is shuttered for the rest of the year anyway, right?
Even if it was a sequel, it's been a year longer than the gap between The Godfather Part II and The Godfather Part III, and we remember how that worked out. It was terrible, unless you like wooden acting and cousin lovin'.
We're going to see the stupid Bartman footage at least 1,000 times in the series. But hey, if the 2003 NLCS had been played without fans the Cubs would have won it.
Probably. Maybe. Oh, who knows?
Not only is it a matchup of the same franchises from the 2003 NLCS, but game one marks the first Cubs playoff game on ABC since game five of the 1984 NLCS. If the Cubs would like to invite Steve Garvey to throw out the first pitch I'd be fine with it if they could guarantee he'll get Covid on the return trip.
But isn't it nice for the Cubs to be in a playoff bracket with the Marlins and Padres and not give a shit about any of the backstory because:


On our Bears podcast this week, Mike Pusateri and I usher in the Nick Foles era, try to figure out what happened to his tinted visor after the first couple of drives, ponder Mitch's future, wonder how he got home from Atlanta, and mostly we try to figure out why opposing coaches are so generous to the Bears. Not that we're complaining.

And finally, I'm sure former Cubs manager Ricky Renteria (that's a thing that actually happened) isn't worried that he'll get canned if the Sox flame out quickly in the playoffs. I mean, it's not like anybody has noticed that the only game they won in the last eight was the one he didn't manage because he was suspended. Hey Rick, if your doorbell rings late next week…don't answer it.
Oh, well, the Cubs are definitely going to be hiring a new hitting coach for next season. Again.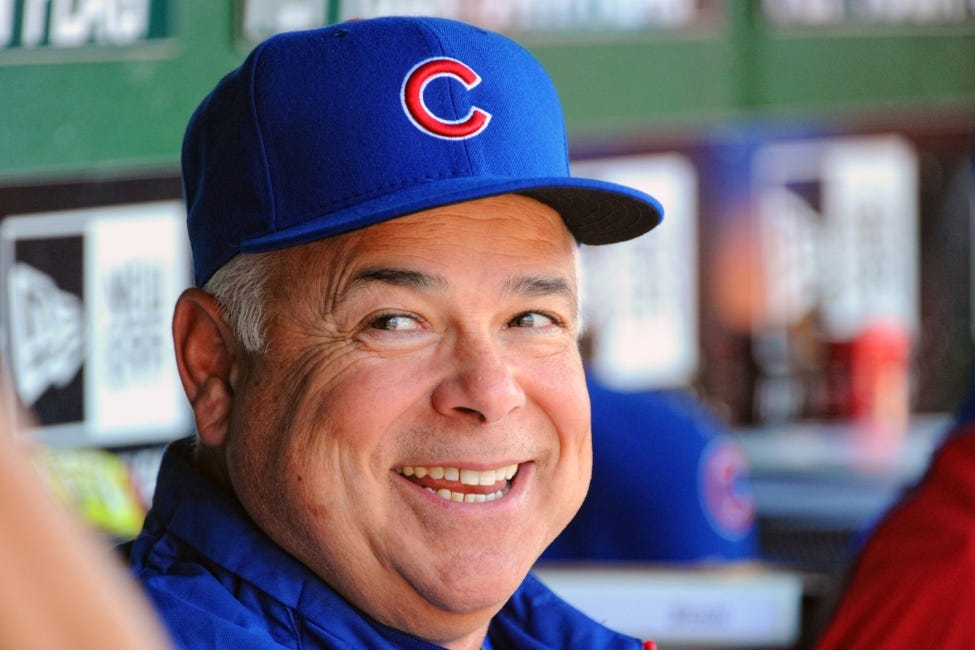 They won't even need to buy him a new hat.
It took a little longer than expected, but Marquee went full infomercial on Sunday.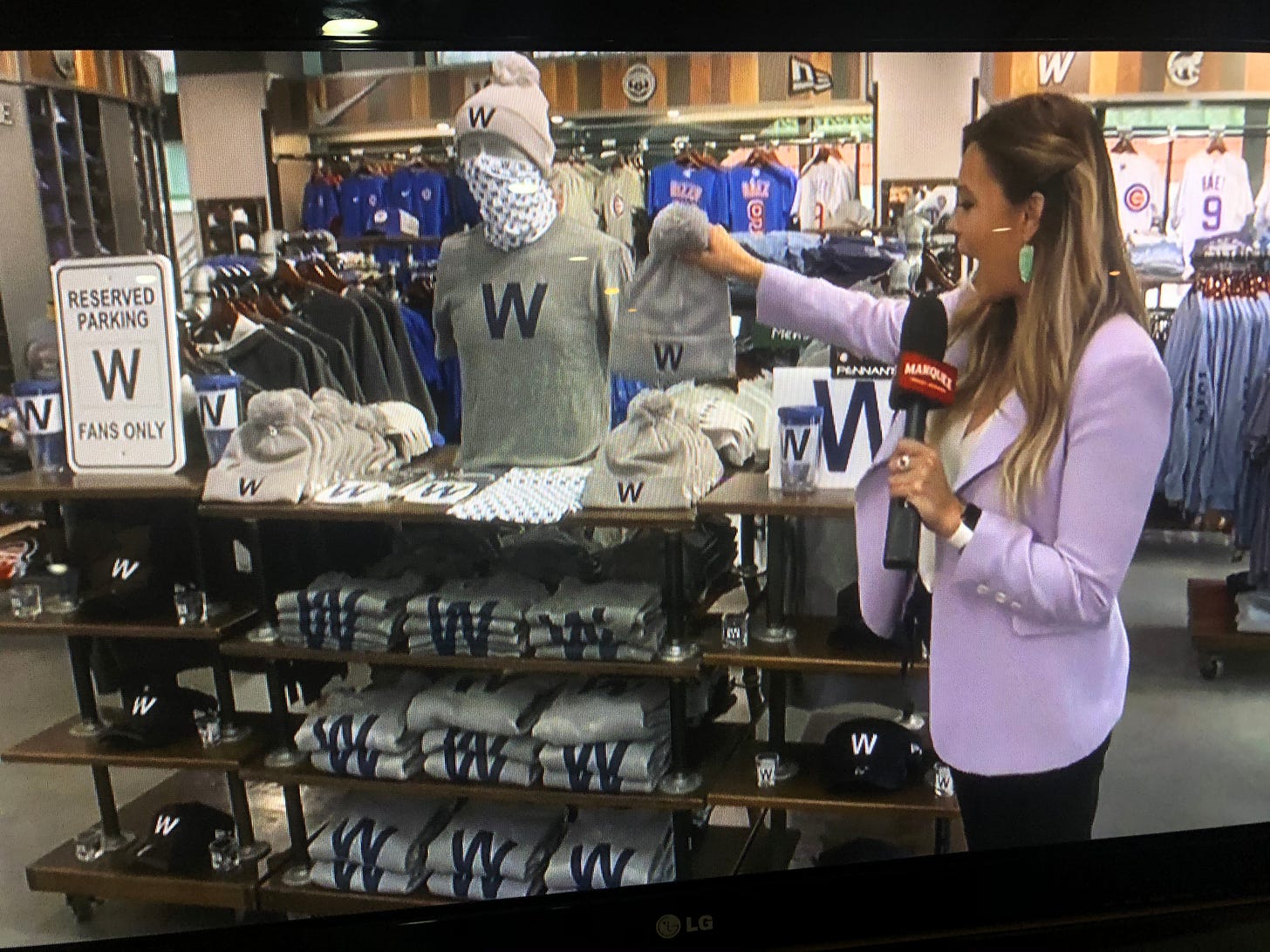 A fitting end to an underwhelming first season for them. The good news is that we have no reason to turn the channel back on until (if) spring training returns in March.