Discover more from Pointless Exercise
The only newsletter you'll ever need...(about the Cubs and the Bears and all kinds of other cool stuff.)
Theo's not out the door but he's putting on his coat
Seems like he's sticking around for one last run at...something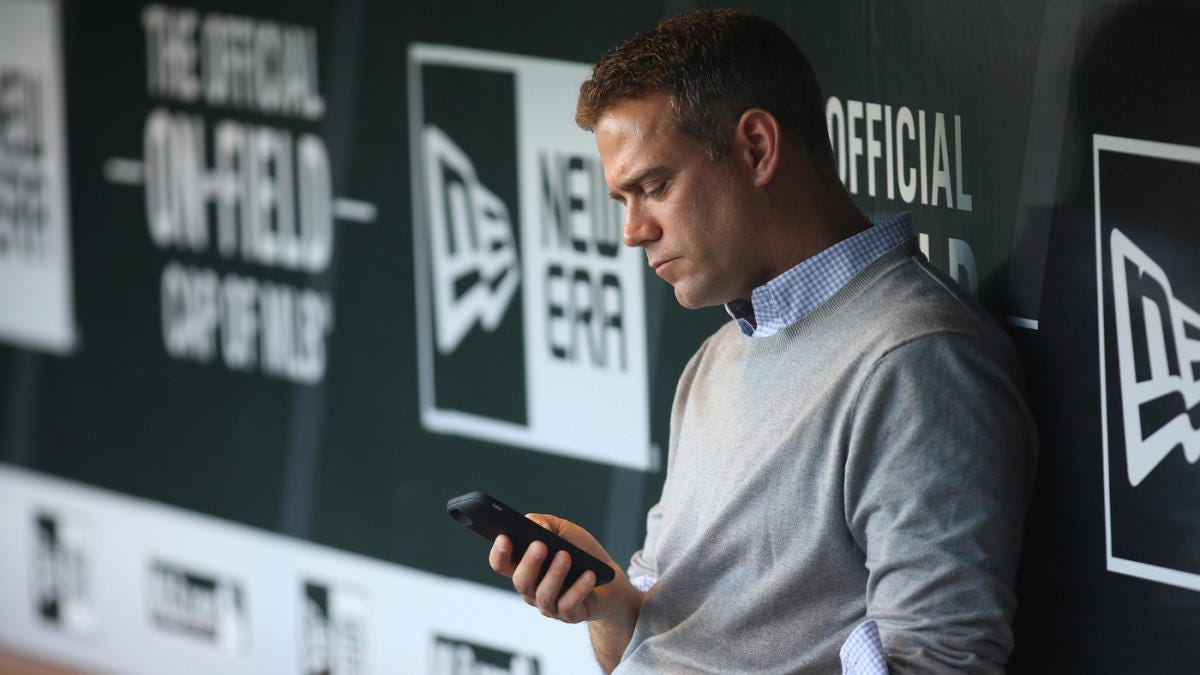 Yesterday, Cubs President of Pitching Non-Development Theo Epstein met with reporters and did another sad post-mortem of another lackluster end to a Cubs season. Theo did his best not to repeat his laments of the previous three of those, but when the same shit is wrong with your team its hard to not repeat yourself.
Theo wouldn't commit to sticking around for next season, the final one on his contract, but he sounded like a guy who wasn't quite done. He promised there would be changes, and you want to believe him.
Theo said:
"We have not performed up to our expectations offensively and especially at the most important times of the year and sort of simply hoping for a better outcome moving forward doesn't seem like a thoughtful approach.

Embracing some change, even significant change, is warranted.

Is it possible to thread the needle and improve in 2021, while also setting ourselves up for the long-term future? I think it is." 
You heard the man. Significant changes are imminent. Josh Phegley's coming back!
The Cubs have decisions to make on Anthony Rizzo, Javier Baez, Kris Bryant and Kyle Schwarber. They are all entering the final year of their contracts (Rizzo) or their final year of arbitration (the other three.) They could try to sign any of them to an extension, they could non-tender the last three, they could try to trade any of them or they could let it ride. Given the financial uncertainties of baseball, and the fact that the Rickettses cry poor in the best of times, it's not out of the question that somebody (Schwarber) could simply be non-tendered to save cash. But they're probably not going to do that.
Trading Schwarber to save some cash is a real possibility, as is dangling a long term contract at Javy with the hope that his 2020 season was a fluky, one off bad year in the middle of a deadly plague and that they might get a little bit of a price break. Bryant's not likely to even entertain a long term contract coming off a terrible season, and Rizzo's tired of being the poster boy for signing an undervalued contract.
Epstein pointed out that the Cubs' three most productive hitters this year, Ian Happ, Jason Heyward and Willson Contreras are all under club control for multiple years. That's great. The fact those three were the best hitters this year is a big part of the problem, though.
So we'll just have to stay tuned and see what happens. We won't bother to try to keep up with the offseason on Marquee Sports Network, though. They not only didn't carry Theo's press conference live (they were showing a re-run of their morning gambling gab fest), they didn't even bother to show a recorded version of it. They did no original programming yesterday. We get it. You already got our money. Why bother doing any actual work?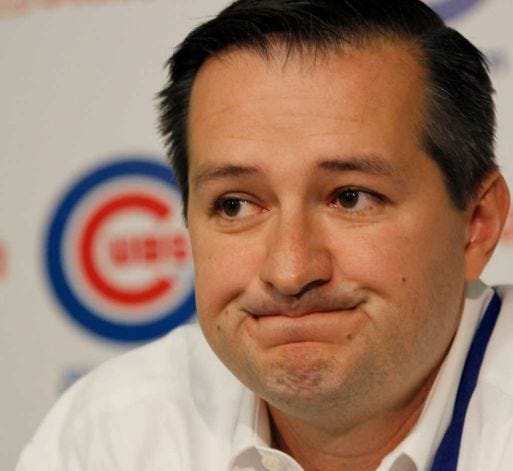 One thing Marquee did, however, was send political meme enthusiast Bruce Levine to chat with Tom Ricketts. Apparently without a camera. Way to maximize the 24 hour TV network you own. Bruce and Tom had a little chat and it ran on the Marquee website that nobody ever visits. But hey, I'll throw them a click or two, because I'm just that kind of guy.
Ricketts talked about the possibility that Theo's getting ready to leave and commented on Epstein's legacy.
"We have been in the playoffs five of the last six years, We have won three division titles. We won a World Series. Those are just stats. The big picture is nobody refers to the Chicago Cubs as loveable losers anymore."
No, now they talk about what a bunch of scumbags the ownership group is.
"The expectations of our fan base have changed. When we win a division and people are not happy about that, they now are focused on the fact we didn't go further in the playoffs."
Using abject postseason failure as a measure of how far you've come is an interesting concept.
"Ten years ago they were just happy to make the playoffs. So his legacy is about winning and really just changing our image to a team that is not destined to lose but a team destined to win."
I think Theo might not necessarily be flattered that you think his legacy is now the franchise prolongs disappointment a few extra days each year.
"Part of the reason I love the Cubs so much, and fans love the Cubs so much, is the Wrigley Field experience. To look at an empty ballpark game after game is just disheartening."
You might want to get used to it.
"Saying hello to fans and giving balls to kids is something I really enjoy. I look forward to it."
Keep your balls away from the kids.
"Sitting alone by myself in the owner's box sucks. Hopefully next year we will be welcoming a  full stadium back at some point."
Tom misses sponsors for two reasons. He misses their cash. But he's talked more than once about how much he likes to come to the park to hang out with the team's "corporate partners." The money might be daddy's, but Tom's reached the level of wealth where friends are the people who have to hang out with you.
Tom was effusive in his praise for David Ross, the more cost effective manager the team installed and who led the team to a sneeze and you missed it (and should probably get tested) trip in and out of the playoffs. The Cubs needed a make-believe MLB mandated rain out to prolong their playoff stay beyond the 27 hour minimum.
"I think David Ross had a great first season."
Great seems a tad bit generous. I'm not going to say that Ross did a bad job. He navigated a pandemic and an offense that rarely functioned and won what turned out to be the worst division in baseball history. At least that's what the playoffs revealed it to be.
"He was new to the role but not to us."
We didn't even need name tags!
"We did a really good job with our pitchers. We lost two of our starting pitchers and still put together a great staff."
Which word is more egregiously mis-used in that? "Great" twice, or "We" twice? Hey, maybe the Ricketts boys are running the pitch lab. Pete's job is to make sure nobody wears a mask when they're in it.
"The defense was a lot better."
Amazing how having Javy healthy all year and not having to play Nick Castellanos in right, Daniel Descalso or Robel Garcia at second or Ben Zobrist anywhere tightens up the old defense.
"We didn't do as well offensively."
You didn't? Gee, we hardly noticed.
"We need to address that before next season. An early exit in the third playoff appearance in a row was disappointing."
Actually, it was an early playoff exit in the second playoff appearance in three years. Not sure if you remember that you didn't make it at all last year. And three actual playoff appearances ago the Cubs played for the pennant.
Levine was sure to throw in a paragraph about Cubs Charities, which I'm sure was the actual reason for the sit down. I'm glad the Cubs are charitable. I just hope that next year the biggest beneficiary of their philanthropy isn't the Todd Ricketts Property Tax Fraud Defense Fund.

At some point, once we know he's really leaving I'll write something about Jon Lester's Cubs legacy. I just don't want to think about it yet. And, I think it makes sense for both sides to bring him back for one more year. He's not going back to Boston to finish it out, nobody he knows is still there. Going home to Seattke seems a sad end, and I guess since he lives near Atlanta now that the Barves make some sense. But it really seems like one more ride with the Cubs seems most likely. So until then, I can just joke about crap like this.