Discover more from Pointless Exercise
The only newsletter you'll ever need...(about the Cubs and the Bears and all kinds of other cool stuff.)
Things are not as bad as they seem
Well, except for Bruce Levine's Tweets

Did you know that the Cubs are 4-3 in their last seven games? Doesn't seem like it does it? Then again, they've also lost a game on six of the last eight days, which is probably why it feels like the struggle is real.
And yet, they are 17-10, three games clear of the Little Red Plague™ and would be the second seed in the National League if the playoffs started today. That's the thing about this weird little season. Every team is going to go through the struggles they normally would in a full season, but if every game is the equivalent of 2.7 "real" games, every slump also feels 2.7 times worse.
The home stand they just completed can't be considered a grand success. They went 5-7, their lead in the division was cut by 3.5 games, nobody's hitting, Jon Lester's unsustainable start the season is now fully in regression-to-the-mean mode, Alec Mills turned back into a glasses wearing pumpkin, and Tyler Chatwood came down with a weak back about a week back.
Letting the White Sox play home run derby over the weekend didn't exactly lighten the mood, either. The Sox scored 18 runs in three games and all 18 scored on home runs. Jose Abreu, their 67 year old first baseman hit six in the series, including a stretch of four in a row over two games. Every single one was hit on a poorly executed breaking ball.
Look, I know the Cubs have a pitch lab and 3-D cameras and I guess a graphing calculator and some shit, but how about when a guy has hit…oh, I don't know, five homers in two games, YOU MIX IN A FUCKING FASTBALL OR TWO? Instead, Yu Darvish, who impressively shut down the Sox yesterday, throw a slider that didn't slud in Abreu's first at bat and Abreu hit it about 600 feet to left center. If not for Kyle Schwarber's sixth inning two-run homer, that one mistake would have been enough for a Sox sweep.
The Friday night massacre, when Lester's 89 MPH nothing fastball was repeatedly teed up by the Sox was one thing. Every team gets bombed out of a few games every season, even if that season is only 60 games long. But Saturday's loss was infuriating. The Cubs knew Reynaldo Lopez was on a very short pitch count in his return from the Wood Prior List™, and when he left with one out in the fourth the game was tied at two.
In came soft tossing Gio Gonzalez. It's been a mind-numbing frustration the last few years that the Cubs can't hit him. He has nothing. He hasn't had anything for four years, and they even lost one of his playoff starts in the 2017 NLDS. Gonzalez started five games against the Cubs last year. And he had a 1.48 ERA in those five starts and allowed only 12 hits in 24.1 innings. He never throws strikes! He can't because if he does he gets hammered, and yet, true to form the Cubs got one hit against him in 3.2 innings yesterday and he got the win.
Darvish was incredible on Sunday. He struck out 10 in seven innings, only walked one and the Abreu bomb was really his only blemish. He's now 5-1 with a 1.70 ERA, and is just plain fun to watch.

You know what's not fun to watch? A Cubs game on TV without Jim Deshaies. Instead we got a full weekend of the comedy stylings of Ryan Dempster. Mercifully we could all turn Friday's game off early and spare ourselves some of it. I watched the first two episodes of Netflix's video game documentary High Score, which I recommend:
I also watched the first two episodes of Netflix's cartoon "Hoops" with Jake Johnson, and I very much do not recommend that piece of shit. The premise is fine. A hapless Kentucky high school boys basketball coach with a team full of nerds and one giant, but it is painfully unfunny. Everybody just swears a lot, and apparently the swears are supposed to be the punch line, every time. Swearing's fine, but there have to be actual jokes, which there are not.
Anyway, apparently, Deshaies hurt his knee while golfing, and he's out for an undetermined amount of time. At the very least they need to set him up to do some pantsless analysis from his kitchen like Mark Grace, because I cannot take more of Dempster.
To be fair, Dempster's game analyst persona is not the failed prop comic energy he does every other time he's on TV. He's much more subdued, but he's not good at it. He very often starts sentences with no idea where he's going, which results in incoherent analysis like, "That's a mistake Jon Lester wasn't trying to make."
When Marquee racked up highlights from a Cubs comeback against the Sox in 2009, Dempster said, "I remember that." Dynamite drop-in Ryan, that broadcast school has really paid off.
Marquee is determined to make him a "thing," and we are all the poorer for it.

The Cubs finally put Kris Bryant on the Wood-Prior List™ and waited so long to do it on Saturday that they played a man short. Then on Sunday they recalled short man Ian Miller to take his spot, which frankly, is still like playing with 27 guys.
Allowing Bryant to play for a week with a hand injury that eventually put him on the IL anyway is just so Cub. The Cubs' bench now includes such wonders as Josh Phegley, Miller, Hernan Perez, and whatever it is that Albert Almora does these days.
Oh, he does this:
The trade deadline is now just a week away. Theo Epstein said the other day that the team is in the market for a pitcher who can get out lefties and a bat that can hit them. Well, yes, both of those things would be nice.
But, how likely is it that the Cubs get anyone of real use? They won't want to trade for anyone who adds to next year's payroll, because of the expanded playoffs most teams think they're still in it, and what exactly do the Cubs have to trade? Oh, and then mix in the idea of asking someone to change teams and move during the middle of a global pandemic and yeah, the Cubs are going to have to "fix" their problems by using the parts they have on hand. Hopefully a box washes up on the shore with something useful in it.
So, everybody, let's welcome our new lefty relief specialist and right handed hitting DH, Wilson the volleyball!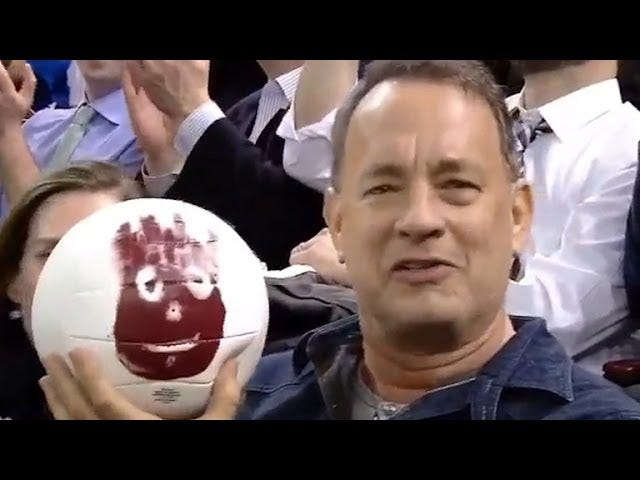 After Saturday's loss, Anthony Rizzo unexpectedly went all Micheal Ray Richardson:
"When the ship is sinking, you feel like you're all about to drown," Cubs first baseman Anthony Rizzo said after the Cubs' 7-4 loss to the White Sox on Saturday. "But that's the beauty of this game is you have to come back tomorrow and keep paddling and keep playing."
Micheal Ray once famously summed up a Knicks' season with, "The ship be sinkin'."
Never go full Micheal Ray Richardson, especially if you have a drug test coming up.
The week ahead sees the schedule ease up considerably for the Cubs, even if the next ten games are all on the road. They start with three in Detroit, then four games in three days in Cincinnati and then three in Pissburgh. The Cubs will likely catch both Sonny Gray and the "fascinating" prick Trevor Bauer in Cincinnati.
But I'm sure Ian Miller can handle both of them.

And we all know that Bruce Levine is Twitter-challenged, but this was notable even for him.
Oh, so you just happen to have that offensive, and really unfunny picture on your phone just for historical archiving purposes?
How do you accidentally attach a photo to a Tweet?
Bruce didn't Tweet again the rest of the day. No word yet on if he'll be suspended by either Marquee or The Score. Probably not, because the odds are pretty good Todd sent him the meme in the first place.