Discover more from Pointless Exercise
The only newsletter you'll ever need...(about the Cubs and the Bears and all kinds of other cool stuff.)
This offseason provides incredible opportunities and the Cubs will take the wrong one
There will be lots of good players unexpectedly available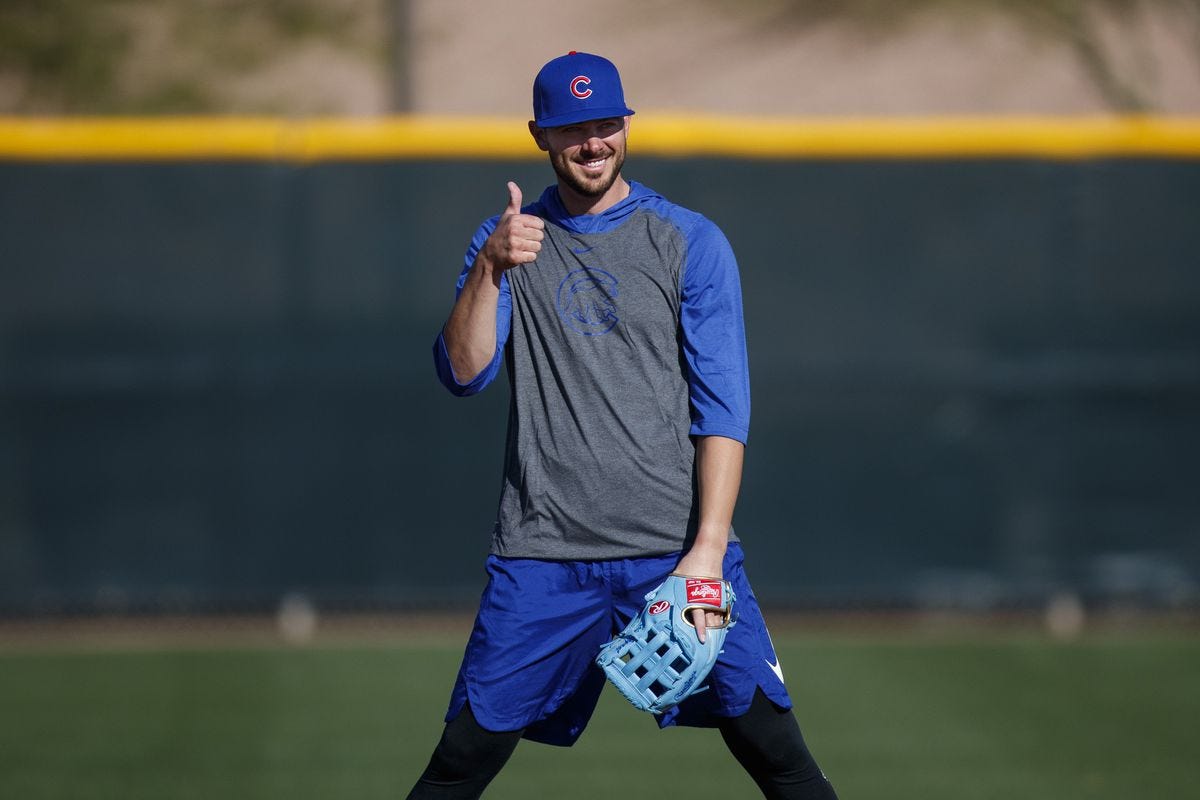 When Theodoro Epstein walked across the surface of Lake Michigan to his introductory press conference with the Cubs in 2011 he talked about things like operating on multiple tracks in building the team and on exploiting market inefficiencies.
Now, in what we all expect is his last offseason with the team there's going to be one of the biggest market inefficiencies in baseball history to exploit.
The combination of COVID-19's effect on the game's revenues, owners' desires to not pay anybody in the best of times, and the uncertainty of the length of season coming up next year and the ability to have anything near full stadiums have already produced cases where good players are having reasonable option years declined.
Sunday is the deadline to pick up player options and we've already seen the Cardinals send Kolten Wong out into the wild and the Indians send Brad Hand off for pizza.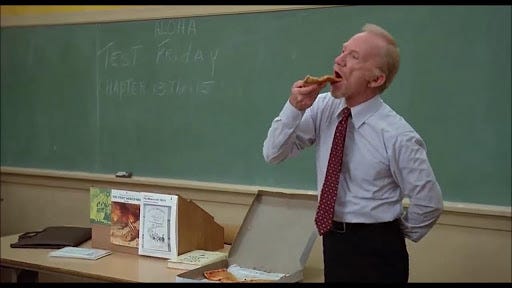 "What are you people, on dope?"
The even bigger deadline will be the one on January 15 when teams have to offer arbitration to their eligible players.
So, you're the Cubs. A team that rode a hot start to a playoff spot during Baseball Coronapalooza, and you need to diversify your team's offense and continue to build pitching depth since no matter how much they tout your vaunted pitching infrastructure you are pathologically incapable of developing your own pitchers. This offseason will provide you with a once in a lifetime opportunity to add good, young, established big league talent at below market prices.
Not once in a normal lifetime, once in a Baby Yoda™ lifetime.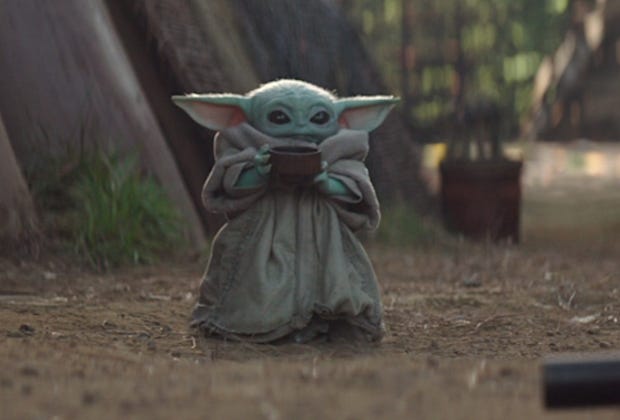 Watch The Mandalorian season two now streaming on Disney+. Baby Yoda, The Child, The Mandalorian and Disney+ are trademarked property of the Walt Disney Company, Lake Buena Vista, Florida. This is a paid advertisement for The Mandalorian. At least that's what the dope who runs this site thinks, we gave him a shitload of expired Disney Dollars™ and he doesn't know the difference.
There's only one problem with this opportunity. The Cubs are guaranteed to take advantage of it, not by exploiting it, but by using it.
It makes no sense for the Cardinals to decline Wong's option, and it made even less sense for the Indians to decline Hand's. Even if neither team wanted the player, you'd think they'd exercise the option and then trade them.
But here's the thing. It's not even November and teams already know it's going to be nearly impossible to move any salary this offseason. In a normal offseason, Hand's $10 million option would be very attractive to a lot of teams, but the Indians looked at the landscape and figured they might not be able to move him at all.
The Cubs are going to have to decide if they want to pay Kris Bryant $20+ million for 2021, Javy Baez $15+ million and Kyle Schwarber $11+ million. That's conservatively what the three should expect if they're offered arbitration.
All three had bad 2020 seasons. Not just bad for them. For anybody. But baseball's salary structure means they're going to get raises, and honestly, that's fine, considering all three of them were vastly underpaid during the only season that's really counted since 1908.
We've been over and over the fact that the garbage family that owns the Cubs aren't just billionaires (well, dad is, and the rest are billionaire adjacent at least) and that despite the fact the team will have lost money in 2020 it's after a string of years when they were printing money hand over fist (though their fancy accounting will claim they haven't been, but they have) and the sale of daddy's company closed on October 6, for $26 BILLION dollars.
They didn't need to lay off 100 people last week, they didn't need to lay off dozens of people earlier in the year, they don't need to cut salary for 2021. They should be embracing the opportunity to go shopping for players who in most other years would not be available, at prices that would otherwise be unthinkably low (Major League Baseball low…but still.)
But all of us are already bracing for them to use the other opportunity. The opportunity to be just like all of the other unctuous people who own these teams and jettison players en masse. Baseball owners will coordinate the timing of the announcements to try to hide under cover of every baseball fan being outraged at their favorite team all at once. Then they'll try to pick through the wreckage and sign other team's cast off arbitration eligible players and try to patch together teams on the cheap.
They'll do it because it saves them money, and because the collective bargaining agreement expires after the 2021 season and they use it as another tactic to try to scare the players into the idea that this is how it's always going to be from now on.
But hey, at least the Cubs don't have any expensive club options to exercise by Sunday.
Do they?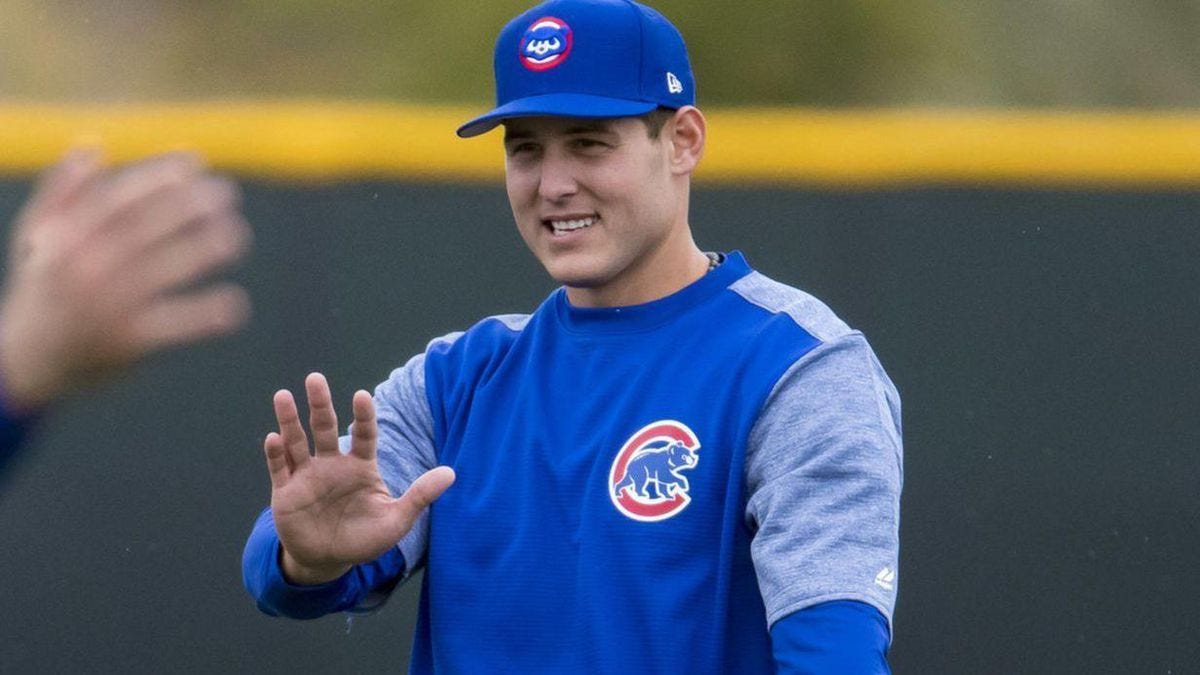 Oh, shit.

So, how are things going on the other side of town?
The Sox used the Cubs playbook by firing Rick(y) Renteria with a young team on the cusp of doing great things, but instead of going out and hiring an in-demand manager, they grabbed a shovel and dug up the remains of The Genius himself.
Here's a shot of Tony from a couple years ago, looking as though the embalming process was nearly complete: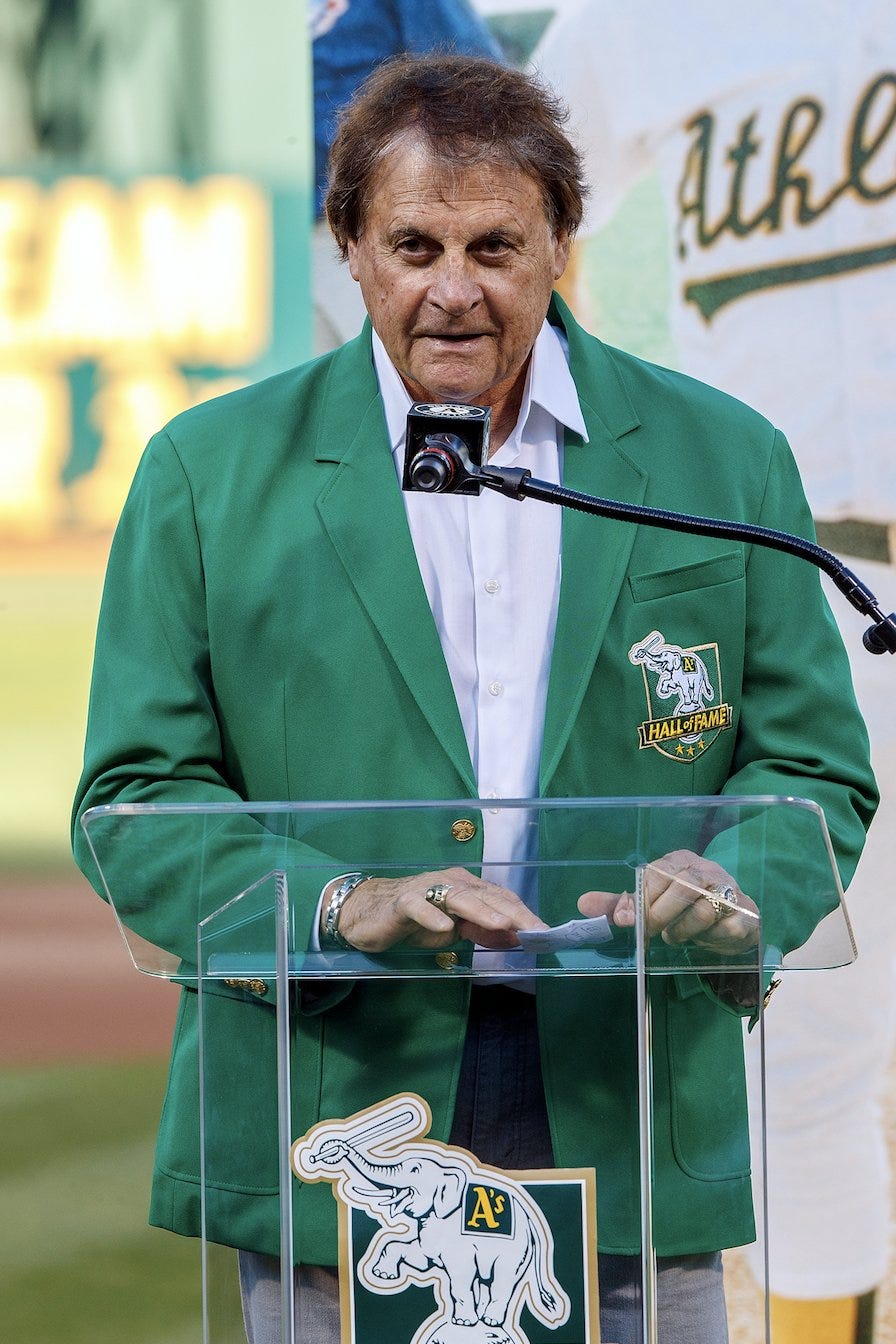 The Sox, for once in their existence, had a chance to pick their manager. It's an attractive opening right now. And they hired a completely not in-demand manager. La Russa is 76 years old. The last time we saw him manage he was being outwitted by a bullpen telephone. He hasn't managed in nine years and has spent the last four years perfecting his angry old man routine decrying athletes attempts to raise awareness for social justice.
It was absurd enough that Sox owner Jerry Reinsdorf was humoring himself and Tony by forcing Rick Hahn to interview him for the job, but then he made Rick hire him.
The Sox organization was so excited that the header graphic on the mass email they sent out today to announce the hiring had AJ Hinch's signature on it.
They didn't even interview AJ.
You also wonder about the notched graphic next to Tony's mugshot in a Sox jersey and hat, because…well, it looks even more like a mugshot than his actual mugshot.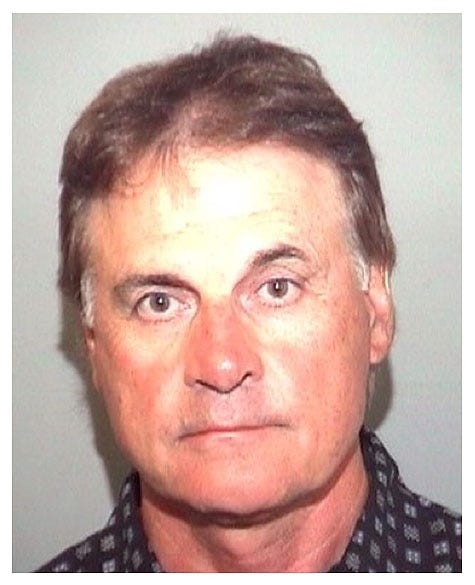 Look, I'm ecstatic about this hiring. Nobody enjoys making fun of Tony La Russa more than I do, and nobody cares less about the White Sox than me. So I'm incredibly glad that they did it.
I don't hate the Sox. I honestly hardly ever think about them. But I'll think about them now until this inevitably ends with a confused whimper.
I have a hard time feeling bad for the young Sox players who are suddenly going to buried under an avalanche of "that's not old school baseball" shit from Tony and his staff.
Because for all of their bullshit about wanting the freedom to express their true selves on the field, they all lost their shit when Willson Contreras did this against them in the final week of the season.
So they can all eat me.

This week in Yadi Molina's Instagram tantrums features Cardinals fans panicking over the thought that since the Cardinals can't afford Kolten Wong for $12 million next year, how could they possibly afford to keep their slap hitting, 38 year old catcher who ranked 20th in the big leagues in defense last season?
Yadi and former teammate Marcel Ozuna are both free agents and yesterday they took to the 'Gram (as the kids call it) to ponder where they could sign together.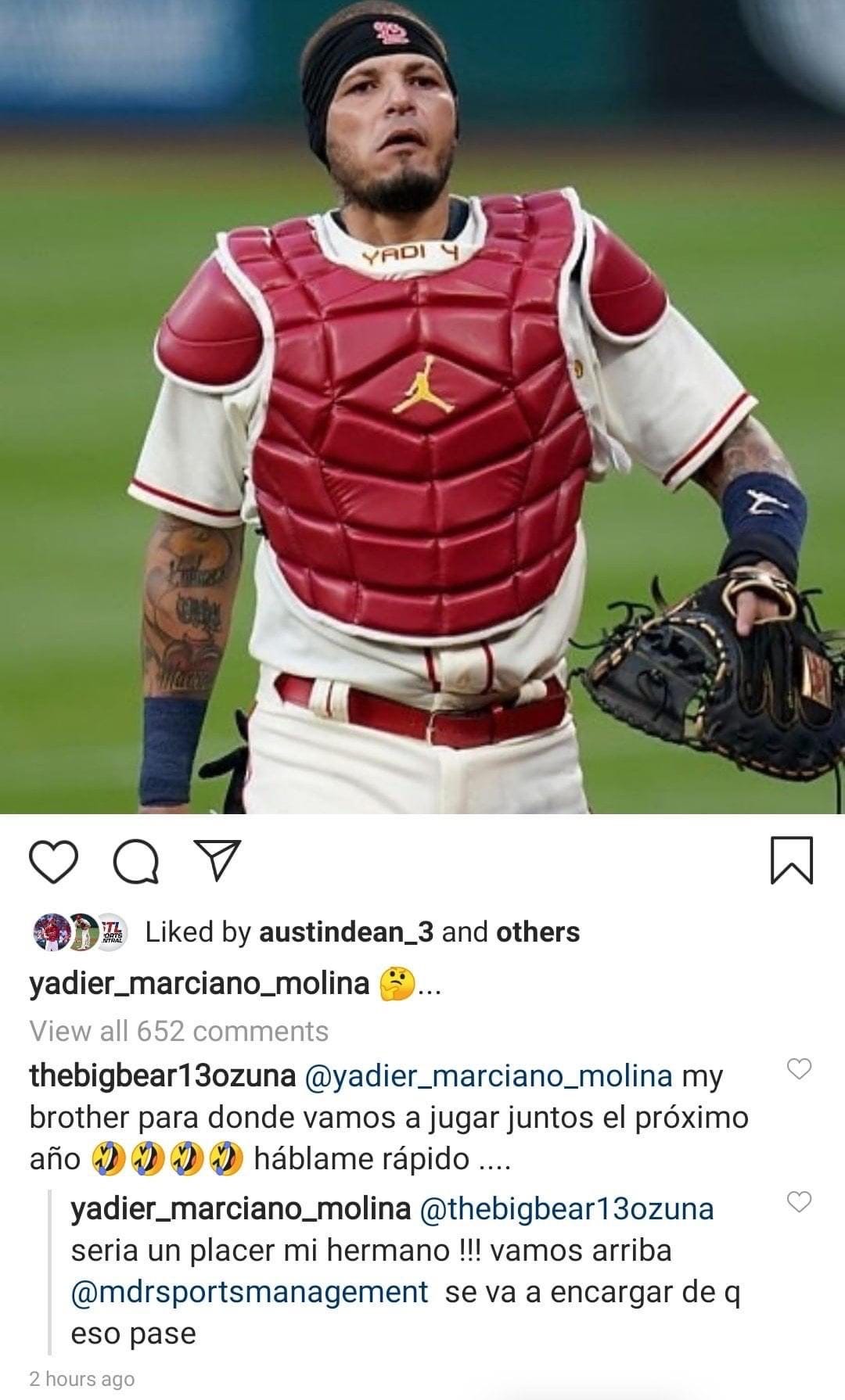 At least that's what I think it says. I took two years of Spanish in college and the only things I remember are how to order beers, ask to go to the bathroom and ask where the library is.
Anyway, if I were Marcel and Yadi I'd be worried too about where they could play together next season, because we don't know if the Long Island Ducks are going to have a season again.
And there's a better than nothing chance that Tony forces Hahn to sign Yadi to catch and be the Sox pitching coach, isn't there?

If a clip exists of Nipsey Russell, Rita Moreno, Dick Van Patten and Kitty Carlisle playing "To Tell The Truth" where they have to find the real Tony La Russa, I am NOT not going to share it.

Podcasts!
If you missed this week's exciting episodes of the Pointless Exercise podcast (and judging by the analytics, you did):
Mike D. and I Remembered This Crap, again, and this time we dug into the 2006 NFC title game, the Ricky Williams trade (seriously, it had a huge impact on the Bears), Rick and Paul Reuschel, me not wearing a tie to my god daughter's baptism, Leon Johnson's facemask and much, much more.
And, Mike P. and I (man, so many Mikes) tried not to scream into the void about the Bears loss to the Rams, but Ted Ginn and Matt Nagy make it so, so hard.