Discover more from Pointless Exercise
The only newsletter you'll ever need...(about the Cubs and the Bears and all kinds of other cool stuff.)
Wow, this bullpen problem really came out of nowhere, didn't it?
Turns out that ignoring a problem doesn't make it go away.
Theo Epstein isn't the first guy to be sold a bag of magic beans. I mean, if you've ever tried to get free Disney World tickets by sitting through a four hour time share pitch, you know that at some point the urge to either chew your leg off to get out of the room or just give the guy in the polyester shirt what he's asking for to make it all end, is just too strong to resist. (My dad made us sit through one of those when I was a kid. He was still apologizing for it decades later.)
Baseball is awash in junk science these days. Hucksters are making big cash acting like super high def cameras somehow hold the magic key to unlocking the potential of every underperforming pitcher. We are supposed to believe that a few flailing prospects are really just a spin rate adjustment away from brilliance.
We've all got somebody in our lives, our dad, an uncle…us…who has a garage full of useless golf swing training gizmos that cost an accumulated thousands of dollars, and the golf swings they were supposed to miraculously fix are all still shit.
The Cubs were among the first teams to espouse the groundbreaking-ness of Driveline, basically a garage in a Seattke suburb where a bunch of serious baseball guys use the latest in technology to unlock your inner Tom Seaver. Why, Trevor Bauer works out there, so it must be great!
The whole thing smacks of one of those "nutrition" companies who can take your stool sample and tell you what vitamins and nutrients you're deficient in. "Well, Donny, I see we don't have to worry about you not getting enough corn in your diet!"
Because the guy who founded Driveline now works for the Reds, Len Kasper was in full Driveline infomercial mode last night. Maybe it will work out for the Reds. I mean they did wonders with Bauer last year after they acquired him from the Indians. He only gave up 42 runs in 10 starts (6.39 ERA).
The Cubs have created their own pitch lab and you really can't argue with their results. I mean, they used it to decide to sign then 38 year old Luke Hagerty who hadn't thrown a pitch in any professional game (affiliated or unaffiliated) in 11 years. But he hopped up on the mound and threw in front of the magic cameras and…he still hasn't thrown a pitch in a professional game in 11 years.
The pitch lab did supposedly play key roles in adjustments to the Wi(e)ck brothers, last year after each were acquired from the Padres. Rowan allowed only 22 hits in 33.1 innings for the Cubs last year and Brad struck out 18 and allowed only two hits in 10 innings. So that's pretty good.
But you have to wonder if the Rhapsodo Machine can tell us where their missing MPH are this year? Both lost velocity in the spring and summer camps, and Brad gave up the only hit Christian Yelich has all season (in six games) and it went about 700 feet to left center.
But hey, at least we know the pseudoscience works for hitters. After all, the Cubs signed Daniel Descalso because he dramatically changed his launch angle in Arizona in 2018 and looks how great that's worked out!
At the very least, The Score should be able to pick up a new advertiser. Does the guy who can get you out of your timeshare have a service that can get you out of any contract you signed based on some dude's spin rate?
The Cubs currently have 11 pitchers in their bullpen. That's a result of a 30 man roster for the first two weeks, but throwing numbers at the problem has not worked.
Through six games, the Cubs are 4-2, but no thanks to the wonderful bullpen built by this pair: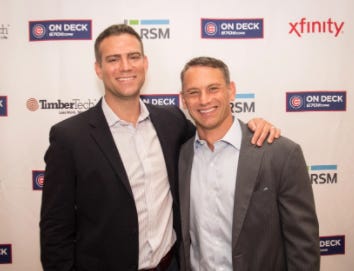 Cubs relievers have pitched 18.2 innings, and they have allowed 18 hits, walked 20, and given up 20 runs for a tidy 9.89 ERA. They have struck out 24, which is…fine.
They don't throw strikes, and when they do they get hit, hard. They have allowed seven homers.
It's not all bad. They are perfect in save opportunities. One for one. But it came in a game they led 7-0 in the sixth, 8-1 in the seventh and 8-3 in the eighth. And, it took two pitchers in the ninth because Craig Kimbrel put up the mind-bending line one-third of an inning pitched, four walks, one hit batter, a wild pitch and two runs allowed. Jeremy Jeffress came in with the bases loaded, one out and a one run lead and got the final two outs, but only because Jesse Winker swung at ball four on a full count, Joey Votto inexplicably leapt out of the way of a pitch that would have tied the game if he let it hit him, and then smoked a line drive right at Albert Almora in center to end it.
The final three innings were so traumatic that Jim Deshaies said he woke up Tuesday feeling like the Cubs had lost, only to remember they actually had won.
But even that performance paled in comparison to what we saw Dillon Maples post on Wednesday. He didn't retire a single batter. He walked four. But check this out.
He threw 26 pitches.
Eight of them were strikes.
Eight! How'd he throw eight? It's a miracle!
One of the strikes was so far out of the zone (Winker swung at it—let's just say he's got a problem) that it advanced two runners as the sedentary Josh Phegley tried to chase it down to the backstop.
The Cubs don't have a closer. They just don't. Kimbrel is paid to be the closer but he was terrible last year, and that would be an improvement this year. He threw noticeably harder on Monday than he did at any time last year which would be reason for optimism, but he had no control over anything. So it could very well be a case of him only being able to hit 96 or 97 now if he just overthrows and consequently has no idea where it'll go. That's not pitching.
Jeffress was really good for the Brewers in 2018 but so bad last year that they just released him on September 1. Rosters expanded, they were in a playoff race and they just said, "Thanks." He looked good in the spring, but his velocity has been noticeably down since baseball's reckless return to action.
Can the Cubs cobble together a serviceable bullpen? I mean, I guess, maybe? If this were a full season you'd have time to shuffle guys around, let Kimbrel prove he's beyond redemption, scour the waiver wire and make a trade or two at the deadline.
But there's no time for any of that.
At some point, the Cubs are going to have to stop running out guys who have neither good stuff or good control just because they're "relievers." If it means you put Brailyn Marquez and Adbert Alzolay in the pen for some on the job, big league training, so be it. It's an unconventional season, and approaching your biggest, most glaring problem conventionally isn't going to solve anything if those options are as poor as they've looked so far.
Had Jose Quintana not played "what's in the water?" with some cutlery perhaps Tyler Chatwood would be in the bullpen giving them an actual multi-inning option. But it sure seemed like the Cubs had just pencilled "Chatty" into the fifth starter slot when they let Cole Hamels oft-injured handsomeness leave for the Barves (for whom he will not pitch this year.)
Alec Mills can go down there when Quintana comes back, and hey, he'd be an improvement over the festering dumpster fire, but his 68 MPH curveball and 90 MPH "heater" might not play as well later in games.
Will the season survive long enough for any of this to matter?
MLB Commissioner Tob Manford…
…wait, that's not his name? Oh, I beg to differ:
Anyway, MLB Commissioner Tob Manford says that winning percentage will determine the final standings.
The Cubs are 4-2. That's a .667 winning percentage. They may have already clinched a playoff spot for all we know.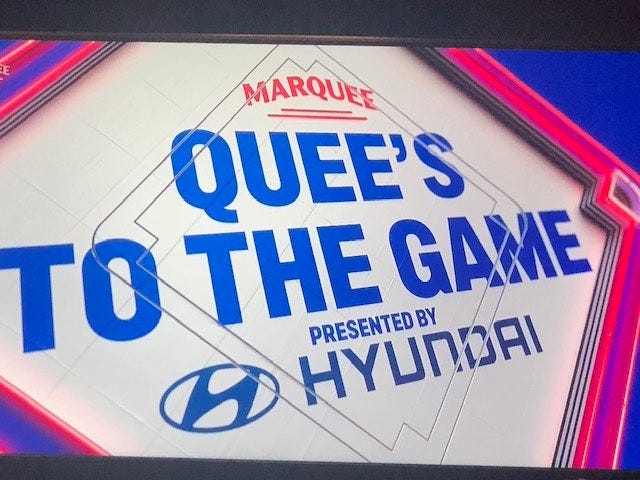 Finally, in our beloved Quee's To The Game segment (what letter is that apostrophe replacing, anyway?) we look at two very important things, including something very troubling about the Cubs' superfluous third catcher.
This is how Josh Phegley squats for every pitch.
To be clear, this isn't him getting ready to set up. This is how he catches. With a knee actually on the ground. Isn't being able to squat the one prerequisite for being a catcher?
And finally…
It wasn't "Tob Manford" but I really enjoyed last night's best Bruce Levine mistyped Tweet .