Discover more from Pointless Exercise
The only newsletter you'll ever need...(about the Cubs and the Bears and all kinds of other cool stuff.)
Your steaming guide to the pandemic
With no sports we need stuff to watch, so here goes...
It's bad enough that this pandemic has trapped us in our homes, but it's taken away one of the things that would have made that scary necessity a little bit more palatable. With no sports to watch and obsess over, what the hell are we supposed to do every night?
Some of us are lucky enough to be able to work from home during the day, and if you don't think I'm excited about wearing shorts 24 hours a day—well, I am.
But when I make the suddenly shorter commute from work to my basement to be entertained, it won't be Tyler Chatwood peppering the backstop with fastballs or David Bote being inserted in the eighth inning for defense only to punt a grounder into the dugout, but it has to be something.
And, I suspect you, the home reader are in the same boat. So let's do something about it.
We're not sure how long our social distancing will last, but it's a safe bet that we're going to be mowing the lawn before it's over. Let's fire up our steaming services and I've programmed your schedule for you!
I'll admit, I'm a bit of a streaming service whore. I've got them all, and you probably don't. So, I'm also going to suggest some alternatives for you just in case you don't have Netflix AND Hulu AND Disney-plus AND HBOGO AND Amazon Prime Video.
But, if you do, the work's already done: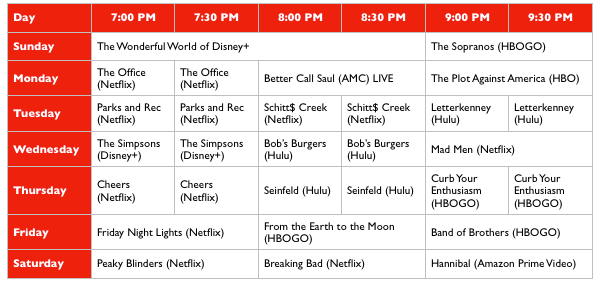 Sunday
I probably should have started Sunday at 6 p.m. (all times are Central because that's where I live), but you could easily do three hours of Disney+ every Sunday. By god, it's glorious. Every Star Wars movie except Rise of Skywalker (and given that they just added Frozen 2 months ahead of schedule it'll be there sooner than previously predicted), every Marvel movie, every Pixar movie, their animated movie collection and the inferior live action versions of them, too, and some gloriously campy movies from the past like The Black Hole, Swiss Family Robinson (two versions of it, with the one from 1940 a very different take and starring Uncle Billy from It's A Wonderful Life), Old Yeller, and so much more. I rewatched The Rocketeer the other night and had forgotten that a) so many people died in it, b) that it made two really awkward jokes about Jennifer Connelly's…uh…pre-reduction assets, and c) that's it actually really good. Anyway, set aside some time on Sunday nights for good, wholesome, family fun. And, I will admit I'm partial to the series Pick of the Litter, which follows a group of dogs being trained to become guide dogs for the blind. It's very well done, very interesting and the dogs are all awesome.
Then, when you're done with the innocent wholesome stuff, let's go back to the greatest HBO Sunday night show of them all. Tony, Paulie, Big Pussy, Carmella's lisp, Silvio's amazing hairpiece, AJ's complete inability to act, Cwi-stuh-fuh and Adriana, Pie-o-My, Dr. Melfi, Uncle June and the gone-way-too-soon nastiness of Livia. It's The Sopranos and aside from the ridiculous Vito subplot which was there to spread one season into two, it's a masterpiece that deserves revisiting every few years.
Monday
The Office (Netflix)
You can bail on it in season seven when Michael leaves (you'd have to watch 148 of them to get to it), and then come back for a well-done finale, but there's a reason a new generation is currently streaming and loving this show. It's just so good. I was a huge fan of the BBC version and was skeptical when they made an American version, but it somehow improved on the original.
Better Call Saul (AMC and past seasons on Netflix)
You can watch this live! Imagine that. Watching a show when it's actually on? I did have confidence that Peter Gould and Vince Gilligan could take the iconic but underused lawyer, Saul Goodman, from Breaking Bad, and make a compelling show. I don't think even they suspected the transformation of Jimmy McGill into Saul would be this good. Cubs' fan Bob Odenkirk is fantastic in this, and his ability to play the comedy and tragedy of this character is mesmerizing. Past seasons are on Netflix so you can catch up if you haven't watched. It's completely worth it.
The Plot Against America (HBO)
It's on at the same time as Better Call Saul but this is 2020 and you can just time shift it. It doesn't premiere until tonight, but if it's good enough for Alan Sepinwall, it's good enough for me to give it a shot. I read the Philip Roth book of the same title in 2004 and enjoyed it, but thought "could that really happen?" Uhh, yeah.
Tuesday
Parks and Recreation (Netflix)
This show doesn't really hit it's stride until the fourth episode. Amy Poehler's Leslie Knope was more annoying than anything, but then they figured out that her character completely worked if they played up her earnestness, super-competence, and love of small town government and everything else clicked. From that point on it's easily one of the funniest, best and at times craziest sitcoms of all-time. It went from being The Office in a small-midwestern town to something even better.
Schitt$ Creek (Netflix)
The premise of his show is simple. Creator and star Dan Levy wondered what would happen if the Kardashian's suddenly lost all of their money. He enlisted his dad, Eugene and the amazing Catherine O'Hara (to hear her say the phrase "where is beh-beh's chamber?" will change your life) to play the parents of his character and Annie Murphy as his sister Alexis. The family has lost a vast fortune to a crooked book-keeper and they end up in the only thing they still own, a gag gift from father to son of a small town named Schitts Creek. They end up living in a run down motel, run by Emily Hampshire's tremendously deadpanned Stevie Budd. The show is so good it even found the perfect use of Chris Elliott. And yes, Sarah Levy, who plays Twila is the daughter of Eugene and sister of Dan. It is amazing that as vapid as the family at the center of the show can be that you quickly learn to love them and the show does an amazing job of being funny and often heart-warming. It's simply a great show. The first four seasons are on Netflix and the final season is wrapping up in the next couple of weeks on Pop. Day-vid!
Letterkenney (Hulu)
"There are 5,000 people in Letterkenney. These are their problems." This rapid-fire, oftentimes crazy show about a fictional (but not that fictional) Canadian town is best watched with the closed captioning on. If not, you will not catch half the jokes, and you'll only understand half the ones you do catch. I'm not even going to try to explain this show to you. Watch one, and you're going to end up watching them all, and quoting them incessantly.
Wednesday
The Simpsons (Disney+)
Somehow the show is on season 31, but you don't have to worry about that. There are more than enough iconic moments in the first dozen seasons to keep you pouring through them for a long, long time. The truth is that if you actually followed this schedule, the rest of Wednesday night is screwed, because you're going to have a hard time stopping at watching just two of them. Although, with no commercials you can watch three in an hour.
Bob's Burgers (Hulu)
A show that I don't watch as often as I should, because every time I do watch it I watch about five at a time. All of the characters are excellent, but Tina is the best.
And, since H. Jon Benjamin is not only Bob Belcher, but he's also Sterling Archer, season four of Archer gave us this:
Mad Men (Netflix)
Like you really need a reason to rewatch Mad Men. But it's extra fun to binge and watch Don and Roger barely evolve and Peggy turn into something brilliant. And no, it's never possible to like Betty. Also, see how many different Bobby's you can spot, and how amazing was it that they completely nailed it with Kiernan Shipka as Sally?
Thursday
Cheers (Netflix)
Basically, this night is a showcase of what might just be the three greatest sitcoms (depending on how you classify Curb, I guess) of all time.
Cheers has aged incredibly well. It's likely the best written sitcom of all-time. Cherish the first season with "Coach" Ernie Pantuso, and then how seamlessly they integrate Woody Boyd the very next year. I could watch Cliff's Jeopardy episode on a loop. They not only moved on from Diane to Rebecca, but the show got better. And sometimes a one-off character just never left, like Dr. Frasier Crane, who became a crucial part of the show and then beyond.
Seinfeld (Hulu)
Jerry never really learned how to act, and it just didn't matter. This is a show that found the old Merv Griffin Show set on the lot and wrote an entire episode about it. I mean, that's good stuff.
Curb Your Enthusiasm (HBOGO)
It's been on for 20 years, and it's only on season ten, but somehow, it's better than ever. The show has never been short on ambition. They did an entire season that doubled as a Seinfeld reunion, one where Larry starred in the Broadway version of The Producers and the season on race turned out so well that Leon never left the show. They somehow even make Jeff Garlin funny. I know, it's amazing. I even got a recipe from it, one of my favorite sandwiches to make is The Ted Danson.
Friday

Friday Night Lights (Hulu)
You can just skip most, if not all of season two, unless you like the Landry/Lance vendetta murder plot, but the fact we got four other seasons of this show was a miracle. Well-written, incredibly well-cast and acted, it boasts one of the greatest pilot episodes of all time, and, amazingly, one of the most satisfying finales, too. Come for the football, stay for a great show about likable, well-rounded people, with one of the truly great depictions of a marriage, ever. And, the Riggins boys, who never disappoint. And Buddy Garrity!
From the Earth to the Moon (HBOGO and Hulu)
Last year HBO finally put a fully remastered, wide-screen version of this amazing series about the Apollo moon missions. The cast is incredible, and includes Jame Gumb from Silence of the Lambs (Ted Levine) as Alan Shepard, Chris Isaak as Ed White, Bryan Cranston as Buzz Aldrin, and other actors like Tim Daly, Steven Root, Cary Elwes, Rita Wilson, Sally Field, Gary Cole, Mark Harmon and on, and on. The genius of the series is that it didn't just focus on the astronauts. One of the most entertaining episodes in the entire thing (and they are all good) is about a geologist trying to convince the astronauts why bringing back samples of moon rock is so important. It sounds boring as hell, but it's not. The world's most beloved COVID-19 sufferer, Tom Hanks, produced the series and introduces each episode. If your kids are stuck at home with you, make them watch it, they'll like it and might actually learn something. I guarantee that you will.
Band of Brothers (HBOGO/Amazon Prime/Hulu)
Might as well keep the Hanks' productions rolling. Another incredible cast tells the story of Easy Company as they go from basic training all the way through to Berchtesgarden and end of World War II. I also highly recommend The Pacific, the third mini-series Hanks did for HBO. All of Band of Brothers is high quality, and right from the open you get to see David Schwimmer be a dick and eventually get what's coming to him, which is great. But it also handles the big moments well, including the haunting scene where the troops liberate a concentration camp and are completely unprepared for what they see. Make the older kids watch this, too.
Saturday
Peaky Blinders (Netflix)
I was late to this show, and don't know why. It is savagely violent, cinematically beautiful to watch and for as ridiculous as it can be at times compelling and well-written. Cillian Murphy is terrific as Tommy Shelby, Sam Neill has a great role, Tom Hardy drops by (and more importantly, his wife Charlotte Riley) as does Aidan Gillen (Littlefinger from Game of Thrones and Mayor Carcetti from The Wire.) The seasons are only six one hour episodes long, and there are five of them, and they'll be over before you know it and you'll be amazed at how much shit just happened. Oh, and use the closed captioning on this one, too. The accents are a bit thick.
I'm just going to have to use the season one trailer, because literally everything after the first episode is a spoiler.
Breaking Bad (Netflix)
Yes, you can watch Better Call Saul and Breaking Bad at the same time and have one not really spoil the other. Breaking Bad was the best show on TV during its run for a reason. It starts with Bryan Cranston in his underwear making meth in an RV in the desert and then ever really slows down. The final one is an incredible season of television, and nobody does time lapse anything like Vince Gilligan.
Hannibal (Amazon Prime Video)
It only lasted three seasons, but when you start watching this show, about pre-Manhunter Hannibal Lecter, you'll be amazed that anything like it ever existed on network TV. Mads Mikkelsen's Lecter is younger, still a psychologist, incredibly compelling and though it was played incredibly well by Brian Cox (not the old Bears' linebacker) and Anthony Hopkins won an Oscar playing him, Mads' is the best version. The show introduces characters familiar and not familiar from the four movies based on Thomas Harris' books. The cast includes Hugh Dancy (Mr. Claire Danes) as Will Graham, Laurence Fishburn as Jack Crawford, Caroline Dhavernas as Dr. Alana Bloom and Gillian Anderson in an incredibly creepy role as Dr. Bedelia du Maurier. The violence is oddly beautiful, and this version of Lecter gives you the best idea of how menacing and charming the character really was, and not just because everyone in a movie is telling you what he was like before he got caught. And, you can see why they kept going back to him to help them try to catch killers.
Honorable mention:
Mythic Quest: Raven's Banquet (Apple+) Rob McElhenny is very funny as a creative director of a MMORPG, but F. Murray Abraham of all people steals the show as a long-ago award winning fantasy novelist who writes stuff for the game.
McMillion$ (HBO) A documentary on the plot to steal million dollar McDonald's Monopoly game pieces. At six hours, it should have been trimmed to like three hours, but it's still good, and you get Agent Doug.
Lovesick (Netflix)
It was originally named Scrotal Recall (seriously). It's a British show about a guy who gets the clap and has to track down all of his old girlfriends to tell them.
Arrested Development (Netflix)
It's my favorite sitcom of all time. I just couldn't put it in a schedule, because when I start watching it, I don't stop. The first three seasons are perfect. The two Netflix-only seasons have their moments, but just don't stack up.
Unbreakable Kimmy Schmidt (Netflix)
I probably should have made a block with Kimmy and 30 Rock back-to-back.
Workin' Moms (Netflix)
Netflix has no idea how to promote this show and it's too bad. It is not a cutesy show, instead it's a very funny, surprisingly dirty show written by and starring Catherine Reitman. You'll plow through the first three seasons.
The Crown (Netflix)
They have finished three of the five seasons with Claire Foy playing Queen Elizabeth in the first two and Olivia Colman taking over for seasons three and four. Just as important is who plays Princess Margaret. Vanessa Kirby was great in the first two seasons and Helena Bonham Carter was in season three. Prince Phillip's kind of a dud, just like in real life, and while I enjoy the show, I still have no idea what real purpose the royals serve.
Big Mouth (Netflix)
I don't want to like Nick Kroll, I really don't. But damn, this cartoon about two kids (John Mulaney is the other one) and their friends going through puberty (with their hormone monsters) is just too well done and too funny not to like.
I could go on. But that has to be enough content to fill the sports void. Right?
In some very good news, Marquee announced that they're going to air 14 games from the 2016 postseason—all 11 wins, plus the three World Series losses—in a thing called…ugh, "Run for the Ring." They'll show one game a night from March 18 through March 31. And, we'll still all be social distancing at the end, I'm sure. This is a good use of their library of games, much better than the non-Sandberg Game ones they've picked so far. They've shown Greg Maddux's 300th win (his 3,000th strikeout game is a much more fun game), the 1996 opener (huh?), Tuffy Rhodes' three-homer opening day off Dwight Gooden, and Harry Caray's last game in 1997. Why not show Harry's first game with the Cubs? The only thing special about Harry's last game is that it was his last game. But since he died in early 1998 it's not like it was a farewell broadcast. Although, if it was, that would have been spooky.
And, there's speculation that to fill the void with no sports for them to show that ESPN is pushing up the date for the 10-part documentary on the final Bulls' championship season. The biggest clue is that the commercials for it on ESPN have been changed so they no longer say "Coming in June" and now say "Coming Soon." We could really use that.