Discover more from Pointless Exercise
The only newsletter you'll ever need...(about the Cubs and the Bears and all kinds of other cool stuff.)
Mock this draft, second round
Twice as many picks and the Bears actually make some!
If you missed the mocking of the first round of the NFL Draft, it's right here for you.
But now we're on to rounds two and three and our favorite team actually has picks.
Rumors abound that the Bears are going to do the one thing they really should not do. Trade up. For Chrissakes, Ryan Pace is pathological. They have lots of holes, they need more picks not fewer.
Business casual Roger tonight. He still hasn't touched those M&Ms.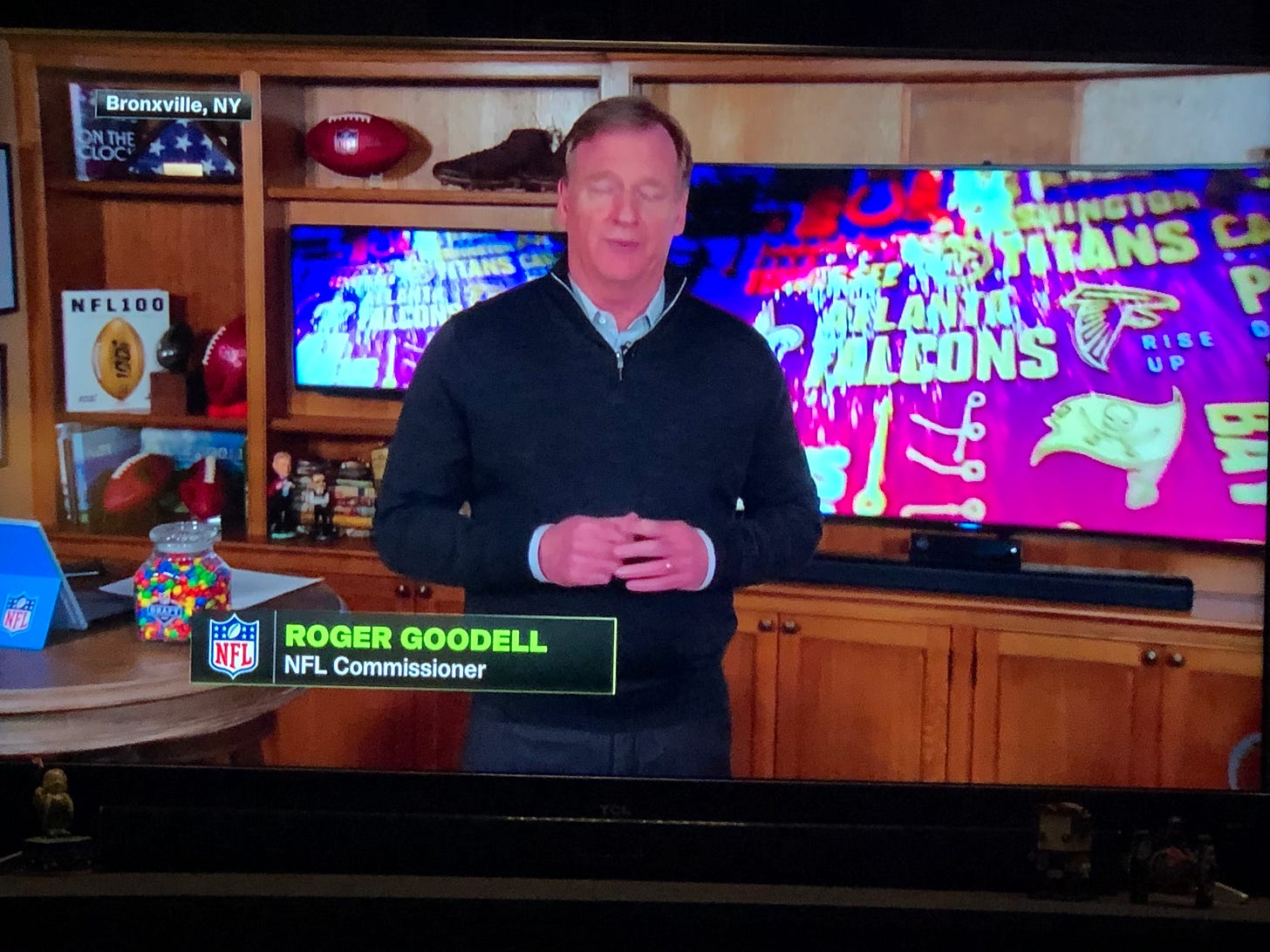 They've ditched that boo thing tonight, right? I mean, that was awful, and we get an extra night of Roger because he's bored and has nothing else to do.
Booger keeps saying Joe Burrow like it's one word, Joburow.
We just need Pedro Cerrano to show up:
Guys, you'll be excited to know that in round two, just like in round one every team will get "the guy we had at the top of our draft board" it's amazing how good these teams are at this! Will they also do it round three? Probably!
Bengals get Tee Higgins, and he's bringing his all-female offensive line with him! What value! Those five have much more potential than the Bears current group.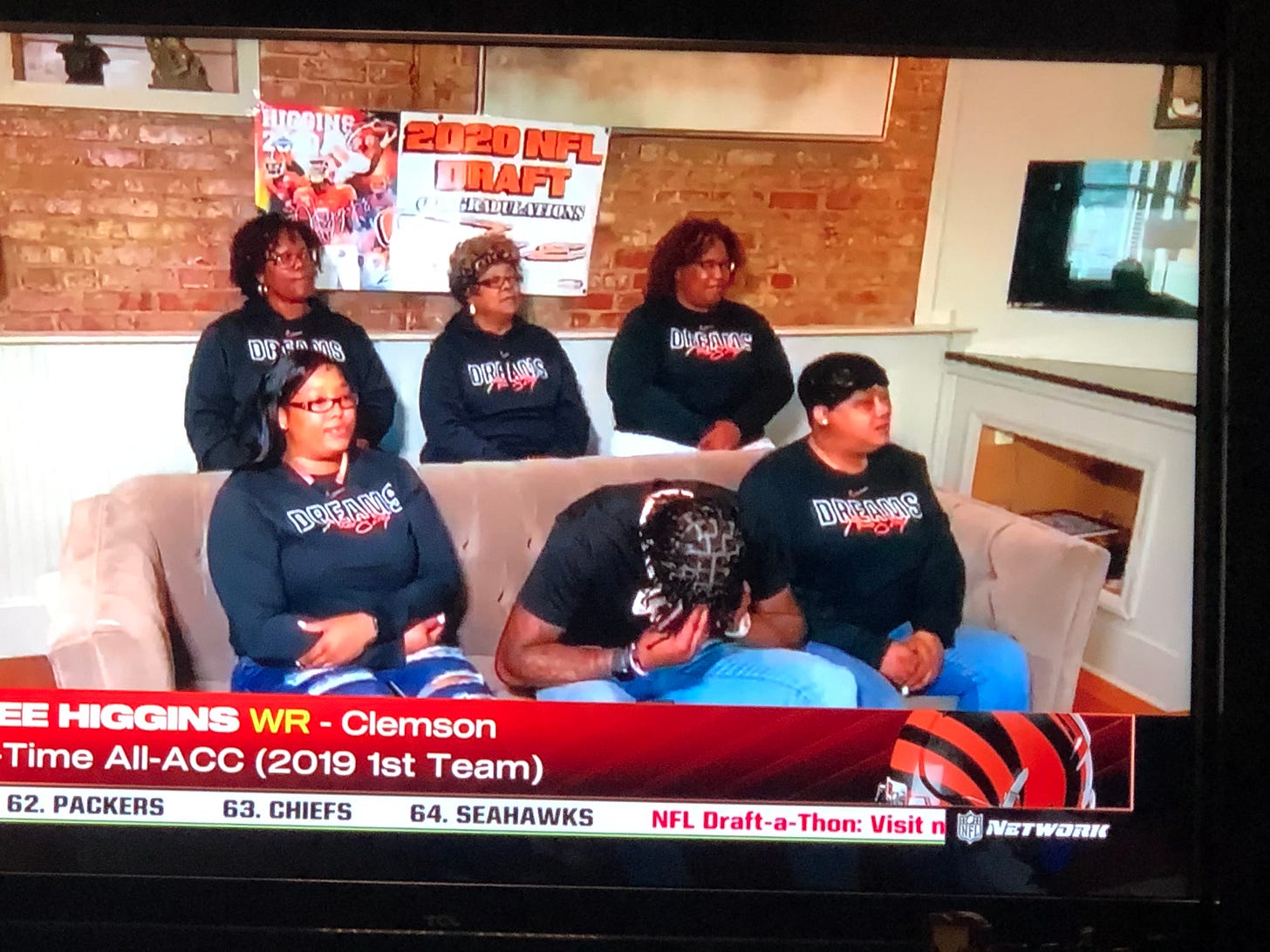 The Bears just posted a photo of Matt Nagy in his dining room and it's disturbing. At least John Nash got to hang out with Jennifer Connelly when he Went nuts.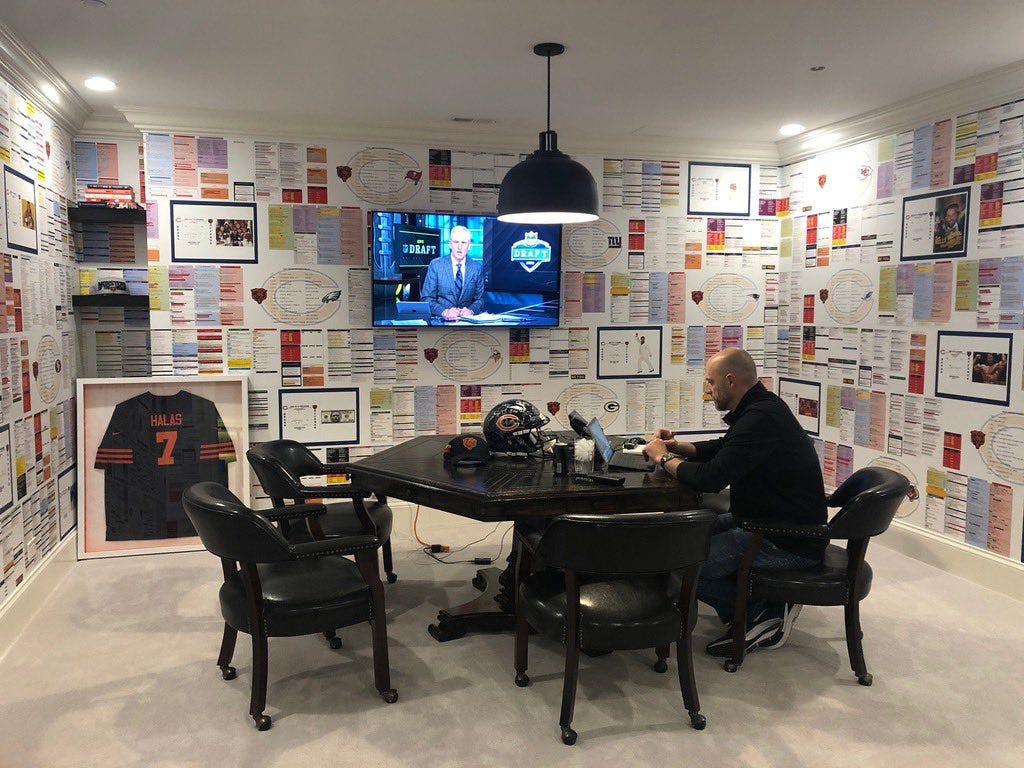 Nagy's just sitting there, holding the one laminated play sheet he has yet to paste on the wall, rocking back and forth and muttering, "Be me! Be me! BEEEEEE MEEEEE!"
Ugh. Rog is still dicking around with the Bud Light virtual boo-thing. I'm going to virtual barf.
Lions take D'Andre Swift, it must be exciting for him to be the next Detroit running back that they'll forget to give the ball to.
Good lord, the Lions should have drafted his dad.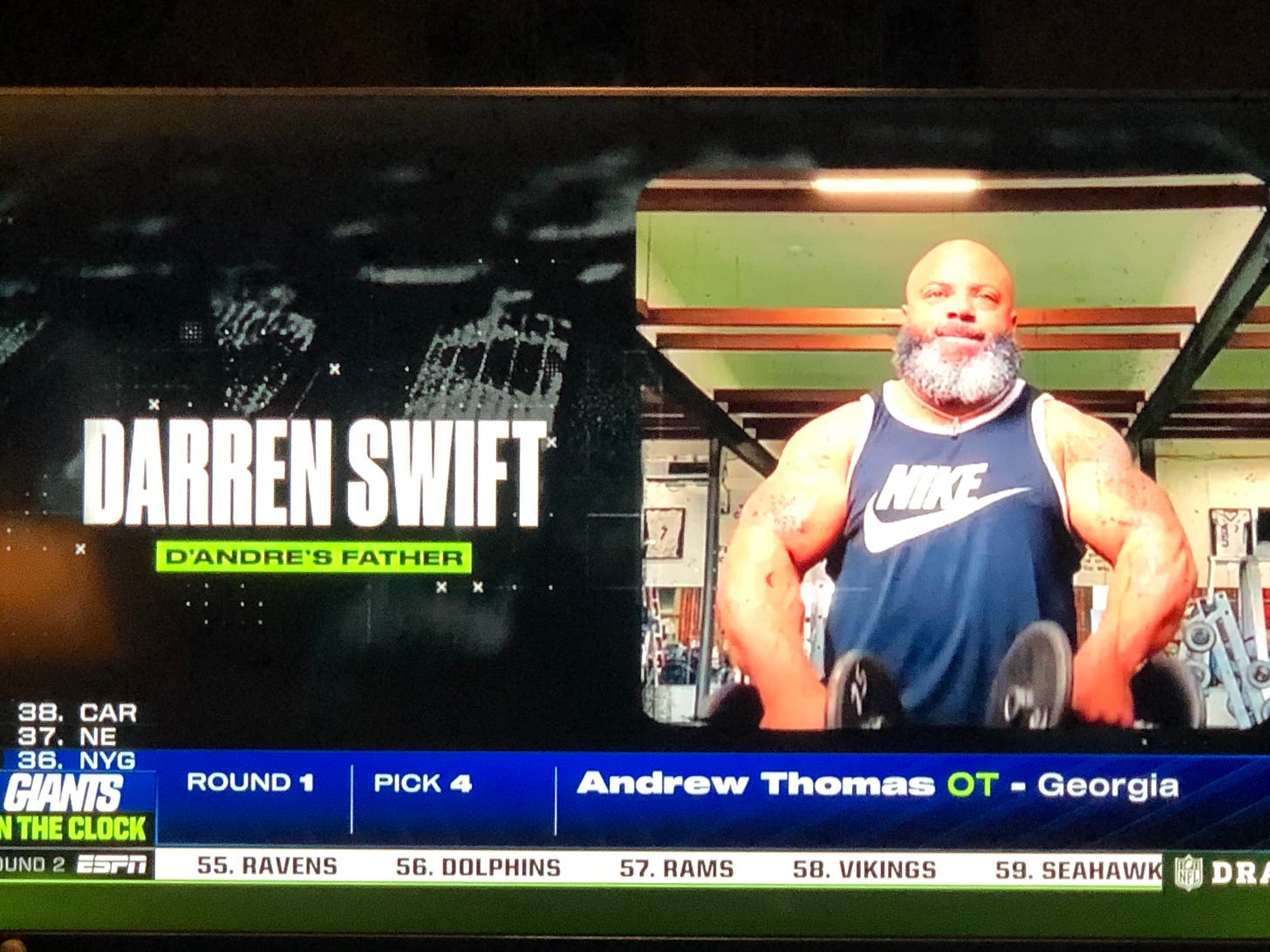 The Patriots pick Kyle Dugger, a safety from Lenoir-Rhyne. Risky move, how does a guy with 18 brothers and sisters social distance?
Belichick trained his dog to sit in the chair for the ESPN shots. Honestly, this is more impressive than winning six Super Bowls.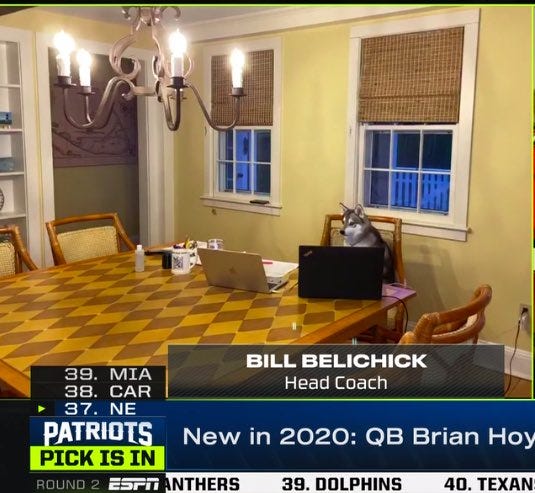 That Panthers took Yetur Gross-Matos, and ESPN says he had size 17 feet when he was 15. You know what they say about a guy with big feet?
He wears big shoes.
So, Yetur's dad died and his brother was killed in a lightning strike when he was seven? This is the most depressing draft in history.
Given all of the tragic back stories of the draft picks, I'm fairly sure the Bears are going to pick somebody who is already dead.
(Wouldn't be the first time.)
Texans draft pick Ross Blacklock is son of the coach of the Harlem Globetrotters. Not surprisingly, Ross' best pass rushing move is the one where he pretends to throw a bucket of water at the center, only the bucket is actually full of confetti. Works every time.
The Colts quest to produce more turnovers should get a big boost from Wisconsin running back Jonathan Taylor.
The Bears 80-man roster has nine tight ends on it. Make it ten with Notre Dame's Cole Kmet.
I'm sure Nagy's over there beautiful minding up a 10 tight end formation.
Just kidding, he probably won't use any.
Kmet's a good player and ND tight ends have a pretty good track record in the NFL. But, given that two stud safeties went right after the pick and the Bears have pick 50, Pace likely got the order wrong. Go figure.
Chase Claypool, who also would have looked good for the Bears with their first pick goes to the Steelers just before the 50th pick. Instead, the Bears take Jaylon Johnson a DB from Utah. Daniel Jeremiah is extremely high on the Bears' picks saying that without a first round pick, the Bears got two first round players. Hey Danny, that's great, but do NOT encourage Ryan Pace like that. He'll trade away all the ones.
The Bears spent more than $20 million on free agent TE Jimmy Graham and CB Artie Burns earlier in the offseason. Now they just drafted players at both spots. So, great?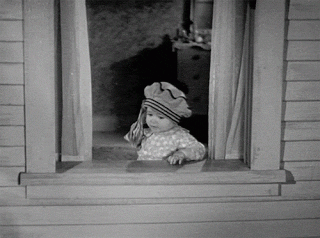 I was cool with Jerry Jones using his enormous yacht as his draft war room until he told me why he and the boys call it the "tug" boat. Eww. Bring extra Clorox wipes if you ever go on board.
The Rams draft running back Cam Akers and sign him to a 14 year, $480 million contract. They have no idea how the salary cap works and are still much better than the Bears.
Eagles take Jalen Hurts which shocks the experts because they have Carson Wentz. Wentz is a great player and gets hurt a lot, so yeah, this makes sense.
Trey tells us that Bills' draft pick AJ Epenesa's dad was named Epensesa Epenesa and when he played at Iowa Hayden Fry called him...you know what? Nobody gives a shit what Hayden Fry said about anything.
The Vikings take Boise State tackle Ezra Cleveland and really all I can think about is that Mike Zimmer is living in the lobby of a Great Wolf Lodge.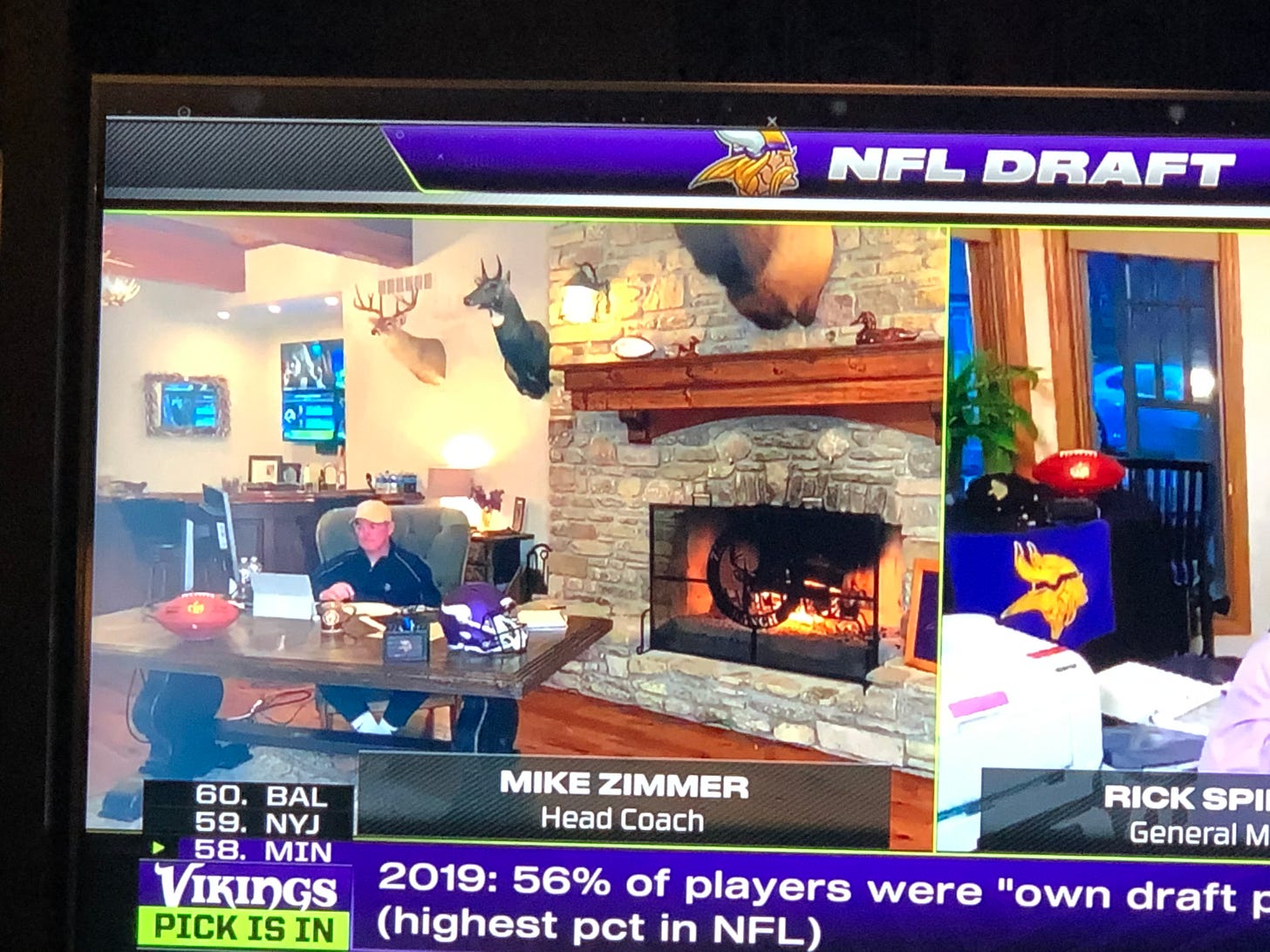 Of course Ryan Pace has a dog that needs a haircut once a week.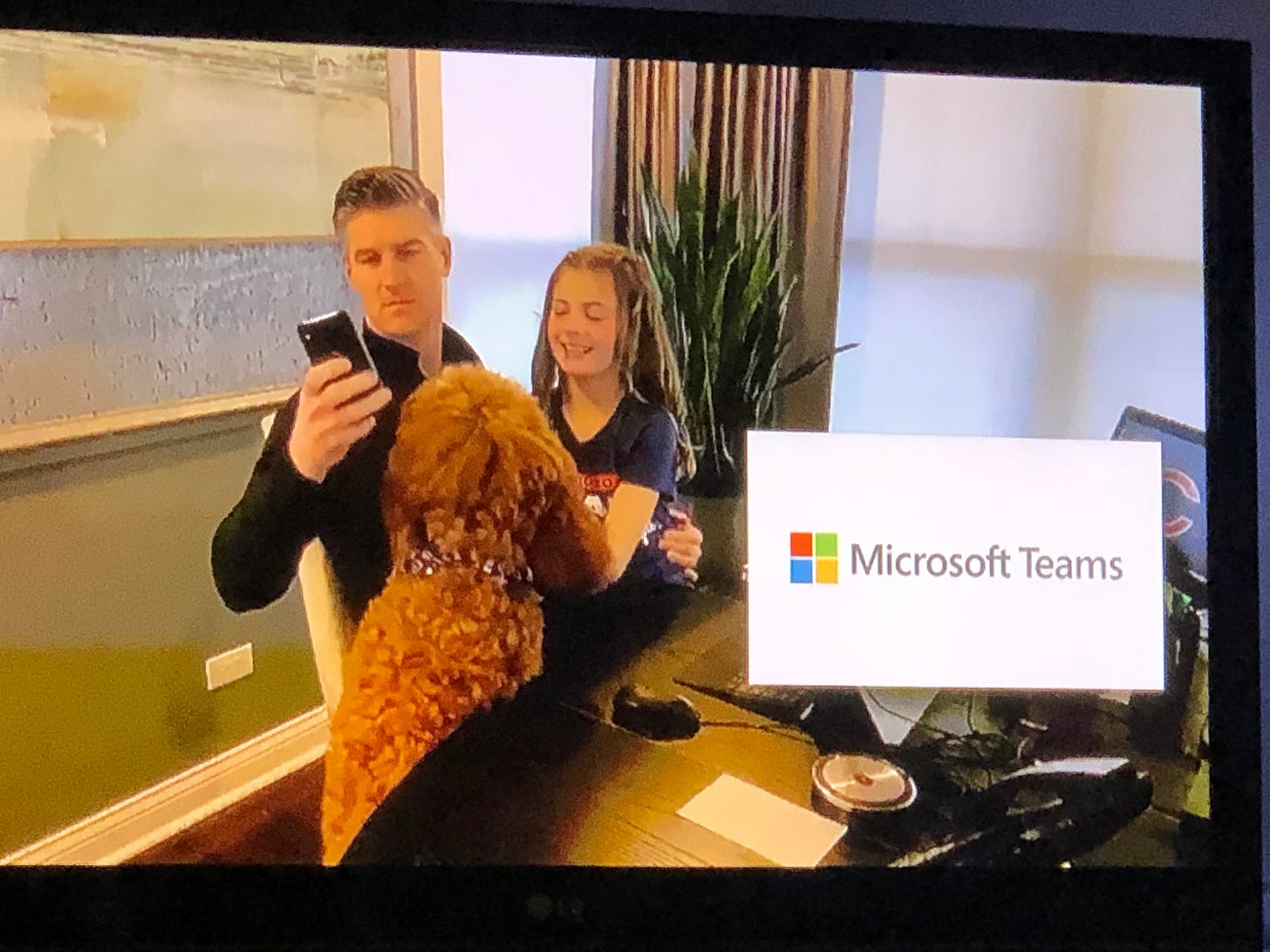 Why is Jerry acting like that phone call is paternity test results? And why is he making his daughter hold it for him? Maybe he had plastic surgery on his hands yesterday?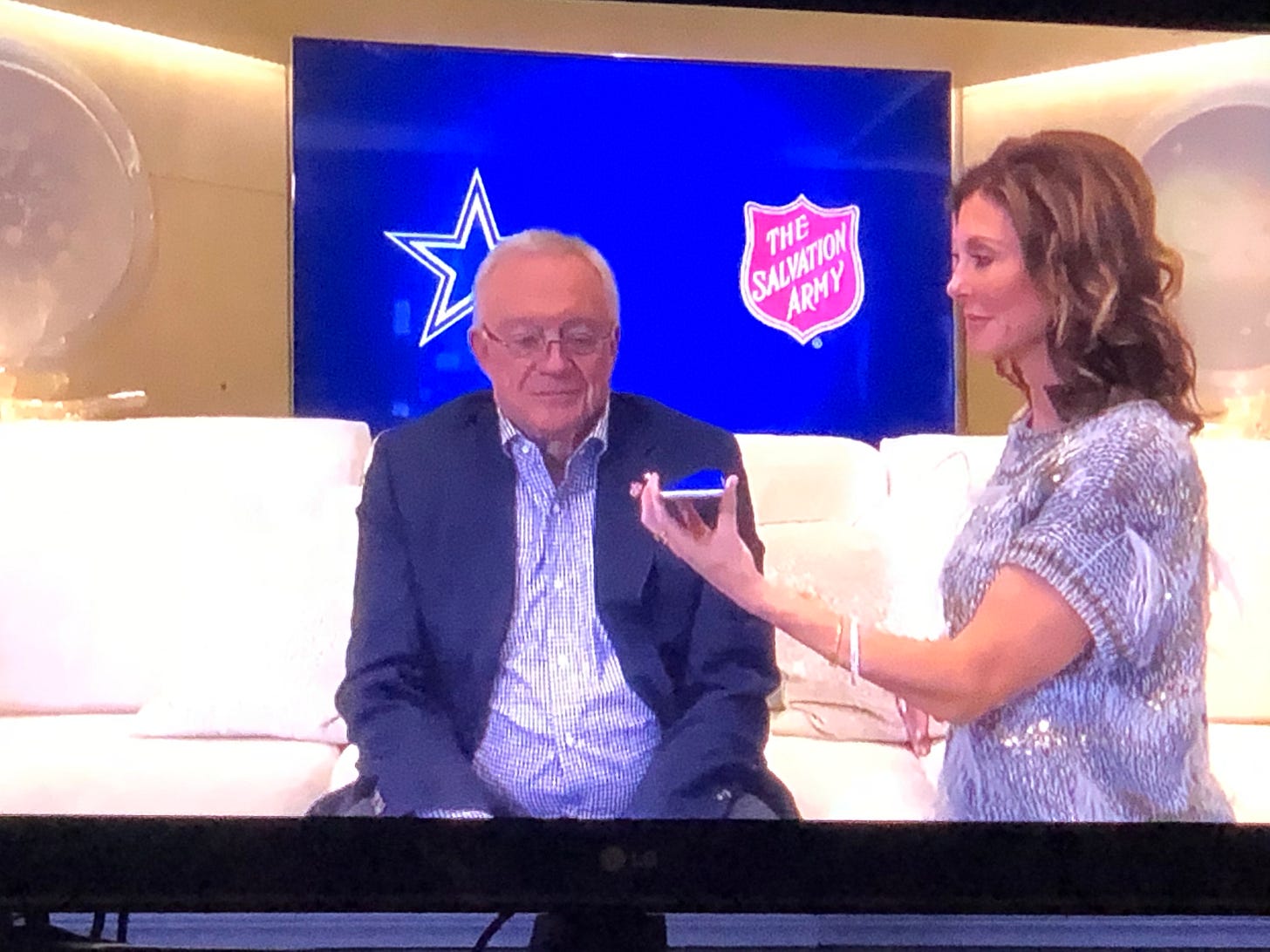 When the Patriots draft Michigan LB Josh Uche, Belichick is nowhere to be found and ESPN just shows an empty chair in his dining room. Then, he wanders in with a beat up football that he and his dog have obviously been playing with. Two things. 1) I love that Belichick is acting like this whole draft is no big deal. 2) That dog is going to beat out Jarrett Stidham for the starting QB job.
LSU DB Kristian Fulton is drafted by the Titans and Trey fills us in that he had a two year suspension in college for "trying to pass a PED test with someone else's urine." We have a Whizzinator situation? Did he use a fake penis? Who's urine was it? There are way too many entertaining questions for this to just be a casual anecdote.
Packers take RB AJ Slater from Bayside High School and Cal U. Wait, that might not be right.
Interesting that the Packers only have three good players on offense and they just drafted backups for two of them.
Bengals take ILB Logan Wilson from Wyoming to start round three and ESPN says he gained 46 pounds in college. Didn't we all?
Now in round three Rog decides to sit down to read the picks in "my easy chair where I watch football games." Nobody's called it an easy chair since the '40s.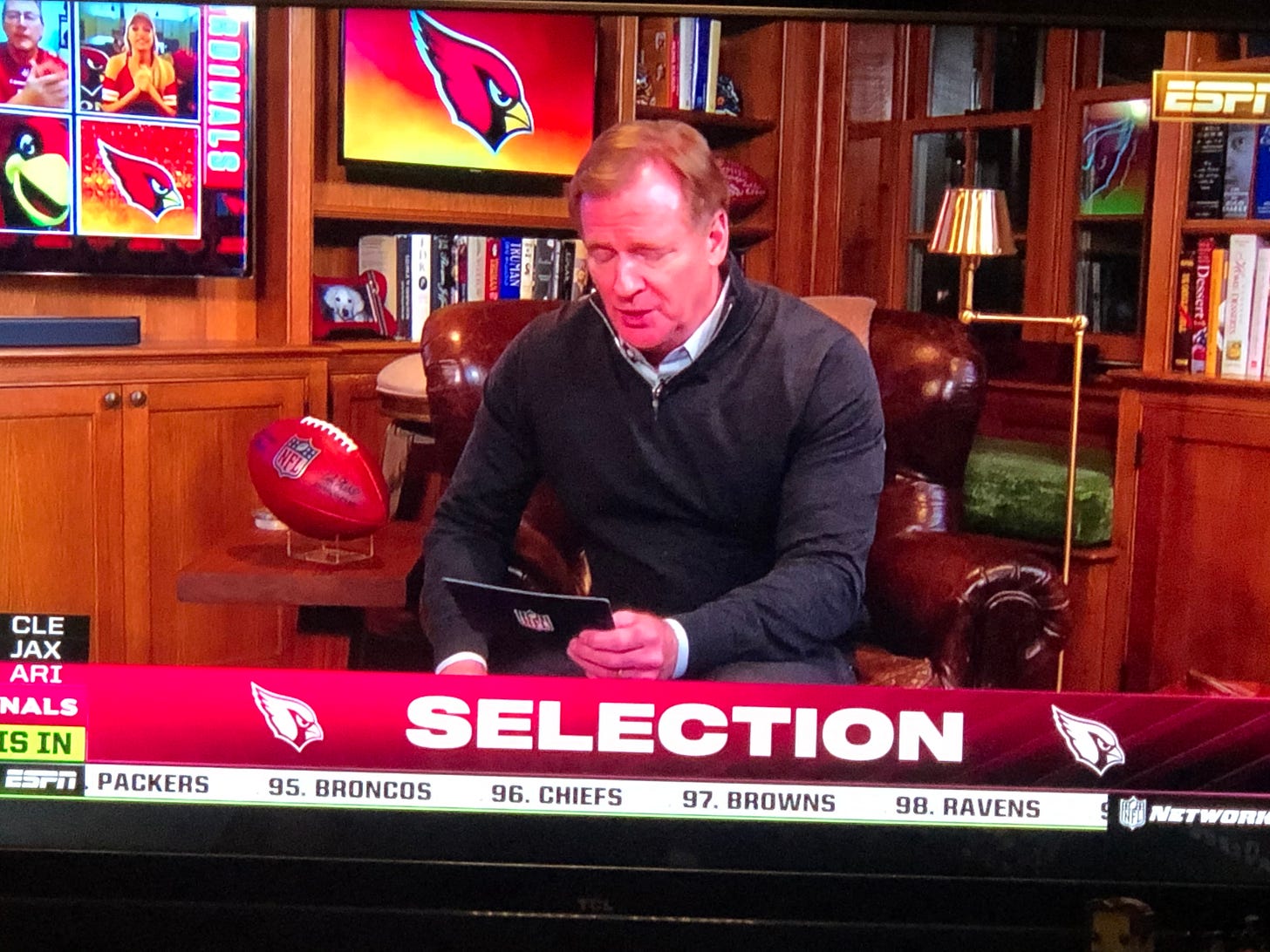 Similarly, Vag McCaskey still watches road games on the same davenport she had back when Ed would read her game updates off the teletype. In fact, she still has the same bowl of hard candy from those days. She'll gladly offer you some, but they've been stuck together since the Hoover administration.
The Saints finally end Wisconsin linebacker Zach Baun's wait. Baun had a diluted drug test sample at the combine. I guess he's got more in common with Ryan Braun than four letters in his last name.
Rog gives us a much needed M&M's update.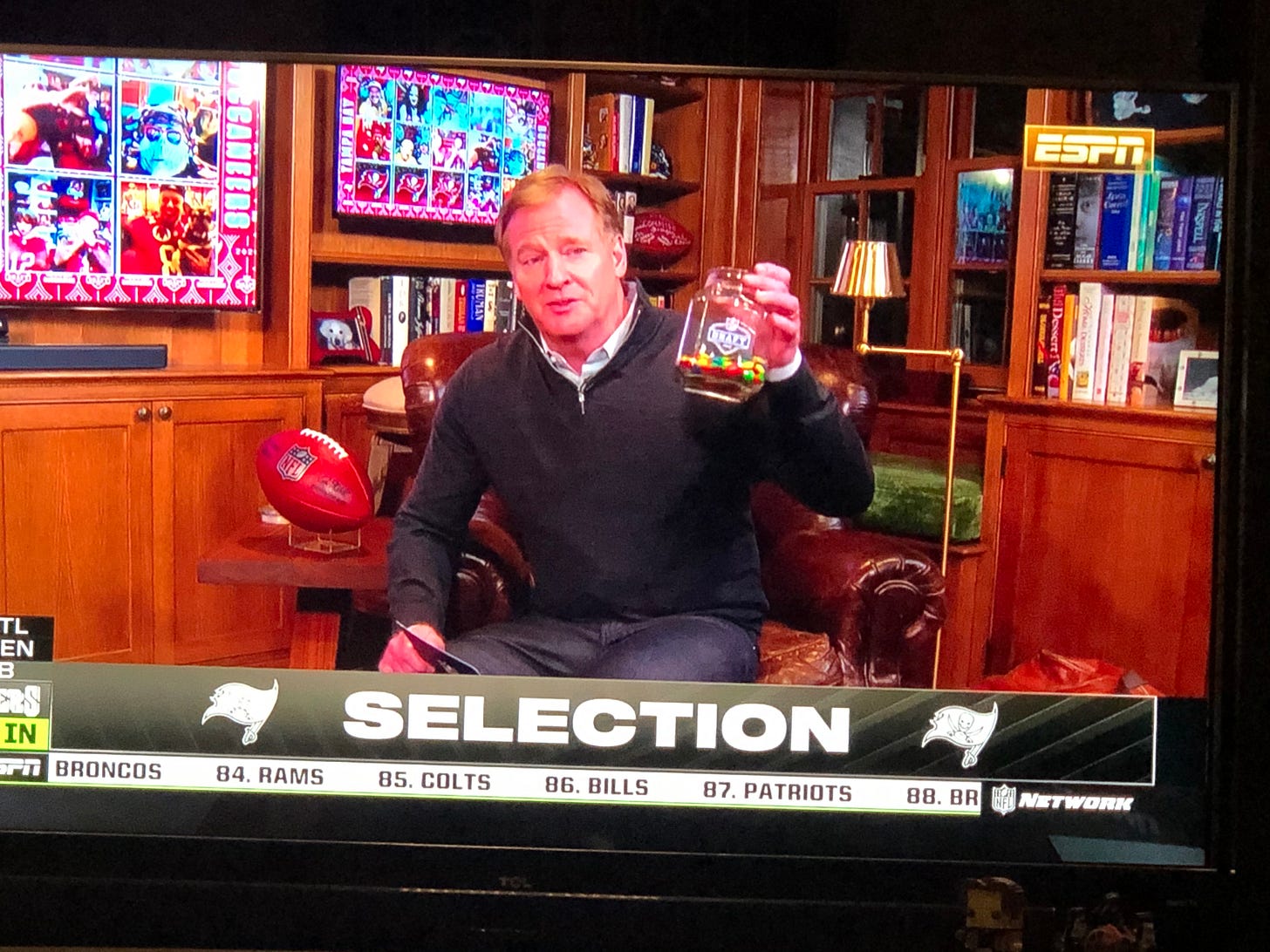 He claims they're almost gone. He's like a freshman at a high school party who keeps pouring his beer into a plant to make it look like he's drinking.
And if you're wondering, I was the kid who after we ran out of beer would start drinking the plants.
At some point Belichick's dog is going to burst into the room, find a huge pile of M&M's under Roger's chair and need to be rushed to the vet.
I'm as surprised as you are the Broncos head coach Vic Fangio is wearing a gray sweatshirt.
Wingo says that when now zzz Panthers' coach Matt Rhule was at Temple he recruited new Falcons' center Matt Hennessey. Hennessey was playing tackle but Rhule said, "You have the perfect skill set to play center." I can only assume that the skillset was being able to bend over and fire a football through his legs towards his own nuts.
The Raiders take Kentucky QB/RB/WR Lynn Bowden and Bert Breer is excited for them.
It's great to have all that speed. Now, if only they had a quarterback who was willing to throw the ball more than seven yards in the air.
The Rams draft 'Bama LB Terrell Lewis and this graphic throws up some red flags. The biggest of which is the Ryan Dempster potential of a very bad celebrity impression.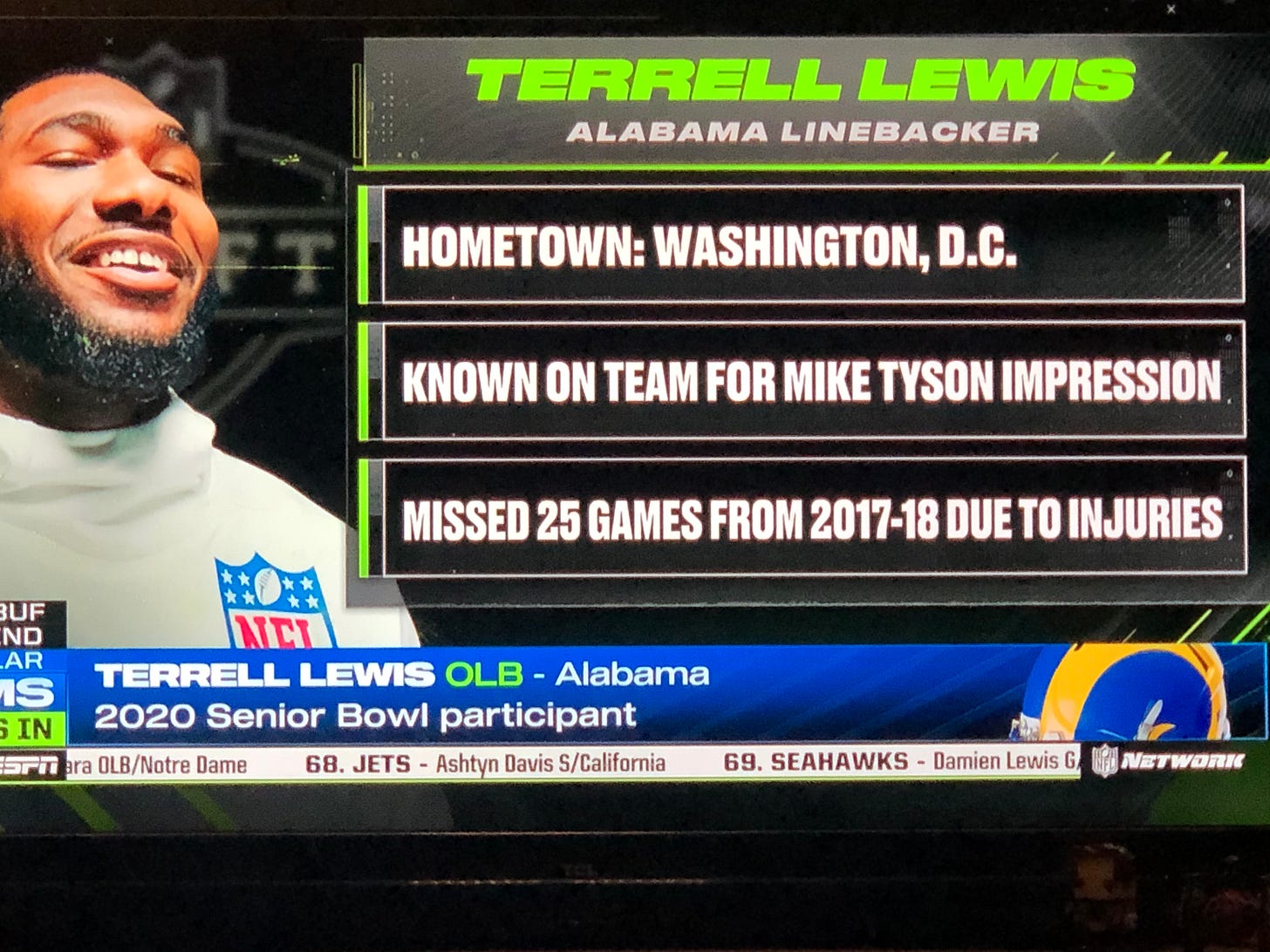 Utah DB Julian Blackmon and RB Zach Moss go back to back at 85 and 86!
Robert Kraft has finally shown up on the draft coverage, I can only assume he's been on the phone all day thanking Florida governor Ron DeSantis for designating massage parlors as essential businesses. Now there's a guy who would like to hang out on Jerry's tug boat.
Trey shows Browns coach Kevin Stefanski lounging in his home office and says, "Relax coach," and just then Kevin decides to do a little package adjustment and what is with those nut hugger shorts?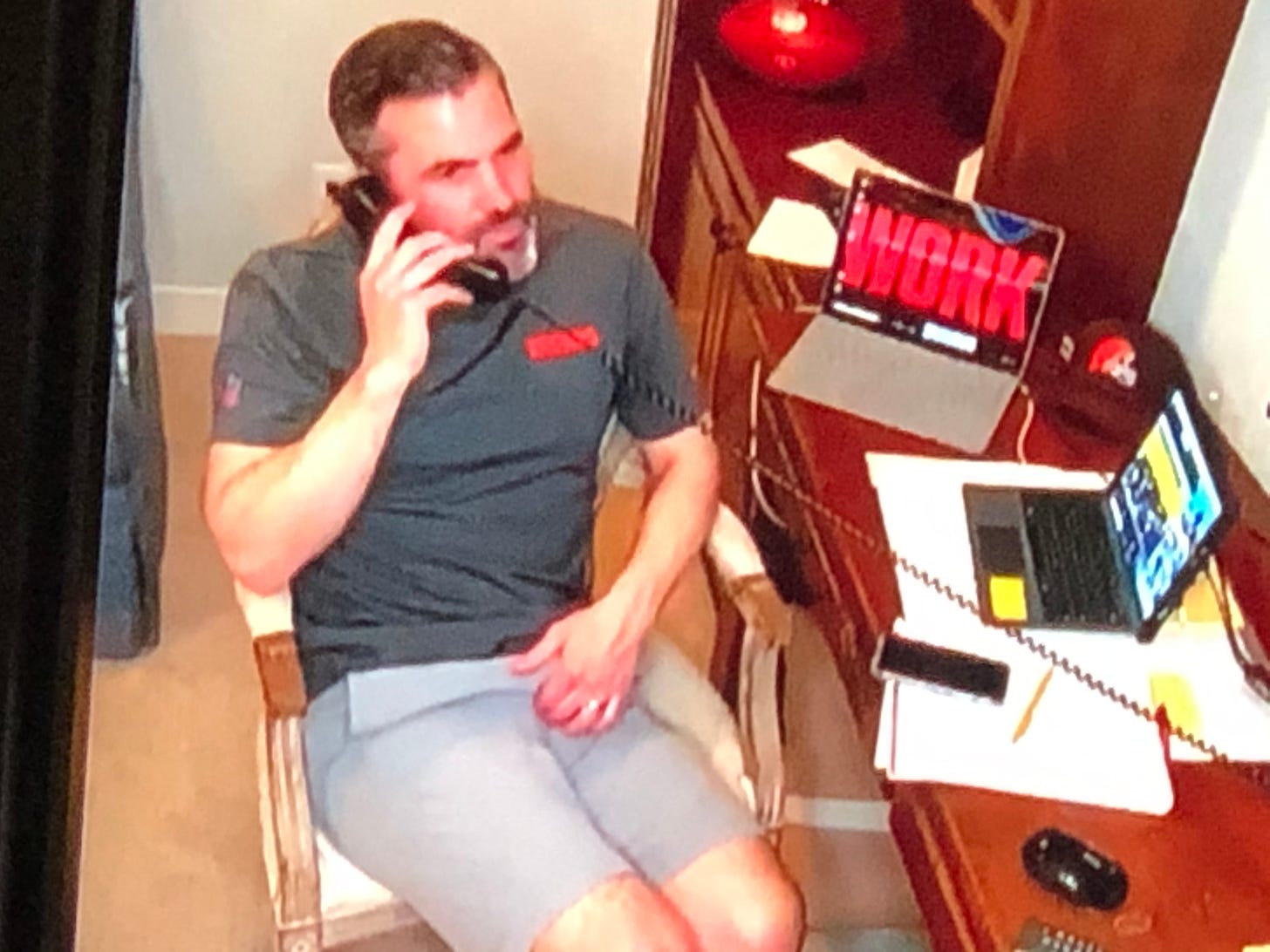 Bill O'Brien just stormed past his kid looking every bit like he said, "Scoot over buddy, dad's gotta go take a dump. If I'm not back in time just take somebody from LSU."
Rog looks like he's about four picks from going to bed while he reads a Patriots pick.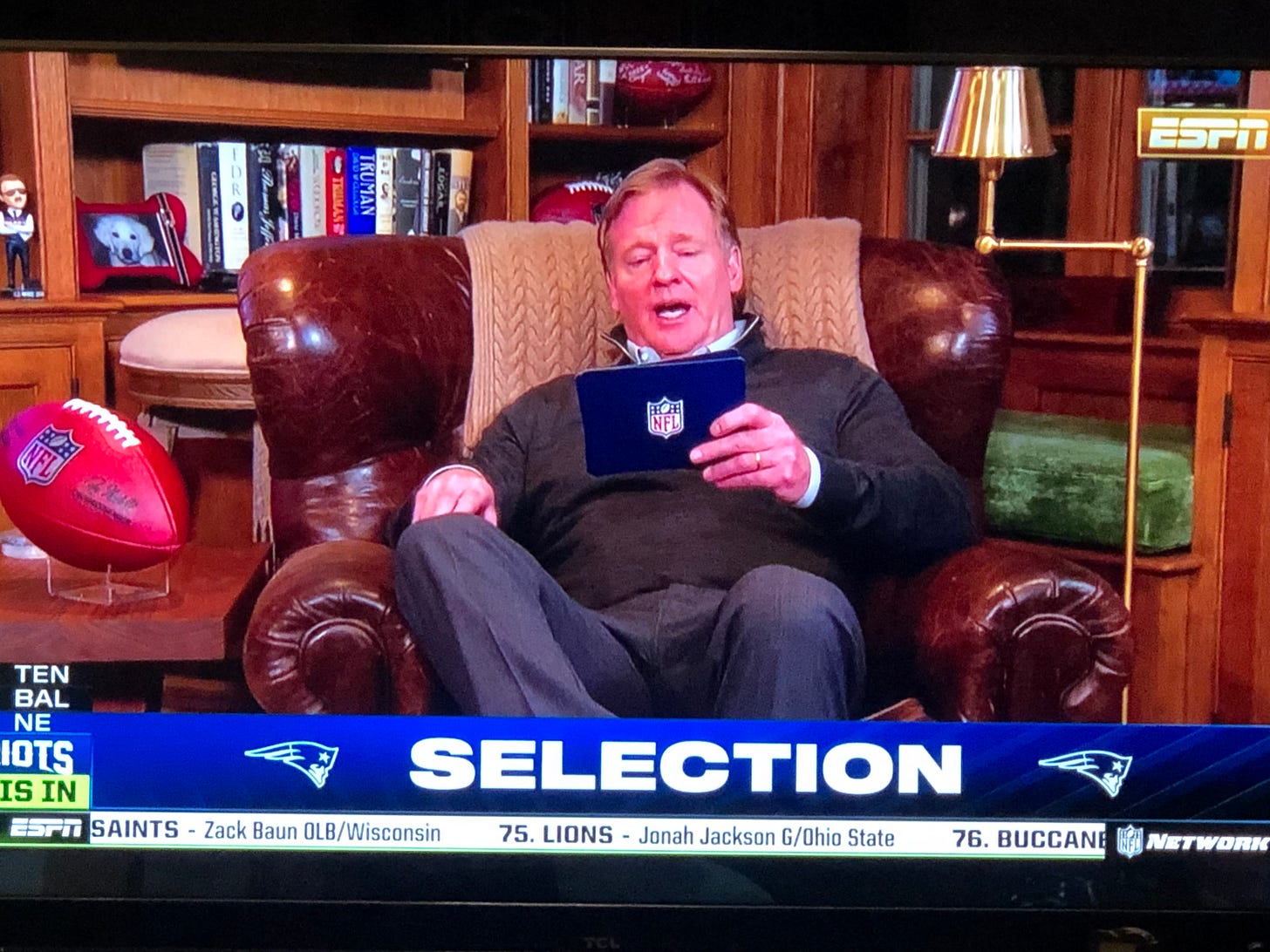 If he breaks out the CPAP machine we're never going to be able to understand any of the pick announcements.
Knowing the NFL, the reason they have rebranded the defensive end position as "Edge" is some sort of sponsorship deal with Gillette.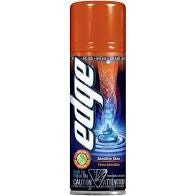 Raiders take Clemson's Tanner Muse. I wonder if he's ever called anybody a booger eating moron?
The Raiders have now drafted four guys from Clemson in the the last two drafts (with four rounds to go in this one). Does Mike Mayock's TV only get the ACC Network?
The Patriots have taken two tight ends here in the third round, which one's going to murder people?
The Bears have more picks tomorrow, and I'll recap them and make fun of rounds fourth through seven, but I think we've all pushed this running diary thing to its acceptable limits.
Well, not completely. I'm going to do another one for Sunday's next two installments of The Last Dance, too.