Discover more from Pointless Exercise
The only newsletter you'll ever need...(about the Cubs and the Bears and all kinds of other cool stuff.)
Further review: Everybody homers!
The smug Cardinals came to town for game three of the NLDS and took a whuppin'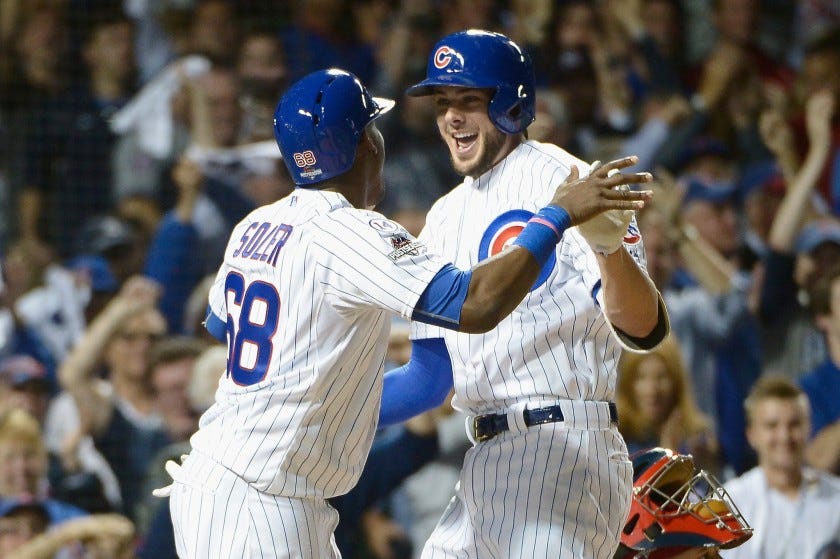 For decades, Cardinals fans acted like they would love to somehow be able to whup up on the Cubs in the playoffs some day. They'd say it, then smugly lean back, grin and show off all of their tooth. They never thought they'd actually ever see the day, but if they did they never thought they'd have to worry about it.
But, in 2015 the 100-win Cardinals had the best record in baseball and their reward was a first round, best of five against the 97 win, third place Cubs.
After losing game one to St. Louis 4-0, the Cubs started to wipe the smug off the sticky faces of the Cardinals with a game two win. Suddenly, if the Cubs just won the two games at Wrigley, the Cardinals' season was over, and the best pitcher on the planet that year, Jake Arrieta was on the mound for the first of those games.
Seems like a fine game to give the Further Review treatment.

Cardinals Lineup
Matt Carpenter, 3b
Stephen Piscotty, 1b
Matt Holliday, lf
Jason Heyward, rf
Jhonny Peralta, ss
Tommy Pham, cf
Yadi, c
Kolten Wong, 2b
Michael Wacha, p
You probably remember Jake Arrieta from our Further Review of the Wild Card Game.
The game's on TBS and we get the "B" team of Brian Anderson, Dennis Eckersley, and Joe Simpson. I know Eck can be an acquired taste, but I've always liked him. You have to like a guy who was once asked to name his best friends in baseball and said, "One of them would have to be Rick Manning—even though he stole my wife." That really happened.
Anderson sets the scene by saying that fans have been in the Wrigleyville area for about four hours for this 5 pm. Start. Yeah, "four hours." More like 28.
The wind is howling out, and Eck is having flashbacks.
Carpenter flies to Jorge who calls off Starlin and then catches it 10 feet in front of the wall. The first two strike count of the game is on Piscotty and the Wrigley crowd stands and roars. Jake strikes out Piscotty looking.
Eck says, "So many words on this guy, is he electric, is he filthy? I don't know, he's in another world."
Matt Holliday was still playing? Well sure, I guess if you need your left fielder to try to catch one with his nuts, why not?
Brian says "Teams who know Jake in the division try to get on him early." How'd that work out for them? They show his career stats against the Cardinals. Nine starts, 4-1, 1.63 ERA, .195 average against.
Holliday is 1-for-15 against Jake. Make that 1-16 he just struck out.
Bottom 1st, no score
The Cubs lineup is:
Dexter cf
Soler rf
KB 3b
Rizzo 1b
Starlin 2b
Schwarber lf
Addison ss
Miggy c
Jake p
The Cubs are starting four rookies. Is that a lot? That seems like a lot.
"You can't disrespect Michael Wacha." Eck. Watch me.
Sure, was 17-7 with a 3.38, but he was terrible in September with a 7.88 ERA, 25 hits allowed in 24 innings with 19 strikeouts and 18 walks. Holy crap. And, as Anderson reminds us, the last postseason pitch he had thrown was this one:
Dexter starts things off by flying out to Heyward? It just looks weird.

No Randal Grichuk in the lineup for the Cardinals. Man were they cocky, considering that their fans thought he was the real Rookie of the Year that season, not Kris Bryant. Then again, those fans eat paint chips.
Soler is coming off a big game two where he went 2-for-2 with a HR, and two RBI. Anderson tells some gibberish story about how Joe said he started Jorge because he looked "locked in" while running from first to third in game one. What?
Soler walks.
You might not remember this, but Bryant and Anthony Rizzo came into this game a combined 0-for-21 with eight strikeouts (four each) in the playoffs. Yikes.
KB's had enough of that, so he singles. First and second, one out.
Wacha falls behind Rizzo 2-0 and Yadi strolls out to the mound and the crowd goes nuts. Probably just to recognize that Yadi's the best mound visitor ever. Or something.
Rizzo hits a soft liner to Peralta (the only kind Jhonny can catch) and Soler just takes off for third. It's an easy double play. I guess that's enough of Jorge's heads up base running for the postseason.
Top 2nd, No score
Heyward's up and man, that batting stance was jacked up. Not as bad as the one John Mallee gave him in the spring of '16, but still really bad. I don't know how he ever got a hit.
He hits one in the air to left that Schwarber should have caught, but Kyle compounds a bad jump by coasting under the ball and never quite getting there. It's a "double" for Heyward.
Peralta's up. Gotta love having a 260 pound shortstop.
Jake has allowed zero runs in 10 of his last 13 starts including the Wild Card game. Holy shit. The Cubs are, not surprisingly, 13-0 in those games.
An eight pitch at bat ends with Peralta grounding to third. Heyward's still on second.
Here's good old number 60? 27-year-old rookie Tommy Pham. Pham spent nine seasons in the minors. I'm sure he was thrilled with all the ABs they kept giving Jeremy Hazelbaker.
Pham gets ahead 3-0 but grounds out to Starlin. Heyward to third.
Yadi's playing with a bum thumb on his left hand. He hurt that thumb in a game against the Cubs in late September when Rizzo slud into it on a sac fly by Russell. It was Heyward's fault because he made a great throw on an otherwise routine looking sac fly which caused the need for the tag in the first place. Way to go, Jay!
He grounds to Starlin who makes a nice play and has plenty of time to throw out the glacially paced Molina.
Bot 2nd, No score
Starlin leads off by hitting one…all the way back to the mound for the first out.
Schwarber's up hoping to atone for his misjudged flyball in the top of the inning and...well, you know:
Right onto Banks Boulevard! You know it, Joe!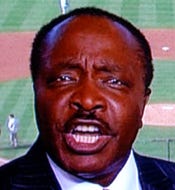 Russell has a great AB. He calls timeout on the first pitch, not granted for a strike, then fouls one straight back that the wind brings back onto the field for Yadi who nearly runs into Miggy in the on deck circle but still catches.
Miggy strikes out to end the inning.
Top 3rd, Cubs 1, Cardinals 0
Wong hits one off Castro's glove, but Starlin recovers and throws him out. That shortstop arm came in handy there.
It's really impresive that Starlin changed positions in August and after just a few days off, not only accepted it, but took off offensively.
As a shortstop in 2015 he hit: .243/.278/.320.
As a second baseman he hit: .339/.358/.583.
I'd say that switch worked out pretty well.
Jake strikes out Wacha.
Carpenter flies to Schwarber, who actually runs under this one, to end the inning.
Bot 3rd, Cubs 1, Cardinals 0
After Jake strikes out to lead off the meeting, TBS goes to an interview in the Cardinals dugout with Mike Matheny. Does that look like a guy who came out of retirement to manage because all of his commercial real estate investment went toes up?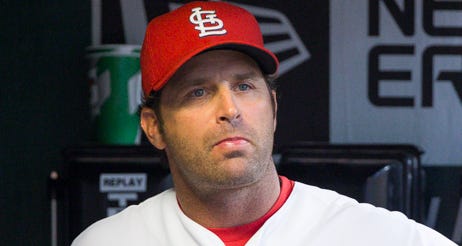 The 1-2 pitch to Dexter is just off the corner, but Yadi goes to throw it around the horn. Not so fast Neck Tat. On the 3-2 pitch Dexter flies to Pham.
Soler fouls one off Molina's nuts, which is ball three on both Yadi and Jorge. And Wacha walks him on the next pitch.
Wacha has nothing. When will the Cubs start lighting him up?
Pink hat guy and Marlins Man in the same shot. Well, this must be a big game.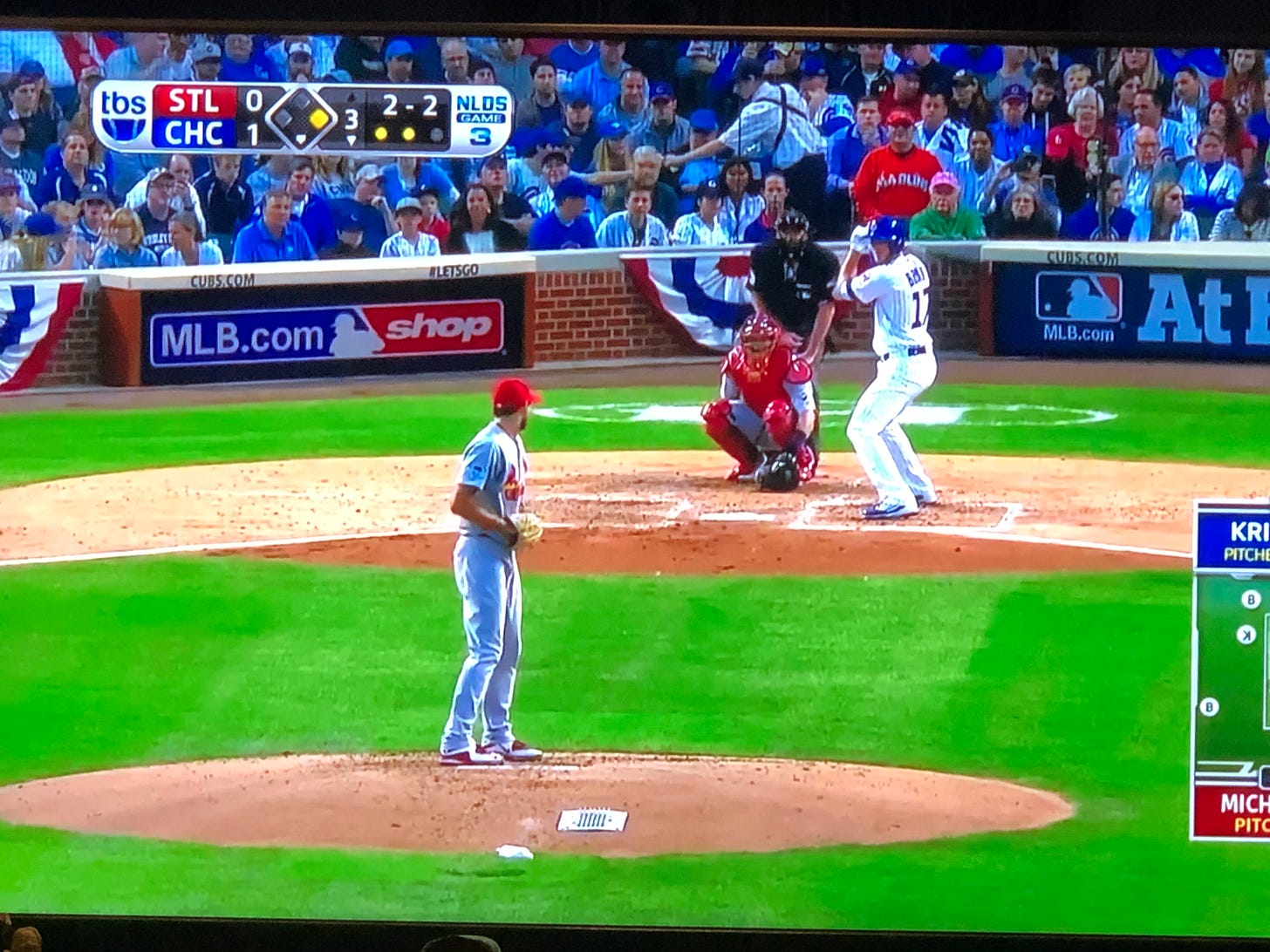 Bryant works the count to 2-2 and can really do some damage here, but he gets rung up on a pitch that's easily a foot outside. I'm not exaggerating, and I like to exaggerate. Oh, the human element, ain't it grand?
Top 4th, Cubs 1, Cardinals 0
Here's a little known fact about Stephen Piscotty. He got that name because his grandmother couldn't pronounce "spaghetti."
Jake walks the spaghetti man in an at bat that featured a slider he threw about 40 feet and a fastball he threw over Piscotty's head. Jake might not have his best stuff tonight.
It's time to go to the dugout to interview Joe, who says that "The finish on Jake's pitches has been a little up." Wait, what? Joe didn't say, "The ball looks good coming out of his hand from down here?" Is that allowed?
Jake is working on 34 scoreless innings in a row and Simpson tells us the walk to Piscotty is only the second one he's allowed during that stretch. That's some serious shit.
Chris Bosio comes out to chat with Arrieta after the count goes 2-0 to Holliday and says, "Uhh...throw some strikes. OK, go get 'em!" Then he probably threw in a racist nickname or two.
Jake walks Holliday on four pitches. First and second, nobody out.
Heyward's up. A grounder to second would be nice.
Anderson says that Heyward will be a free agent at the end of the season, and then Simpson says that Heyward will be a free agent at the end of the season. Way to listen, Joe.
Jake strikes out Heyward looking.
Peralta calls timeout to finish the rack of lamb he's eating in the on deck circle, then he hits one off the wall to score Piscotty, Holliday to third. Peralta chugs into second. We're tied at one.
Pham hits one to KB who should have thrown Holliday out at the plate, instead he gets Pham at first. Cardinals go up 2-1. Eck says Bryant made the right play. Eck's wrong.
Yadi swings and misses and hurts his thumb again. The trainer comes out and looks at it and says, "Hey, that's a thumb!" Yadi stays in and grounds out to the mound.
Bot 4th, Cardinals 2, Cubs 1
So, the Cubs are trailing with Jake on the mound? What a bunch of losers! No wonder they never win anything!
Rizzo grounds to Peralta. He's now 0-for-12 in the postseason. Booo!
Starlin comes up, and the fans clap along to his walk up song. Remember how fun that was? Let's do it right now.
How does Starlin respond?
He blasts one to center just to the left of the batter's eye. Game tied at two.
Schwarber strikes out. Hey, they can't ALL be bombs.
Russell just misses a homer, looks like he'll have a double but turns it on to reach third on a triple. And...he left his hammy between second and third. Oh, no. The Cubs will have to go some other young kid the rest of the way. How will they ever withstand this? Doom!
Anderson says, "Javier Baez, who was thought to be the shortstop of the future as recently as last year, will have to take over for Russell."
Hindsight finds all of this absolutely hilarious. Russell gets hurt and the Cubs replace him with a guy who will be one of the best players in baseball for the next decade.
Wacha intentionally walks Miggy. Hey, remember when they actually had to throw four balls to do that?
Jake strikes out. The Cubs tie it, but lose their shortstop. I think they'll survive.
Top 5th, Cubs 2, Cardinals 2
There are hot dog wrappers all over the field. You'd think you could keep the place clean for the playoffs at least. How did they all get there?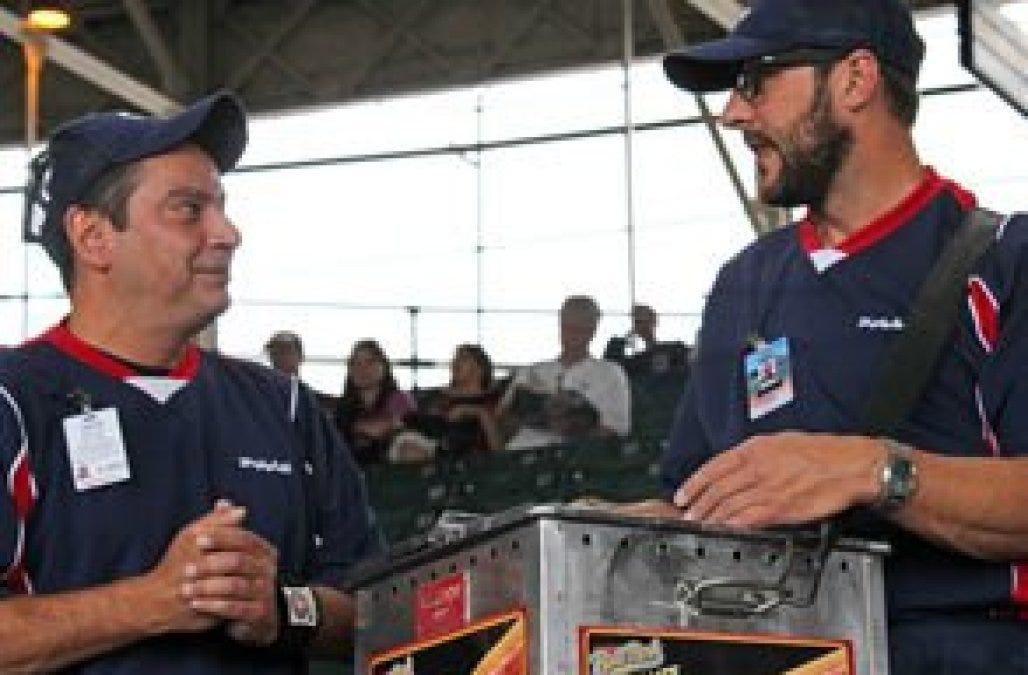 Oh.
Wong strikes out looking on three pitches.
Anderson says that "Arrieta is the Cubs first 20 game winner since 2001." Jon Lieber's at home going...say it! Say it! Anderson never does.
Wacha strikes out.
Carpenter and Jake went to TCU together and Carpenter has never had a hit off of him. Until now. He singles to right. Can I jinx somebody five years later?
Spaghetti strikes out swinging, that's seven in five innings for Jake.
Bot 5th, Cubs 2, Cardinals 2
Dexter hits a routine fly to right and the wind takes Heyward back about 40 more feet to the track.
Jorge comes up having reached base seven times in seven trips in the series and he singles to left.
Matheny has Kevin Siegrist up in the bullpen, and even though he's a lefty, Mike should bring him in to face Bryant.
Remember in the 2003 NLCS Game Three Further Review how I pointed out the nonsense of Dusty using Mike Remlinger like a traditional lefty reliever when Remlinger was so much better against righthanded hitters? Well, Siegrist in 2015 was Mike Remlinger. Righties hit only .164/.236/.275 against him, but lefties hit .278/.406/.405. So Matheny using him against Bryant isn't a bad idea. A bad idea would be bringing Siegrist in to face Rizzo.
But Matheny sticks with Wacha.
The count goes full to Bryant, and Joe Simpson says, "he's been late a lot."
I guess KB heard him.
To his credit, Joe says, "He wasn't late on that one."
Wacha's done. And, sure enough, Matheny brings Siegrist in to face Rizzo.
And, here you go:
Cubs lead 5-2.
Eck says, "He got a piece of cheese."
Starlin pops out to Piscotty down the right field line. Piscotty and Wong trip over each other and both are limping around. Oh boo hoo, get up, the Cubs have a whupping to continue to administer. They both stay in.
Schwarber comes up in a slump. He hasn't homered in his last one at bats.
Anderson brags on the Cubs rookies. Soler's been on base three times, Schwarber has a homer, KB has two hits and a homer, Russell has a triple and has now been replaced by another rookie. Yeah, they were pretty good.
The Cubs' four homers (so far) are their most since game two of the 2003 NLCS when they hit four (Sammy Sosa, E-ramis Ramirez, and Alex Gonzalez with two), and the team record is five in game one of the 1984 NLCS (Bob Dernier, Gary Matthews with two, Rick Sutcliffe, and Ron Cey).
Schwarber goes from 0-2 to 4-2 and walks.
Javy only played 28 games in the 2015 regular season in Chicago. And yet, he somehow made the postseason roster over Jonathan Herrera. Never forget that Joe Maddon saw what Javy was from day one and never wavered and never tried to change him.
TBS guys tell the story about Javy's sister Noely dying early in the season and how he missed time and then spent most of the season in Iowa. Anderson says, "When you talk to Joe Maddon about his young players he always works Baez in. They think he'll be a big contributor." Uh...yeah.
Javy singles in his first playoff AB and Schwarber scampers to third.
Javy steals second.
Yadi goes out to talk to Siegrist. "Hey buddy. My thumb hurts. If you aren't going to throw strikes, I'm going home to Puerto Rico."
Miggy strikes out.
The Cubs get three runs on two very big homers and lead 5-2.
I believe the Bryzzo Souvenir Company was actually created during that inning.
Top 6th Cubs 5, Cardinals 2
Hey, can't lose now! Jake's got a three run lead.
Holliday singles.
Heyward takes an outside pitch and hits it out to left. Without the wind it's probably a double, but he hit it pretty hard regardless. That one swing is the reason the Cubs signed him that offseason, and one they've never seen him take since. The lead is cut to 5-4.
Matheny pumps his fist like he just sold a storefront to Lane Bryant.
The four runs allowed by Jake are his most since a June 16 loss to the Indians, when he also gave up four. He lost 6-0 to...oh, for chrissakes, Trevor Bauer? Why did it have to be him?
Jake responds to the homer by striking out Peralta and Pham.
Yadi's due up, but Brandon Moss is going to hit for him. Yadi's thumb fell off and the Cubs will make sure tomorrow that his season's over.
Jake hits Moss in the foot with the first pitch. Ugh.
That'll be all for Arrieta. Joe's going to Aroldis. Oh, wait. No, wrong season. It's Clayton Richard. Basically the same thing.
Wong hits it right back to big Clayton to end the inning.
Bot 6th, Cubs 5, Cardinals 4
Former Bears TE James Manness is in to pitch for the Cardinals. No, wait, it's Seth Maness. Could be pronounced Anus, I'm not sure. Probably is.
Tony Cruz replaces Yadi—well, nobody can "replace" Yadi. Chris Coghlan is in to hit for Richard and singles on the first pitch.
Adam Wainwright is warming up in the bullpen. The TBS guys would like us to believe that's a big deal. It was another of his seasons where he missed most of it to injury. He only pitched in seven regular season games.
Fowler bunts and Anus scoots after it and throws him out, Coghlan to second.
Big Trevor Cahill and Travis Wood are up in the bullpen. How did this team win 97 games?
Anus is prolapsing his way to the dugout and Wainwright is in. Ooh, feel the electricity. And hey, Grichuck is in to play center now. The Cardinals are finally firing all of their big guns.
The three TBS guys are talking Wainwright up like he's Madison Bumgarner from the postseason the year before.
Wainwright's first pitch to Jorge Soler is hit a very, very, very long way.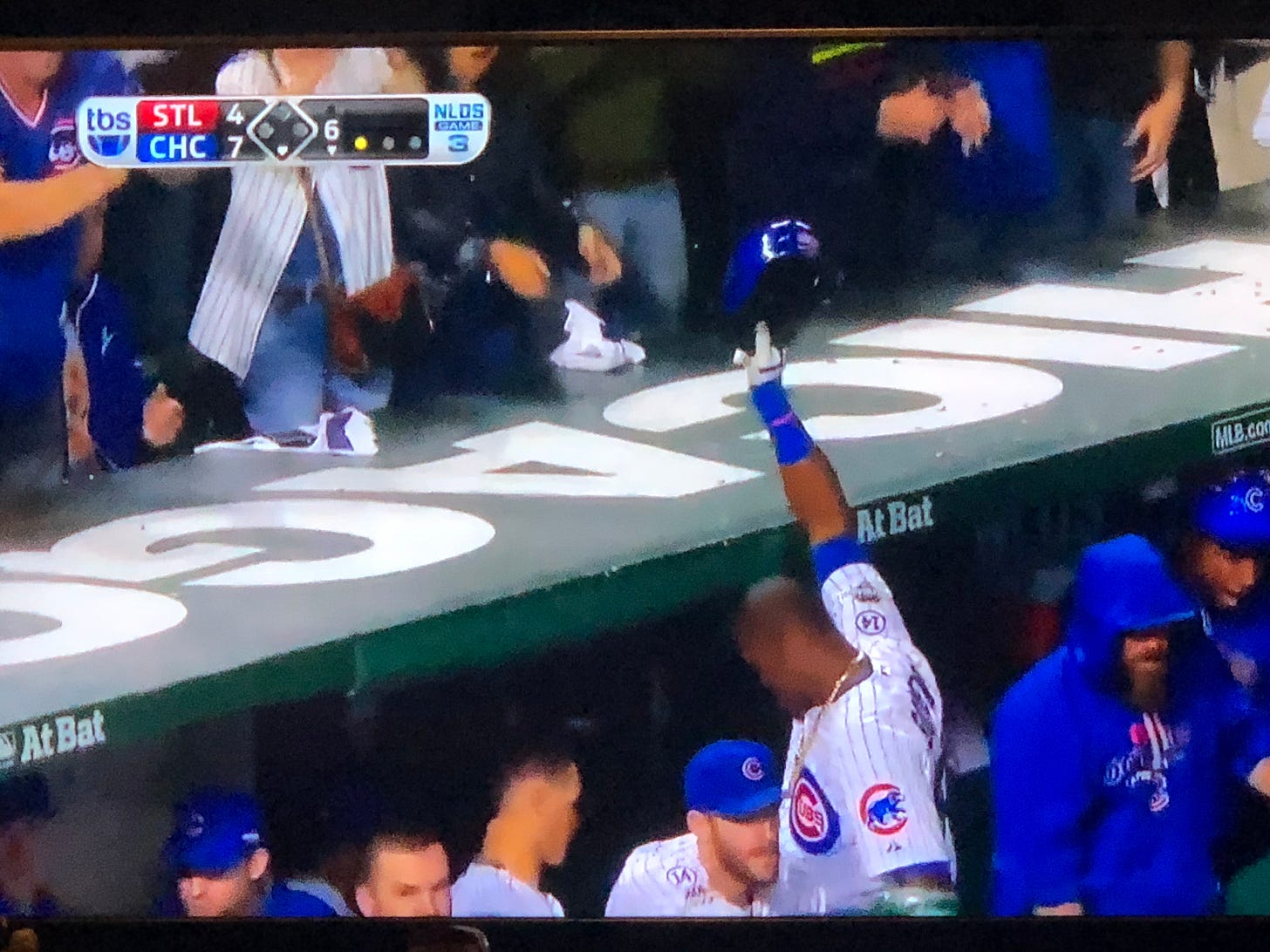 Eat it, Waino. Cubs 7, Cardinals 4.
Bryant grounds to Wong on a very nice play, and Rizzo pops to short. But two more big runs score in the inning.
Top 7th, Cubs 7, Cardinals 4
Jorge's too hot to stay in, apparently. Coghlan's in to play right because he's such a defensive whiz.
Big Trev is in. This dude did some real work out of the Cubs' pen in '15 and in '16.
Grichuk strikes out. I'm sure he just missed it. Like always.
Carpenter strikes out. Cahill struck him out in game, two, too.
Spaghetti singles to right.
Holliday grounds to Javy who bounces the throw to first and Rizzo can't dig it out for him. Baez made the ultra-casual flip throw that we've seen him make a million times since, but with Holliday dragging the plow to first he could have run the ball over there.
Two on for Heyward and Travis Wood is in to face him. It's hard to recognize Wood because he's wearing a shirt. And sleeves.
On the first pitch Heyward lines it hard to left, but Schwarber is all over it. In a good way.
Bot 7th, Cubs 7, Cardinals 4
Starlin singles to right. Man, Wainwright really has great stuff.
TBS shows Ernie Banks singing the stretch, and Anderson explains that it's "from years past." Before Ernie died, I suppose.
They're talking about Tony Cruz having to replace Yadi and that Yadi compliments Matheny by saying, "He still thinks like a catcher." Unfortunately he mostly thinks like a catcher who just took a foul ball off his mask.
Schwarber gets hosed on a full count. Should have been ball four, it's called strike three. Have we ever seen Kyle get a raw deal on a strike three since?
Javy hits one that's headed for right field and it hits Starlin in the leg. Starlin tried to jump over it…and, well, if it was a phone book he'd have tripped over it. It's a single for Javy, but Starlin's out.
Whenever that happens in a game, (and it rarely happens because most guys can avoid being hit by the friggin' ball) and Len Kasper's calling it, he immediately ponders what if a guy is throwing a no-hitter with two outs in the ninth and a grounder that will be an easy out to end the game hits a baserunner, to end the game, but it costs the pitcher the no-hitter? It would be amazing, and terrible.
Montero strikes out. Starlin's inability to jump over a baseball costs them.
Top 8th, Cubs 7, Cardinals 4
Austin Jackson's in right, Coghlan moves to left, Schwarber's out.
Our old buddy Pedro Strop is in and this was during the time when fans lost their shit whenever he pitched against the Cardinals because he "always" pitched poorly against them.
Strop strikes out Peralta.
Bug eyed Greg Garcia is up to hit for Wainwright. Anderson explains that the Cardinals had to choose between Garcia or Pete Kozma for this spot on the roster. Ooh, a regular Sophie's Choice!
Garcia hits one hard down the line, but Rizzo makes a nice grab and throws to Pedro for the out. Cubs fans give Riz a little M-V-P chant.
Tony Cruz is up in Yadi's spot. Strop strikes out Cruz.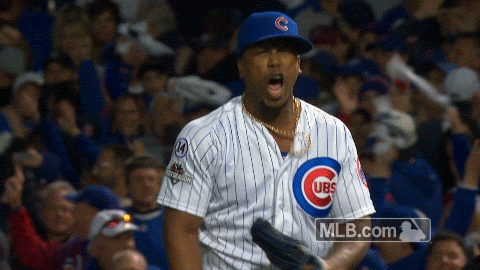 Bot 8th, Cubs 7, Cardinals 4
Hey Cubs, how about a little game of fuck the closer?
Jonathan Broxton is in to flatten the mound for the Cardinals.
Coghlan whiffs. Oh, what a shame.
As Matt Winer is giving the audience Eddie Vedder's Cubs fan bona fides, Dexter homers to right and the Cubs have set a big league record for most homers in a postseason game. Couldn't have happened against a better team.
It's the first ever Cubs game (not just postseason) where every hitter from the the leadoff spot through the sixth spot has homered.
Austin Jackson walks.
Jackson's thrown out stealing second.
Bryant strikes out.
Top 9 Cubs 8, Cardinals 4
Hector's in to finish things up. Here's a reminder that when the Cubs traded for Aroldis in 2016 they were trying to strengthen a strength at the end of games. In 2015, Hector Rondon was 30-for-34 in saves with a 1.67 ERA, 69 K in 70 innings with only 15 walks and four homers allowed. The injuries to him and Strop at the end of 2016 limited both of them in the playoffs and are a big reason why Joe used Aroldis incessantly. But you knew that.
Wong grounds to Javy on the first pitch.
Grichuk hits one deep into the hole and Javy backhands it but drops it before he get the throw off. I'm sure Javy's rattled, you know how easily rattled he gets.
Grichuk goes to second on defensive "indifference." Fitting, since the last few years of his career have been all about indifference.
Denorfia is in to play left for Coghlan, thank god, because Carpenter hits a liner out there and he catches it for the second out.
What is going on with Jon Jay's hair?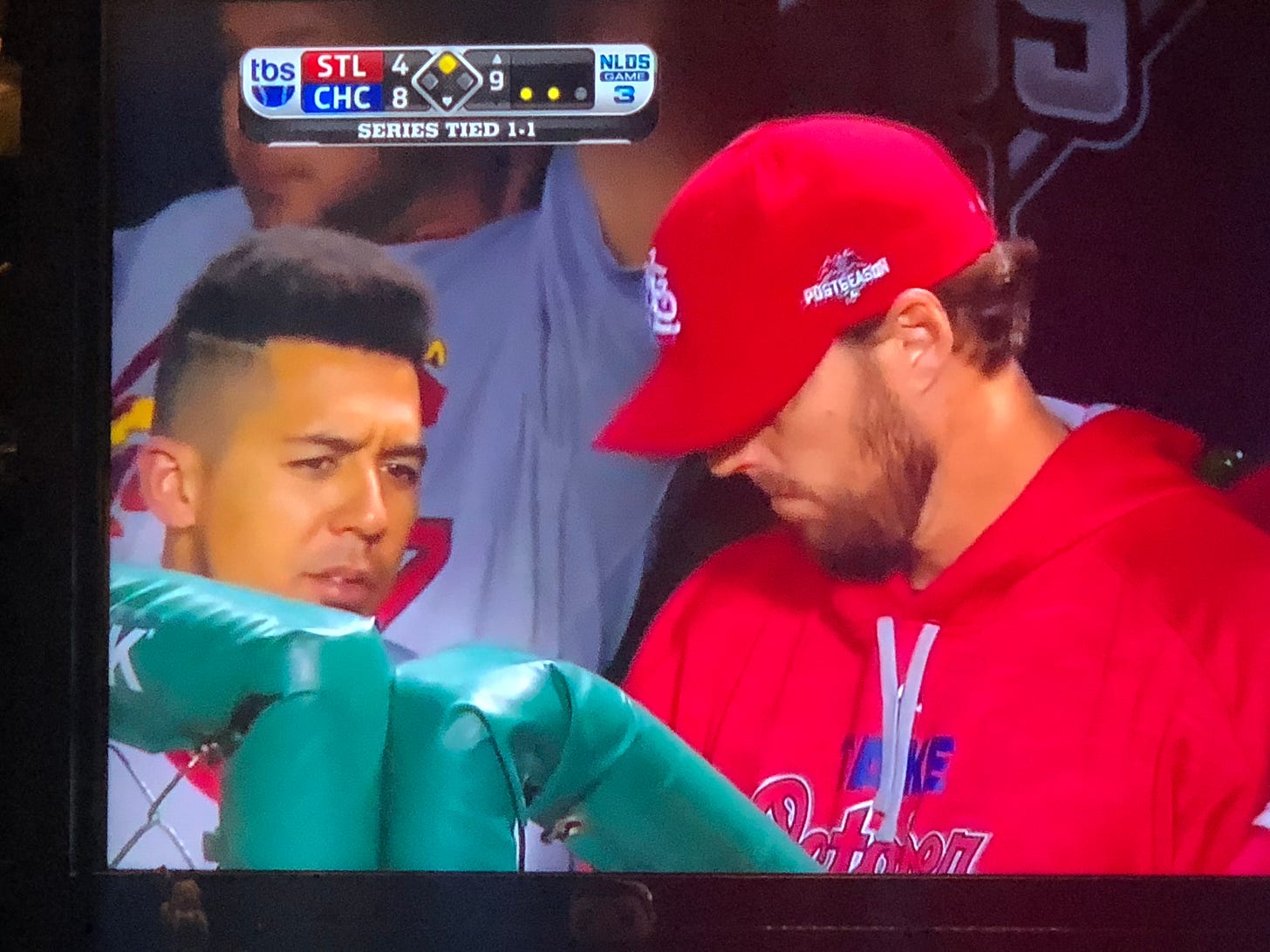 "Hey Lack. Skip said he'd play me more if I was taller."
The TBS guys are wondering if it will be Lance Lynn or John Lackey in game four. Oh, it was Lackey and it was glorious. Lackey insisted on it, and it didn't hurt that Lynn blew out his arm trying to hurry up and get ready for an inning of work when Jaime Garcia shit his pants (literally) in game two.
Piscotty homers to right to make it 8-6 and make everybody's Seth Maness pucker just a little bit.
But it ends quickly as Holliday grounds the first pitch right to Starlin who throws to first to put the Cardinals one game away from elimination.
Could it be that the spunky, fearless young Cubs are about to send the mighty 100 win Cardinals home? I guess you'll have stay tuned for the next edition of Further Review, when we break down a Cubs victory so satisfying they should have handed out towels and cigarettes to us all afterwards.