Discover more from Pointless Exercise
The only newsletter you'll ever need...(about the Cubs and the Bears and all kinds of other cool stuff.)
"If you feel like you can't sit still, you are not alone."
The moment the Cubs sent the Cardinals home has since been topped. But not by much.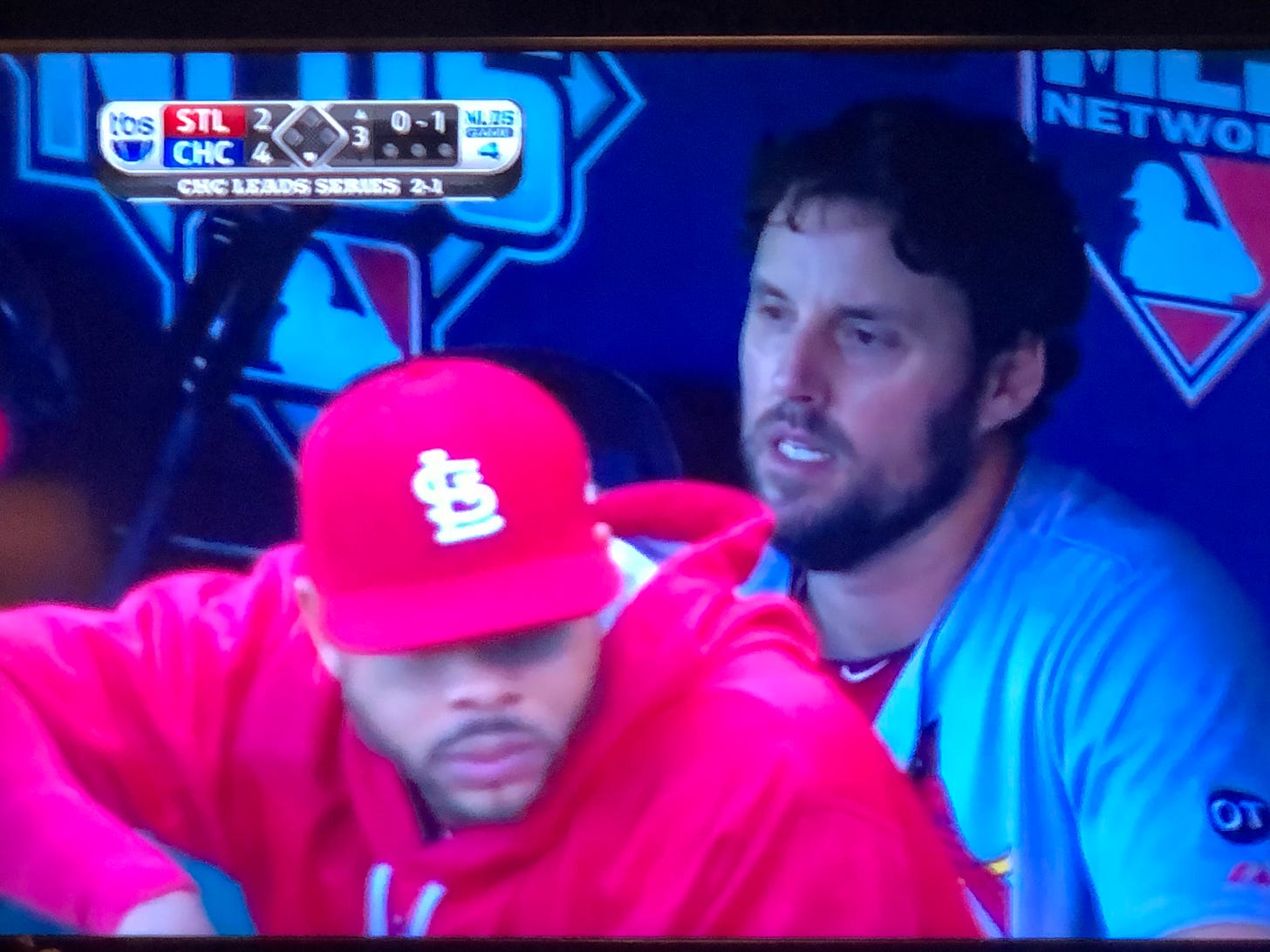 Wrigley Field was 101 years old when the Cubs and Cardinals faced off for game four of the 2015 National League Division Series, and the Cubs had never won a playoff series there. Ever. Now, granted, they hadn't given themselves too many chances in the last 70 of those years, but still.
So that was one of the things they were looking to accomplish as the game started under full sun in the middle of an October afternoon. They were also trying to serve up a big dose of shut the fuck up to the Cardinals and their fans.
The pitching matchup was two guys who would get rings when the follow season's edition of the Cubs did the unthinkable. And one of them actually earned it.
John Lackey was starting on short rest to try to keep the Cardinals' season alive. Partly it was because he had pitched so well in game one shutting the Cubs out for 7.1 innings, and partly because the guys who should have started the game were both hurt. Carlos Martinez had injured his shoulder at the end of September and wasn't on the playoff roster, and Lance Lynn had hurried to get into game two when Jamie Garcia's bowels betrayed him, and though Lynn got through an inning he blew out his elbow in the process.
We didn't know about Lynn's injury at the time, so the narrative was just that Lackey had forced Mike Matheny to start him. Turns out it was only partly that.
The Cubs could have countered with Jon Lester pitching on short rest, but why? They had the series lead and he'd be ready for game five. So they stuck with Jason Hammel, on a very, very short leash.
For the fans, the game had a very uneasy feeling about it. We were excited and confident, and that confidence is what brought the unease to us. It would be perfectly Cub for them to blow something like this to the Cardinals and then we'd never really hear the end of it. Thankfully the early start time meant we didn't have to chew on the possibilities for that long. The game three win wasn't even 18 hours old when this one started.
Lineups:
St. Louis
Matt Carpenter, 3b
Stephen Piscotty, 1b
Matt Holliday, lf
Jason Heyward, rf
Jhonny Peralta, ss
Randal Grichuk, cf
Kolten Wong, 2b
Tony Cruz, c
John Lackey, p
Cubs
Dexter, cf
Jorge, rf
KB, 3b
Rizzo, 1b
Starlin, 2b
Schwarber, lf
Miggy, c
Jason Hammel, p
Javy, ss
The announcers are Brian Anderson, Dennis Eckersley and Joe Simpson.
Eck says of Hammel, "They're looking for at at least five innings out of him, hopefully." Yeah good luck with that.
The Cardinals had been to the last four NLCSs and had won five straight NLDS elimination games.
Top 1st, No score
Carpenter singles to right. And Joe Maddon gets on the phone and fires up the bullpen. I'm joking. (But not by much).
Piscotty then homers on the first pitch.
Four pitches, 2-0 Cardinals. Thanks for nothing, Hammel.
This is just about the worst possible start. Seriously, Hammel couldn't keep them off the scoreboard for TWO batters?
I mean, just look how happy this guy is. I'm sure he'll stay that way.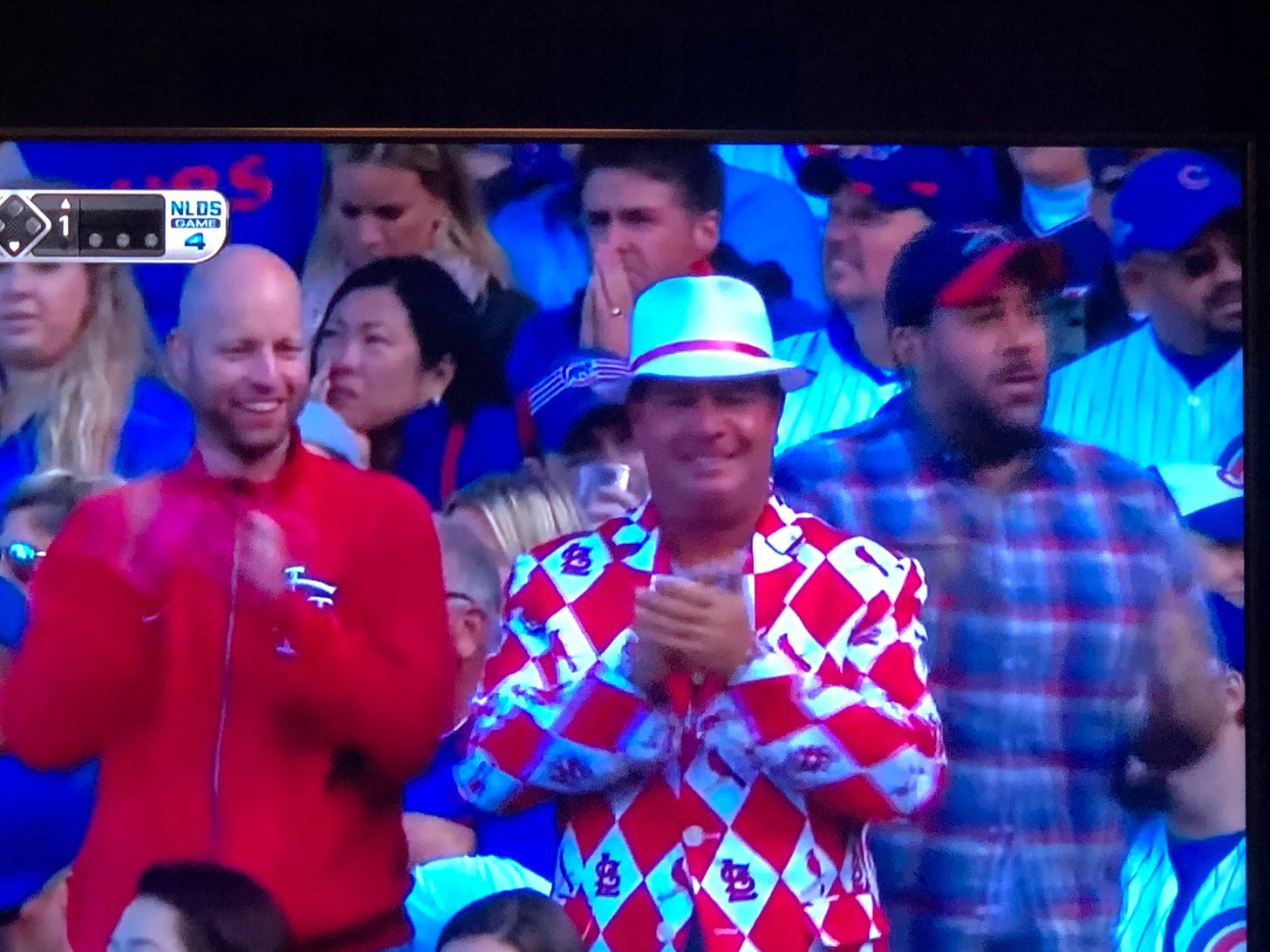 Eck, "That is a statement by the Cardinals."
Simpson says "First innings have been a problem for Hammel this season. He's allowing a .320 batting average and not including today he's allowed 23 runs." Well, let's include today and it's 25 runs now.
Holliday strikes out.
Heyward's up, he's 9-for-18 lifetime v. Hammel. (Gulp.) He walks.
With Heyward running, Peralta grounds to Javy who can't try to start a double play so he throws to first for the out.
Randal Grichuk is up. Cardinals fans seriously tried to debate us all summer that he was a better rookie than Kris Bryant. That's the mentality we've been dealing with all these years. The "real" ROY lines the first pitch to Dexter.
Bot 1st, Cardinals 2, Cubs 0
Lackey's strutting around the mount like the big, surly Texan he is. I mean, the big, surly Texan who goes through four boxes of Crest white strips every week. He's old. He's on short rest. He should be ripe to get rocked.
Dexter pops out to short right.
Jorge comes in 4-for-4 with two homers, five walks and a postseason rookie record by reaching base in nine straight playoff at bats. The overall record is 12 by some guy named Reggie Jackson.
Jorge works a full count, but then strikes out swinging.
TBS shows Lackey's career playoff numbers when starting on short rest. He's 1-0 with a 1.69 ERA in two starts. That would be more relevant if both of those starts weren't 13 years previous when he was a rookie with the Angels.
Bryant strikes out.
Top 2nd, Cardinals 2, Cubs 0
Wong flies to Schwarber.
Eck blames Hammel's poor second half on a pulled muscle in June. Hey, that's nothing that a few hundred boxes of free potato chips can't fix! Wait, that was the next season, wasn't it?
Cruz is up. Anderson says Matheny told them that with a day off tomorrow Yadi would probably be able to start game five. You know, he really shouldn't risk that. So the Cubs would really be doing a benevolent thing by just winning today.
Justin Grimm is already warming. Things are very grim.
Cruz strikes out.
Lackey singles. Hey, maybe it's Hammel's strategy to tire the old guy out on the bases.
Lackey doesn't do much running as Carpenter flies out to Fowler.
Bot 2nd, Cardinals 2, Cubs 0
Rizzo fights off a pitch and hits it down the third base line. Nobody is there because of the shift. Lackey is not pleased that he made a good pitch and his manager's creative defense cost him an out.
You can tell he's still pissed when he comes way in on Starlin for ball one. Then he misses way away for ball two.
Starlin hits one to the right of Peralta who makes a sliding grab (his range is however far he can fall down in either direction) and he throws out Rizzo at second. One out.
Schwarber smokes one to center for a single. Runners on first and second with one out.
Grimm is warming up again. Now, which team has the elimination game today?
Montero has a good at bat and works the count full, but then strikes out. With two outs, Maddon decides to not go to a pinch hitter (it would have Coghlan—so why bother?) and he lets Hammel take the at bat. He's trading a better chance to get a two out hit with not going to his bullpen as early.
But all Lackey has to do get out of a jam is retire the opposing pitcher.
On the first pitch, Hammel singles to center scoring Starlin. Lackey doesn't just lose his shit, he's actually losing it while he's running to back up home plate. He's screaming at Cruz, and among other things, "throw the fastball!" is a pretty clear part of his tirade. The Cubs cut the lead to 2-1 and the ninth place hitter, some backup shortstop named Javier Baez is up.
Javy had a clear view from the on deck circle of Lackey's "throw the fastball" tantrum. Javy is, as we know now, one of the smartest players in the game.
He stepped in looking for one thing.
And, oh, baby, did he get it.
It really is one of the greatest things, ever. A fastball, outer third and Javy was sitting on it and didn't try to pull it. He just squared it up and hit it hard and let it go wherever it wanted. It apparently wanted to go deep into the right center bleachers. Cubs lead 4-2.
The fans serenade the Cardinals pitcher with a nice La-key, La-key chant.
Dexter strikes out. But the damage was done. Gloriously.
Top 3rd, Cubs 4, Cardinals 2
Now, the Cubs need Hammel to settle in and give them a couple more innings. That's not all that much to ask. It starts promisingly when Piscotty lines softly to Javy.
Then, Holliday flies to Jorge in a very sunny right field.
The TBS Funky Bunch discusses how the sun affects fielders in this park.
"Day baseball is special at Wrigley, day postseason baseball is even more special," Anderson says. Yeah, and it's really f'ing rare.
But, then Heyward walks.
Joe sends Bosio out to berate Hammel and stall for some time.
Peralta digs in and the hot dog vendor behind home plate asks Jhonny "How many?"
Peralta swings through a high fastball, Miggy throws behind Heyward and picks him off first. I'm sure Miggy never brought that up to Heyward during their time with the Cubs. Never.
It's a huge moment a half inning after a huge moment The pickoff allows Hammel to stay in the game and the Cubs to hold onto their lead. These rewatches of the 2015 playoffs remind you how important Miggy was behind the plate before he came back in 2016 looking a little…uh, puffy, and battling back injuries
Bot 3rd, Cubs 4, Cardinals 2
Jorge leads off, and during the at bat, Joe asks home plate ump Mark Carlson to go out to check the ball. I'm sure Lackey loved that.
Lackey's next two pitches miss badly and Jorge walks.
Bryant grounds to Carpenter and the Cardinals turn a double play.
Now it's time to interview Matheny in the dugout. He says Lackey's only made a couple of mistakes (sure). He fights the urge to tell us that one of those mistakes was not investing in a Ruby Tuesday's that Matheny was opening in a strip mall in Sauget.
Rizzo strikes out.
Top 4th, Cubs 4, Cardinals 2
Peralta's still up, and the hot dog guy's back.
Grimm and Wood are both throwing. Simpson jokes that if the Cubs had more bullpen mounds they'd have five guys warming up.
Jhonny walks on four pitches. And...here comes Joe. Grimm's coming in.
Well, nice effort. I mean, at least he drove in a run. The bullpen only needs to get (let me break out my abacus) EIGHTEEN outs? Oh, for fuck's sake Hammel.
Grichuk's up. I'm surprised Joe didn't go to the closer here.
Randal hits a slow chopper to third and KB drops it. He would have gotten Peralta at second, but not a double play. Two on. Nobody out.
Wong shows bunt on the first pitch, but pulls it back for ball one. Matheny's just trying to give away outs. Why would you bunt the runners over for Cruz and Lackey (or a PH?)
Wong strikes out.
Cruz strikes out.
Tommy Pham is going to hit for Lackey. Quite the big game pitching matchup. Neither one will retire a hitter in the fourth inning.
Grimm blows it by Pham, and Miggy pumps his fist as he runs off the field. Grimm struck out all three Cardinals after they got runners on first and second.
Bot 4th, Cubs 4, Cardinals 2
Oooh, it's Waino. We get to re-hear his gutty coming back from a tore Achilles story again. Didn't we already hear this in game two and game three?
Starlin grounds to Peralta.
Schwarber chops one that Wong has to run a long way to get to because of the shift and he throws Kyle out.
Miggy grounds to Peralta.
Well, that wasn't great.
Top 5th, Cubs 4 Cardinals 2
Travis Wood is in for Grimm. He strikes out Carpenter and then gets ahead of Piscotty who keeps fouling pitches off of himself, which reminds me of this:
Piscotty, with a few fewer bruises this time strikes out.
The Cardinals are striking out at an alarming rate. Five of them in a row have whiffed, and in the last 13.2 innings they have struck out 20 times. I know, it's great.
Holliday flies to Dexter.
Bot 5th, Cubs 4 Cardinals 2
Because Heyward will lead off the sixth, Joe has Wood hit for himself to stay in to pitch to him. The announcers dutifully run down Wood's hitting prowess (for a pitcher) and they're not wrong, but he strikes out.
Javy's bat explodes and he grounds to Carpenter, and then Dexter grounds to Peralta.
The Cubs two run lead is just laying there like a slug on the sidewalk.
Top 6th, Cubs 4 Cardinals 2
Heyward is jammed by Wood but dumps it into center for a single. So much for that, I guess. Here comes Trevor Cahill.
The Cubs trying to use Big Trev's sinker to induce a double play but Peralta's grounder goes right over the bag for a single. First and second. Nobody out. This again?
Cahill runs the count full on Superstar Grichuk. A walk here would really create a big mess.
Thankfully, Grichuk swings at ball four in the dirt. One out.
Trevor strikes out Wong. One more strikeout and it'll be back to back innings where the Cardinals get the first two on and do nothing.
Weak-hitting Tony Cruz is up, and Simpson ominously says, "These are the spots where postseason heroes are made." Cruz has struck out in all three of this playoff at bats so far and Big Trev is ahead 1-2. So, clearly, heroics here are not going to happen.
Right?
Right?
Cruz doubles down the line past Rizzo. Heyward scores. Peralta to third. The lead is cut to 4-3.
Brandon Moss pinch hits for Wainwright.
Moss singles to right to score Peralta and tie the game, but then Jorge does this:
That is a very strong, very long throw to get a very slow runner. It's a pretty incredible play by a normally indifferent outfielder. The game is tied, but the rally is over.
Bot 6th, Cubs 4 ,Cardinals 4
Matheny appears to have learned his lesson on how to use Kevin Siegrist. The lefty was much better all season against righthanded hitters than lefties, and he's bringing him in to face Soler and Bryant.
Soler pops to second.
Bryant hits one deep to center that just misses being a homer. If he'd hit it the night before it would have bounced off the scoreboard.
Anyway, here's Rizzo, with Castro on deck. Siegrist can be careful here and not give in, and surely not repeat the mistake he made the night before when he got ahead of Rizzo 0-2 and gave up a bomb.
Siegrist gets ahead 0-2. Rizzo chokes up, again. And…
The Cubs retake the lead and Wrigley's going nuts. The Cubs hadn't had a hit since Baez's homer in the second.
Starlin grounds to short. But it's a second huge homer in as many nights for Rizzo and the Cubs are back on top.
Top 7th, Cubs 5, Cardinals 4
Fernando Rodney in for the Cubs. Joe's trying to steal three outs here to get to Strop for the eighth and Rondon in the ninth. Since he had to go to the bullpen so early he's stuck trying to sneak Fernando through the top of their order. It's not optimal. But things rarely are in the playoffs.
Rodney strikes out Carpenter on a change up.
They show Rodney's 2012 stats with Maddon's Rays, when he had 48 saves and a 0.60 ERA. Eck says, "That's a pretty good year, there."
Piscotty walks.
Holliday chops one to third that Bryant fields barely foul. Holliday didn't even bother to run. Nice hustle, there big fella. I guess he only runs when he wants to go about 20 feet past the bag and knock Starlin into left field.
Holliday hits it off the end of his bat a long way, but not nearly far enough. Schwarber catches it for the second out.
Rodney infuriates Cardinals fans (always a plus) by deciding to do his signature arrow thing, even though he didn't even finish the inning.
Clayton Richard is in to pitch to Heyward.
Heyward is 1 for 11 in his career against Clayton.
Strike two is on the outside corner and Eck says, "That's unhittable there. Unhittable because it's a ball. But it's nasty."
Make it 1-for-12. Richard strikes out Heyward. The Cubs gave $184 million to a guy who can't hit Clayton Richard?
Bot 7th, Cubs 5 Cardinals 4
I wonder if Kyle will do anything cool here?
Oh, yeah. That.
Siegrist faced two lefties in this game who combined for 850 feet of homers off of him. Is that a lot? That seems like a lot.
Schwarber's shot over the scoreboard didn't actually make it all the way over, as you know. It landed on top of it, and was encased in Lucite for posterity. How good was the kid's postseason that year? If you ask, "Remember that absolute bomb Schwarber hit in the 2015 playoffs" the person you ask will reply, "Which one?"
Miggy hits one really far, but foul and then strikes out.
LaStella is pinch hitting for Richard. Wouldn't you think that Matheny would start to notice that smart managers were using use lefties against his lefty? Nah.
Siegrist proves Matheny right (no, not really) and strikes out Tommy. Mike then takes Siegrist out to bring in a righty to face Javy. I mean, he's pathological.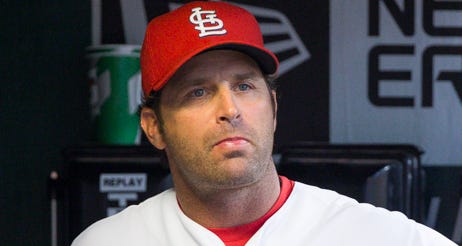 The fans are still drunk over Javy's second inning homer and they are chanting his first name. It's something they'll get really used to doing over the years.
Javy singles to right.
Dexter walks.
The game is sitting there, waiting to be taken, but Jorge fouls out to Piscotty.
Top 8th, Cubs 6 Cardinals 4
Pedro Strop is in. Chris Denorfia replaces Schwarber in left, and Austin Jackson is in to play right for Jorge.
Strop's first batter is Peralta and we all had these flashbacks from July when the Cubs could never put the Cardinals away:
The Cubs had rallied in that game to take the lead on a bases clearing double by Miggy. Yadi was so mad at the home plate umpire for a pitch previously in the at bat that he was standing with his back to the infield screaming at the ump while the Cubs were running around the bases. In fact, the go-ahead run scored because the Cardinals couldn't throw home because the catcher wasn't looking at the play or for a throw. Yadi got thrown out of the game while the ball was still in play. And yes, by rule he could have still fielded a throw and tagged out a runner even after he was tossed.
It was going to be a monumental win for the scrappy, young Cubs. They had swept a doubleheader from the Cardinals the day before. But then Peralta hit that homer off of Pedro.
Pedro does not share our flashbacks. He strikes out Peralta on three pitches.
Bug eyed Greg Garcia is in to pinch hit.
Garcia is 3-for-4 against Pedro with a homer in his career as he steps in. Make it 3-for-5, Pedro just struck him out on a slider.
Wong grounds to Rizzo who takes it himself.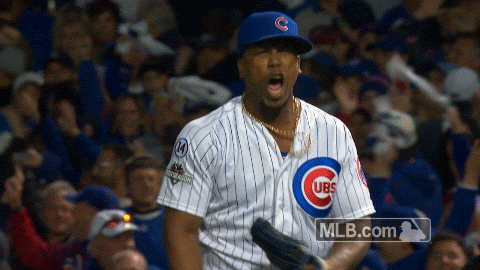 Demons. Exorcised.
If you were waiting for a sign. You just got it. Things are different.
Bot 8th Cubs 6, Cardinals 4
Trevor Rosenthal in to pitch and Bryant crushes one to right center, it's a double but he never stops running and easily makes it to third for a triple.
Runner on third nobody out, I'm sure Pat Hughes is doing a read for insurance runs.
Rizzo strikes out.
Starlin is intentionally walked.
The defensive replacements are about to foil the rally.
Austin Jackson is up hitting in Schwarber's spot. Oops.
Starlin takes second on defensive indifference, so now a base hit would really seal this.
Instead, Jackson bunts to the right of the mound, Rosenthal makes a nice backhand throw home and Bryant is out.
Miggy walks on four pitches.
Matheny feels the need to come out himself to tell Rosenthal how to get Chris Denorfia out. ("Uh, just throw it somewhere near the plate. Go get 'em!")
Anderson says that because Denorfia rarely strikes out, "He's the last guy you want to face in a spot like this." Yeah. Sure.
He doesn't strike out. He grounds out to Peralta.
Top 9th Cubs 6, Cardinals 4
Here it is. Three outs from a moment we've all been waiting for.
Hector Rondon and his cartoon eyebrow(s) are in to put the nails in the Cardinals' season. Wrigley is ready. And it looks like it's going to be stress free.
Cruz taps one right to Bryant for the first out.
Mark Reynolds is up swinging from his ass. After Hector gets screwed on a two strike pitch called a ball, Reynolds swings through his next one. Two out.
Carpenter is all that stands between the Cardinals and the abyss.
He singles on the first pitch.
Oh, crap. The tying run is coming up and it's Piscotty who hit a two run homer off of Rondon the night before.
But Hector is not fucking around.
He gets ahead 0-2 on a pitch where the bottom drops out and Piscotty helplessly swings right over it. Eck says, "Do that again, it's over."
OK. Hector does that again.
And it's over.
You've probably seen this a million times, but watch it again. You get the iconic, perfect, Pat Hughes call of the final out. Then you get the TBS one, which is fine. But the real treat is listening to Mike Shannon gurgle his way through the end of the Cardinals' season.
Pat Hughes: "If you feel like you can't sit still, you are not alone. I wish all of you could be right here at this moment. Unbelievable atmosphere! And the 0-2. Swing and a miss! Cubs win! Cubs win! Cubs win! Breaking ball got him. The Cubs with a massive celebration right near home plate. The Cubs are in the National League Championship Series! … This is one of the greatest moments I've seen in 20 years as a Cubs broadcaster. To beat the St. Louis Cardinals in a postseason series and have the clinching game take place here at magnificent and famous Wrigley Field, it's almost beyond belief."
Play the song. Go outside and throw your pants on the roof. Take off your shirt and hug everybody. The Cubs and Cardinals have played a lot of times over 12 decades. But only once when it really counted. And, the Cubs won.
They would win bigger games and accomplish bigger things. But on that early evening in October 2015 it was the coolest thing, and we all made sure to enjoy the shit out of it.
Oh, and did we ever check on this guy?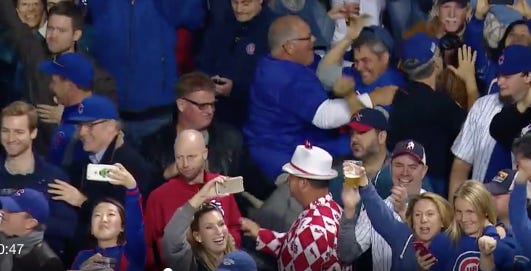 Or, even on that dumb little bird on his hat?
Other Pointless Exercise Further Reviews